A huge tree limb toppled onto Fell Street this afternoon between Octavia and Laguna, crossing all three lanes of traffic and prompting police to divert traffic around the block.
The limb split around 2:20pm from a sidewalk tree on the northern edge of Parcel O, the plot of land slated to become the site of low-income housing and possibly a temporary arts space. Multiple readers sent in pics from the scene.
Woah - this JUST fell on Fell Street near Octavia - @HoodlineSF . #SF #tree #sanfrancisco #accident #woah pic.twitter.com/4EU6lHt6tX

— Joseph Wilson, PhD (@josephpwilson) August 8, 2015
Fell Street closed by fallen tree. Toyota life spared. @HoodlineSF pic.twitter.com/TwuyL5hP2r

— Paul Supawanich (@tweetsupa) August 8, 2015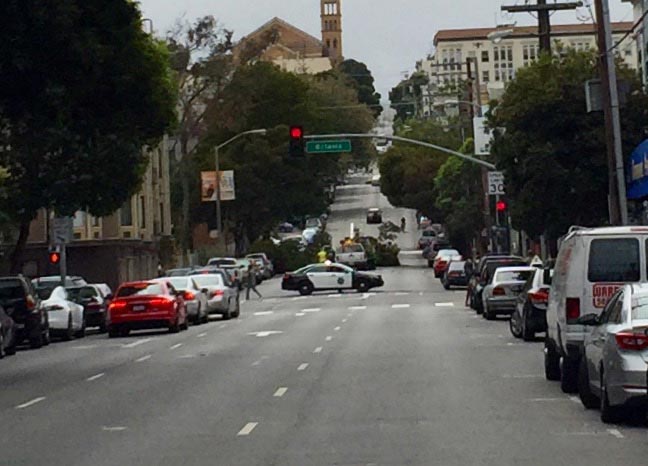 Tyler C.
It appears that no one was injured by the falling tree, thankfully, and there may only have been minimal damage to nearby cars.
As crews work to remove the tree, the block of Fell Street (one of the city's main westbound thoroughfares) remains inaccessible to traffic. So, plan to detour if you're driving to Outside Lands or any points westward this afternoon.