Much attention has been directed lately to crime in the city, from the alarming rise in auto burglaries to the two recent high-profile shootings of Kathryn Steinle on Pier 14 and of a tourist during an attempted robbery on Lombard Street. At a press conference on Wednesday afternoon, officials issued assurances that the city is still safe, and that efforts are underway on several fronts to curb crime.
SFPD Chief Greg Suhr, Central Station Capt. David Lazar, Officer Anthony Randolph—who was particularly responsible for apprehending one of the Russian Hill shooting suspects—and District 3 Supervisor Julie Christensen spoke to the media at the corner of Lombard and Jones streets, near the scene of Tuesday's shooting. "We are, and have been, doing everything we can to keep our neighborhoods safe," Christensen said. 

She and Capt. Lazar outlined several initiatives to deter crime, including:
Rehabilitation programs for criminals so they don't go back to the streets and commit more crime

Working with Fisherman's Wharf, the Hotel Council of San Francisco and rental car agencies to remind people not to leave valuables in their car, to help prevent auto burglaries

Increasing police staffing; the Board of Supervisors voted 6–5 in June to spend $11 million on hiring about 400 new officers

Starting an "Ambassador Program" this weekend on tourist-heavy Lombard Street, similar to the ambassadors already in place at the Wharf
Working with the District Attorney's office and judicial branch to ensure repeat criminals, even non-violent ones, are prosecuted, because a small amount of people are responsible for a vast amount of the property crimes
A safety fair is also planned for 6–9pm Friday, August 28th at Tel-Hi Center (660 Lombard St.) to address a series of sexual attacks on Russian Hill and the rash of auto burglaries in the city.
Chief Suhr also reminded reporters that all the suspects in the Lombard shooting and the Pier 14 homicide are in custody; preliminary hearings in the latter case began this week. He added that homicides are half of what they were in 2007 and 2008, and the city is still safe. "I live in San Francisco; I'm all over San Francisco," he said. "When I'm not in uniform, I'm not armed in San Francisco."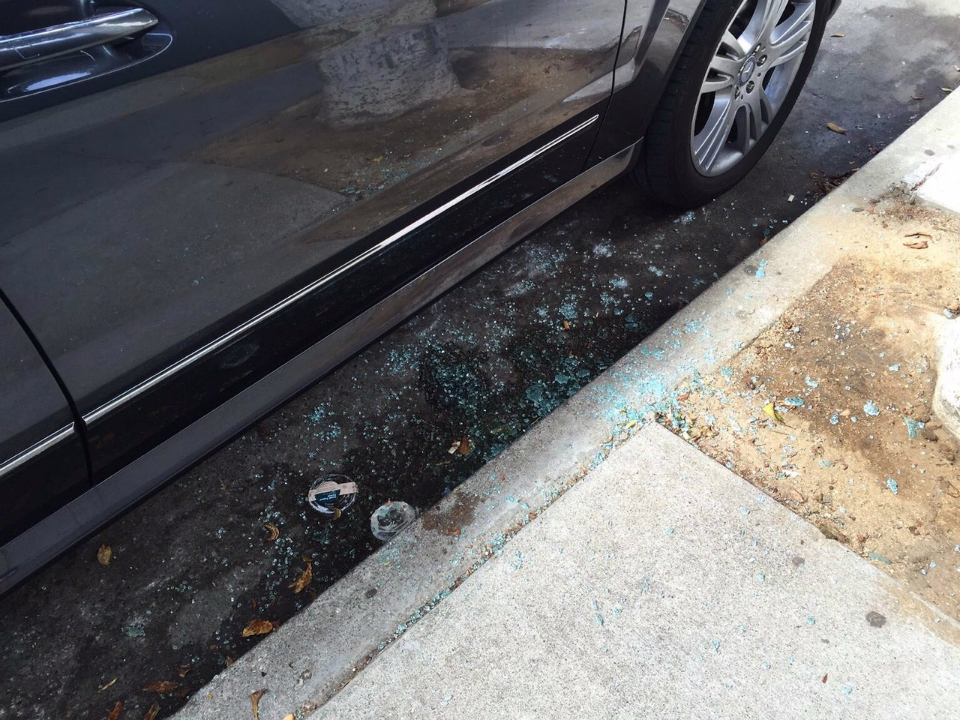 Capt. Lazar also mentioned that Central Station had arrested nearly 100 auto burglars so far this year. However, property crime is still up, as Christensen discussed with Hoodline on Tuesday morning. Citywide, auto break-ins are up 171 percent from 2010 and 45 percent year-to-date from 2014. 14,187 auto break-ins were reported from January 1st–July 31st of this year, compared to 9,757 during the same period last year.
Central and Northern districts accounted for 40 percent of total reported auto burglaries in the city in that time, Christensen said, up from about 33 percent last year. Central Station alone saw its number of reported break-ins from January 1st-July 31st rise from 1,331 last year to 2,362 this year. That's a 77 percent increase.
The numbers keep going up, despite Capt. Lazar's focus on prevention and enforcement. Ever since taking the reins at Central in May of 2014, he's devoted more plainclothes officers to reducing auto burglaries, and last year, he asked the Community Police Advisory Board (CPAB) to work on an outreach campaign to remind drivers, especially tourists, not to leave anything in their cars.
Working with a subcommittee, CPAB member Troy Campbell, executive director of the Fisherman's Wharf Community Benefit District, designed a card that rental agencies and hotels can give out that tells drivers to "Park Smart" and not leave any valuables in their vehicles.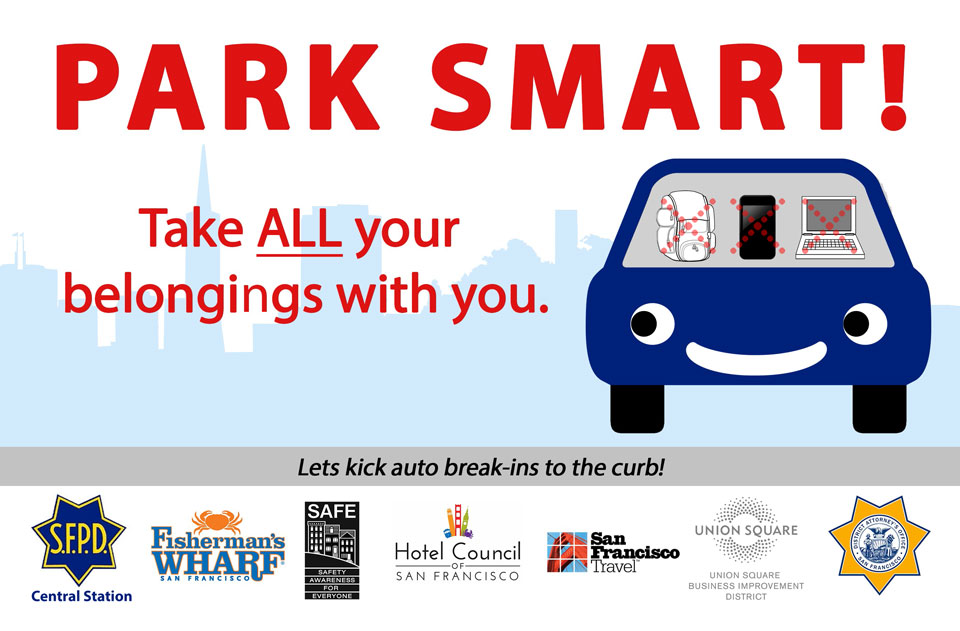 "We're starting to get the word out, and we're hoping it's going to make a big difference down the road," Capt. Lazar said. Rental-car agencies are experiencing huge losses from broken windows, he added, and are eager to find solutions. 
But many drivers still do leave valuables in plain view or in the trunk, and thieves know it. "The vast majority of break-ins in District 3 are occurring on rental cars or out-of-town vehicles," Christensen said. "It seems in almost all of the auto break-ins, there has been something visible left in the car."
Christensen said the Hotel Council is urging guests to leave their valuables with the bell desk. She and SFPD are also working with tour companies to get the word out to "park smart." But thieves are even breaking into vehicles with no booty inside. One Nextdoor commenter who suffered repeated broken windows now leaves the glove box and console open, to show there's nothing to take.
Another issue, Christensen explained, is that breaking a window is a misdemeanor and stealing is a misdemeanor, so thieves—often gang members—work in pairs. "So you have two misdemeanors, instead of an auto burglary felony," Christensen said. 
"Our next stop is the judicial branch," she added, "to explain to them the seriousness of this situation and the impact that it's having on residents and visitors, and trying to get their help in having the punishment fit the crime. Increase bail, increase the threat of jail time, so it's not as lucrative for people as it is now."