Back when a beer cost a nickel, electric streetcars were the hot new form of transport and sand dunes covered most of the Sunset, The Little Shamrock was slaking the thirst of 19th century San Franciscans.
Open since 1893, the Inner Sunset institution is San Francisco's second-oldest bar, trailing only North Beach's The Saloon, which opened in 1861.
The Shamrock survived the city's catastrophic 1906 earthquake. An antique wooden clock, a casualty of the quake, still hangs on the wall above an inscription that reads, "No tick since April 18, 1906."
The bar withstood 1989's Loma Prieta earthquake as well; the lights went out, the TVs fell, and patrons ran outside. "There was no electricity," said owner Saeed Ghazi, "so they burned candles, and the bartender went behind the bar and business kept going."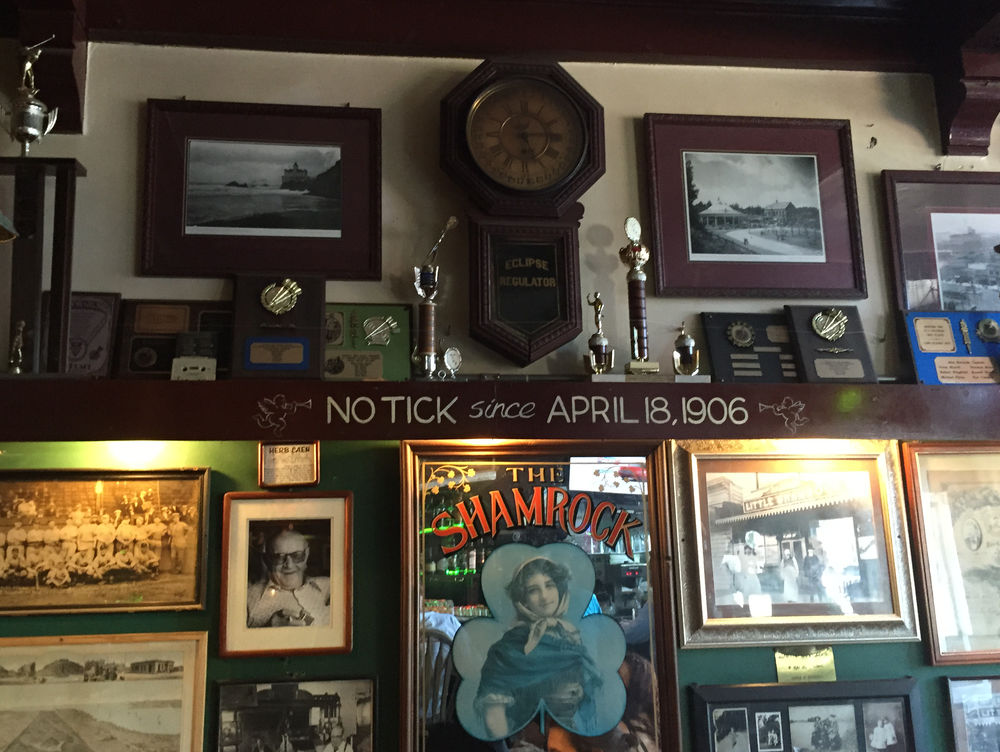 At that point, Ghazi, who came to San Francisco from Iran in 1964, had owned the bar for 15 years. He bought The Little Shamrock in 1974 after a chance encounter one afternoon with the bar's owner. It was the second life-altering event that happened to him that day.
His previous wife had just given birth to his son at St. Mary's Medical Center, across the park. Ghazi was on his way home to his apartment on 17th Avenue to shower before heading back to the hospital. Standing before him as he emerged from the park was The Little Shamrock, and he decided he would have a drink to celebrate.
When he went in, there was nobody inside except an elderly man tending bar and and a woman sitting on a bar stool. "She was his accountant andwas telling him that he hadn't paid his rent, he was behind on all his payments,and they were going to shut him down."
At the time Ghazi, who'd owned several businesses in the city including a nightclub, ran a sandwich shop downtown that wasn't making much money. He asked the owner, Enda Barkley, if he was interested in selling, and Barkley said yes. Two weeks later, with his wife and new son at home, Ghazi returned, shook Barkley's hand and bought the bar.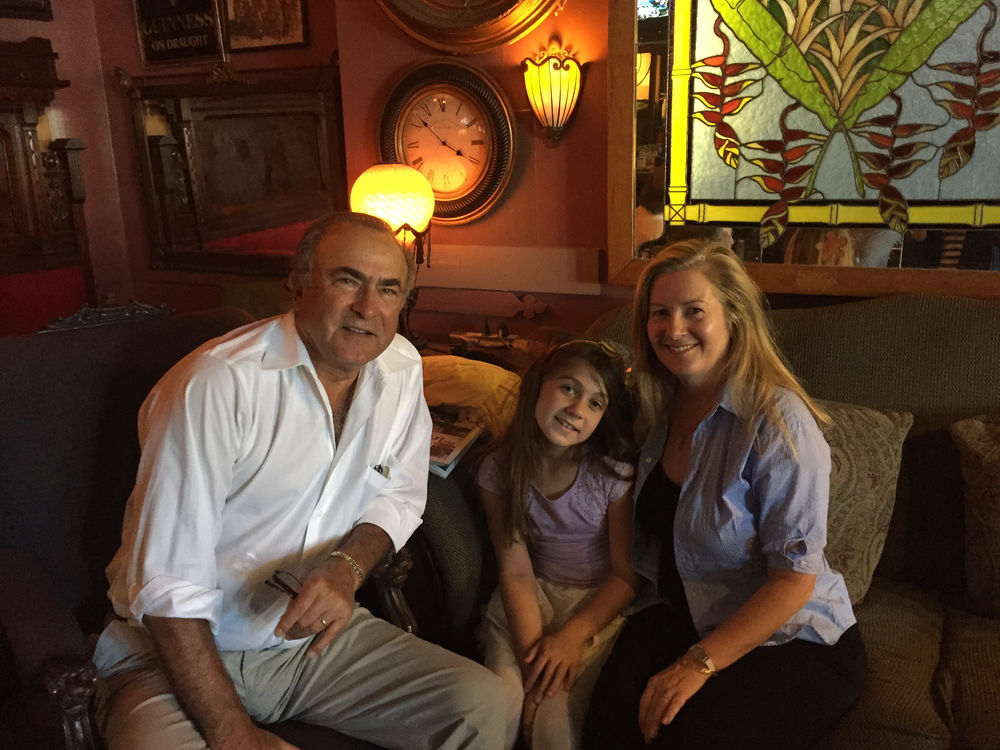 When Ghazi took over, the windows were blacked out and there was less than half as much seating as there is today. Armchairs, tables and a sofa now occupy an area that used to be storage; Ghazi extended the bar and added a rear darts room that now hosts a weekly league. 
As with many bars at the time, "it was a place to come, drink, get drunk, and get out," said Ghazi. Soon, fern bars became a phenomenon in the 1970s and '80s, starting with Henry's Africa on Van Ness.  "[The owner] opened up the bar and hung some plants and ferns from the ceilings, and brought in light systems," recalls Ghazi. "And all of a sudden, it wasn't a place to [just] go drinking. It was a place to go socialize."
Ghazi opened up the Shamrock's windows and hung Tiffany lamps, the style at the time. (They're still there.) He also installed backgammon tables and populated the bar with board games. Wall-mounted TVs are usually tuned to sporting events, but Ghazi keeps the volume low in lieu of music, which he prefers and feels adds to the social atmosphere. 
In a back corner of the bar, amidst a crowded wall filled with decades worth of signs, tchotchkes and historical photos, is a shelf of books by mystery writer John Lescroat. Once a bartender at the Shamrock, according to his bio, he features the bar in nearly all his novels, and fans of his books visit to see their author's inspiration. [Ed. note: Saeed disputes that Lescroat worked as a bartender at the bar, but says he may have covered some shifts at one point.]

Remarkably, in its 122 years of existence, The Little Shamrock has been owned by just three families.  During construction for the 1894 California Midwinter International Exhibition in Golden Gate Park, the Herzo family opened the bar, reportedly to serve workmen and tourists. Some accounts credit Antone Herzo as the first owner, though evidence compiled by the Western Neighborhoods Project suggests he died before the bar opened, and his wife, Julie Julia, opened it. After Antone's death, Julia remarried a man named J.P. Quigley and ran The Little Shamrock along with three other bars along Lincoln Way.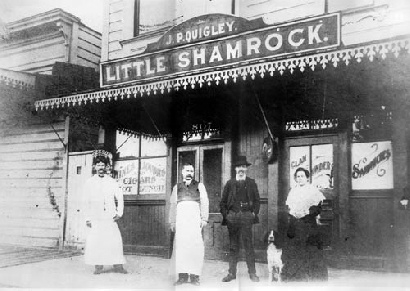 Julia's son, Tony Herzo Jr., took over the bar after she died in 1929. During that time the Shamrock was popular with athletes from the Big Rec Baseball fields across the street. Famously, Tony always had a pot of Spanish beans cooking, which he supposedly never washed, adding to the flavor.
Shortly before he died, Herzo sold the bar to Irishman Enda Barkley in 1969, who sold it to Ghazi five years later. He now owns it with his wife, Anne Marie, whose parents, incidentally, are from Ireland.
Ghazi said he's seen the neighborhood go through tremendous changes since he bought The Little Shamrock. "When I bought this place, the Inner Sunset wasn't very popular in the city, mostly because of the weather. When people wanted to go out they'd go to North Beach and other parts of the city."
He credits the growth of UCSF Medical Center and the reopening of the California Academy of Sciences and de Young Museum in the mid-2000s with bringing an influx of people and businesses to the neighborhood. "When they rebuilt and fixed [the museums]" after the 1989 earthquake, "that brought a lot of tourists. So between that and the medical center, more and more businesses opened up, and the Inner Sunset is one of the best neighborhoods right now."
UCSF students make up a large portion of the bar's customers. "This is like a living room to a lot of the students who live around here," Ghazi said. "Most of them live in a studio apartment and probably have a small TV, so instead of staying at their home and watching TV they come here." 

Opposite a stool at the far end of the bar, a small cardboard sign reads, "Val's Seat." "I have a bunch of regulars here who basically take care of the bar," Ghazi said. "Val is a customer here. At the same time, he cares for this place more than I do. He's here every night. He watches for everything. He takes care of the beer, the TVs, everything."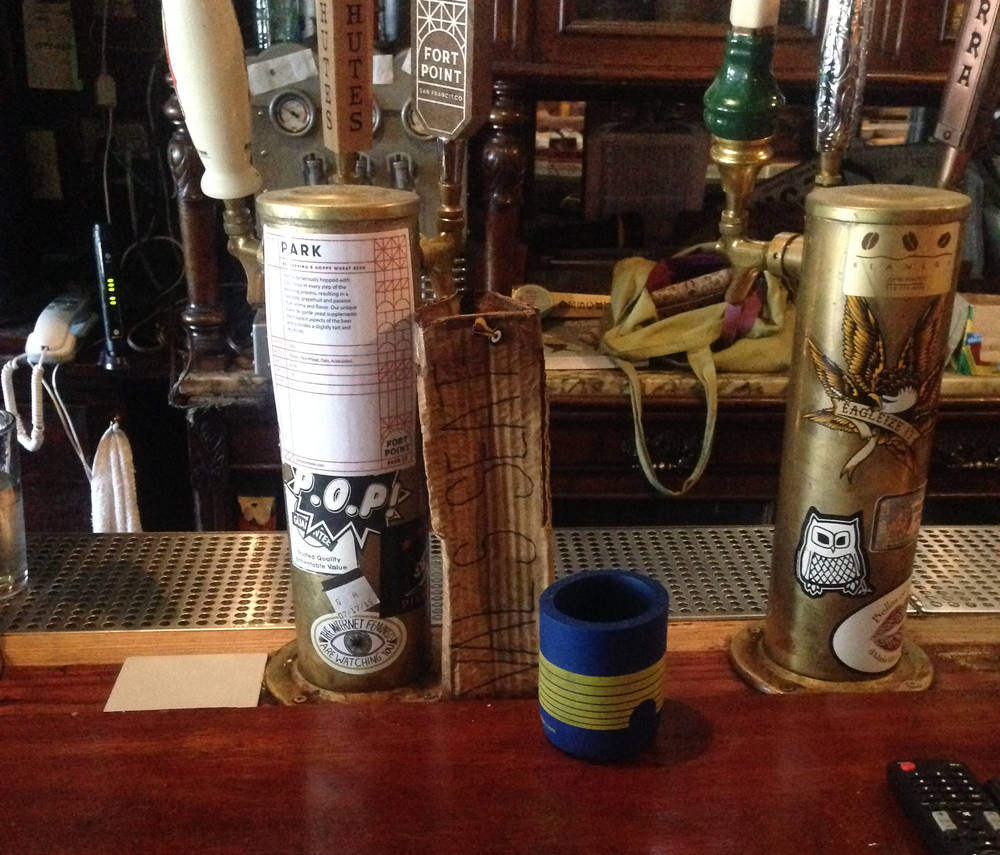 About fifteen years ago, Ghazi met an older woman named Mary who was homeless and slept across the street in Golden Gate Park. He gave her a set of keys to the bar and set up a mattress in a small room off the bar's main room. "We called it 'Mary's condo,' " he said. She's since found a shelter, but she comes by the bar once a week to launder towels and gives the Ghazi's daughter, Anya Sara, birthday and Christmas cards every year.
Ghazi prides himself on offering the lowest prices in the neighborhood, partly so students can afford it. A banner hangs outside the entrance to the bar that reads, "We are 120 Years Old! And Our Prices Show It!"
His ability to keep prices low may be partly due to the fact that he owns the building, including a three-bedroom apartment upstairs, which he purchased 12 years after buying The Little Shamrock.
"I tell you, if I didn't own this building I wouldn't be here. I'd be gone," Ghazi said, noting the likelihood of a hefty rent hike. "It's one of the best investments I've ever made."