Plans are being explored to bring a nine-story, 100-foot-tall residential building to 600 Van Ness, the former site of a McDonald's. The two-story fast-food restaurant has been vacant since January, when the location closed down after a 36-year run.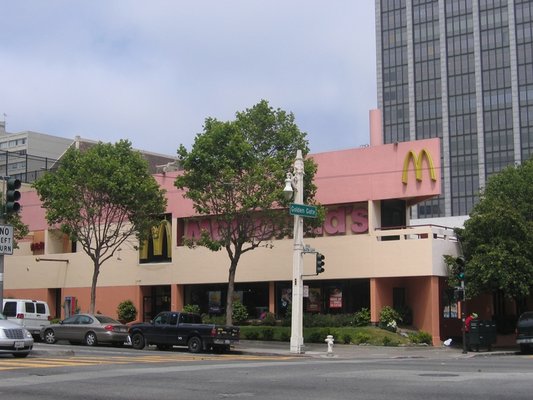 Photo: Kevin Y./Yelp
According to an application for a Preliminary Project Assessment (PPA) filed with the Planning Commission on Sept. 18th, the project would include 150 units, including two-story townhouses on the Elm Street side, as well as 4,800 square feet of ground-floor retail space on both the Van Ness and Golden Gate Avenue sides.
The units would include 87 studios, 37 one-bedrooms, and 26 two-bedrooms. A below-ground parking garage with an entrance on Golden Gate Avenue would provide 108 parking spaces, and 150 bike parking spots would be located on the ground floor, which would also include a leasing office, lobby and lounge. 
The proposal specifies 6,980 square feet of private open space and 6,344 square feet of public open space in the form of terraces on floors two, five and seven.
The site is zoned for height up to 130 feet. However, discussion between the developer and the Bay Area Women's and Children's Center, a nonprofit involved in the Tenderloin Community School (located just north of the proposed development, at 627 Turk St.), resulted in "a terrace-like design increasing in height from Elm Street to Golden Gate Avenue." The proposed design aims to mitigate the BAWCC's concerns about shadows that could affect the school's outdoor recreation areas, and would cast 50 percent less shadow than if the building were constructed at the full 130-foot height, according to the proposal. 
The BAWCC also wanted to retain the school's City Hall views, which resulted in the proposed building's "dual-tower feature," which would allow for partial views of City Hall by connecting two distinct towers from floors seven and up with sky bridge walkways. As a result of these negotiations, the PPA states that "the current proposal is a workable scenario in response to [BAWCC's] concerns."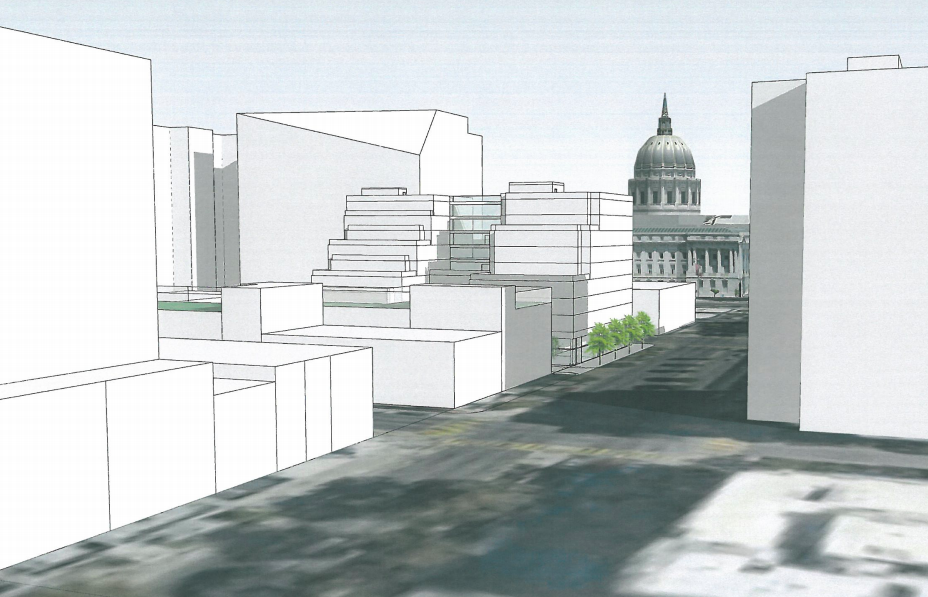 Construction of the proposed building would cost $57 million, according to an estimate prepared by Build Group.
As with all projects in the PPA phase, development isn't a done deal—the project assessment is just the first step in a long process, which will include an Environment Impact Report and more.
But with several new buildings either proposed or under construction along Van Ness and Polk streets, including the new California Pacific Medical Center, Van Ness is in for some big changes. Also in the pipeline for one of SF's busiest streets: the Van Ness Bus Rapid Transit project, complete with pedestrian improvements, new streetlights, new trees and public art.