When you can order lunch and a car valet through a smartphone app, the idea of photocopying, stapling, and even sewing pages of print together might sound downright old-fashioned. But that's exactly the tradition zine artists, or zinesters, keep alive, and tomorrow (Sunday) they celebrate zines and all things DIY at the 14th annual San Francisco Zine Fest from 11am to 5pm in Golden Gate Park's County Fair Building.
In addition to artists displaying and selling their work, the festival will feature a drawing workshop, a zine library, and a question and answer session with featured artist Madeleine Flores, author of the webcomic "Help Us! Great Warrior."
"I think zines have made a bit of a comeback," said Liz Mayorga, the festival's Executive Director. "They're alive and strong in the same way vinyl is alive and strong. [People] value physical things, and they value face to face interactions."
We sat down and chatted with Mayorga in advance of tomorrow's festival about the state of the Bay Area zine scene, how Zine Fest has changed over the years, and the devoted community of zinesters carrying on this form of alternative press.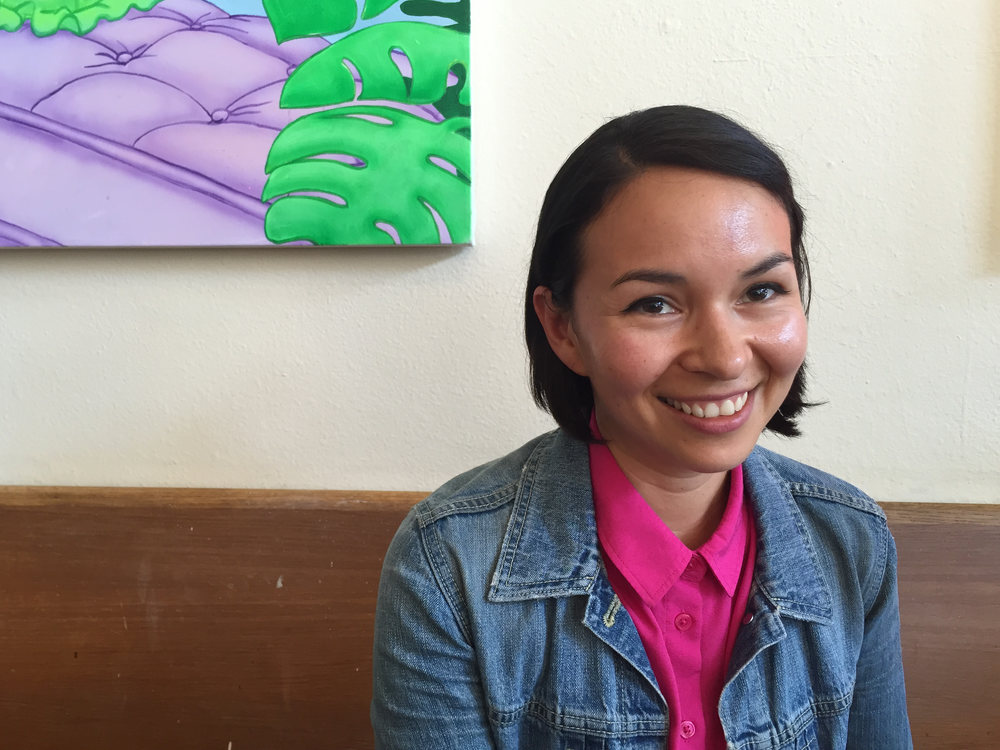 Zine Fest Exectuive Director Liz Mayorga. Photo: Caitlin Harrington/Hoodline
Evolution of the zine
"Zine comes from the last syllable in magazine," Mayorga said, explaining the art form's origins. "They were self-published magazines or print that was done on a low-budget scale and accessible to people of all incomes. It was a way to distribute things that wouldn't normally be published." Zines have a long history that includes political pamphlets and pulp fiction magazines, usually with small distribution. Cult science fiction and horror author H.P. Lovecraft shared his writing through pulp magazines in the early 20th century. In the 1970s, zines became popular in the punk rock scene, and in the feminist Riot Grrrl movement of the 1990s. 
Mayorga said that with the rise of the internet, some zines have transitioned to blogs, and some artists will print their zines and post them online as a pdf. But in the purest sense, a zine is still a physical object. "The internet helps [zinesters] in the sense that it makes it easier for a wider range of people to have access," though artists have to fight harder to stand out, Mayorga said.
Before online social networks, trading zines was a way for people to connect through shared interests. "People who felt isolated because they didn't know many other folks who were like-minded were able to create a community," Mayorga said. "Back in the day, if you were a kid who was really artistic and didn't quite fit into the town you grew up in, you could go to a shop," find a zine you were interested in, and via the mail, share your own.
Mayorga was a longtime writer and artist when she discovered zines. For a while "I didn't quite know where I fit because in the academy literature was, to a certain point, elitist and took itself very seriously in some circles." She thought cartooning was more up her alley, but didn't know how to connect with cartoonists. When she walked into Zine Fest, she felt things fall into place. 
Her biggest challenge was getting past the fear of not being good at it.
"Personally going to Zine Fest helped me get over that fear because you see so many people doing really great things at different levels... You can actually develop friendships at an event like this."
The subject matter in zines is all over the map, but the medium has a tradition of covering stories and subjects not found in mainstream media. This year's festival, which features over 200 exhibitors, will include Ker-Bloom!, a perzine, or personal zine, by vegan anarchist Artnoose, Murder Can Be Fun, about strange and unusual crimes, and Search and Destroy, a punk and counter-culture magazine that's been published in San Francisco since the late '70s.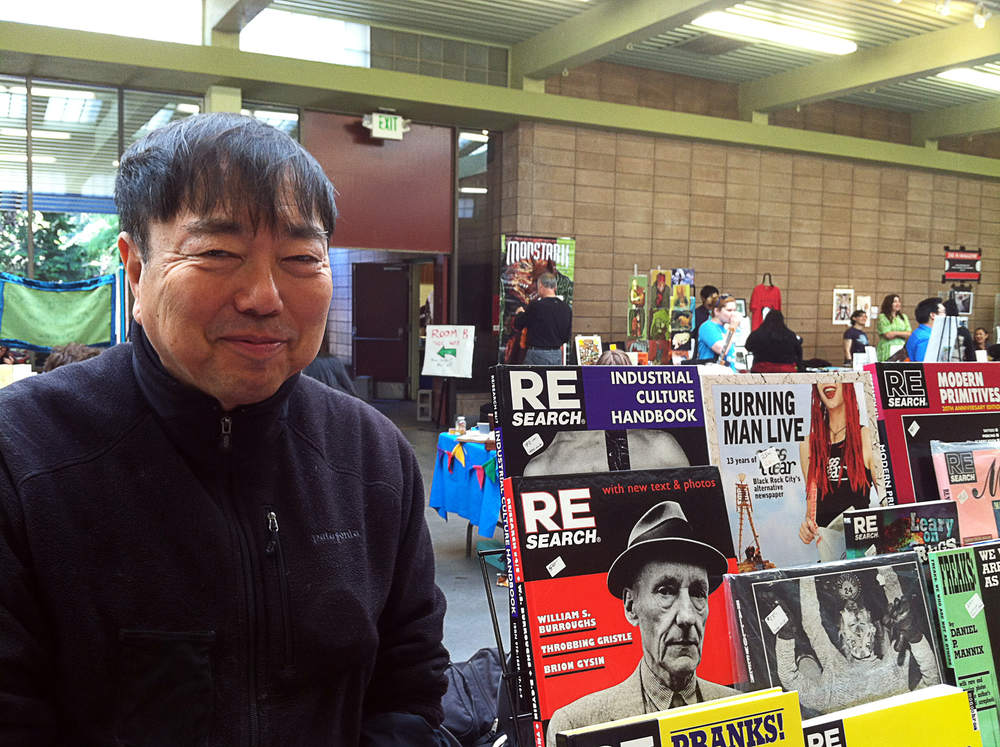 Search and Destroy Creator V. Vale. Photo: Jennie Hinchcliff
The early days of Zine Fest
Before Zine Fest existed on its own, it was part of a larger exhibition called the Alternative Press Expo (APE), a convention for independent artists that Comic Con ran for several years. While Comic Con was held in San Diego, San Francisco hosted APE until 2014, when it was taken back by its founder, who is moving it to San Jose this year. (San Francisco also hosted comics convention Wonder Con until it moved Anaheim in 2012. In 2016 it will take place in Los Angeles.)
Zines were originally exhibited in APE's Zine Alley. "[It was a] huge event with a lot of comic book artists of different types, but those who were self-published or more low-budget and accessible would be in the Zine Alley," said Mayorga. After APE did away with Zine Alley, zinesters decided to create their own festival, and Zine Fest was born.
John Marr, creator of Murder Can Be Fun, remembers Zine Fest's modest beginnings. "It's gone from ten or twenty tables at Cellspace," a now shuttered community art space in the Mission, "to filling both buildings at the Hall of Flowers. It's amazing."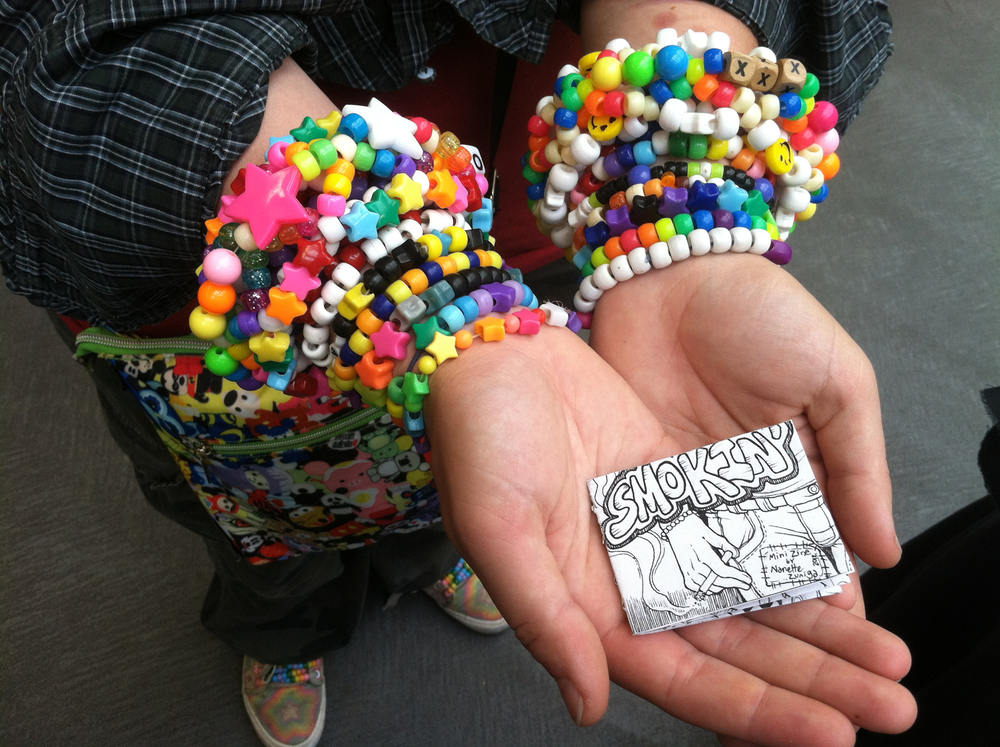 Photo: Jennie Hinchcliff
Jaime Crespo has been exhibiting at Zine Fest and its sister conventions, including Comic Con and the Latino Comics Expo, for over 30 years. He's the creator of several zines including Tortilla, a comic book featuring "slice of life" style stories. He said "it's been great to see more varied subject matter. Politics, sociological observations, gender issues, LGBT, race and ethnicity, and just about anything else."
When Crespo first discovered zines, he was drawn to their accessibility. "As a kid I always wanted to be involved in art somehow. Comics were an early interest, but it wasn't easy to get a comic book going as the technology was geared to the 'pros' and not some punk high school kid. I couldn't just go off and have a book printed."
Through zines, Crespo met and developed a friendship with Harvey Pekar, the popular underground comic book artist memorialized in the 2003 movie American Splendor. A fan of Pekar's, Crespo sent him a few of his own comics back in the 1980s, and they began corresponding. He credits Pekar with reviving his comic making after years of lapse.
"In the early 2000s I had stopped drawing altogether for almost four years." Then one afternoon, out of the blue, Pekar called, "wondering why I wasn't writing and drawing anymore. He said that he knew that I had a lot more stories to tell, that the world needed more guys like him and me." After that, Crespo began making comics again. "[Pekar] unflinchingly championed the zine world and comics in general and the notion that they are truly an art form and a viable story telling vehicle. He was absolutely right."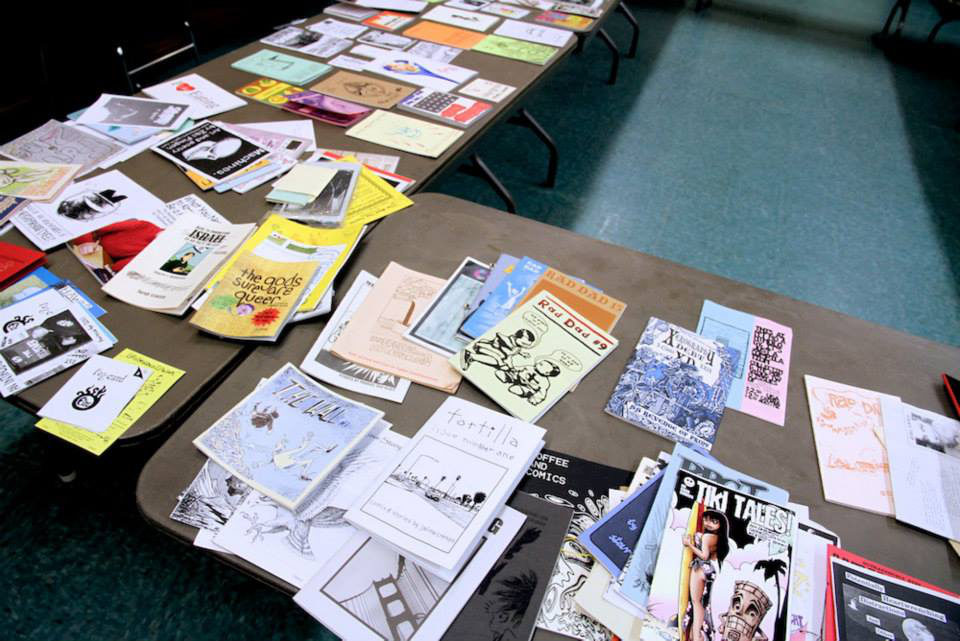 Photo: Cindy Maram/Dig In Magazine
Jennie Hinchcliff has seen zines evolve since she began exhibiting at Zine Fest in 2006. Hinchcliff is a longtime correspondence artist (which involves sending art through the mail via a network of artists) and previous Zine Fest organizer who creates postal-art related zines. She's seen zinesters "up their game, as far as production value goes. It used to be that the majority of zines were xeroxed on plain white copy paper, but now there's a mix of letterpress or silkscreen involved, as well as four color printing. Its pretty fantastic, the blending of different techniques and styles, to produce something that will move zine culture forward as a whole."
In the mid-nineties, Hinchcliff came across a handful of zines devoted to the mail art news, like Ken Miller's Shouting at the Postman, which inspired her to create her own. "There has always been a lot of crossover between the mail art network and the zine scene, based on how people made initial contact with each other (via the mail, at shows, through a friend)."
"The idea to create zines stems from a love of working with my hands, as well as a passion for the printed word. I believe that zines are the perfect intersection of personal narrative, tactile experience, and visual storytelling. Every time I pick up a new zine I am struck by the fact that it's a chapter of self-discovery for the reader, as well as the creator."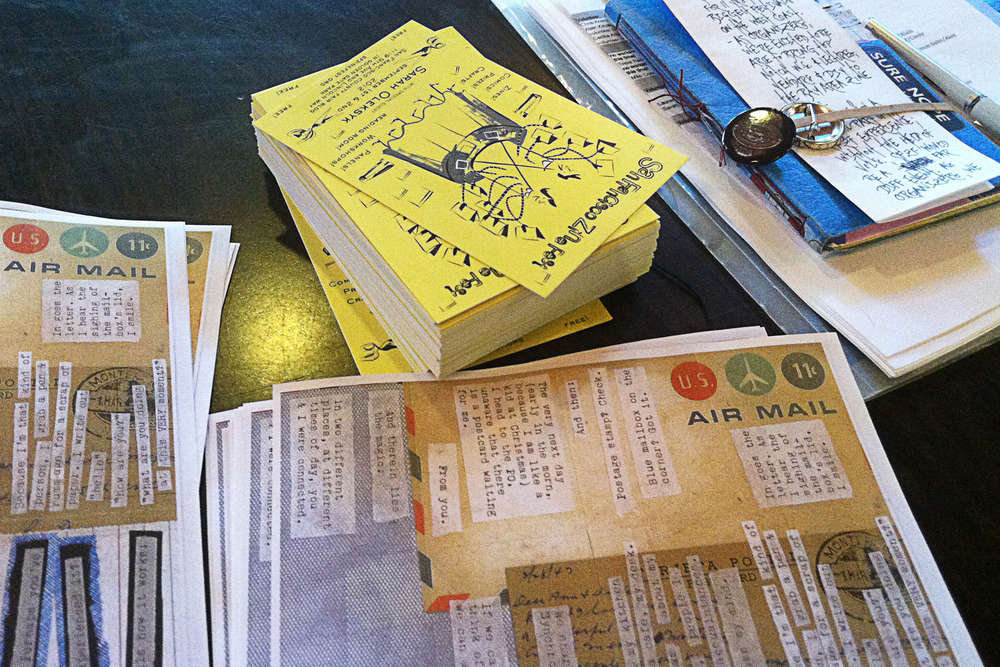 Photo: Jennie Hinchcliff
Zine Fest 2015
At this year's festival, organizers switched from a first come, first served policy for exhibitor sign-ups to an application-based system. Mayorga said it's because recently "we've gotten a lot more people who have flashier work. Really expensive prints, t-shirts, stuffed animals." Though not opposed to this, organizers felt there was ample room for it in other venues. "We try to focus on what really reflects the DIY ethos [and people who] might not have the opportunity to show their work anywhere else." By curating the festival, they hope to assemble a diverse variety of perspectives.
Also new this year, the festival will be held on one day instead of two, as it has been in years past. Mayorga said this was due to changes in the organizing staff, 90% of whom no longer live in the city, as well as financial strain. "The County Fair Building, as with the rest of San Francisco, keeps increasing its costs," so to keep prices affordable for exhibitors they had to trim expenses. They're in the process of searching for a new exhibition space for next year.
As has been well documented, the affordability crisis has made staying in the Bay Area difficult for artists, including zinesters, though many are still here, Mayorga said. Making art can fall by the wayside in the face of personal challenges like looking for work or facing eviction. "At the same time that ends up being the source of a lot of material. So once people have a moment to create something out of those experiences they do. That's why having an alternative outlet's really important because you might not find these stories anywhere else."
Additionally, Mayorga thinks zines are important not only as a creative outlet, but as a historical record. "A lot of these little self-published projects have become really important in history." As an example, she cited the Center for Sex and Culture Archive, which has a large collection of zines. They feature stories and underground events related to human sexuality dating back to the 1950s.
"Those are stories that normally you won't find published in any newspaper. But they're really important for two reasons: They validate people, and they create community."
For more information about Zine Fest, including information about their pre-party tonight at Mission Comics, visit their website. If you're interested in finding zines in San Francisco, check out local book stores including City Lights Bookstore, Dog Eared Books, and Green Apple Books, or visit the 6th floor of the SF Public Library's main branch.