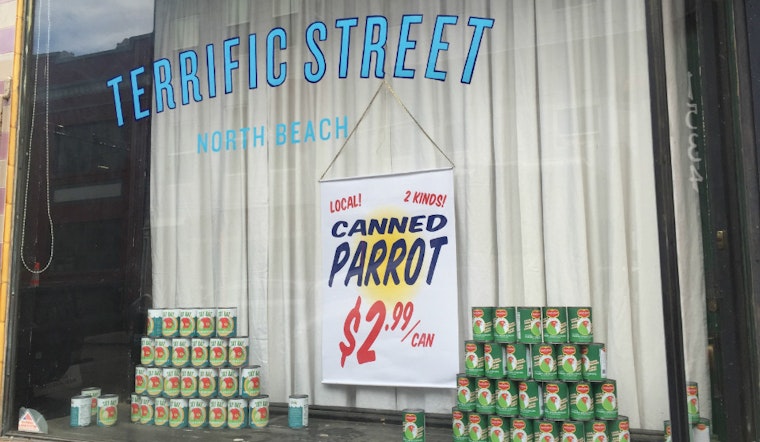 Published on October 19, 2015
A window display in a forthcoming retail shop on Grant Avenue has some fowl-friendly neighbors crying foul.
We recently received a tip from Julie Herrod about a not-yet-opened business called Terrific Street, at 1534 Grant Ave. Herrod said that a new display in the upcoming store's window, featuring "canned parrot," was "the most disgusting thing I've ever seen in North Beach in the 25 years I've lived here."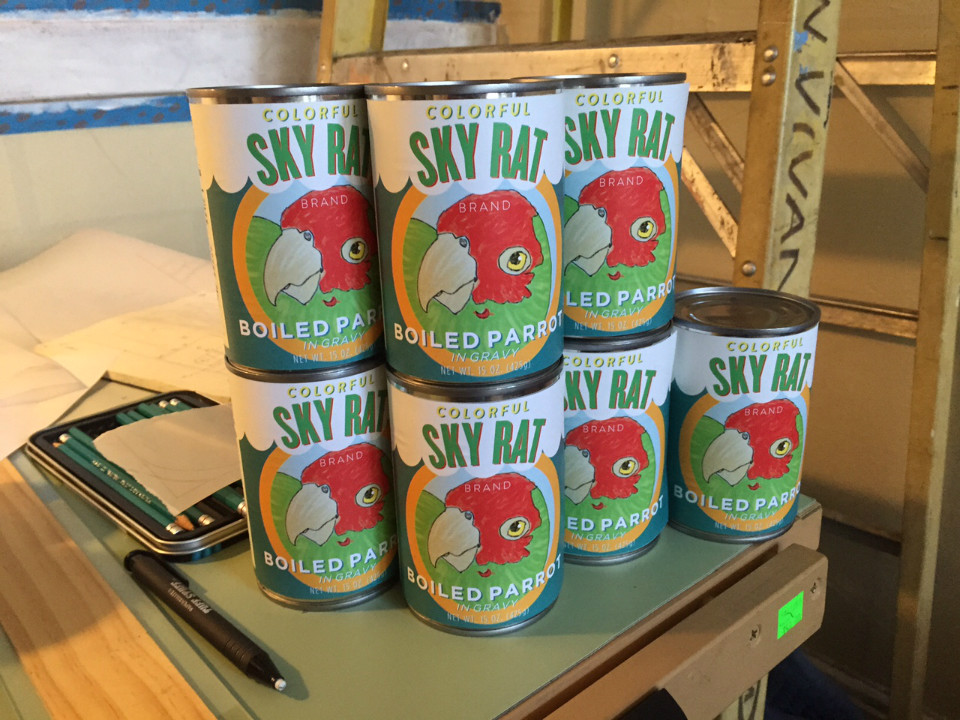 Photo: Brady Baltezore
We called Herrod to get more details on her reaction to the display. "I recognized the art reference to Warhol," she said, "but the humor was simply eluding me. The purpose and the point was eluding me, other than to be hurtful and harmful to the neighborhood ... They're viciously attacking a beloved North Beach icon, and I don't find it acceptable. Why denigrate your own community? Deliberately disgracing the parrots is an obvious attack on North Beach."
For those who've lived in the area for five minutes, the wild parrot flock that lives on Telegraph Hill was lovingly portrayed by Telegraph Hill resident and filmmaker Judy Irving in her 2003 film, The Wild Parrots of Telegraph Hill. More information can be found here. (Irving declined to comment for this article.)
Herrod said she's met several people who assume the work was put up by "kids" who "don't know any better."
"There's just no thought process in what they're doing. It's just in your face. It's shock value," she said. "Grow up. That's old, and it's insulting at the same time."
Herrod left an anonymous note in Terrific Street's mail slot, which reads: "Your window display is a disgrace. Not at all funny, if that's what you think it is. You're in the wrong neighborhood. Shame on you."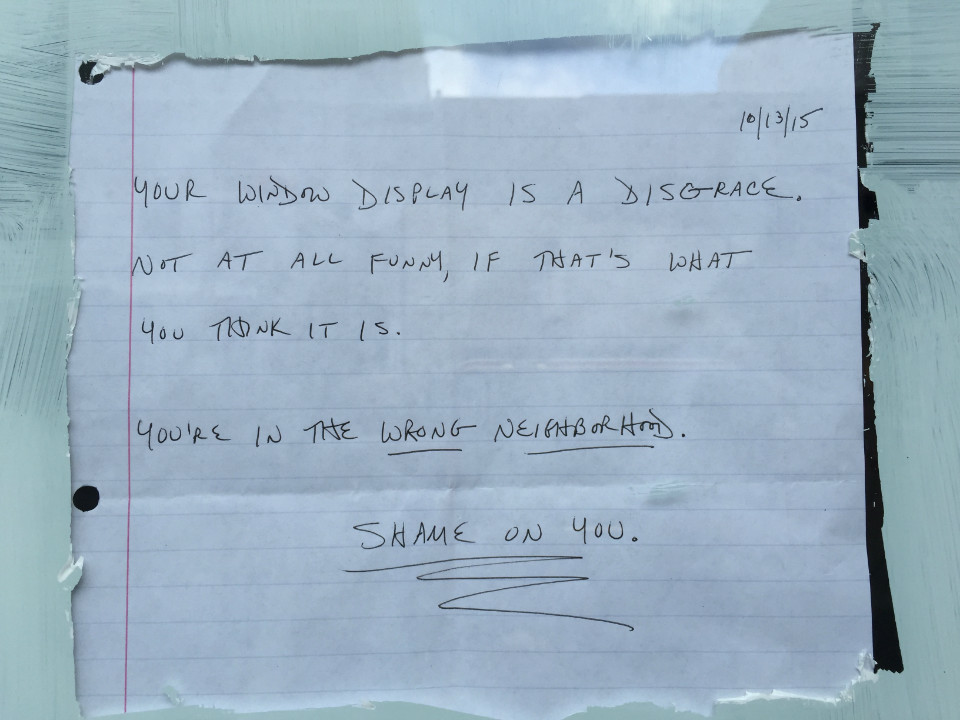 Photo: Geri Koeppel/Hoodline
To her dismay, the owners of the business posted the note inside the window, along with a sign reading: "Terrific Street: In the wrong neighborhood since 2015." Herrod found it "mindboggling" that they'd post her note. "I was baffled by it," she said.
She left another note: "You have just proved my point by making it your slogan. Thank you." They posted that, too.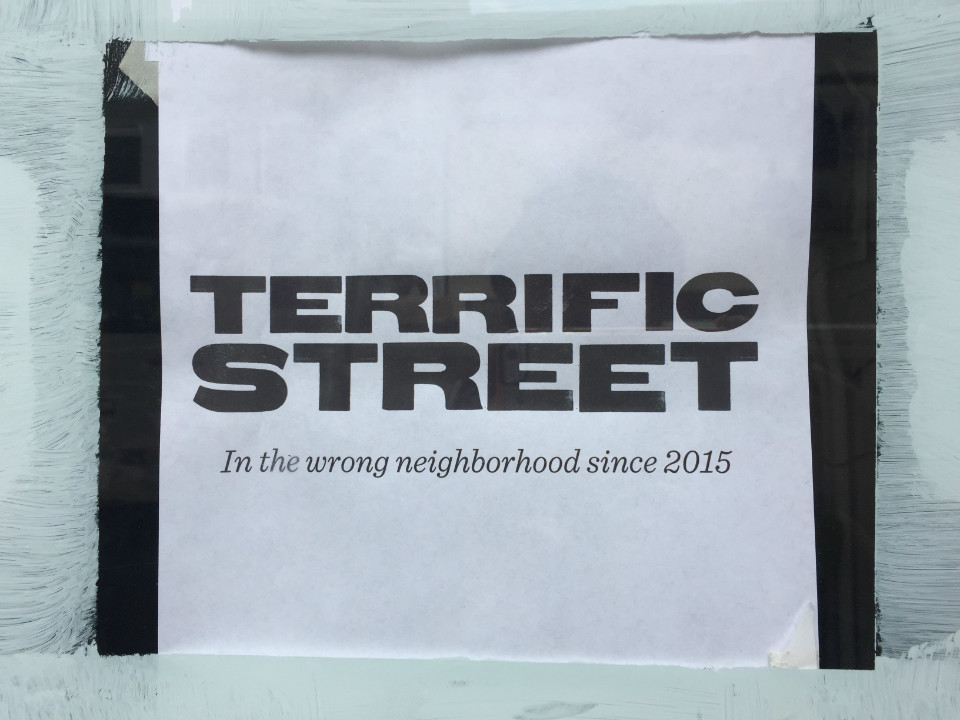 Photo: Geri Koeppel/Hoodline
We contacted Terrific Street to get their take on the reaction and the note. Brady Baltezore, a graphic designer and filmmaker who took credit for the installation, spoke for the group of six partners who own the retail shop, which should open by year's end. 
Baltezore described Terrific Street as "a curated modern general store for the neighborhood, with a creative, craft and art focus ... it'll be sort of a neighborhood clubhouse, with a retail angle." The idea is to sell branded Terrific Street merchandise, as well as magazines, souvenirs, knick-knacks and "useful things for people who live in the neighborhood."

Terrific Street was the historic nickname for the strip of Pacific Avenue between Kearny and Montgomery streets in the Barbary Coast era, which featured dance halls, jazz clubs and bars. The name is intended to "capture that spirit of experimentation and community; excitement and new things happening," Baltezore said. 
As for the canned parrots, Baltezore explained the display was meant to be a humorous take on the current rush of twee or old-timey "cliched retail environments." (Think the Portlandia sketch "Dream of the 1890s.")
"We thought, 'How funny would it be to create an installation that made it look like we were going to open a hyperlocal, hyper-sustainable business that was using the most hyperlocal food item?'" Baltezore said. "We wouldn't harm parrots. We love parrots ... In this era, there's a little too much emphasis on what people's reaction is to art, rather than enjoying it on its own merits."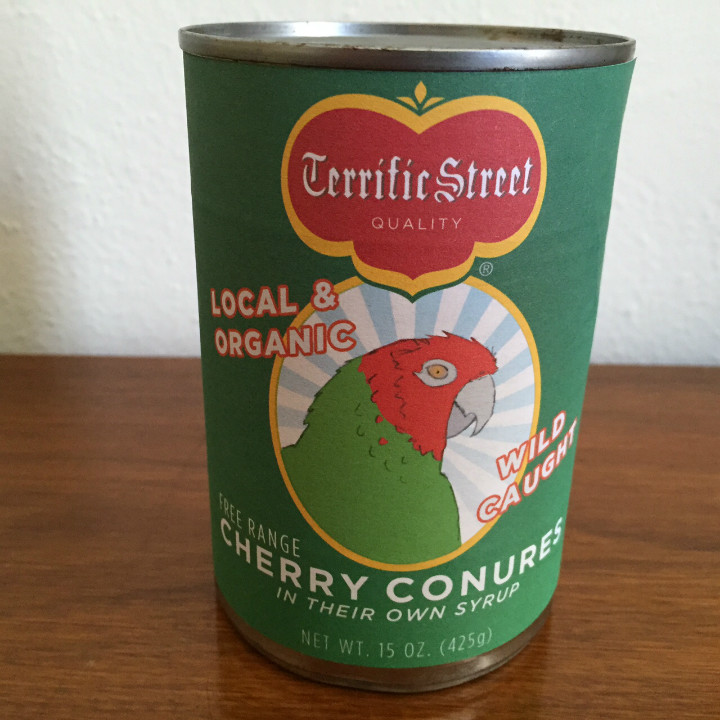 Photo: Brady Baltezore

On top of that, five of the six partners—all of whom still have day jobs; this is their "passion project"—have lived in North Beach for at least a decade, Baltezore told us. So getting a note saying they're "in the wrong neighborhood" was, to them, akin to saying they should be run out of town.
"Scribbling an anonymous note telling someone they don't belong in a neighborhood is unpleasant at best and hateful and intolerant at worst," he said. They posted Herrod's note on the door because "it tweaked our nose, so we tweaked it back."
It especially struck a chord, Baltezore said, because Terrific Street's partners see San Francisco—and North Beach in particular—as being tolerant and inclusive. "We're not out to hurt anyone's feelings," he said. "We're out to make our art and express ourselves ... We're not negative people, we're not cynical. We're not out to purposefully make any enemies."
"The overall response has been humorous and positive, with the exception of a handful of anonymous grumpers, some of whom have really been clutching their pearls and waving the proverbial crucifix at us," Baltezore added via email. "Which is fine—our perspective may not be the 'right' one for everyone, but it is ours, and we certainly stand by it!"
"North Beach folks (at least the ones we know and love) are fiercely unique, irreverent individuals, people who spend the time getting to know each other, and who stick around, collaborating with and watching out for one another," he continued. "Artists, poets, bachelor(ette)s, dancers, bon vivants, and curmudgeonly retirees, all of them together weaving the shabby but stylish fabric of this neighborhood."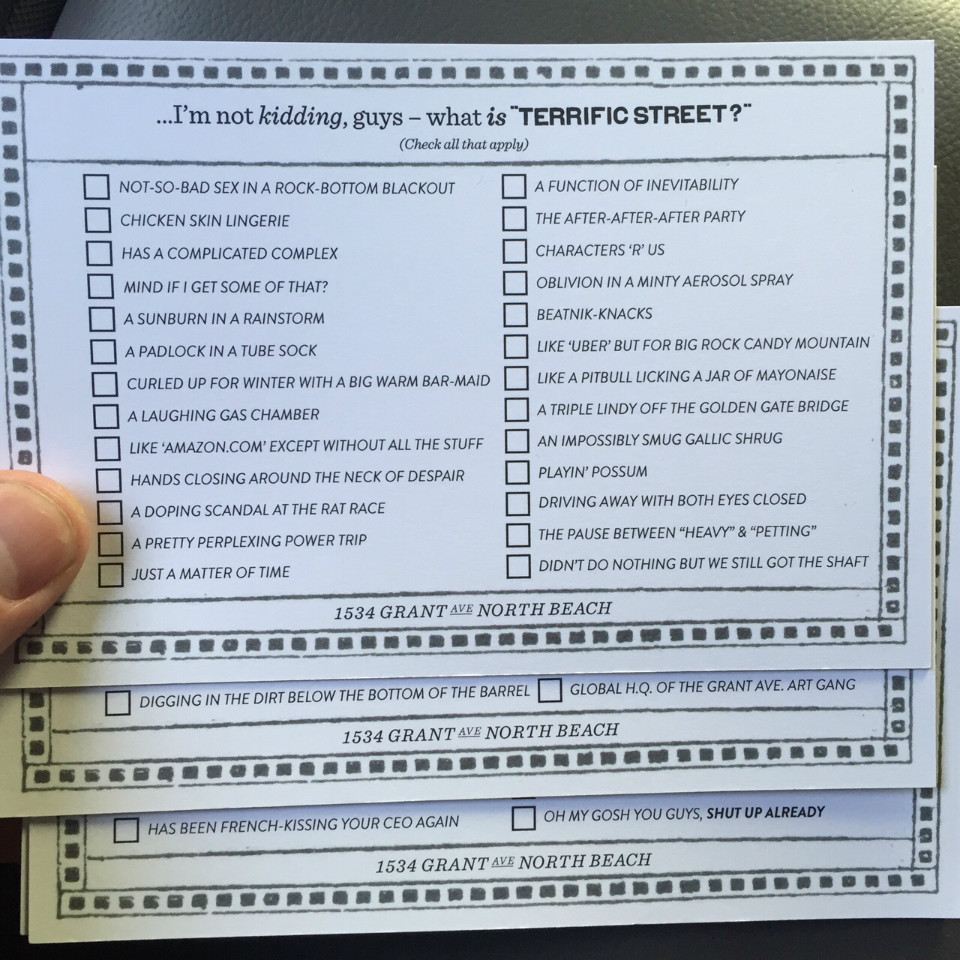 Photo: Brady Baltezore
"That's really sad," Herrod said upon learning that the proprietors of Terrific Street were locals. "That makes it even worse to me. Now there's really no excuse. That's shocking ... I don't understand what the display is supposed to be achieving, and I don't see what posting my notes is supposed to be achieving. I really am baffled by the whole thing. What if we had canned puppies? Would that be better? Ultimately you've got to say, 'Why? What's the point?'"
However, she did email a statement to us later that read: "I'd like to point out that my note was intended as a private expression of personal opinion, but I do apologize for its harshness." Her ultimate hope, she told us, is that the Terrific Street partners take down the installation. "I'm asking for the respect that I think this neighborhood deserves and that it has earned," she said.