Like many San Franciscans, Jaime Hiraishi and Sarah Garand prefer to decompress over a good glass of wine. But finding the right place to wind down in SoMa hasn't been easy, they say. So, come early next year, they're opening their own.
Located at 685 Folsom St. (at Third), their new spot — Wine Down SF — will feature 16 wines and five beers on tap, plus a small selection of wines by the bottle in a "casual yet refined" atmosphere, Hiraishi tells us. The selection will rotate regularly, but everything on tap will be sustainably-made by small California producers.
On the wine list you'll find producers like Scholium Project in Fairfield and Banshee Wines in Healdsburg, available for about $10 a glass. "We're also excited to introduce people to some smaller producers like Harrington Wines in the Dogpatch or Lusu Cellars in Berkeley," Hiraishi said.
As for beer, local producers like Almanac Beer Company, Fieldwork Brewing, Altamont Beer Works, and Headlands Brewing will appear regularly. Wine Down will also offer a few light bites, including meats and cheeses, empanadas, nuts and popcorn.
While Hiraishi and Garand are relatively new to the city's beverage industry, they aren't starting this project entirely from scratch.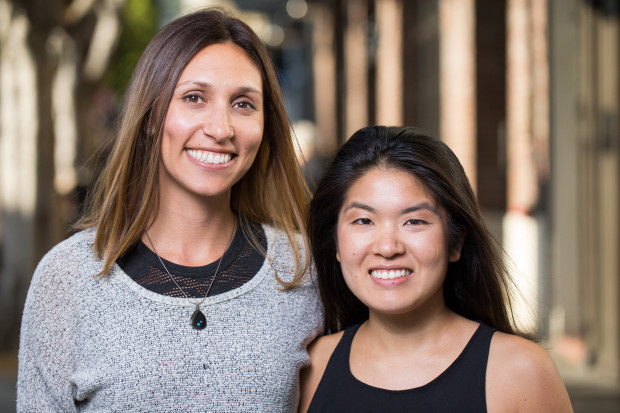 Garand (left) & Hiraishi (right). (Photo: Wine Down SF/Indiegogo)
The pair started Wine Down as a series of happy hours for their colleagues at Net Impact, a SoMa-based nonprofit, back in 2012. The events started as after-work outings to nearby bars. But, not finding a place with the right mix of atmosphere and quality beverages in the area, they began raising money to source the drinks and bites themselves and host the events at the office.
"As 'Wine Downs' grew in frequency and size—and friends of friends started to attend—we knew there was a business opportunity somewhere in the stack of empty wine and beer bottles," Hiraishi said.
By 2014, they were ready to turn their passion project into a business. They both left Net Impact and spent the past couple of years gaining certifications and ingraining themselves in the local wine and beer industries.
It took about a year to find the perfect location, Hiraishi said. "We wanted to be in SoMa because it has a great energy that's hard to find anywhere else in San Francisco — there's a strong community, a strong arts presence, and a great mix of people with residents, workers, and visitors in a concentrated area."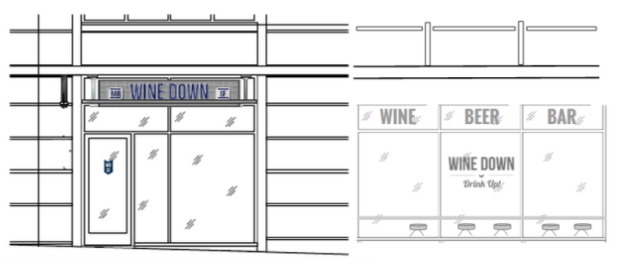 Rendering of their future storefront. (Image: Wine Down SF/Indiegogo)
They're also optimistic that the many major development projects underway in Yerba Buena — including a number of commercial and residential towers, the Central Subway and SFMOMA — will aid their growth down the line. 

For now, Hiraishi and Garand are focused on completing renovations, crowdsourcing $10,000 to help purchase furnishings, and opening the doors by early 2016. 
To keep up with their progress, follow the duo on Facebook, Twitter or Instagram.