On Monday night, the Port of San Francisco hosted a Waterfront Vision Workshop, welcoming community members to share ideas on the future of Port development.
More than 75 people, including Port staff, attended the workshop, held at the James R. Herman Cruise Terminal at Pier 27. Many were volunteer members of the Waterfront working group and seven topic-specific advisory teams, who will meet over the next 18–24 months to discuss, learn, share and brainstorm about land use throughout the 7.5 miles of San Francisco's waterfront, from Fisherman's Wharf to India Basin.
The Port's senior waterfront planner, Dan Hodapp introduced the meeting, followed by comments from its executive director, Monique Moyer, and Port Commission vice president Willie Adams.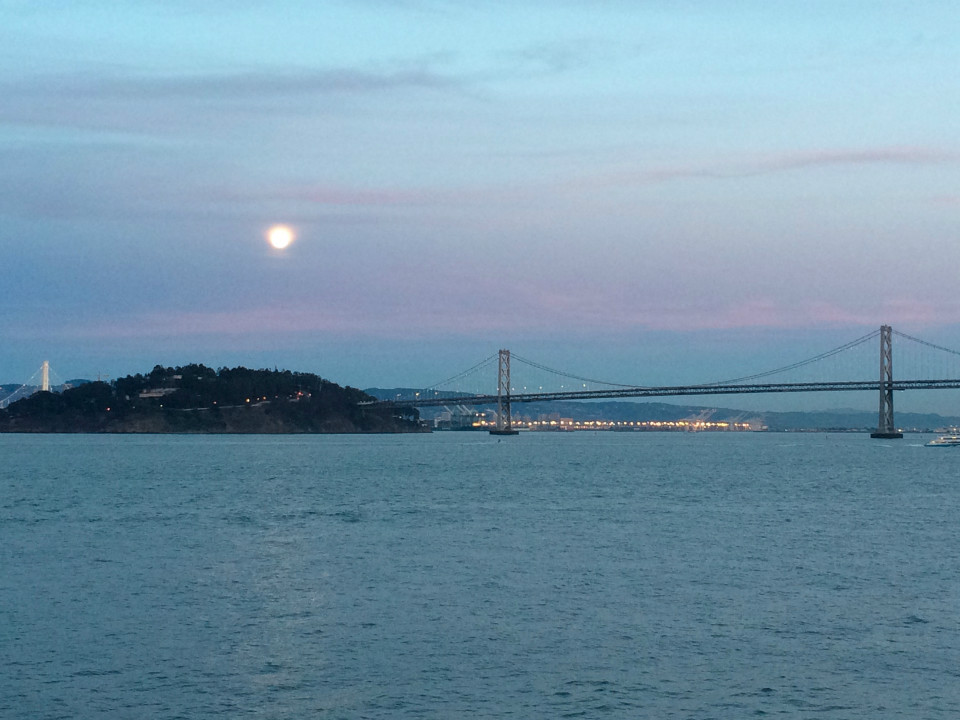 View from cruise terminal.
Moyer said holding the workshop in the cruise terminal was fitting, because it showcases the city and the Bay. That makes it unlike cruise terminals in many other cities, which are industrialized areas characterized by tarmac, fencing, and cruisers being bused in and out. "I couldn't think of a more inspiring point to envision what the Port is and what the Port will continue to be," she said.
Moyer also noted that while incredible work and foresight went into the planning process, there's still a lot more work to do. "There are 39 historic piers at the Port of San Francisco; we've only rescued 11 of them," she said. "So we have to think about that. What is going to happen to the rest of those piers? Are they going to remain derelict? What's going to happen as the environment puts pressure on them, or climate change cuts them off? What happens as humans put pressure on them and our region continues to expand?"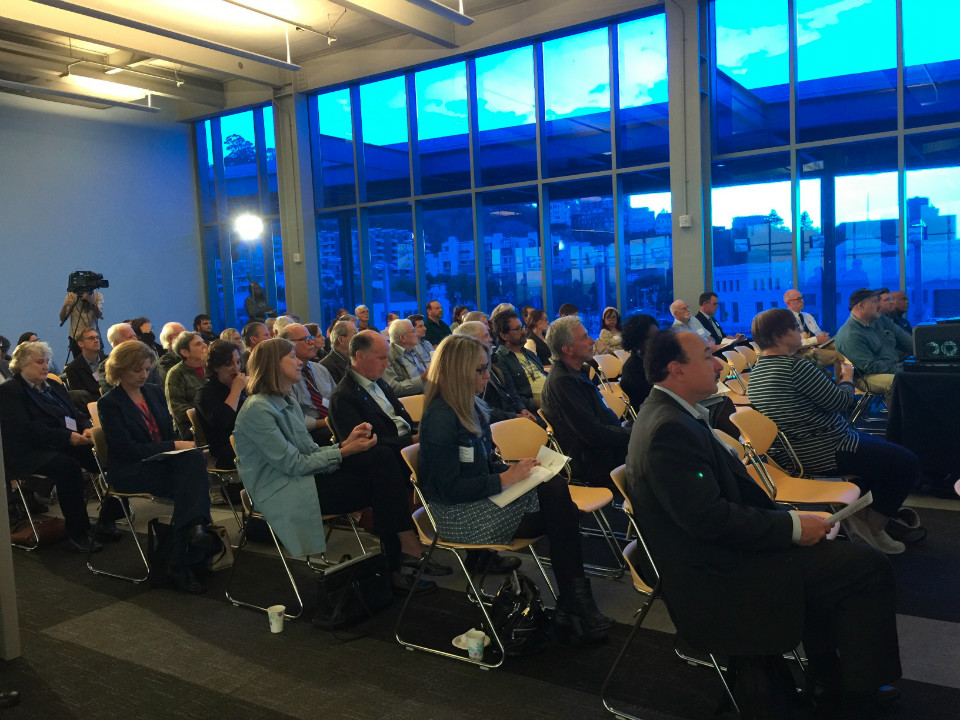 Waterfront Vision Workshop.
Diane Oshima, planning director for the Port, gave an overview of where the Port is today, and how the process will move forward. She talked about the Waterfront Land Use Plan, which was approved in 1997, and its most recent review, which started in 2014 and wrapped up this year after public comments.
Oshima then outlined a set of goals for the Port, which were also presented on a handout. They include a working Port; a revitalized waterfront; a diversity of activities and opportunities; an interconnected network of public parks, walkways, open spaces and transportation; and urban design that embraces San Francisco's past, present and future, and is worthy of the waterfront setting.
"Do you understand them?" Oshima asked attendees. "Do you agree with them? Are there updates we should be considering?" The workshop, she said, was intended to be a "fresh air exchange" with everyone's thoughts, and that "we wanted to give you a chance to speak from your heart."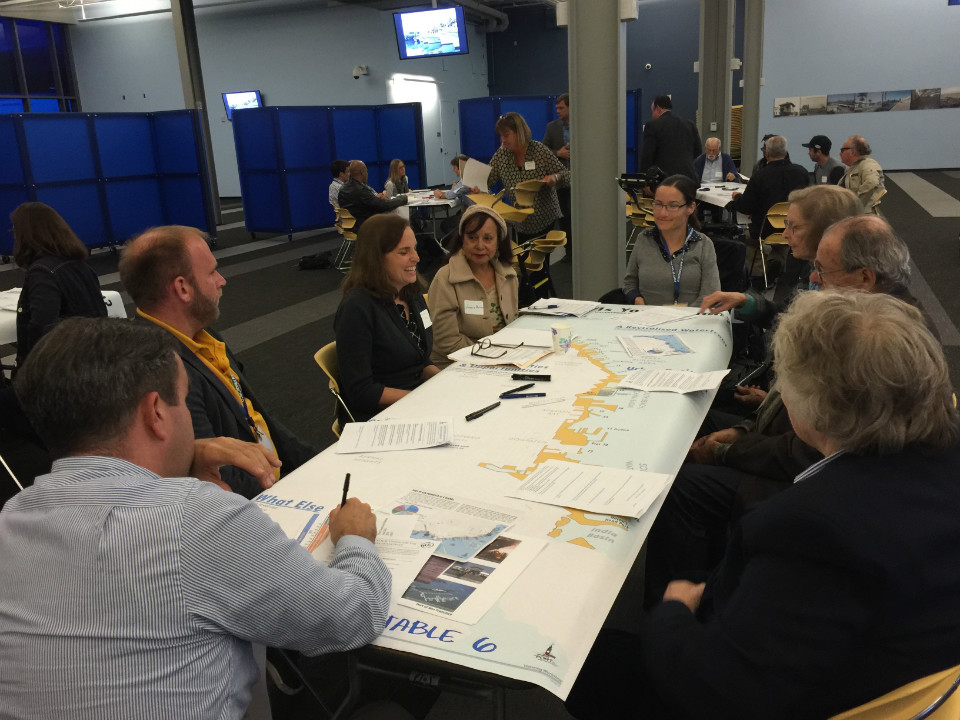 Attendees then broke up into nine groups for discussion. As they talked, some groups hit on many of the same topics as priorities: sea level rise and public access were common threads. Afterward, each group designated a representative to present three to five of their main points to the full audience, as Hodapp took notes.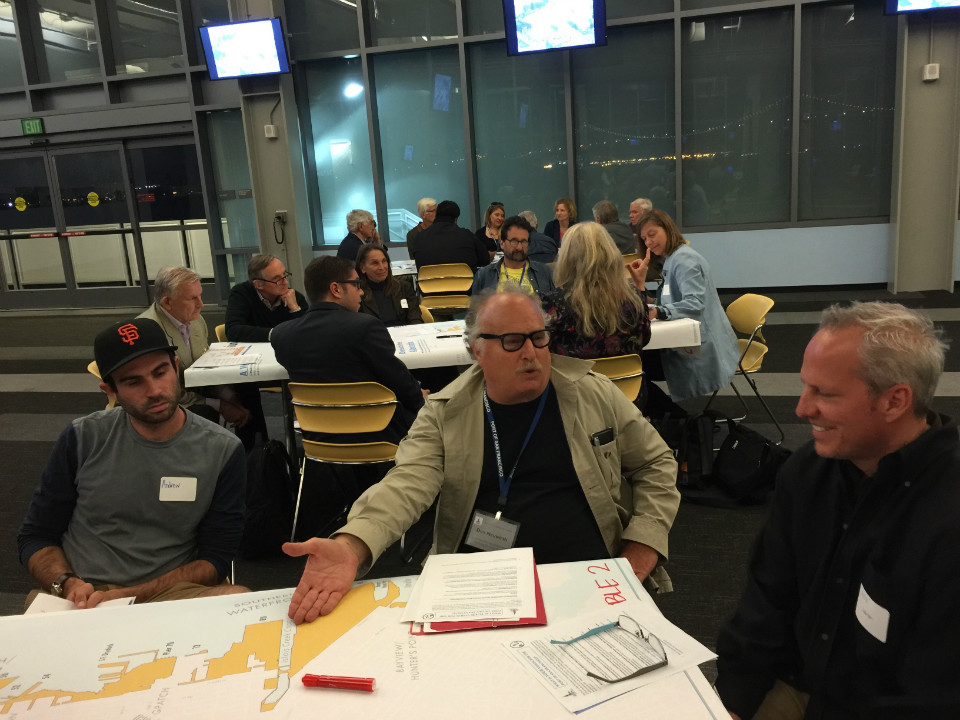 The first group mentioned they'd like to see more recreational boating and berthing facilities, and more access on the water for "human-powered vessels." They also said more free and low-cost events for families and more music and festivals along the waterfront would be nice.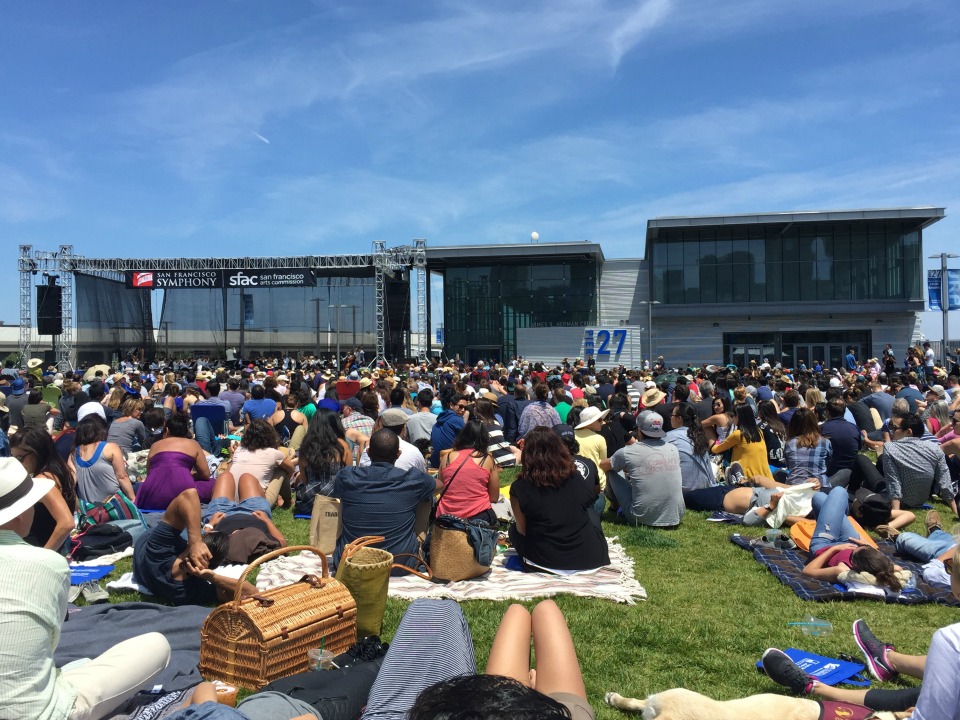 A free San Francisco Symphony concert at Pier 27 on July 12th.
The second group said the Port should consider manufacturing of physical and digital goods, suggesting a formal relationship with SF Made and citing Hong Kong's "Cyberport" creative community as an example. It also recommended better integration with the Blue Greenway and Bay Trail.
Mitigating increased traffic and congestion was a concern for the third group, while the fourth group also noted transit should be expanded, including more historic streetcars on the Embarcadero, more water taxis, more Muni service and possibly a new BART tunnel. They also said they'd like to see more art workshops and art installations. Group five also suggested increasing signage for water taxis and promoting more water recreation, including more boat launch areas and boat parking on the water.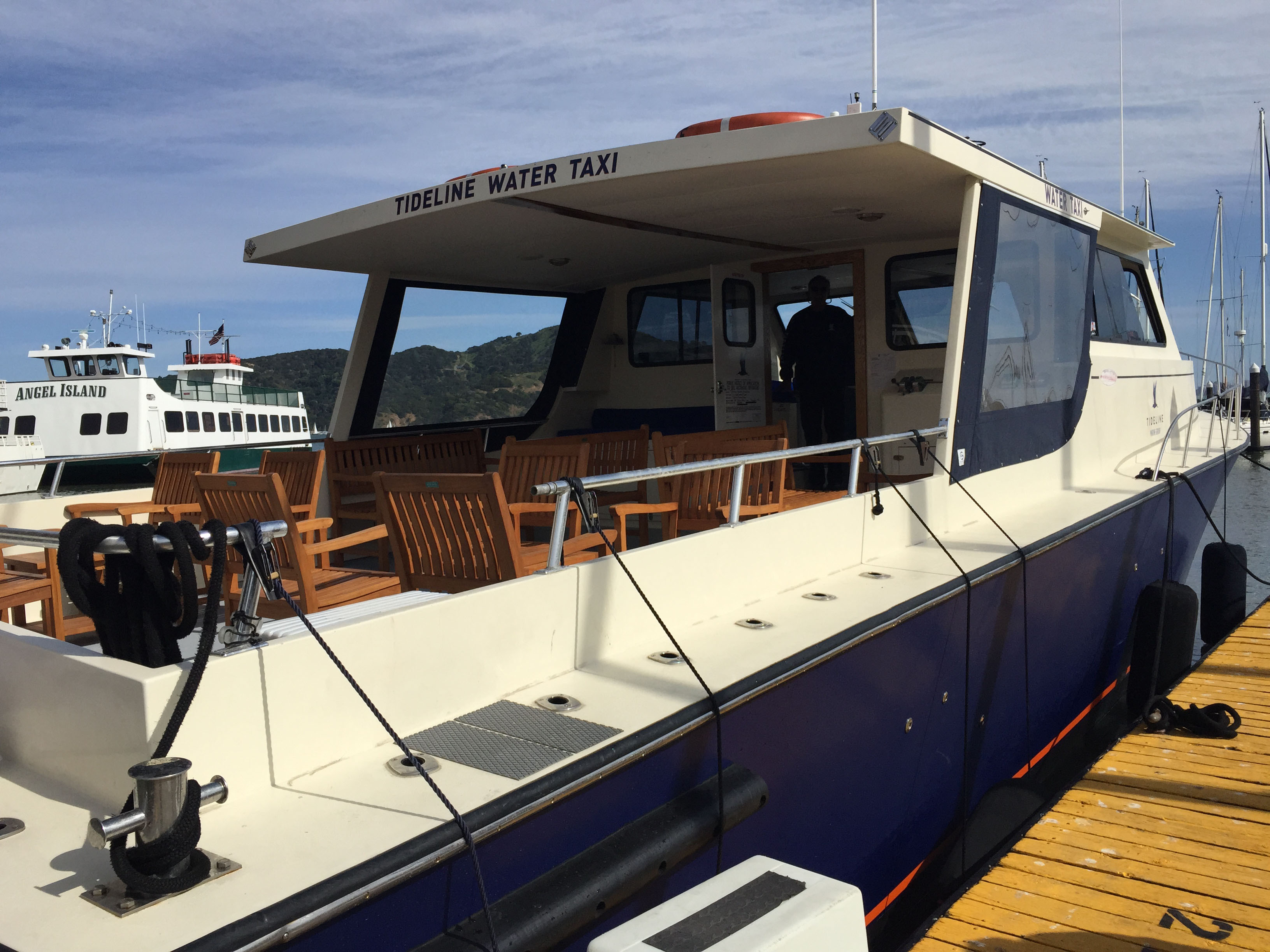 Tideline Water Taxi at Pier 1 1/2.
The sixth group mentioned a new BART tube as well, in addition to improved water access for human-powered vessels. It also suggested looking to Portland, Ore., as a model for a waterfront city that's "inviting, accessible and has active uses."
Along with a few others, the seventh group said sea level rise, seismic upgrades and repair of the aging seawall must be priorities for the Port, and they added that particular attention should be given to how to fund these massive infrastructure projects.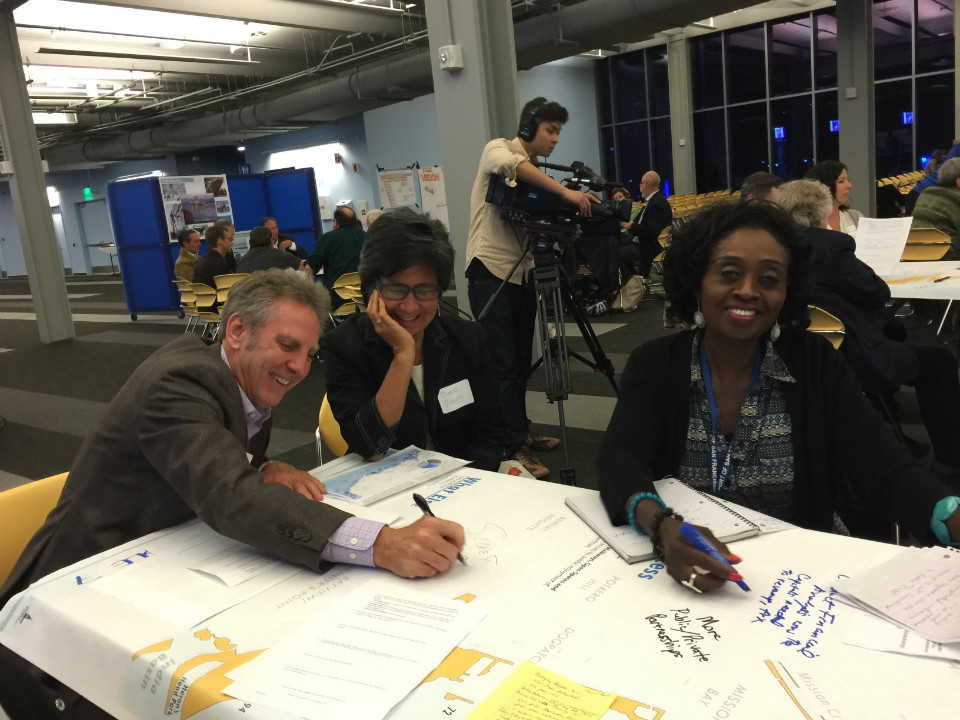 The Port is an enterprise agency, which means it generates its own revenue. "There must be a comprehensive financial analysis," one representative said, because it'll take billions of dollars to accomplish the many tasks with which the Port is faced. Public-private partnerships will be key, she added. Other groups talked about educating the public about Port infrastructure needs, and clarifying restrictions on public trust land.

The next steps will be to collect all of the information that came out of Monday's discussions, as well as data from forms people submitted in person and online. The first meeting of the Waterfront Plan working group will be Nov. 17th; it's open to the public. Updates will be available on the Waterfront Plan Update page of the Port's website.