If you've lived near Divisadero for any amount of time, you're familiar with Touchless Car Wash. With its solar panels, lovingly curated gift shop, Burning Man promotions and ongoing child-abuse prevention campaign, the car wash on the corner of Divisadero and Oak is a fixture in the neighborhood.

That's why many neighbors were surprised to hear that Touchless may be demolished to make way for a residential and retail development. We caught up with Roy and Patty Shimek, the longtime owners of the car wash and gas station, to learn about how it began, and why it may soon come to an end.
"Over my 60 years here—well, it's almost 60—things have changed a lot," said Roy. He started working at the on-site Shell station in 1960, to pay his way through undergrad at UCSF and law school at Golden Gate University. The neighborhood looked different then. There were a couple of clubs and bars on the street, where John Coltrane would sometimes come to play. The gas station itself used to be a bar, called the Oasis.
"There are some people in this neighborhood who still remember when this was a bar," said Patty. "They'll come in and tell me about it."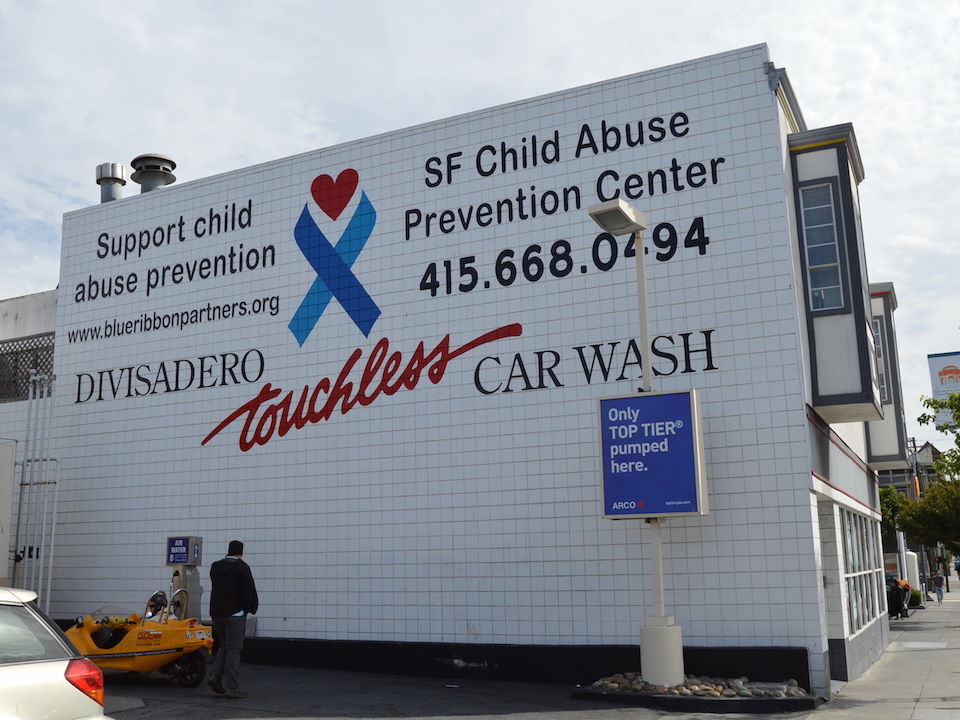 The Shell station was built in 1958, two years before Roy came in to manage it. Before that, it was a car wash known as the Lester Wash, which Roy believes was the first automatic car wash in San Francisco.
Roy never saw himself going into the gas station business, even though he had worked in one in high school. "I was planning to go to law school, which I did," he said. "And I thought that this was going to be a good opportunity to be able to finance my way through law school ... In my day, I didn't know anyone who had student loans."
But one day, his boss announced that he was selling the franchise. Roy described his boss as "an absentee owner" who had hired him on to manage the business. "And I felt that the new owner wasn't going to keep me, because he would operate in my position," Roy explained.
When a fellow student asked him how the job was going, he told him, "Not too well. I think I'm going to lose it." The classmate suggested buying the franchise.
At the time, Roy said, "if a trip over to Oakland was a dollar, I would have a hard time paying for that." The price for the franchise was $4,000.
"I said, 'You know, I don't have any money.' ... And it turned out, he loaned me the money to buy the franchise."
Roy owned and operated the gas station for the rest of his undergraduate career, and did so well that he was able to acquire more. By the time he graduated from law school, he owned seven.
In 1980, the permit to run the Lester Wash expired, and the car wash closed. To operate a car wash once more, Roy would have to build a new one that would fit on half the land.
At the time, automatic car washes in the style of the Lester Wash relied on machines that scrubbed the car—and occasionally resulted in broken antennas, windshield-wiper blades, and license-plate frames. In the years leading up to the dot-com boom, people in San Francisco were getting more expensive cars, and Roy had an idea.
"I thought there was a niche," he said, for a gentler car wash where people with expensive cars could visit with the peace of mind that their car would come out damage-free. He would clean the car with nothing but water and air, like a dishwasher, and a person would finish the cars by hand.
"Other people in the car wash industry said, 'It can't be done. You cannot get the car clean if you don't have the brushes scrubbing it all,'" recalled Patty. "Well, we proved them wrong."
The Shimeks said their car wash was the first in the United States to operate without mechanical scrubbing. They designed it, hired engineers to help them develop their plans, and had the equipment made to their specs. The system that opened in 1987 was, by Roy's estimate, about a $1.5 million investment.
The planning for the car wash took years, partly because its construction met with a lot of neighborhood opposition. As a compromise, Roy agreed to sell two of his gas stations, one at Fell and Scott and one at Fell and Baker, to be turned into housing.
"They didn't originally want the car wash here, which is why it's funny to hear that now people want it to stay," he said, laughing.
In the midst of all the planning and negotiations, Roy and Patty married a year before Touchless Car Wash opened. If you've stepped into Touchless' gift shop for a last-minute gift, the inventory is largely her doing—it's a one-stop shop for everything from gift cards and stationery to messenger bags and games. "These guys were talking about having a Chilly Willy [slushie] machine, and I said, 'No, we are not going to have that in our car wash.' I wanted to create a less gas station-y environment," Patty explained.
Touchless went on to be more successful than Patty and Roy had dreamed. "We used to think, 'If we could just wash 300 cars! We'll be on Easy Street,'" recalled Patty. That number kept growing. At their peak, they were washing 1,200 cars on a Saturday.
They both say their best memories there have been the people they've gotten to work with. Patty pulled out a binder with pictures of the employees and their hire dates. Roy read off the dates on one page: "2000, 2009, 2011,2008, 1999. 2012, that's recent. You know, two or three years, that's recent."
But these days, things have changed. Touchless' heyday was during the dot-com boom; when the bubble burst, the expensive cars left, too. The tech surge has returned, but this time around, the newcomers often don't drive to work, resulting in less business. On top of that, car-sharing services (with drivers who also often commute into the city) mean fewer cars need washing, and rising housing costs in the city mean that employees are harder to recruit.
"A lot of our employees got wrapped up in the enthusiasm of constantly breaking records. Like the Giants want to win another World Series, it was like a team that was everybody together," Roy said. "Well, that's kind of dissipated. Now, it's just hard work."
"It's been 28 years [since Touchless Car Wash opened]; it's been a great run. But it is not a sustainable business," Patty said. "And there's nobody who is offering us money to buy this car wash and keep it running as a car wash. The offers are to buy it for its value as land for housing."
The Shimeks know from the protracted experience of building the car wash that any future development will be a long process, and so they consider their work at Touchless to be far from over. In fact, Touchless' contract with Shell is set to end this coming April, which means that for the first time since the gas station was built, it will be able to sell non-Shell gas. "We'll be free!" said Patty, throwing her hands in the air. "We'll be able to sell gas at a much lower price. We will be able to compete with Arco."
When their car-washing days are finally up, Roy plans to spend more of his time trading stock options and Patty plans to spend more of hers on the nonprofit she helped start, Partners In Prevention, which works to prevent child abuse.
As for their current employees, the Shimeks say they'll be able to find new jobs for those who wish to continue washing cars—they have owned and partnered with car washes in the North, South, and East Bays, and have friends who own another car wash in San Francisco.
As they walked us out of the Touchless office, Patty and Roy stopped to point out some of the pictures lining the hall. There were crayon drawings of the car wash, done by children at the schools where Patty has volunteered, and group photographs of employees. "This is all the cashiers," Patty said, pointing at a group photo taken at a bowling alley. "[This woman] doesn't work with us anymore, but she came back for this."
They pointed out a few more pictures, quibbling over the details—What year? What was the occasion? Then they walked downstairs and got back to work.