You might want to sit down for this.
Following the fifth gas line leak on the same block just two weeks ago, and subsequent second suspension of construction on the street's ill-fated infrastructure project, Haight Street is now dealing with its second sinkhole.
We got word yesterday of a possible sinkhole at the Haight Ashbury intersection from commenter Beigs. We checked it out, but at the time, it only looked like a pot hole with ambitions. 
James Sword of the Haight Ashbury Neighborhood Council (HANC) had noticed, too. He reported the hole to 311 on Tuesday around 8pm, but crews weren't sent out until after dark last night. The real work started at about 8pm Wednesday night, and by 10pm, there was a trench filled with workers stretching half the block from Ashbury to Clayton. 
We received a message from reader Becca K. alerting us to the cacophony: 
This sinkhole construction is horrible! Our entire building in rattling and we can't sleep. Any news on what happened and these emergency repairs?  
The work continued well into the wee hours. This reporter was on scene all night (because she lives on that corner and sleep was out of the question), and can confirm that indeed the work was loud, that buildings were rattling, and that anybody within a block had a rough night of it.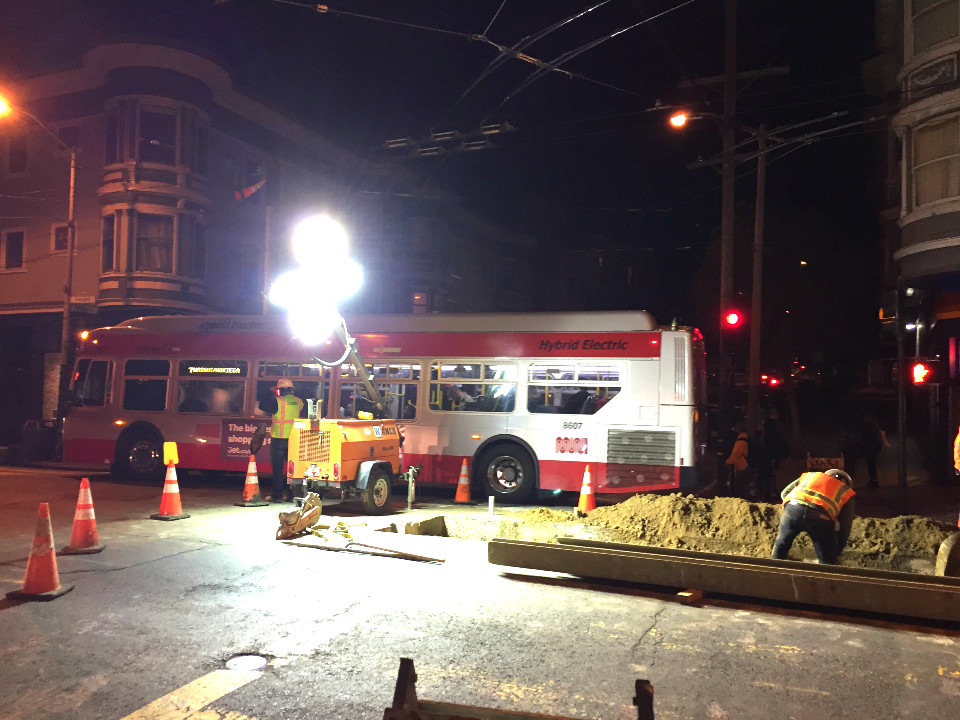 As of this writing, the city has not responded to requests for information about the sinkhole. 
It does appear, however, that the workers are from MK Pipelines, and not from Synergy, the subcontractor under scrutiny after the multiple gas line ruptures in recent months. Synergy's contract is currently under review by SF Public Works, in conjunction with the District Attorney's office, according to Vallie Brown, one of Supervisor Breed's legislative aides.
Speaking of those gas leaks, James Sword and HANC have issued a press release in hopes of spurring action from the city. They're organizing a press conference set to take place on Monday, October 26th at 10am in the parklet in front of Haight Street Market. 
Representatives from HANC, the Haight Ashbury Merchants Association (HAMA), North of the Panhandle Association (NOPNA), and the Panhandle Residents Association (PROSF) will be on hand. The Alamo Square Neighborhood Association will also be there, as the same contractor and subcontractor are set to do the work on Hayes Street.  
The groups are calling on Supervisor Breed to address the city's plans to finish the infrastructure project safely and talk about the "numerous gas leaks and a sinkhole" which have "imperiled Haight Street residents, visitors, and merchants, caused impromptu Muni route diversions, and closed businesses for hours," among other things.
Here's what they hope to find out, per their press release: 
WHAT HAPPENED
1.    A summary of what actually, officially happened (we have no statement by any official on  the nature of the problem) made by the Director of DPW and/or the City Administrator. 
2.    Is it unusual for there to be repeated failures of the same type (gas line location/breach)  in the same project in such a short period of time; does this happen "all the time"?  
3.    A summary of process used to select contractor and sub-contractors.  Did either have any history of such errors on jobs done in the past? 
4.    What are the responsibilities of PG&E to convey information on location of gas lines?  Were they met in this instance? Who on the City side coordinated with PG&E or was all of it  left to the contractor? 
WHAT IS TO BE DONE 
1.    What were the "lessons learned" from this gross failure and how are they to be applied to Haight St., Hayes St. and future projects? 
2.    What procedures are to be changed in the contracting and construction process? 
3.    What procedures with PG&E are to be improved 
4.    When does the neighborhood get an official apology from all responsible companies and agencies?!
Supervisor Breed's office is still figuring out whether she will be available to appear. [Update, 12:40: Breed will be in attendance on Monday.]