For Walter Bishop-Jones, a.k.a. Barber Walter, opening a barber shop was the logical next step in a lifelong career of cutting hair. After moving to San Francisco from Sacramento, Bishop-Jones spent five years barbering at some of the city's most popular shops, including Peoples on Polk and the now-shuttered Barber Lounge in SoMa. But he still hadn't found quite the right atmosphere for himself and his clients.
Bishop-Jones has a vision of the ideal barber shop experience. "You got a guy who gets off of work ... At the end of the day, he goes into the barber shop and feels completely at home. He says what he wants to say, for the most part. And he learns about what's going on in the neighborhood."
Brie Anderson, Bishop-Jones' primary investor, agrees with that vision. The pair first met years ago, when Anderson found Barber Walter's mobile service on Yelp and, impressed by his overwhelmingly positive reviews, waited two weeks for an appointment. He wasn't disappointed. Anderson spent the next few years following Bishop-Jones from shop to shop, and even served as a test subject for lessons he taught at the Aveda Institute.
"He's the most generous, nicest barber I've ever come across," Anderson says. When Bishop-Jones shared his business plan for his own shop, to be called Barber Walter's Joint, Anderson says he didn't think twice about investing.
Located at 1014 Larkin St., on the border of the Tenderloin and Polk Gulch, Barber Walter's Joint is expected to debut by mid-January. The large space will have eight barber chairs, and haircuts will cost $1 a minute, with clients purchasing a chunk of time depending on their needs ($30 for a buzz cut, $45 for a regular haircut and $60 for the deluxe package).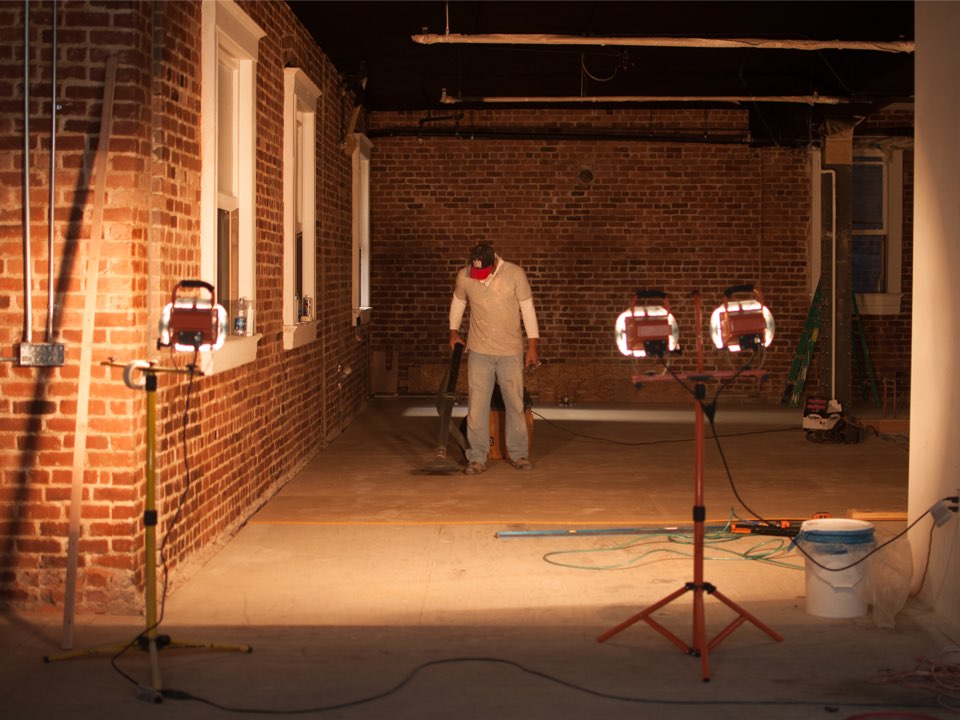 The Barber Walter's Joint space, still under construction. 
Barber Walter's Joint won't be short on amenities. Clients will enter through the front lounge overlooking Larkin Street, which will be outfitted with couches and cafe-like seating. In the back, another lounge will feature more seating, sports and television shows projected on the wall, and a wet bar with free refreshments. The entire shop will be equipped with surround sound.
Joey Faccio, who designed the shop's interior and branding, says it will be a cross between a high-end barber shop and a comfortable hangout spot. Dark and masculine colors, custom woodwork and vintage artifacts will give the space a warm feeling, underscoring the 108-year-old building's historic nature.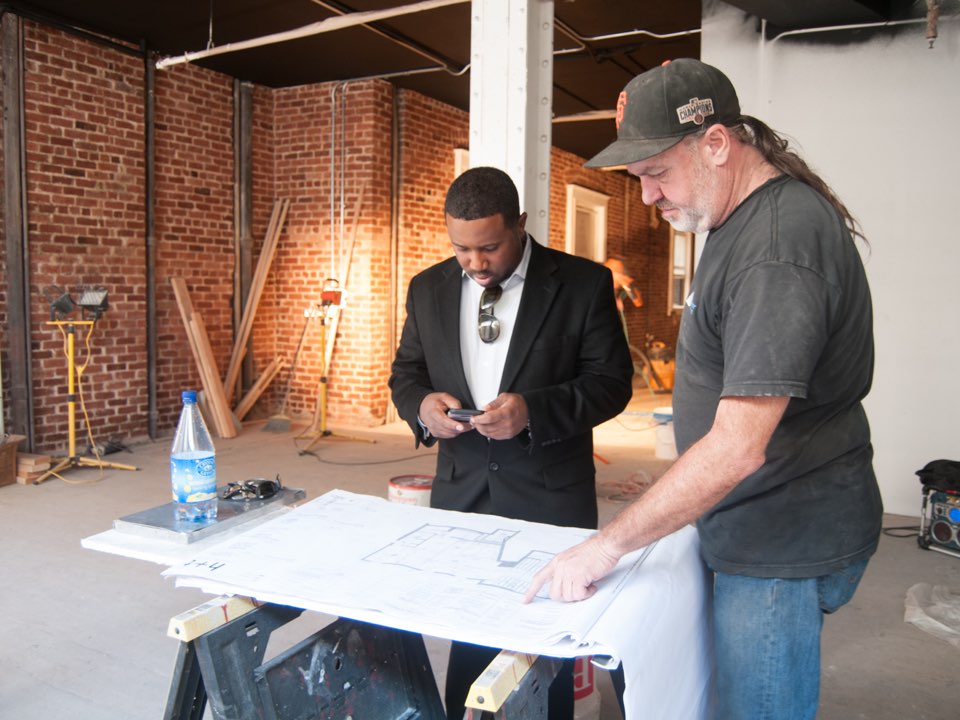 Anderson reviewing plans in the shop's front lounge.

Bishop-Jones said he considers the barber shop to be one of the last great places for men to gather, and while women are by all means welcome, the shop will very much cater to the masculine set. Many of Barber Walter's longstanding clients are already eager to be a part of such a place: more than 100 (both men and women) have already paid to join Barber Walter's B.O.O.C. Club, which stands for the Benevolent Order of Co-Conspirators Club. Each member receives a personalized straight razor that's used only for their visit, and is placed in a display case in the middle of the shop. They also get priority access to future events.
Bishop-Jones lights up when discussing this exclusive society, but he and his business partner want to be a boon to the wider Tendernob neighborhood as well. They envision their spacious front lounge and free wifi as resources for patrons of the petite (and busy) Mr. Holmes Bakehouse, located just a couple of doors down. Guests will be welcome whether they're waiting for cuts or not.
Barber Walter's Joint also plans to offer space on its walls for local artists to display and sell their work, and is looking for ways to get involved with the nearby high school, Galileo Academy. All of this is coming to a storefront that was used as a storage unit for years, Faccio notes.
While construction on Barber Walter's Joint won't be complete until mid-January at the latest, the team hopes to host a soft-opening celebration during the last week of December. We'll let you know as soon as a date is set.