The battle to prevent a luxury townhome development on Telegraph Hill near Coit Tower will continue into 2016, now that a judge has continued a hearing on the matter brought by a group which says the project would block views from Pioneer Park.
Some neighbors began opposing the project, slated for 115 Telegraph Hill Blvd., in July of 2014. The site, a steeply sloped south-facing 7,517-square-foot lot across the street from the steps to Coit Tower, has been vacant for roughly a couple of decades. Aaron Peskin sent an email to neighbors saying if the development went forward as proposed, it "would be a terrible planning mistake that will adversely impact San Francisco's world renowned Telegraph Hill, iconic Coit Tower and the surrounding 4.89 acre Pioneer Park."
At issue: Mainly, neighbors are concerned that wide vistas of the cityscape from Pioneer Park will be blocked. The developer, Jeremy Ricks, and his attorney and city attorneys maintain the views from the park will not be affected. "The fact that this project will block the view from a public park is inconsistent with the planning code," said Susan Brandt-Hawley, attorney for opponents of the project, in a hearing on November 19th. "The view is either blocked or it isn't." 
Graphic: Butler Armsden Architects
Although the Planning Commission and Board of Supervisors both said views wouldn't be affected and gave it the go-ahead, neighbors organized under the unincorporated name Protect Telegraph Hill and took Ricks to Superior Court. They say the city wrongly approved the development without requiring an environmental review. After Thursday's hearing, Judge Teri L. Jackson asked attorneys for both sides for further briefings and continued it to January 7th. After that, the judge will have 90 days to issue a decision. 
A bit of background: The project as proposed is slated to include three luxury townhomes of more than 4,000 square feet each, a renovated existing 1,000-square-foot cottage and a 3,700-foot underground parking garage for three vehicles; none would exceed 40 feet in height.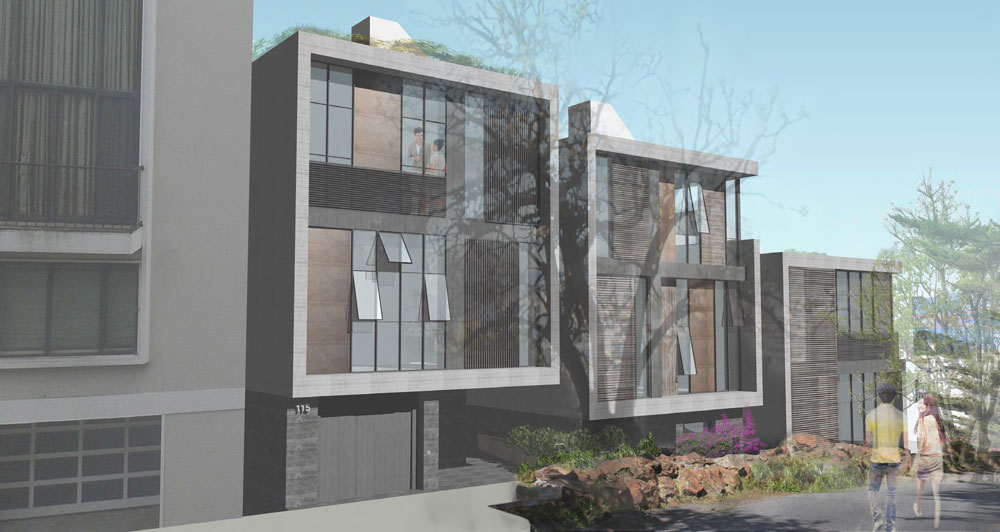 Rendering: Butler Armsden Architects

In the hearing, Brandt-Hawley began by arguing that categorical exemptions from the California Environmental Quality Act (CEQA) and approvals for conditional use authorizations didn't apply for several reasons. The main argument is that the structure will block iconic views of the cityscape. "This is a panoramic view of San Francisco," Brandt-Hawley said. "It's a public vista that's very much enjoyed by tourists and residents alike." That conflicts with the city's planning code, she said, which requires that "our parks and open space and their access to sunlight and vistas be protected from development."
Brandt-Hawley asked the judge several times to go view it for herself to see. She pointed to a diagram on page 22 of the opening brief that she said is "proving this view is going to be blocked." She also said, "There's nothing wrong with developing that lot," but it has to be consistent with the city's general plan.
Brandt-Hawley also brought up other environmental concerns that neighbors have had from the get-go. Those ranged from danger to pedestrians during construction to impacts on children at Garfield Elementary School, which would be very near the staging site for construction. 
Deputy City Attorney Andrea Ruiz-Esquide argued that this is a "textbook case of an infill project to which categorical exemptions apply." She noted that the townhomes are "comparable in size to the neighboring properties" (they're no higher than the adjacent homes and have "step-downs"). Attorney Daniel A. Frattin for Ricks said the argument that a development can't be built if it blocks a vista "is not, in fact the law. This is, I think, an extreme reading of section 101." Ruiz-Esquide explained that the planning codes are "policies" and must be balanced against each other.
The joint brief from  Ruiz-Esquide, Frattin and Deputy City Attorney Victoria Wong argues the project has no significant environmental impacts and will not affect views. Further, it states there are no "unusual circumstances" surrounding the project that would preclude a categorical exemption. Several other legal arguments were brought up in the courtroom and in the briefs that go into myriad reasons why the development should or should not have been allowed categorical exemptions for the environmental review and conditional use permit.
Judy Irving of Telegraph Hill was among a handful of opponents in the courtroom. "The point is that there are fantastic sweeping views from those steps on the south side of Pioneer Park," she said. "If the project blocks views from a public park, you're not supposed to get permission to construct it. This project absolutely blocks views from Pioneer Park. All you have to do is walk up there and take a look."
When asked if there was any development neighbors would like to see, Irving said, "Telegraph Hill Dwellers is not opposed to a development—just this development, because it blocks views. People did try to work with Jeremy to come up with alternative plans," including lowering the height of the building, she added, but he didn't accept them.
Ricks said, "We've tried numerous attempted negotiation settlement agreements and there's never been a time the Dwellers have been able to come forward with any kind of unanimous support for a specific project." Some say there's too much excavation, while others say it's too high or too wide. "Everyone has their own agenda on the hill who opposes it," he said.
Not everyone opposes the townhomes, however; Planning received dozens of letters of support from neighbors as well as dozens in opposition. The executive summary for the conditional use authorization includes them.