At around 3pm today, a double-decker tour bus crashed on Post Street at Stockton, injuring multiple people and taking down scaffolding and a power line. 
Tour bus crash in SF at Stockton & Post - NE corner of #UnionSquare. Several injuries. pic.twitter.com/tShHo0EYCF

— Grant Lodes (@GrantLodes) November 13, 2015
Tour bus collides with temporary pedestrian walkway on Post & Stockton #UnionSquare #SF pic.twitter.com/ULfSrbkuhW

— Brian Kendzior (@b_kendz) November 13, 2015
Update, 3:20: According to the emergency scanner, victims are being evacuated from the bus and other vehicles on the street. Our reporter on the scene notes that one injured person was extracted from the roof of the bus.
A witness reports that the bus, operated by City Sightseeing, lost its brakes and careened down Post Street, trying to avoid traffic. According to the witness, the bus driver lost control and the bus collided with cars along the way. The bus also hit scaffolding at the future site of the new Apple Store at 300 Post St.
The scanner reports that live wires are down on the street. 
Union Square staffers say double decker tour bus "lost control," ran into traffic, Apple store construction site pic.twitter.com/NfQtJOCNjN

— Chris Roberts (@cbloggy) November 13, 2015
Uber driver in traffic behind the Union Square tour bus says heard nothing until he saw scaffolding coming down pic.twitter.com/O8Td9WzAkM

— Chris Roberts (@cbloggy) November 13, 2015
Update, 3:30: The emergency scanner indicates that two victims are in critical condition. (These numbers have been updated upwards, below.)
Service on multiple bus lines has been impacted.
ATTN: Due to SFPD activity near Union Square area, the 8, 30, 38, 38R, & 45 may see delays due to residual traffic on nearby streets.

— SFMTA (@sfmta_muni) November 13, 2015
ATTN: Due to SFPD activity near Union Square, Powell Cable Car Line currently down.

— SFMTA (@sfmta_muni) November 13, 2015
Update, 4:10:  The SFFD says that the tour bus was carrying as many as 30 people, and at least seven were injured in the incident, three of them critically, NBC reports. 
UPDATE: Tour bus with up to 30 on board crashes in Union Square; multiple injuries reported. https://t.co/jIbBWgVwRN pic.twitter.com/peN2z4rkC0

— NBC Bay Area (@nbcbayarea) November 13, 2015
Update, 4:15: According to a statement by SFPD spokesman Officer Albie Esparza, several witnesses said the bus was traveling at a high rate of speed. Five victims are reported to be in life-threatening condition, including a cyclist hit by the bus. Eleven people are in stable condition, three with non-life-threatening injuries. 
Officer Esparza said to avoid the area, which will be shut down until further notice. The 200 block of Post is shut for SFFD triage. The cause of the incident is under investigation, Esparza said. They are looking into mechanical issues, drug and alcohol use as part of standard protocol.
Update, 4:35: According to SFFD fire chief Joanne Hayes-White, first responders extricated two people from private cars, two from the bus and two pedestrians who were partially under the bus.
"This was pretty horrific," said John Zimmer, head of security for Union Square Park. "It was gut-wrenching when I came up. It was like a bomb going off: boom boom boom boom boom."
Zimmer said that as soon as the bus stopped, good Samaritans stepped up and tried to clear the area for emergency vehicles.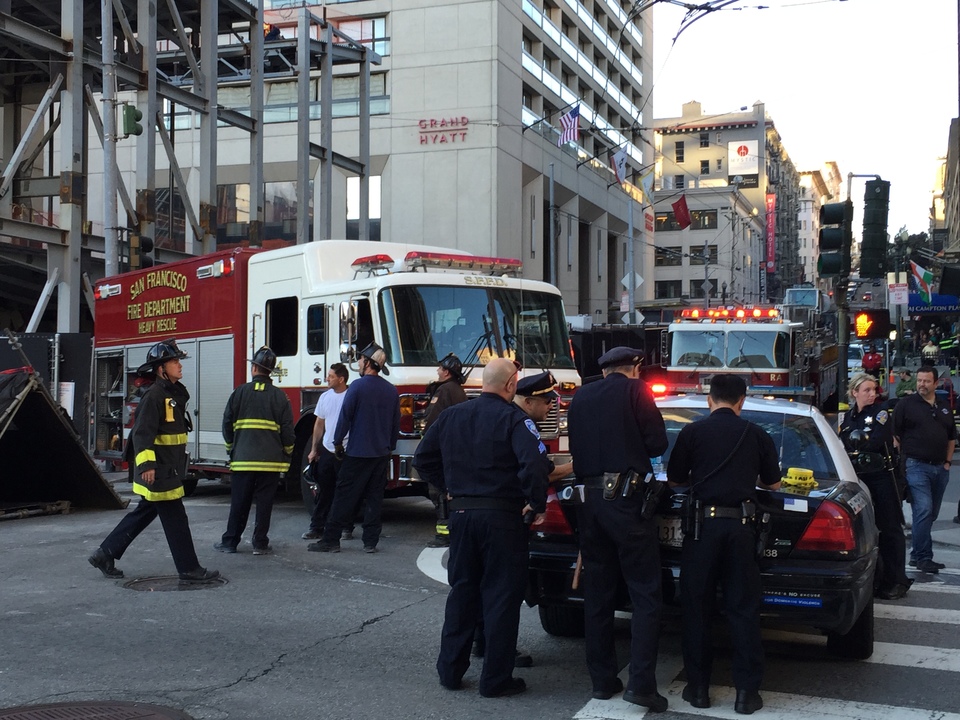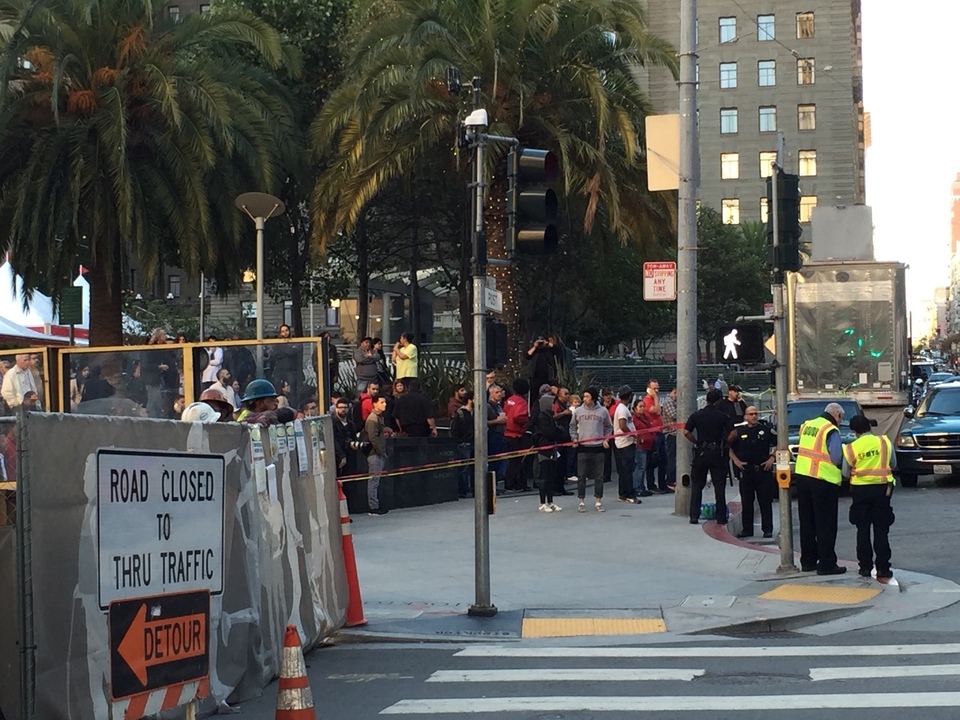 Photos: Geri Koeppel/Hoodline
This story is unfolding, and we'll add updates as they come. 
Update, 11/14: SFGate reports the numbers have been updated to reflect at least 20 hurt, seven critically. Crews worked throughout the night to clear the scaffolding; Post Street is back open this morning.
Update 2, 11/4: The tour bus company responds:
"Statement from Christian Watts, CEO City Sightseeing San Francisco
Everyone at City Sightseeing San Francisco is deeply saddened by the Union Square accident. Our hearts and prayers go out to the individuals and families who were impacted. We are cooperating with the authorities to determine how this happened. We pray that everyone involved recovers fully and quickly"
Update 3, 11/16: SFPD Officer Albie Esparza confirmed most of the injured have been released from the hospital, but six people are still hospitalized in critical condition this morning. He said there is no new information concerning the crash; the investigation is ongoing.