Today's story is the second in a three-part series on Coit Tower, running Monday through Wednesday. Yesterday, we looked at the process of restoring the tower's murals; tomorrow, we'll cover proposed amendments to the lease that would allow Coit Tower to offer food and drink and sell tickets online. 

Starting in 2013, Coit Tower underwent a six-month, $1.7 million renovation by the San Francisco Recreation and Park Department and San Francisco Arts Commission. The tower and its restored historic murals were unveiled at a ceremony on May 14th, 2014.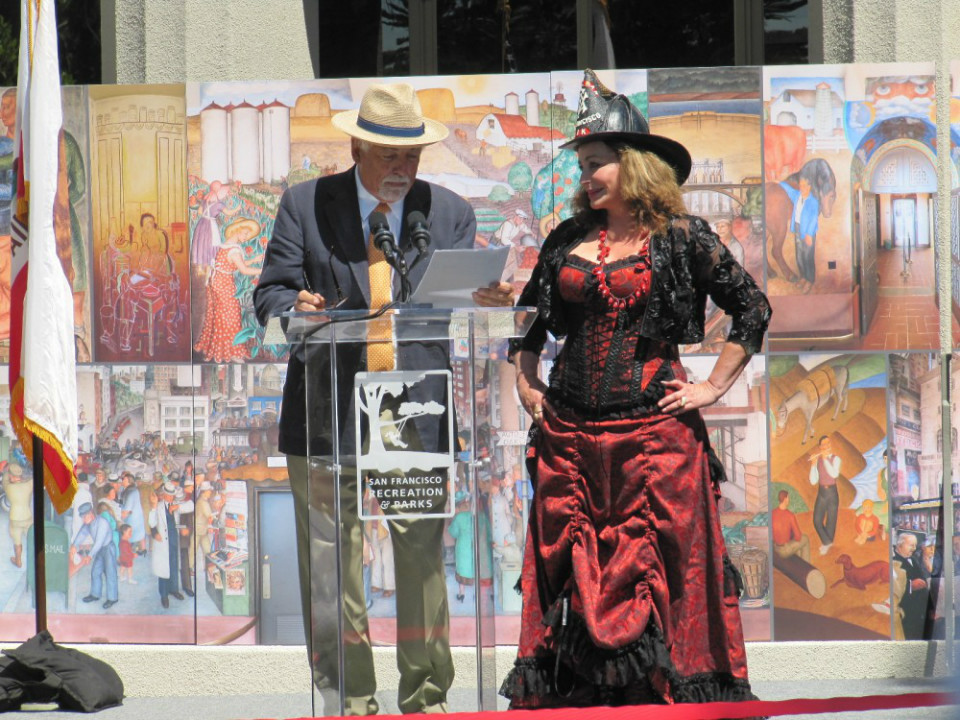 San Francisco Recreation and Park Commission president Mark Buell and Donna Huggins (dressed as Lillie Coit) at the reopening of Coit Tower on May 14th, 2014. 

Thanks in part to funding from Rec & Park for the Arts Commission and more staff, Coit Tower is now being run as a museum, rather than a tourist attraction. "It was not previously run in a museum-like fashion," said Sarah Madland, director of policy and public affairs for Rec & Park. "Not just the murals, but the entire property, which has historic and cultural significance to San Francisco."
To make sure the tower and its artworks continues to be maintained properly, the neighborhood group Protect Coit Tower has acted as a watchdog. It's also raised questions about why it's taking so long for things to be fixed, and whether enough funding from the tower's $1 million-plus annual revenue is going back into it.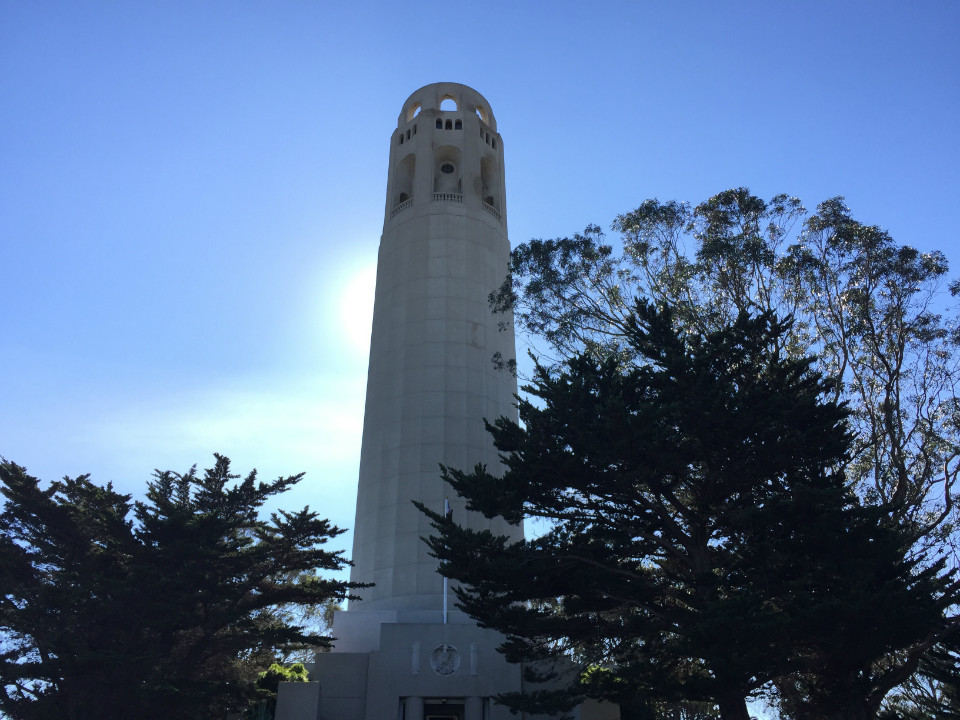 Coit Tower.
First, a bit of background: In June 2012, voters approved a ballot measure that sets official policy regarding the tower. It strictly limits commercial activity and private events at the tower, and prioritizes funds generated from the tower for the preservation of the murals and the protection of the building and park around it. (The Board of Supervisors never took action to implement it, but that could change with the election of District 3 Supervisor Aaron Peskin, who strongly supported the proposition at the time.) That measure also indirectly spurred the city to devote the $1.7 million for the tower's restoration, said Jon Golinger, founder of Protect Coit Tower.
Since the ballot measure was passed, Golinger has beat the drum to ensure the tower gets ongoing care and sufficient funding. "The concern is that, as the voters stated in the ballot measure, Coit Tower and the murals get the resources they need to stay in good shape," Golinger said. "We want to be sure that the Arts Commission has the resources they need to do the job." He wrote a letter to the Rec & Park Commission last month to ask for an accounting of gross revenues from the tower and how they're being spent, and the Coit Tower property manager responded.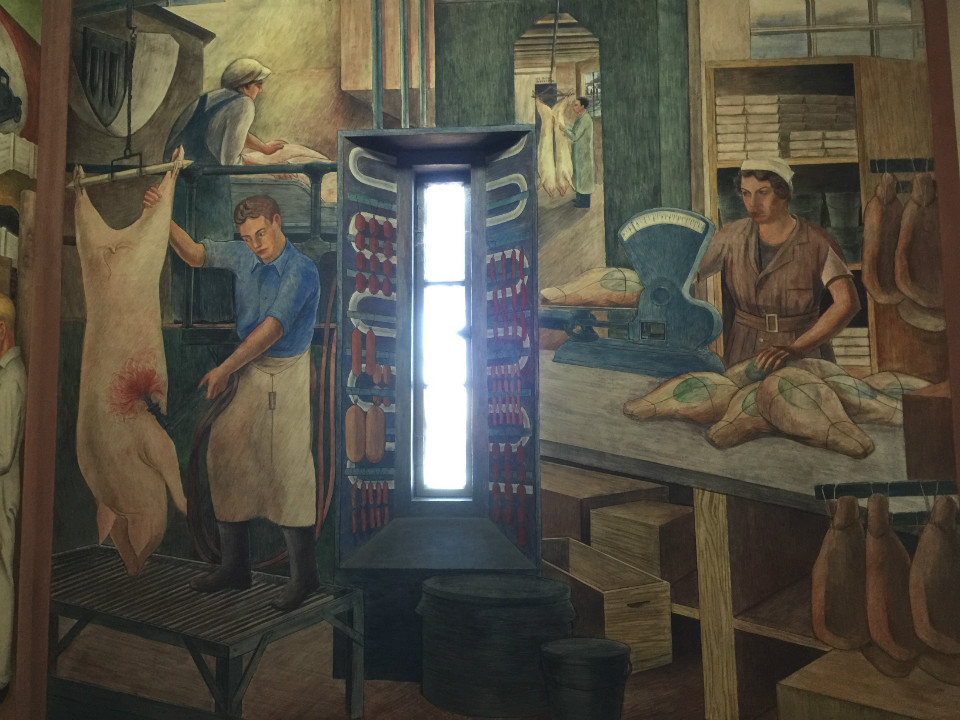 Meat Industry by Ray Boynton.

Still, Golinger was dismayed that several of the tower's informational signs about the murals were missing or contained errors, even after renovations had occurred. One even misspelled the artist's name (it's Clifford Wight, not Wright; the error has since been fixed). A sign on artist Ray Boynton's mural about the North Beach meatpacking industry has been missing for a year, he said. 
"This is a museum of importance. This is historic art," Golinger said, adding that you wouldn't see Pablo Picasso's name misspelled on a sign at SFMOMA.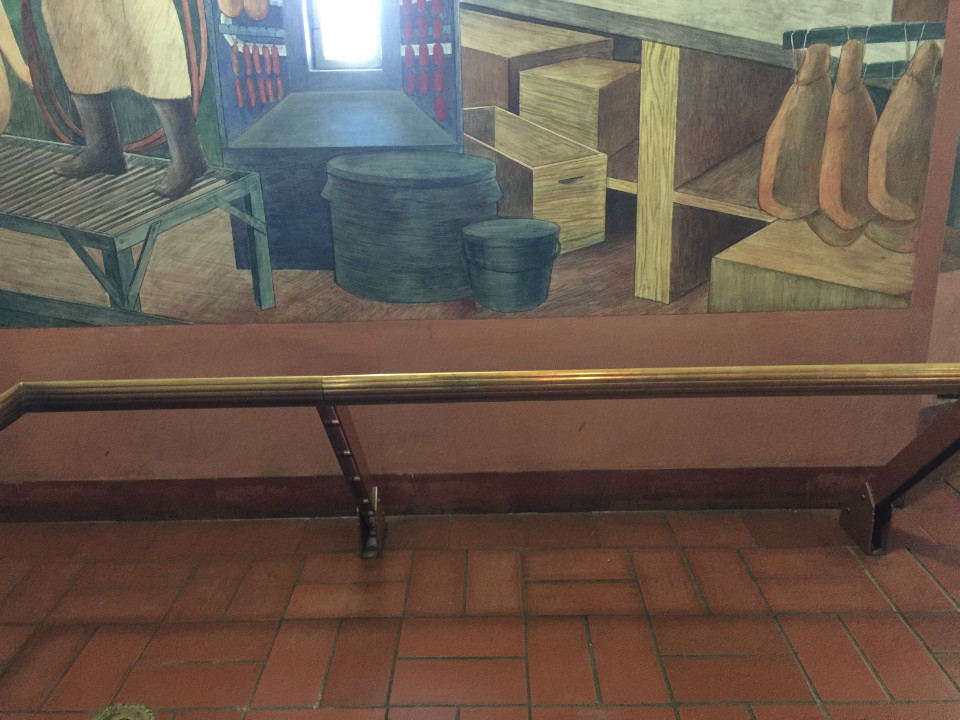 No sign on Meat Industry by Ray Boynton.
Since the tower re-opened in May 2014, Rec & Park has devoted one percent of gross revenue from elevator rides, tours and merchandise sold in the gift shop directly to mural preservation. (Rec & Park receives 90 percent of elevator admissions, 20 percent from the gift shop and 10 percent from docent tours.) 
Even though actual revenue for fiscal year 2014-15 fell a bit short of the projected $1.3 million (it was slightly over $1 million), the Arts Commission still received its allotted $13,000, Madland said. Moving forward, the Arts Commission will get one percent of actual revenues. Madland said Rec & Park has independent audits conducted periodically of all of its concessions.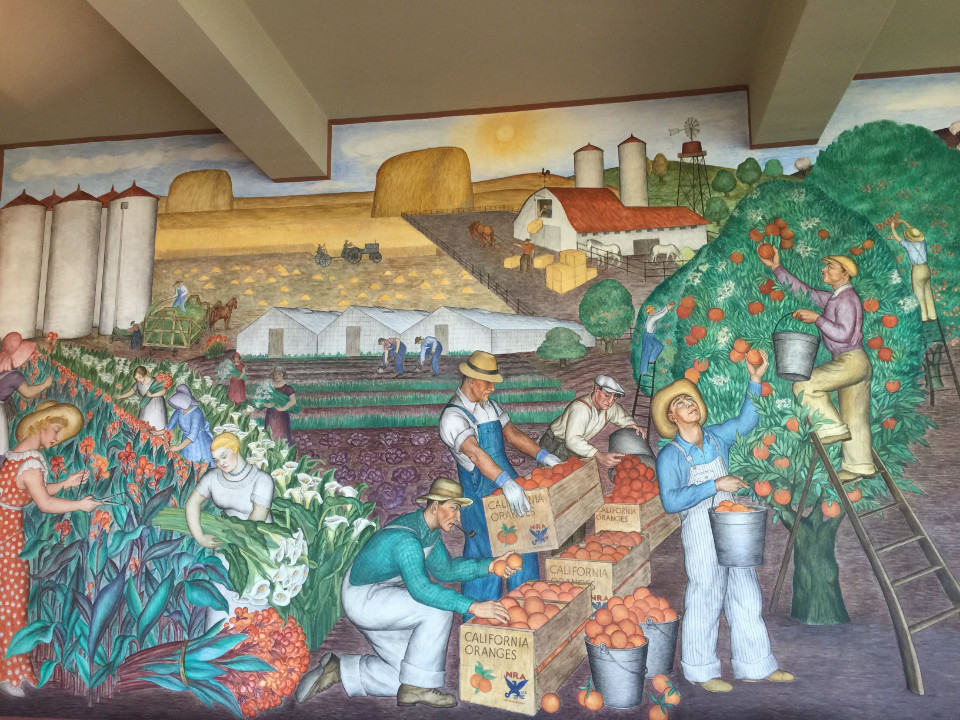 California by Maxine Albro.
"These funds have allowed us to carry out our maintenance plan," Kate Patterson-Murphy, director of communications for the Arts Commission, wrote in an email to us. "So far, we've treated the murals twice, and we are about to embark on a third treatment. Our conservator conducts standard maintenance—dry-cleaning the mural surfaces and in-painting any areas of small loss—every six months. The funds have also allowed us to make repairs to the didactic signage."
As for the issues with signage, "the typos in question were corrected a couple of months ago and to our knowledge, there are no other issues with the text," Patterson-Murphy said. "All of the signs are being replaced this month, with a new design. We are coordinating with the concessionaire, as there will be a period of about four days when there will be no signage at the tower while it is being replaced. We are aiming to have this work completed by the third week of November."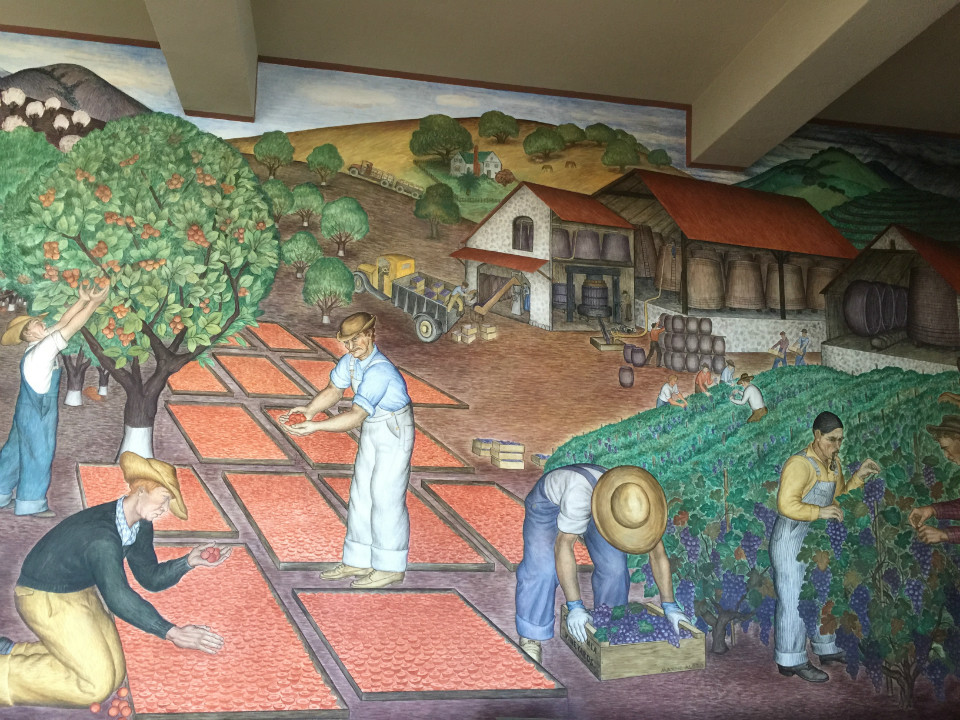 California by Maxine Albro.

Rec & Park plans to provide even more to support the tower's operations: It's asking for a lease amendment that would, among other things, provide an additional $9,500/month to concessionaire Terry Grimm for more staffing. That would pay for three to four full-time employees dedicated to mural protection, Madland said. They would greet visitors and gently remind them not to take food or beverage inside, to remove backpacks, and to not touch or harm the murals.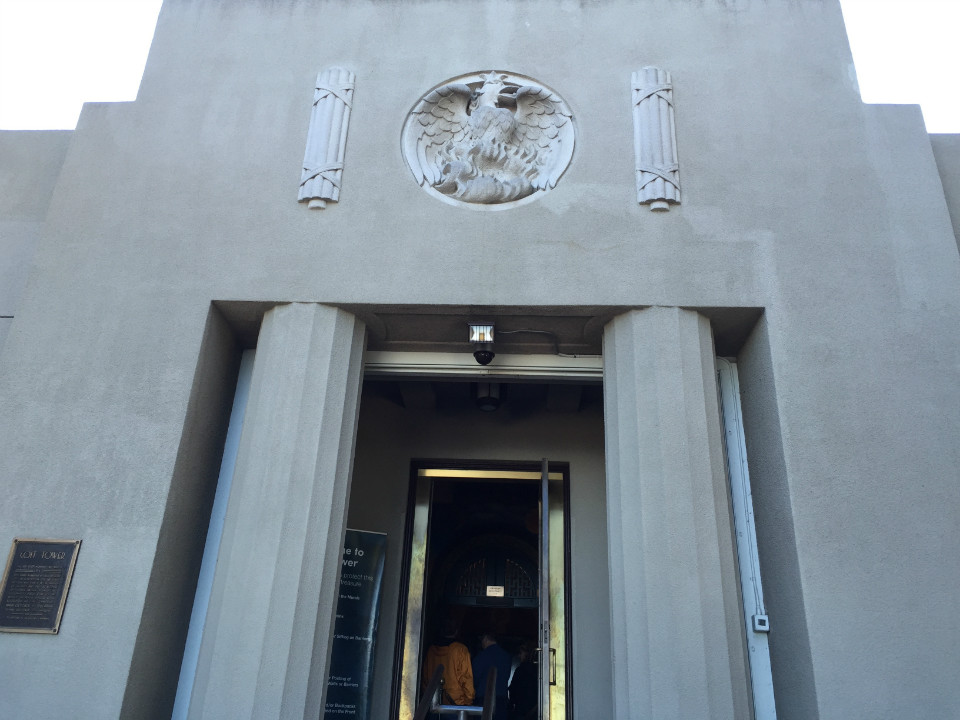 Entrance to Coit Tower.
Golinger is pleased to hear that Grimm is getting help with mural protection. "It's been obvious to anyone who's been at the tower over the past year that more staffing has been needed to protect the murals, and this recognizes that." Grimm currently receives 10 percent of elevator revenues, in addition to profits from merchandise and tours. He's also building a refreshment kiosk outside the tower, which, as we've reported, has created controversy. 
Tomorrow, in part three of this three-part series on Coit Tower, we'll look into more of the proposed amendments to Grimm's lease, including selling tickets online, selling food inside the gift shop and allowing after-hours private tours. The amendment also includes guidelines for speaking with the media and more details on the food and drink kiosk.