On December 15th, L'Osteria Del Forno closed its doors to the public for the evening, inviting in close friends, family and regular customers to celebrate the restaurant's 25th anniversary. Having operated out of the same location at 519 Columbus Ave. since its inception, L'Osteria is now one of the oldest family-run Italian restaurants in North Beach, according to co-owner Richard Terzaghi.
At the anniversary party, Terzaghi and fellow co-owner Nicolas Sillac moved busily through the small restaurant, greeting guests and bringing out copious platters of house-made focaccia, pizzas and salads. The atmosphere resembled a warm family reunion.
L'Osteria Del Forno opened in 1990. Its founders were a pair of Italian cousins, Varese native Wally Tettamanti and Bologna native Susanna Borgatti, who wanted to serve the Northern Italian cuisine of their childhood. When the pair decided to retire in 2014, Tettamanti's younger cousin Terzaghi, who was raised in Provence, took over as owner of the restaurant.  He then invited his friend Sillac to come on board as an owner-manager.  
L'Osteria's kitchen is tiny, with only one oven and no gas stove. "Everything that we serve comes roasted," Terzaghi said. "Except for the pastas, which we cook on one electric burner." It's also the only Italian restaurant in North Beach that bakes its own bread, he adds.
But despite its small size, the kitchen has put out some enduring dishes that draw a healthy crowd of regulars. Sillac tells us that the most popular items are the lamb, the thin-crust pizzas, and especially the roasted pork, which is prepared daily. "It's roasted for four to five hours in milk and rosemary," he said. "It's very common in Northern Italy."
The wine list features only wines from Italy, and Terzaghi and Sillac are constantly looking for unique, "small-batch" wineries to add to their selection. They say that the Italian terroir gives each wine a specific taste and characteristic that's unique to Italy and pairs well with their dishes.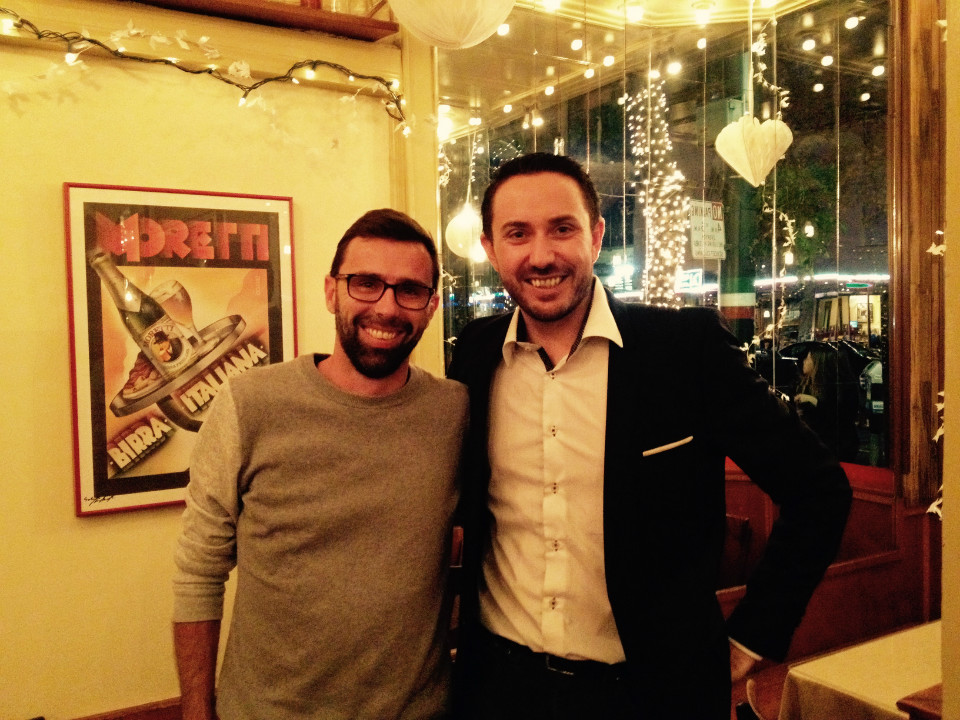 Richard Terzaghi and Nicolas Sillac.
According to Sillac, many tourists who visit the restaurant do not realize that Italian cuisine varies by region, and is much more complex than just bowls of pasta and pizzas. Terzaghi says he's proud to have a following of regular customers from the neighborhood, and "not just tourists."
"Many of our regulars live in the apartments upstairs," he said, pointing to the ceiling. 
Others travel long distances for a meal at L'Osteria. Adam Buchan and his wife, Dulcy, live in Stockton, but for over 23 years, they've driven to North Beach two to three times per month to get their fix. "We are creatures of habit," he says. "I usually get the pasta di Parma, and my wife loves the veggie pizza." Over the years, the Buchans have gotten to know other regulars at the restaurant, and enjoy seeing familiar faces each time they visit.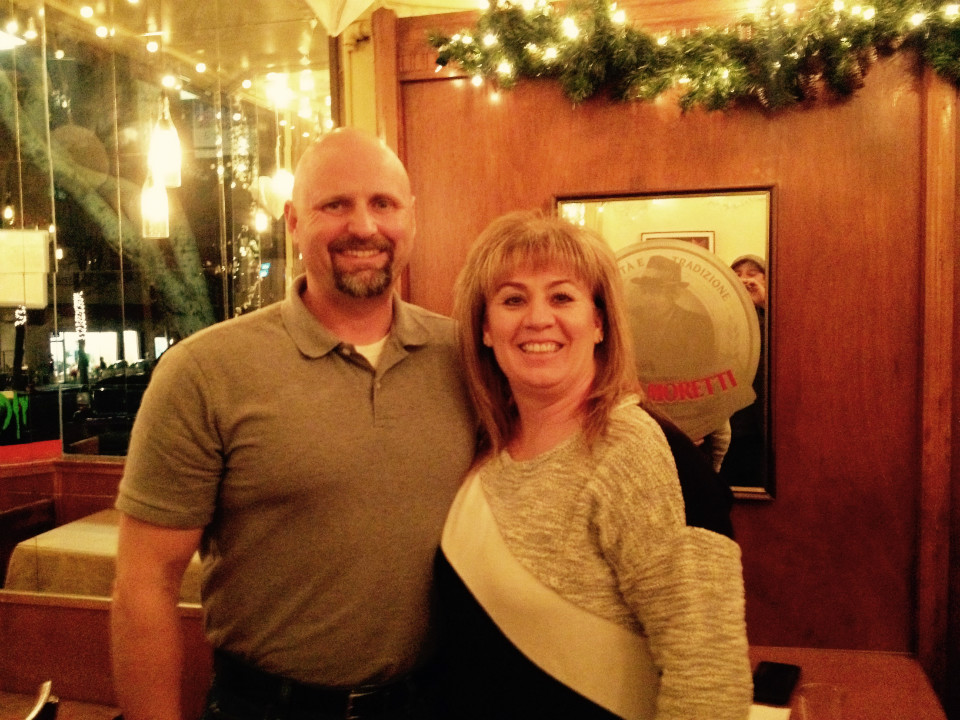 Adam and Dulcy Buchan.
Though they only took the reins at L'Osteria last year, Terzaghi and Sillac say they're in it for the long haul. Sillac tells us that he is looking forward to "celebrating another quarter of a century" at the restaurant, and to serving the "next generation" of hungry patrons. 
L'Osteria Del Forno is open Wednesday-Sunday, from 11:30am–10pm. After decades of only taking cash, they now accept credit cards as well.