This month's Haight-Ashbury Neighborhood Council (HANC) meeting in the basement of Park Library focused on a progressive perspective of election results from this past November, but we also got some more details as community members stood up to share other concerns.
One person was concerned about having seen a worker in the ongoing Haight Street construction getting lowered into a manhole by his ankles, another spoke against the new library catalogue, which is set by default to store personal and borrowing information.
People shared tips for how to handle different issues—if you see a tech bus roaming the city without California license plates or identifying green placards on the front and rear, word is the Capital Public Utilities Commission is the one to talk to, not 311. Sitting in on the meeting, listening to everyone get into the weeds, you would believe that the traditional local interest in neighborhood activism is alive and well—until you hear a man ask, "How do I talk to people [outside of these meetings] about these issues without feeling like I'm speaking Serbo-Croatian?"
More than half (45 percent) of San Franciscans voted in the past election—a dismal state of affairs compared to the city's political heyday (in 1960, the turnout was 86 percent), but much higher than experts were anticipating (25-30 percent).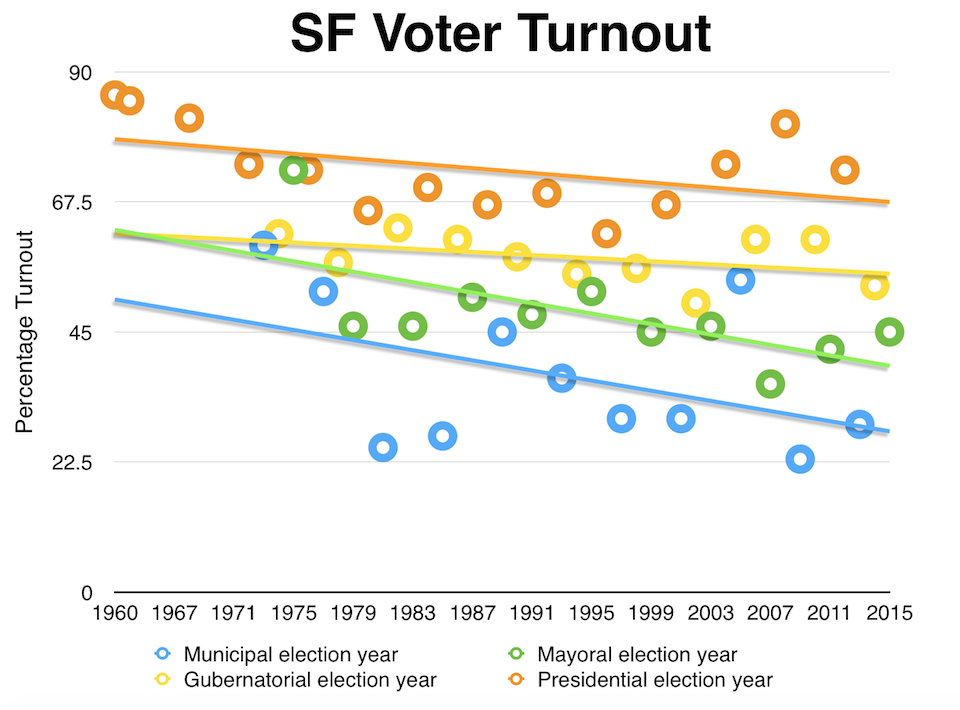 The earliest mayoral election year turnout recorded by the Department of Elections is 73 percent in 1975
The meat of the meeting was dedicated to deciphering the numbers from this year's election, led by progressive activist Calvin Welch and Political Coordinator of San Francisco Rising Mario Yedidia, who recently directed the independent campaign committee to elect progressiveAaron Peskin to District 3.
Here's how they took stock of the election:
Haight-Ashbury had marginally better turnout than the city.
Thirteen thousand people who went to the polls abstained from voting for mayor at all (another 2,000 wrote in someone who wasn't on the ballot), the speakers noted pointedly.
Out of the 2,434 registered voters in the precincts bordering Haight Street between Stanyan and Divisadero, only 905 voted for Ed Lee.
So what did they vote for? Based on number of people who voted on the issue, whether to increase regulation on short-term rentals (Prop F) was most popular. Welch thought Prop F was likely the reason why voter turnout what higher than anticipated—"They did 26 hours of TV ads. That is a record. And it does get voter turnout."
He is, of course, particularly focused on Prop F because he was one of its main proponents during the election. 
Prop F was followed by the housing bond, increasing height limits in Mission Rock, increasing parental leave for city employees, and the Mission moratorium. The mayor was the 10th most popular issue (of the six citywide offices up for vote, he received the fifth lowest number of total votes cast, only beating his unelected community college appointee).

By HANC-SF

By Welch's break-down, the Haight-Ashbury neighborhood voted narrowly to pass Prop F. When you overlay a map of Airbnb rentals with one of the precincts where Prop F passed, you can see that both are concentrated in a swath starting in the Mission and the Haight and stretching northeast to the edge of the city. "Our conclusion is: To know Airbnb is to loathe Airbnb," said Welch.
Although the measure he worked for did not pass, he believes that "as Airbnb grows, so will its opposition."
In District 5, which includes the Haight, NoPa, Alamo Square, and the Fillmore, the number of votes for Prop F (10,871) actually outnumbers the number of votes it cast for Ed Lee in this election (9,613) and District 5 Supervisor London Breed in her last election (9,794). Breed will be up for re-election next year.
Now, to temper this discussion of Ed Lee's numbers, he did win with 55 percent of the votes cast. Yedidia said, "It's not my understanding that there was real door-to-door canvassing happening, even in places where that would have been a low-hanging-fruit operation. I'm doing this a little to be provocative, but I think the margins would have been broader if there was a real opponent." 
Of course, it should be noted that Lee still spent $1.2 million, more than was spent on any campaign except the one against Prop F, though the $1.1 million spent by his appointee, Julie Christensen, wasn't far behind. Expensive campaigns, especially by incumbents, have been a sign of the times.
Another sign of the times? Political bars. "Where are the political bars nowadays?" Welch asked the group of neighborhood activists. "It used to be that's where you found your information. You used to be able to sit around and talk about these things." Now, he says even the number of neighborhood associations that hold monthly general meetings have dwindled. "I can count them on both hands."