Juice Shop, the popular juice and cleanse spot that's been popping up all over town, quietly opened its seventh location last week at Ghirardelli Square, near the central fountain. 
Like the other locations, Juice Shop at Ghirardelli Square offers 12 juices and four elixirs, along with seasonal specials. For the holiday season, it's offering "Winter Nog," a lighter (and healthier) vegan take on eggnog, made with cashews, dates and coconuts along with cardamom, nutmeg and allspice.
Unique to this shop will be a smoothie selection, which employee Christina Chavez said is intended to cater to Fisherman's Wharf tourists. But so far, the clientele is "actually a lot more locals than I thought there'd be." Many customers drop in after dropping their children at neighboring Peekadoodle Kids Club, she said. 
Juice Shop, which also has a pick-up location for call-ahead orders and a mobile truck, presses and bottles its juices fresh daily using the cold-press extraction method, which is said to maintain the juices' enzymes, nutrients, and flavor. Juices are formulated with an eye toward specific results, such as apple-lemon-ginger juice for a healthy immune system, or alpha green to ward off disease and premature aging. They run $8-12 per bottle, plus a $2 bottle deposit to discourage waste.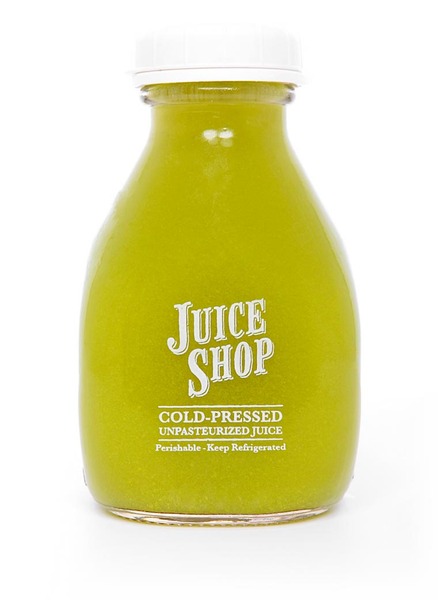 Photo: The Juice Shop
Non-juicers might balk at those prices, but they're in line with other fresh, cold-pressed juice purveyors. "Most people that buy organic produce or like to shop from local farms understand why prices are the way they are," Chavez said. "We do source all from local farms, and try to have personal relationships with them."
The Juice Shop got its start after co-founder Charlie Gulick was diagnosed with a rare liver disease after a surfing trip to Central America in 1998. Told he'd have to ultimately have a transplant, his family sought an alternative: a strict regimen of raw vegan food, with an emphasis on detoxification through juicing.
According to the company's website, "The results showed immediately, not only in how he felt (his symptoms had vanished), but in blood analysis as well (his liver functions were back to normal). The entire family decided to support Charlie by going raw and committing to the juicing lifestyle." Charlie, his brothers Ben and Jake, and Charlie's wife, Lina, now co-own the company. 
Juice Shop's opening is also the latest in a series of hip recent debuts at Ghirardelli Square, whose new operators, Jamestown, are attempting to bring in more businesses that appeal to locals. They include a second outpost for the Marina's Le Marais Bakery, a satellite location of SoMa's Bluxome Street Winery, locally-owned boutique Les Mechants, and Brezza, a new restaurant from NYC chef Jonathan Waxman. Hours for the new Juice Shop are 8am–6pm Sunday–Thursday and 8am–9pm Friday–Saturday.