On Jan. 2nd, former San Francisco mayoral candidate Amy Farah Weiss, along with Ken Fisher of RouteHome, will team up with a slew of community organizations to hold the first Saint Francis Homelessness Challenge Showcase event.
The event, to be held at SOMArts at 934 Brannan St., will feature services for those in need, as well as workshops for those wishing to donate their time. The program will showcase many different ideas for what Weiss calls a people-powered solution to a citywide problem. "We are one group that is working on a solution and we want to set the bar for people to take action around these [homelessness] issues."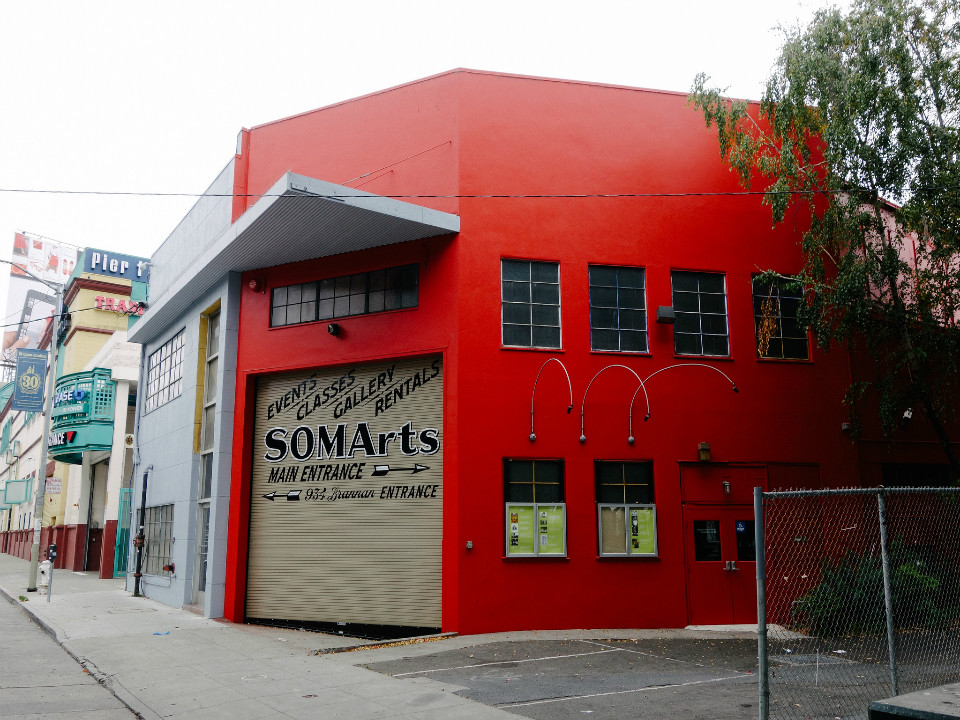 Photo: SOMArts
Fisher envisions the Homelessness Challenge as a "pop-up version" of the Navigation Center, a pilot program established in the Mission District  and run by Episcopal Community Services.
Solving the homeless problem is not solely based on building more housing, he says. "You can't just have a shelter, you have to have complementary services. They need a safe place ... to go to the bathroom and have [a] place to go to for help with harm-reduction services."
Weiss, who built her campaign platform on the premise of developing affordable housing and creating strategic solutions for addressing homelessness, tells us that there are three major areas that the homelessness challenge seeks to address—improving the health and safety outcomes of those living on the street, becoming more cost-effective in the city's approach, and creating empathy around the issue of homelessness.
Through this challenge, a diverse group of organizations have come together to offer their services and instruction as examples of what the community can collectively do to help homeless neighbors. Acupuncture, meals, a solar-powered cellphone charging station and socks are just some of the offerings that will be provided at no charge for those in need on Jan. 2nd. Fisher will also showcase a "Sleep Sanctuary" prototype from RouteHome—a project to explore low-cost, movable shelters for the homeless—which utilizes old shipping containers provided for free by Google. The intent is to create temporary, movable shelters that serve both the individual in need and the neighborhood that surrounds them.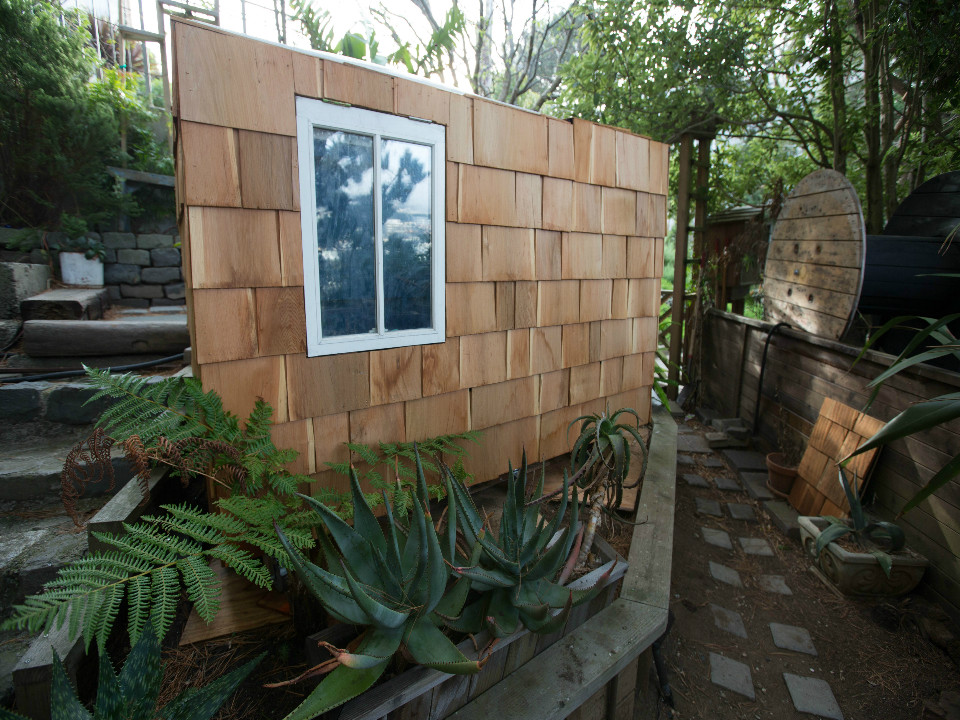 RouteHome. (Photo: Ken Fisher)

Also unique to the program is a two-hour training session for volunteers focused on "compassionate communication and de-escalation on the streets of San Francisco." Weiss and Fisher tell us that oftentimes, when a neighbor uses San Francisco's 311 service line, chances are it will be a police officer that shows up to assist.
"Having a gun there is intimidating ... and officers not trained in crisis intervention may be more of a problem than a solution," Fisher said. "A lot of people on the streets have intense mental health issues and drug dependency issues and we want to face that head on [rather than just report it to the city]." Equipping residents with tools to help homeless neighbors get the services they need rather than potentially criminalizing them is a crucial element needed to solve the homeless crisis, he said.
With this endeavor, Weiss wanted to both continue the momentum she had gained leading up to the election, and encourage residents to take action prior to San Francisco's Super Bowl events and expected El Niño storms by creating awareness in communities where homeless neighbors are more prevalent—like District 6, which will be impacted by Super Bowl City at the foot of Market Street. Mayor Ed Lee has been criticized for making statements about homeless residents being forced to leave the area while football fans celebrate (and cameras are rolling). 
And with severe storms expected to drench the Bay Area this winter, the organizers hope to come up with interim solutions where community assets and public land can be utilized — beyond the steps the city is already taking on a case-by-case basis.
Both Fisher and Weiss noted that homelessness is not only a circumstantial problem for those living on the streets, but also a health and safety issue—something they wish to challenge City Hall to think more about. When asked to comment about the mayor's statements regarding the homeless during Super Bowl festivities, Weiss sounds more hopeful rather than critical.
"In a way, I see it actually as a positive thing for us that the mayor made these kinds of statements because it creates a catalyst for change. And the spotlight is on that," she said. "It's the Super Bowl that is bringing attention to these issues so let's not let this moment pass us by. We are on the map because we have a leading sports team in the region and we have this arena where we can hold the Super Bowl. What if we could be on the map because we are doing something really innovative to address homelessness?"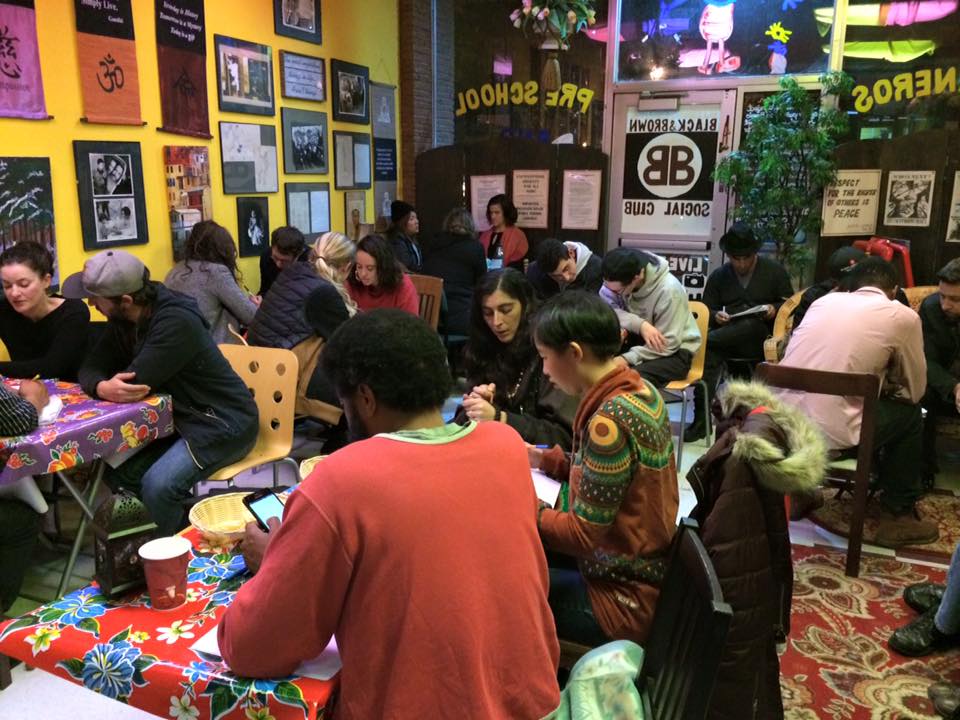 A Saint Francis Challenge community planning meeting. (Photo: Amy Farah Weiss)
Not everyone feels that this type of approach is what should be the focus to immediately curb the crisis. Sam Dodge, director of the Mayor's Office of Housing Opportunity, Partnerships & Engagement (HOPE), said via email that while the concept of the Saint Francis Homelessness Challenge is well intentioned, "we should be working to end homelessness with permanent housing that is up to code."
This might seem at odds with what the group is hoping to accomplish with the more interim solutions Weiss and Fisher are looking to test. Some people simply want to focus only on building permanent housing, Weiss says, but "the reality is that [San Francisco] has over 4,000 people living on our streets in a daily state of crisis. What's happening isn't working. Nobody thinks it's working ... people have kind of given up."
Weiss and Fisher both believe that there is a community will to do something different and innovative in how the city addresses issues surrounding homelessness. In fact, San Francisco's technology-fueled economy might be the perfect incubator for positive change, Fisher said.
"There has been so much innovation and hack-a-thons in the technology community," he said. "Let's innovate around the nonprofit sector and the do-good sector, look at things like the Navigation Center and Lavamae, and ask ourselves how we can continue to build off of that positive San Francisco attitude of innovation and come up with new ideas. But let's do it in the social impact space."
Weiss recalls a quote often attributed to Saint Francis of Assisi, the city's namesake. "First do what is necessary. Then do what is possible, and soon you will be doing the impossible."
"We want to do something for the people we see," said Weiss. "And we want to make San Francisco beautiful inside and out."
The Saint Francis Homelessness Challenge will run from 10am-6pm at 934 Brannan St. (at 8th Street). Visit the Facebook page for a detailed schedule of activities and volunteer opportunities.