Last night, residents who attended Taraval Station's monthly community meeting received an overview of district crime stats from Captain Denise Flaherty and a legislative briefing by District 4 Supervisor Katy Tang. According to Flaherty, many types of crimes have decreased since her station was assigned more officers.
The last month "went very well for us here in the Taraval," said Flaherty, noting that the district "showed improvement in robberies, burglaries and assaults." She credits the overall decrease to "the high visibility of our officers. Chief Suhr was very good and gave us more bodies. We have fattened up our swing watch and our midnight watch, so instead of seeing maybe five or six officers a night, we're seeing anywhere from eight to 12 for swing shift."
Taraval is the city's largest police district, covering the greater Sunset, West Portal, Forest Hill, West Portal, Parkside, Lake Merced, Stonestown and Oceanview. Last month, the area saw 10 robberies (a decrease from 19 in October) and 35 burglaries, primarily from garages, Flaherty said.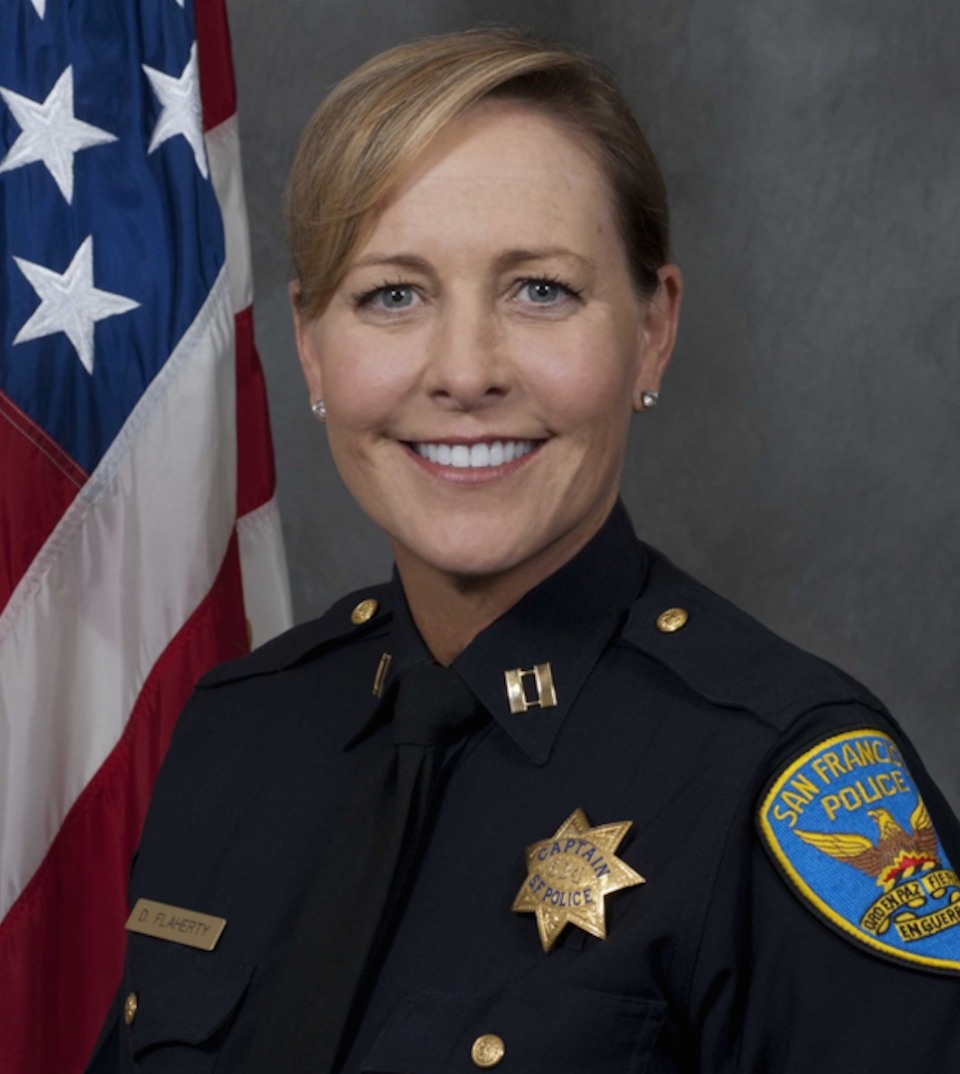 Capt. Denise Flaherty (photo via SFPD)
"We had a hot prowl the other day where the gentleman was home and didn't even hear the person in the house. They came in through the garage, walked up the stairs, and left," she said, adding that her station has used eyewitness statements to launch a successful investigation.
"They got the vehicle, they got the suspect, they made a search warrant in Brentwood today and they have him in custody, so there's a lot of good things going on." Flaherty encouraged attendees to be hyper-vigilant about protecting their homes and vehicles. "You play a strong role in your own safety, so I have to keep saying, please do not leave anything in your car."
In recent weeks, "the biggest cluster for vehicle thefts we're having is around 30th and Noriega, the Safeway there," she said. "We see a lot around Lake Merced, we also see a lot around the Parkmerced area and San Francisco State, so that's where we deploy our officers."
Burglaries have shifted from the northwest portion of the district to the east side, near "7th Avenue and behind Forest Hill and the West Portal area," Flaherty said. "I think that is because we have saturated the La Playa area, and so bad guys are going to go where nobody is." As a result, she's redeploying officers to areas with recent clusters.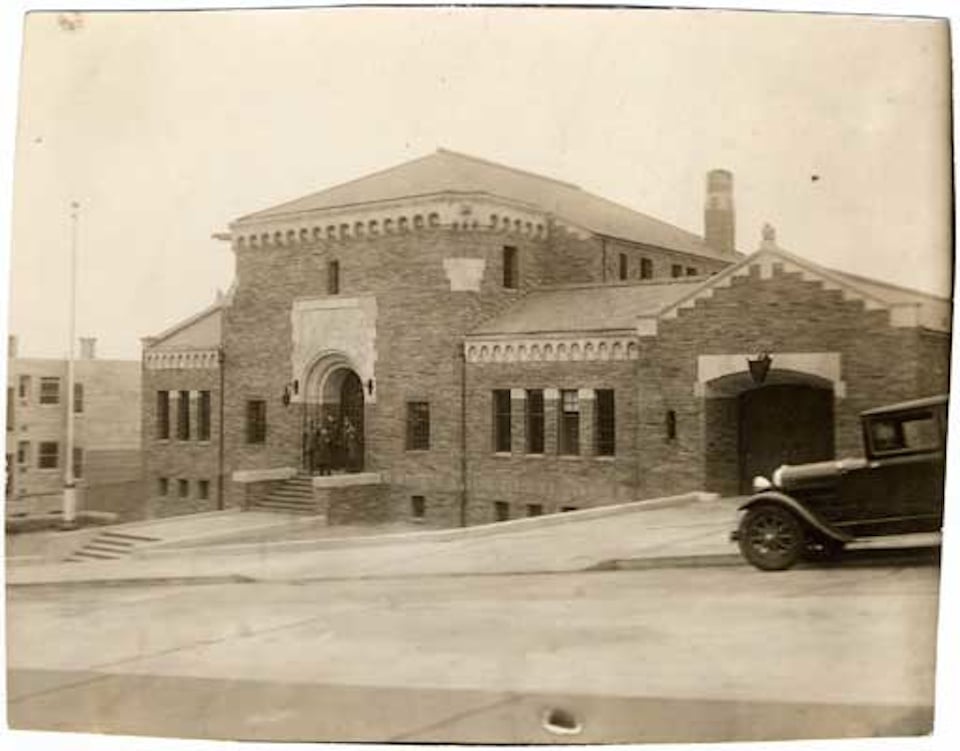 Taraval Station in the 1920s. (Photo: SFPL)
In the last month, 59 cars were reported stolen and 36 were recovered, according to Flaherty. "We get some people in custody for stolen vehicles, which is great, because we know they don't do just one thing," she said, adding that she's working to improve communication with stations in adjoining districts to aid investigations.
"We find, especially for burglary and robbery crews, that they'll move from one district to the next, so the more information sharing we do with each other, the more effective we can be," said Flaherty.
"The issue isn't so much arresting them and booking them and getting the DA's office to go forward, it's the type of consequence they see once they've been convicted," Flaherty said, noting that even a conviction for vehicle theft or robbery might not result in a stay-away order. "Just because we see that challenge on the other end, doesn't mean we're going to stop working as hard we can," she said.
As in other districts, "video evidence has been a huge contributor for us when it comes to evidence," said Flaherty. "When we have a crime that occurs, we have a video retrieval officer who'll walk the neighborhood and talk to residents. You'd be amazed how many neighbors—residential and commercial—who have cameras out there. It's our job to seek those out."
After obtaining the clearest possible images, Taraval's video investigation officer "puts it on a crime bulletin that gets sent out to the whole police department asking 'do you know this guy?' We have had great success," she said.
Although Flaherty said video has been used to identify "hundreds" of suspects, she said Taraval's video retrieval officer doesn't have enough time to follow every lead that materializes after an identification's been made.
Flaherty handed the floor to Tang, who explained why she voted against a proposed bike-yield policy change and building a new city jail earlier this week. "I do not believe in legislating what police enforcement priorities should be," said Tang. 
"I think if anyone's riding and exercising caution, I don't have a problem with that," Tang said. "But I do have a problem with us saying through an ordinance that Capt. Flaherty's priority should be x, y and z." Mayor Lee likely plans to veto the legislation, said Tang, "and if he does, there are enough votes to uphold that veto."
Because traffic laws are set at the state level, Tang said a citywide bike-yield measure could create confusion, "especially for people who might be visiting and don't know that there's this right of way policy here."
Tang said distracted drivers, pedestrians and cyclists are dangers to public safety that can be addressed with existing laws. "Those are things we can do better with to achieve better safety, no matter which mode of transportation."
Regarding the failed vote to fund a new city jail, Tang said the number of people housed there "has been leveling off" since state voters downgraded several felony crimes into misdemeanors. Because "it's been kind of holding steady," there's no need to create a brand-new facility, said Tang.
As a compromise, she said the city will move forward with plans to acquire a parcel of land and will decide in 2016 what new facility could be built to support the city's jail system, potentially one dedicated to prisoners with mental health issues.
Tang also invited attendees to share their feedback regarding the SFMTA's proposal to streamline service along the L-Taraval line by removing stops, adding signals and changing traffic flow to promote rider safety. (Of approximately 20 attendees, only two identified themselves as L-Taraval riders.)
"I know there's lots of mixed opinions about it, and I want to hear all of it," said Tang, who encouraged members to email her at katy [DOT] tang [AT] sfgov.org with their thoughts after recounting a community meeting on the topic earlier this week.
Taraval Station holds its next monthly community meeting on Wednesday, January 20th at 7pm at Minnie and Lovie Ward Recreation Center, 650 Capitol Ave.