A kiosk at the foot of Market Street has become a clearinghouse for dozens of "zines"—quirky, self-published booklets usually made on a photocopier containing anything from poetry to political rants to underground comix.
The Grand Newsstand opened July 24th, housed in a JCDecaux dark green kiosk used for display advertising at Market and Steuart streets near the Hyatt Regency San Francisco. Proprietor Courtney Riddle sells zines she's found at festivals, on her travels and through word-of-mouth. If you're not familiar with zines, think of them as sort of an old-timey blog on actual paper. "That's what I like about zines," Riddle said. "You can have any type of background or experience, as long as you have something to say."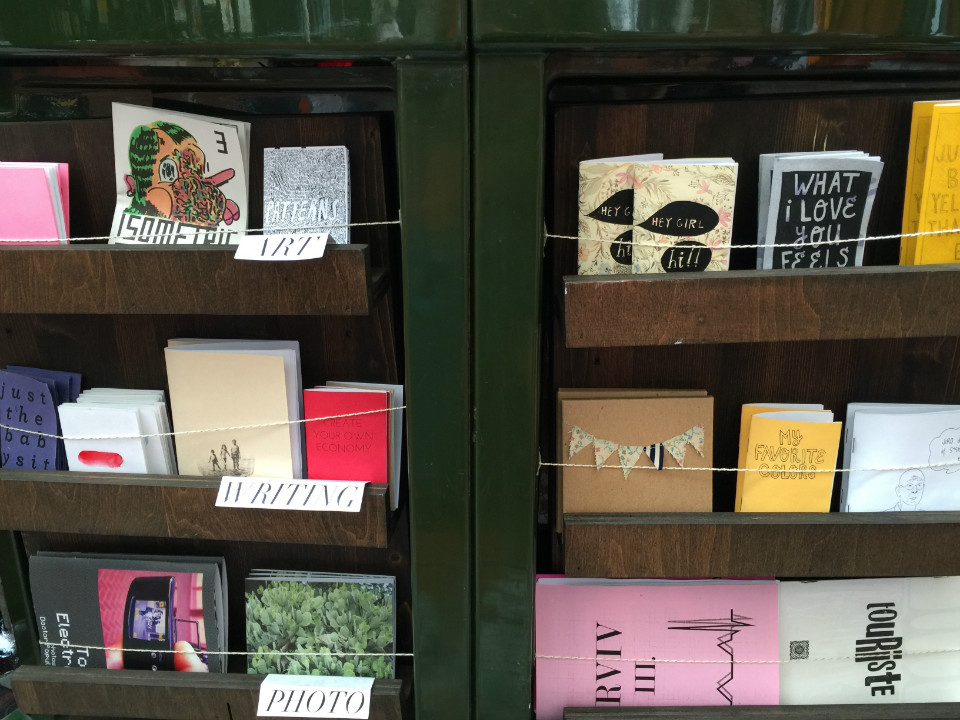 Riddle continued, "The majority of my customers are people who work around the area and who have never seen a zine in their life. I call myself the 'Zine Ambassador of Market Street.'" She said it's also rewarding to see people who are familiar with zines do a double take when they see her shop.

Riddle herself makes a few zines (one of her popular titles is My Favorite Colors, printed in black-and-white), but sells dozens of others as well as books, magazines and gift items like greeting cards, hand-painted jars and decorative pins. Prices range from $2–$20. A self-taught artist, Riddle always wanted to own her own shop, so she took business classes at City College and got an associate's degree before embarking on her mission.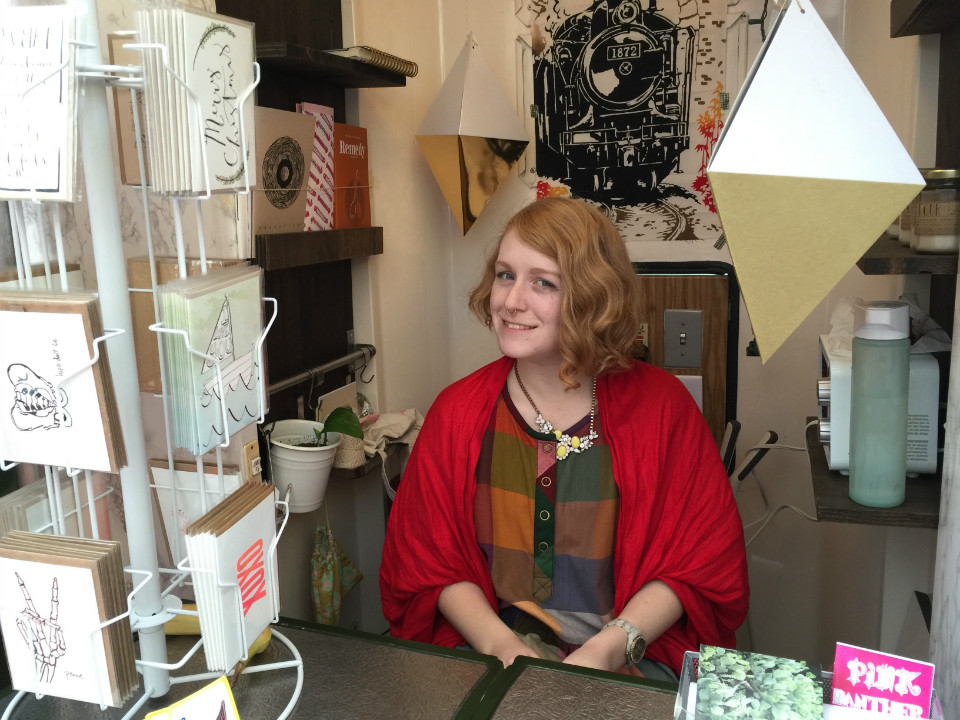 The idea to open a zine stand in one of the JCDecaux kiosks was spawned because a friend of Riddle's leads walking tours starting from the one near the terminus of the California Street cable car line on Drumm and Market streets. "I'd always seen them closed," she said. She reached out to JCDecaux, which told her to contact SF Public Works, which told her no, but she kept at it. "And six months of bureaucracy later, the Grand Newsstand was born," she said, laughing. "I'm hoping maybe this will pave the way to more of them being used."
Riddle said she had to pay for permits to operate, but doesn't pay rent, which is probably the only way the stand would be sustainable. "I'm not making millions in the zine industry," she said, "but I'm able to do it." She also has parked a "Zine Machine" vending machine in front of the kiosk for passersby who want some literature on the run for 50 cents a pop.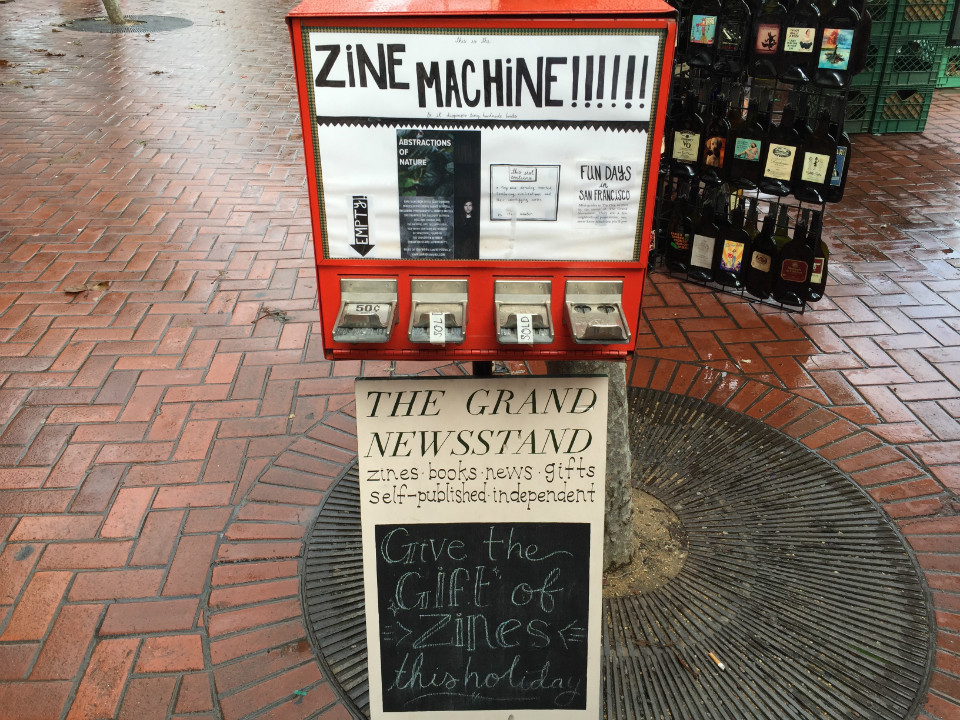 If you walk through the FiDi, Union Square, Tenderloin and Embarcadero, you've probably seen similar 17-foot dark green cylindrical kiosks with display advertising. A Public Works spokesperson told us there are 70 in all and sent a list of locations, adding, "If a newsstand is unoccupied, JCDecaux is allowed to re-purpose the newsstand for others to distribute newspapers or other non-profit items."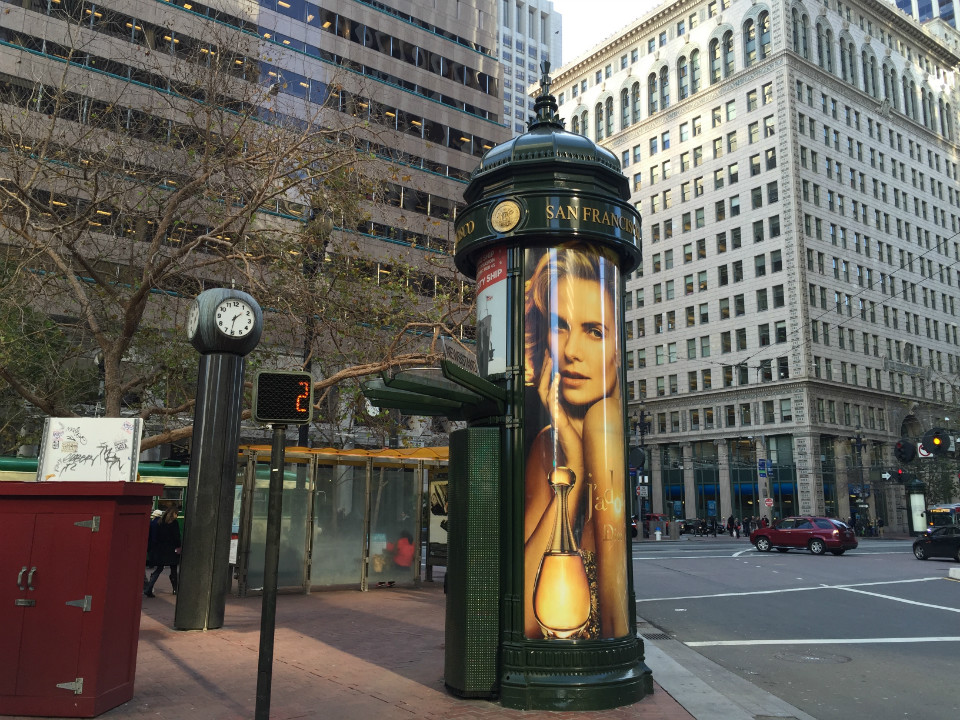 A JCDecaux rep told us this week that about 30 of the kiosks, which were also featured in a recent San Francisco Chronicle story, are currently active via an agreement with third party vendors. Several more will go into use during the week of the Super Bowl, and more might see new life from interested parties throughout 2016.
As for the Grand Newsstand, you can find its hours of operation, which are flexible, on its Facebook page.