Could taller new buildings be coming to the Haight and other city neighborhoods?  Maybe, but plans to allow them as part of a citywide rezoning proposal are already facing stiff opposition from some in the target neighborhoods.
The Haight Ashbury Neighborhood Council hosted a panel discussion about the proposed Affordable Housing Bonus Program (AHBP) on Thursday night. If the measure is approved by SF Planning and the Board of Supervisors, new zoning laws will permit developers to build taller, denser buildings in exchange for adding more affordable housing than the law requires.
A Confusing Set Of Laws
Controversies around the program have this week raised new questions around what exactly it would allow, so here's a quick recap of what we know so far.
The City's density bonus plan was created to bring the city into compliance with a 1979 state law that already permits developers to go two stories above local height limits if they set aside 13-20 percent of the units for very low-, low- and moderate-income individuals. 
The AHBP would let developers build up to two stories above existing limits near high-transit Muni corridors if they set aside 18 percent of the units for middle-income residents and 12 percent for low- and moderate-income.
Much of the opposition to the plan is based on the belief that landlords will be incentivized to demolish rent-controlled housing. Other leading concerns: the potential for drastic changes to neighborhood character, the displacement of small businesses, and putting additional strain on an already overburdened public transit system.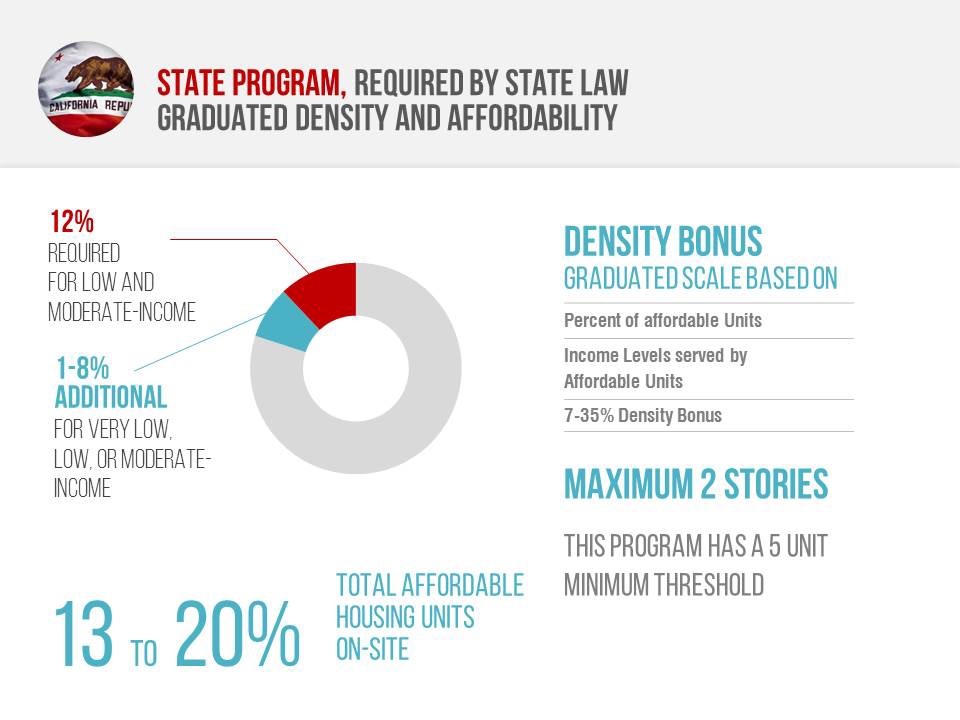 1979 state density bonus plan. (via SF Planning)
District 5 Supervisor London Breed has submitted an amendment to AHBP that would make parcels with rent-controlled properties ineligible for density benefits. News of the amendment, which we covered in detail earlier this week, was met with skepticism and rigorous questioning by panelists and attendees.
As written, Breed's amendment excludes parcels with rent-controlled units until SF Planning completes a study of the city's rent-controlled housing stock and makes policy recommendations that are adopted by the Board of Supervisors.
"Unless and until the Planning Department study required in Section 206.8 is completed and any legislative action taken, does not demolish, remove or convert units that are subject to the San Francisco Rent Stabilization and Arbitration Ordinance, San Francisco Administrative Code Section 37..."

-- Sup. Breed's proposed AHBP amendment, excerpt
According to Conor Johnston, Breed's legislative aide, the ban could be permanent if there's no policy adopted or follow-up legislative action. (We've directly contacted Breed seeking additional clarification, but have not yet received a reply.)
In a telephone interview and a comment posted to Hoodline, AHBP Program Director Kearstin Dischinger said that she interprets the amendment to mean that these parcels are permanently excluded from the bonus program.

A Coalition Of Opponents
Thursday's HANC panel consisted of representatives from various groups that have taken stands against AHPB, including Paul Webber, a member of the Telegraph Hill Dwellers Executive Committee and Coalition for San Francisco Neighborhoods, Dean Preston, a tenants' rights lawyer and co-founder of Affordable Divis, and Joseph Smooke, co-founder of people.power.media.
HANC itself, of course, is one of the older neighborhood groups in the city, and throughout its history has fought to preserve existing local buildings and opposed many new ones.
"If they intend a permanent exemption, they would write that into the ordinance," said Preston via email. "The amendment is not that. Obviously they want to spin the exemption as more than it is, as does Breed's office. The amendment leaves open the possibility of future demolition of RC [rent-controlled] units. As you note, if those two conditions are met, rent control units are fair game under the bonus program."
According to Preston, "Breed's amendment tried to have the issue both ways: claim credit for exempting rent control units while leaving open the very real possibility of future demolition of rent control housing."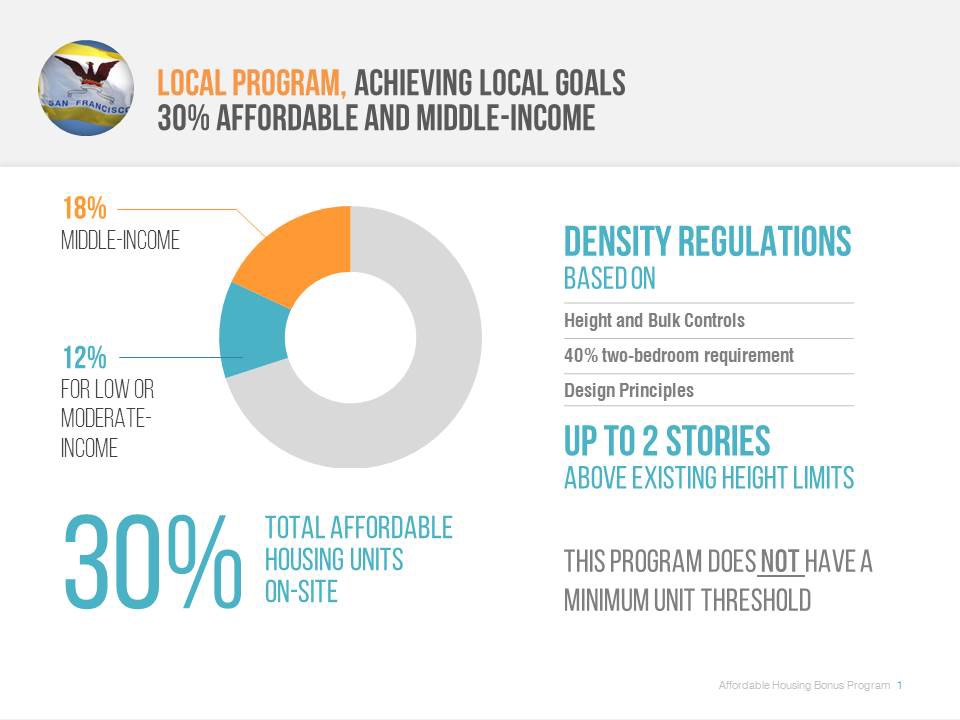 San Francisco's density bonus plan. (via SF Planning)
Despite SF Planning's reassurances, "it's largely irrelevant how Dischinger interprets this," said Preston. "The proposed ordinance says what it says. It is not a permanent exemption for rent control units and no amount of spin will change that."
Preston, founder and Executive Director of Tenants Together, gave a presentation about a community-led effort to boost affordable housing on Divisadero.
Divisadero residents "got a little bit of a preview of this whole program" last year after Mayor Lee approved legislation offered by Breed to rezone the corridor as a Commercial Transit District to allow the construction of two large-scale residential developments, said Preston.
"There was virtually no consultation with the neighborhood on this," said Preston. "When neighborhood groups reached out to Supervisor Breed's office, everyone was told this was a relatively minor change."

After the rezoning was approved, Preston said a developer with plans for a 16-unit building at Divisadero and Grove submitted revised project plans. "Sixteen, overnight, once the strip was rezoned, became 60," said Preston. "It was a big glass wall like you'd expect to see across from the ballpark ... we were alarmed to see that shift," he said.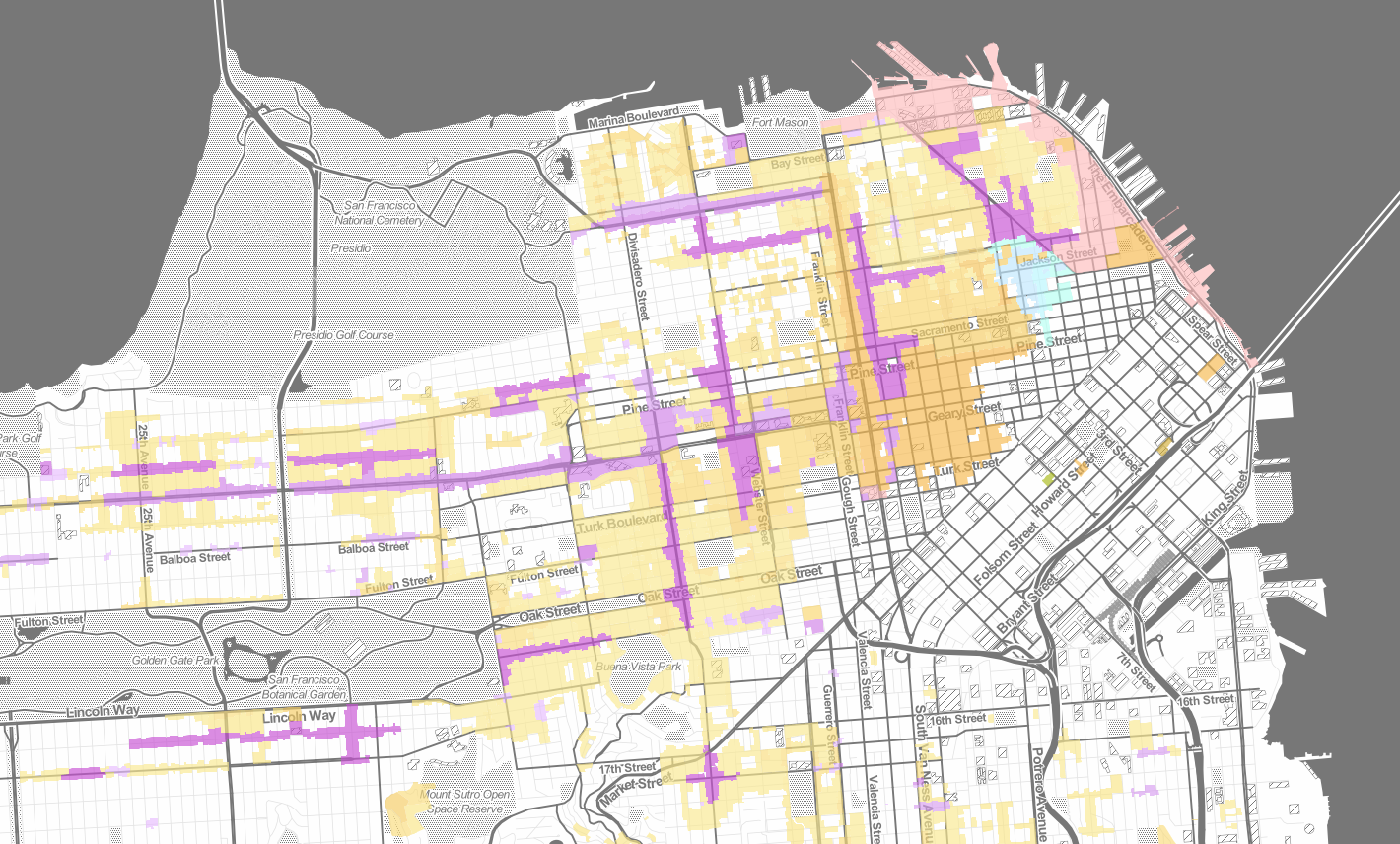 Use this interactive map to visualize potential AHBP sites. (via SF Planning)
Smooke, who's also Director of the Housing Rights Committee of the Richmond District Housing Rights Center, said Breed's amendment "has complicated things" due to its lack of specificity.
Even though Planning will vote on the proposed zoning changes on January 28th, Smooke said the agency had yet to prepare an Environmental Impact Review. "The response was, 'oh, we're working on it and will have it for you in time for the vote," he said, adding that Planning officials also failed to let residents comment on the proposal's economic impact.
Smooke said the AHBP could lead to higher transportation stability fees and may not reconcile with various area plans around the city that have environmental reviews in place. "There's a ton of questions," he said.
Calvin Welch, who sits on HANC's board and is a member of the group's Housing and Land Use committee, gave attendees an overview of the proposed legislation. "No other area or jurisdiction counts 140 percent of median income as being affordable," he said, noting that the state limits top earners to 120 percent in affordable housing.
"It is the policy of the Lee administration that people earning 140 percent of median need housing assistance. Can't argue with them, but the question is whether or not this is the best way to do it," said Welch.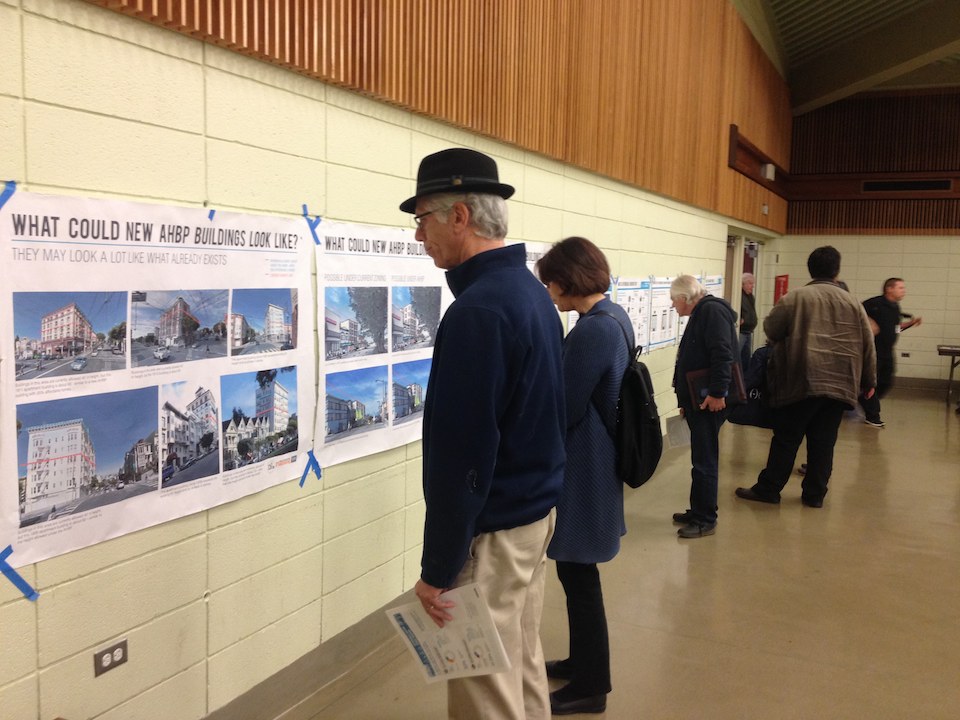 SF Planning officials held another meeting for District 7 residents in Golden Gate Park earlier this week to explain the density bonus program. (Walter Thompson/Hoodline)
"Our own housing element classified anything over 120 percent of median being market rate," said Welch, who said AHBP guidelines and calculations are at odds with formulas used by regional planning agencies. "The Planning department ignores the existing rent control program as being a middle-class housing subsidy program. It's as if it doesn't exist." According to Welch, SF Planning prioritizes new construction over the preservation of rent-controlled housing stock.
Welch also criticized provisions that would allow developers to merge lots to create 125 feet of frontage for a single building. "We're talking about half a block that will be allowed to be put together, no matter what the base zoning is," Welch said. Residents who oppose AHBP projects will have fewer ways to stop them, as "the proposed program would eliminate conditional use hearings for all density bonus projects," he said.
Instead, residents could ask Planning for a discretionary review hearing, which may be declined. "In a conditional use hearing, the developer must prove that the project is beneficial and necessary. The burden of proof is on the developer," said Welch. "Now, neighbors will have to prove why the project will not be built. It's a significant swing from the historic standard of project approval in San Francisco."
If AHBP is approved, Welch said Haight Street zoning controls on smoke shops and drive-throughs "would be gone. There would be no such controls for any new commercial development built pursuant to the density bonus program."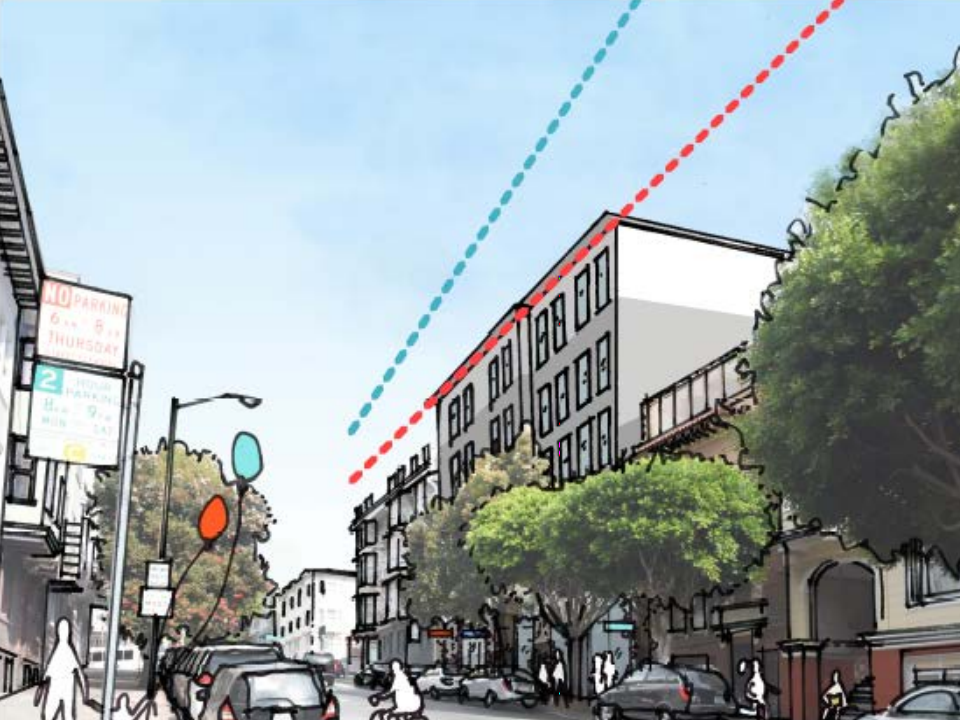 Red line = existing height limit. Blue line: with AHBP bonus. (via SF Planning)
Webber said he didn't believe the City was out of compliance with a 2009 court case that found Napa County's housing policies were discriminatory because the county failed to build more affordable housing. "We also believe that they are violating Prop K from last year," said Webber, referring to a ballot initiative that reserves 15 percent of affordable housing units for residents earning 55 percent or less of AMI and 18 percent for people who earn up to 120 percent.
"Where did middle income come from?" asked Webber. "Why are we adding middle income?"
Planning officials are taking the state's affordability requirements "and mixing it up with an incentive," said Smooke. "They're looking around at all the parcels that the city deems are underdeveloped and saying, 'how do we incentivize developers to develop those?' Those are two really, really different things."
Webber said activists need to hold officials accountable, but "remember folks, we've got to give cover to the Supervisors. If you're a progressive Supervisor, it's awfully hard to vote against something titled 'affordable housing,' especially if you just campaigned on it a few weeks ago to get reelected," he said.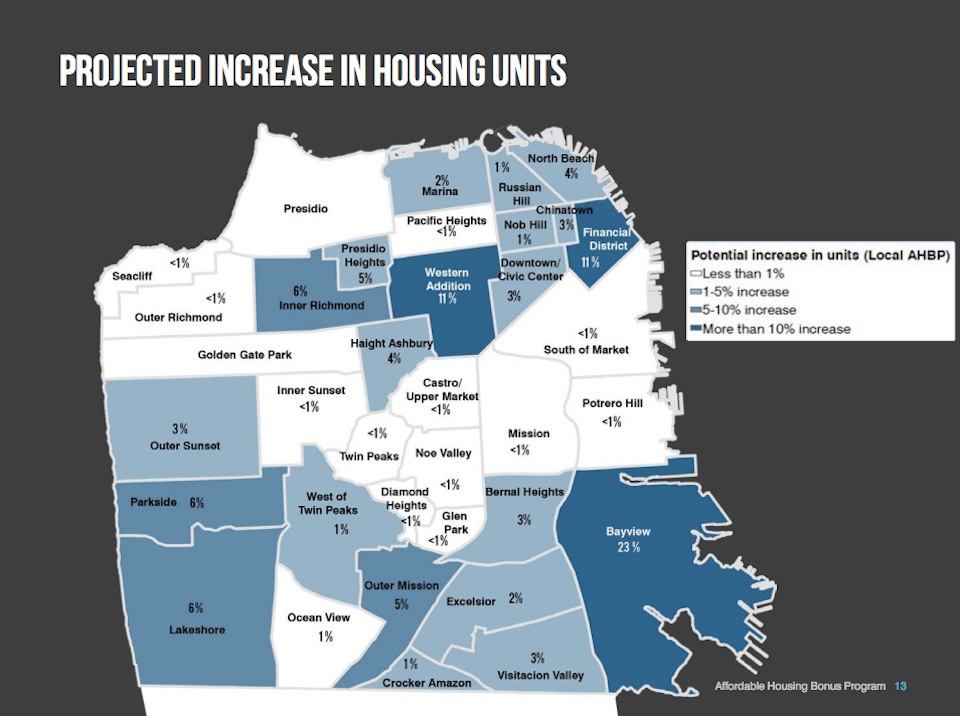 Projected increase in AHBP units, by neighborhood (via SF Planning)

At the end of the session, as HANC members prepared to vote on whether or not to support AHBP, one man stood up to ask for a discussion of the vote.
"I came to the meeting and was surprised to hear that someone had proposed that we raise the height limits from three stories to five stories. I've been suggesting this for years as a way to get around our housing issue," he said. "Do people generally disagree that we want higher population density on transit corridors? That sounded to me like the progressive thing to do," he said.
"At whose expense?" asked one man. "It doesn't work that way," said another attendee. "It just sounds like it will."
After the lone dissenter spoke his piece, the room voted overwhelmingly to oppose the program.