BBQ restaurant Black Bark will officially open today at 1325 Fillmore St., and excitement has already spread through the Fillmore like wildfire. Though chef David Lawrence and his wife and business partner Monetta White had to jump through some construction and regulatory hoops, it only took a little over a year to bring their restaurant to life, thanks to the support of the Mayor's office, the Fillmore Center and neighborhood residents.

Hiring locals is a major component of making Black Bark work, say Lawrence and White, who also own neighboring 1300 on Fillmore. They believe having people who live in the community representing Black Bark will give the neighborhood a sense of pride, as well as increasing daytime foot traffic.
We stopped by yesterday's ribbon-cutting ceremony to meet Lawrence and White, as well as the numerous people who've helped them get Black Bark off the ground—from employees all the way up to Mayor Ed Lee. Together, they provide a sort of oral history of how Black Bark got started, and the impact it hopes to have on the Fillmore.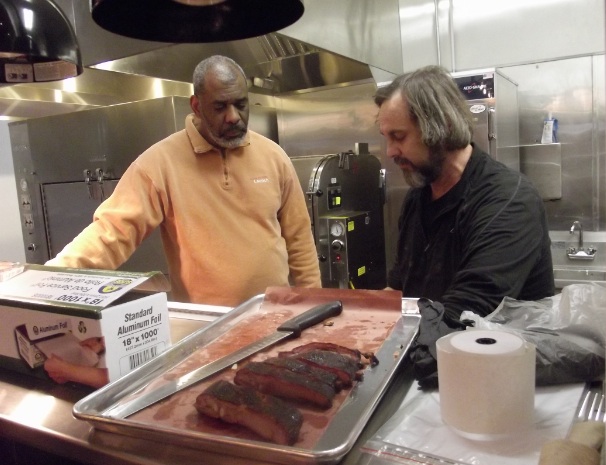 Chef David Lawrence (left) with an employee.
David Lawrence, chef and co-owner of Black Bark: I came to this country from England in 1988, to work at a restaurant called 231 Ellsworth. I worked at many places, such as the downtown Hilton, Essex Supper Club, and the infamous Carnelian Room. I was there for about six years, and then [Monetta and I] came to the Fillmore in 2007, when we opened up 1300 on Fillmore.
[Pointing to a plaque on the street in front of the restaurant, which reads "Kansas City Hickory Pit Bar-B-Q."] See this sign? I saw that five years ago on a walk, and I was like 'Oh wow! there were famous BBQ joints on Fillmore Street?!'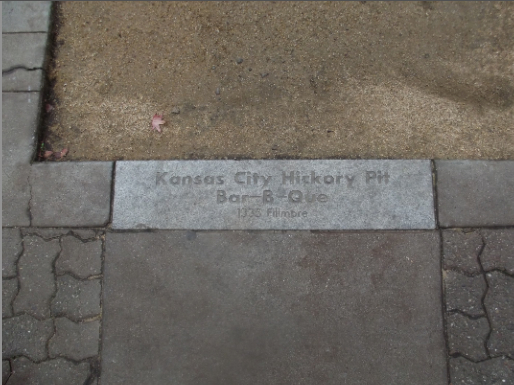 I was making ribs at 1300 on Fillmore, and they were selling out. I never really put them on the menu; I just sold them as a special. People kept telling me to open a BBQ joint, but before I made any moves, I did some research to learn more. I found out the famous Big Nate's BBQ was in this neighborhood, and also learned that the last BBQ place was Leon's, in the space that's now SPQR. It closed in the '90s, after Leon passed away.
No one took it on after that. That was the last of BBQ on Fillmore Street. Then it came to me that we should bring BBQ back to the Fillmore, and that gave me the idea to open Black Bark. We found this space five years ago, and came to an agreement with the Fillmore Center to let us occupy it. Last year, we started the process of opening Black Bark.  

The name "Black Bark" is all about what happens to the meat after it's cooked. When a brisket is finished, the exterior forms a bark-like coat that's black, crispy and crunchy. That's how you know it's good brisket. I think the name "Black Bark" really tells people that it's a BBQ place. 
Monetta White leads a staff orientation.
Monetta White, co-owner of Black Bark: We've been working with Sheryl Davis of Collective Impact and the Success Center (originally the One Stop) to hire locals. It's a city-funded program headed by the director of the culinary program at City College. We've also partnered with the Golden Gate Restaurant Association. 
We're working with youth in our neighborhood, and hosting a two-week bootcamp in restaurant hospitality and food certification. With this training, they can go into restaurants as hosts or servers, or work in the kitchen. We cover everything that they need to know about restaurant etiquette.
Sheryl Davis, executive director of Collective Impact: I'm excited for this partnership. I think it's amazing when we get businesses that are committed to developing the whole neighborhood, not just their own business. I'm excited to see people that live in this neighborhood work here, and take pride in Fillmore Street.
There's so much potential. We all know that hospitality and retail are the things that draw people to San Francisco, so this is a way to make sure that the people who live here get to benefit first. It's not another one of those things where we have to worry about a business coming in and pushing people out. It's our time. It's what we wished would have happened years ago.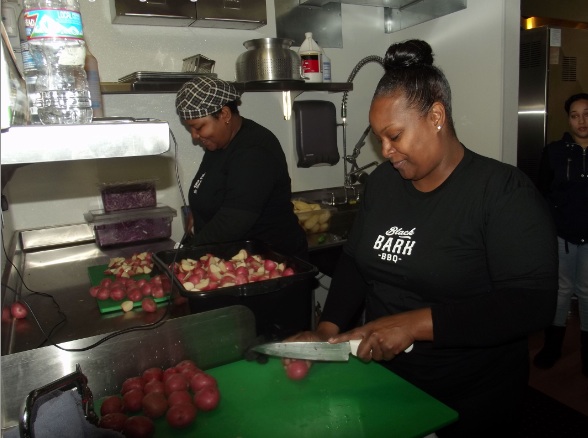 Prep cooks Kiowa Smith (left) and Tamesha Harris (right). 
Tamesha Harris, Black Bark staff: I was born and raised in this neighborhood. I'm connected, and these are my roots. This means a lot to me culturally. I see my people thriving and it makes me excited.
I'm currently here as a prep cook, but the sky is the limit. I think it's important, and I'm glad that Chef Lawrence gave us the opportunity and sought out neighborhood people to work here. I've seen the neighborhood change, and it's somewhat bittersweet. But I feel good about this experience. 
Kiowa Smith, Black Bark staff: I love it. Fillmore is my old stomping ground. It's an honor to come back to where you're from and bring something back!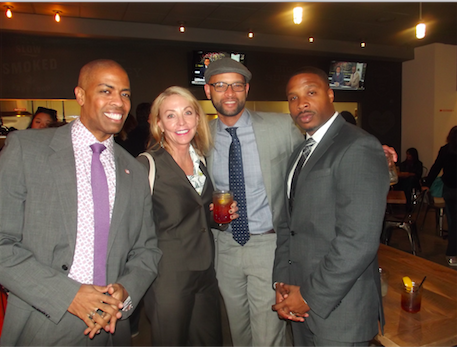 From left: Paul Henderson, Vallie Brown, Theo Miller, and Derick Brown. 
Vallie Brown, aide to District 5 Supervisor London Breed: I've lived in the Western Addition for 20 years, but have served as an aide for District 5 for 10 years. It's really great that half of the staff are from the neighborhood. I know most of them. This is great for the community! 
Theo Miller, director of Hope SF: I live in the Western Addition, and I am excited to see another great business open—and the fact that it's African-American-owned means a lot. I know Monetta and David well, and I know how much they love the community. They serve quality food. I'm hoping there will be more foot traffic and support. 
Paul Henderson, deputy chief of staff & public safety director for the Mayor's Office: I'm so excited. The location of this establishment is in one of the pockets of the African-American community and culture, and is a major part of the revitalization of the Western Addition. And the owners symbolize the city's commitment to make sure that African-American businesses don't just exist in San Francisco, but have the opportunity to expand. 
Naomi Kelly, San Francisco city administrator: I think it's wonderful to have this. The retail spaces on this area of Fillmore Street have been sitting vacant, so it's great to have this BBQ spot open up to increase foot traffic in the Fillmore. I want people to patronize all the businesses in this area. I know I'll be here with my family. 
Bottles of Black Bark's BBQ sauces. 
Chef Lawrence:We want to be known for the brisket, but we're also going to ribs, sausages and delicious sides like mac and cheese and yams. It's a great setting we have here, with the TVs, outside seating when it gets a little warmer, and fast, friendly service.
I am most excited about the brisket. It's one of the toughest menu items to cook consistently well; it's going to be the biggest challenge for any BBQ place.  Our BBQ is going to be more about the meat, less about the sauce, though we'll have them available. We season, smoke it, cut it and serve.
If I could tip my hat to any style, it would be Texas'. Black Bark will be more traditional, because of the way we cook and serve. When you walk down Fillmore, we want the smell of BBQ wafting out the door.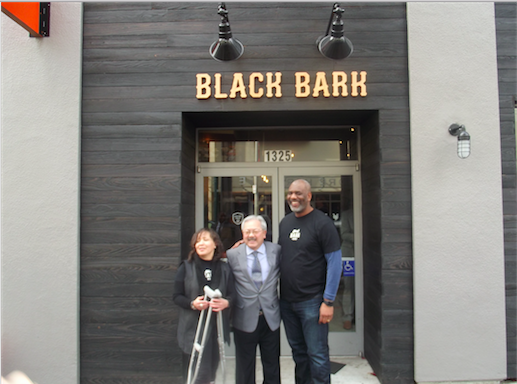 Mayor Ed Lee, flanked by Monetta White and David Lawrence.
Mayor Ed Lee declared January 12th, 2016 as Black Bark Day in San Francisco. Here's a portion of his speech from yesterday's ribbon-cutting: 
Mayor Ed Lee: David and Monetta put passion into everything that [they] create. [They] also take the time to really get to know people, and that's part of the job of being a business owner in San Francisco: getting to know who your customers are and what they are all about. [They] are involved in the community from the job standpoint: training people, being good employers, being an asset on the corridor, working with other businesses.
Because of businesses like [theirs], the city is passionate about refreshing the Heritage Center to make sure the place that used to be called Yoshi's gets reactivated. We want to make sure empty spaces get filled. We want to make sure that we do better south of Eddy—not just have a McDonald's that people go to, but an active neighborhood that everyone wants to be involved in. We have a neighborhood full of history that we respect, and out of that respect, we put our best people out there to make sure that we got it done. 
These days along Fillmore, it's challenging to start a business. And I want everyone to remember this day, because this is how legacy businesses get started. It is not the fanfare of having a destination place, so much as it is cooking good food that everybody likes and becomes a staple in the community.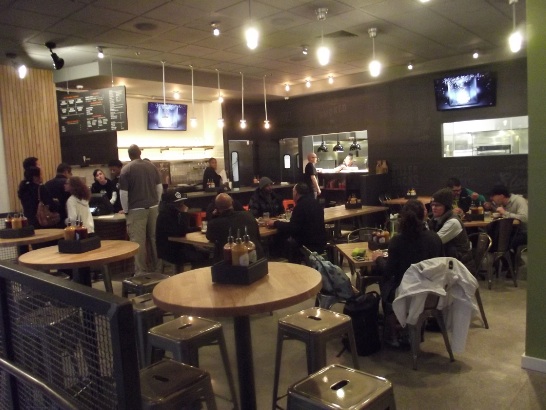 Black Bark opens today at 1325 Fillmore St. Hours are Wednesday-Monday, 11:30am-10pm.