The FiDi is getting a little classier—and also a bit quirkier—with the addition of Leo's Oyster Bar, a throwback to the '50s and '60s golden days of cocktails, glamour and day-drinking. It opens on Thursday afternoon at 568 Sacramento St., the former Wexler's space.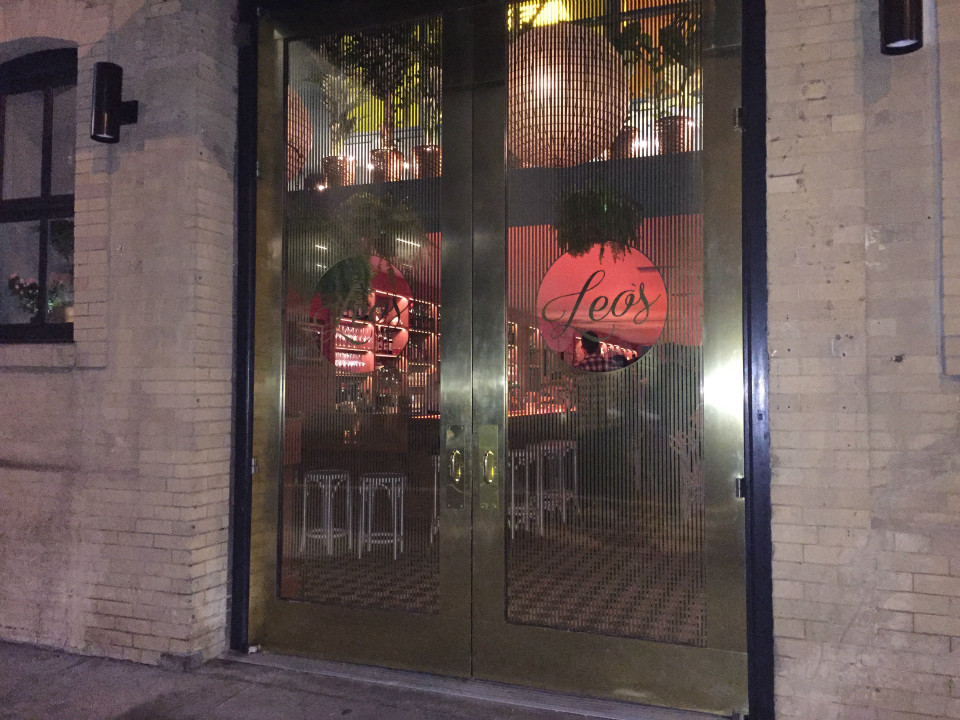 Leo's is named for the son of husband-and-wife owners James Nicholas and Anna Weinberg, whose Big Night Restaurant Group is also behind The Cavalier, Marlowe, and Park Tavern. It's the first time the group has focused on seafood— so much so that it's the first of Big Night's restaurants not to serve the signature Marlowe burger.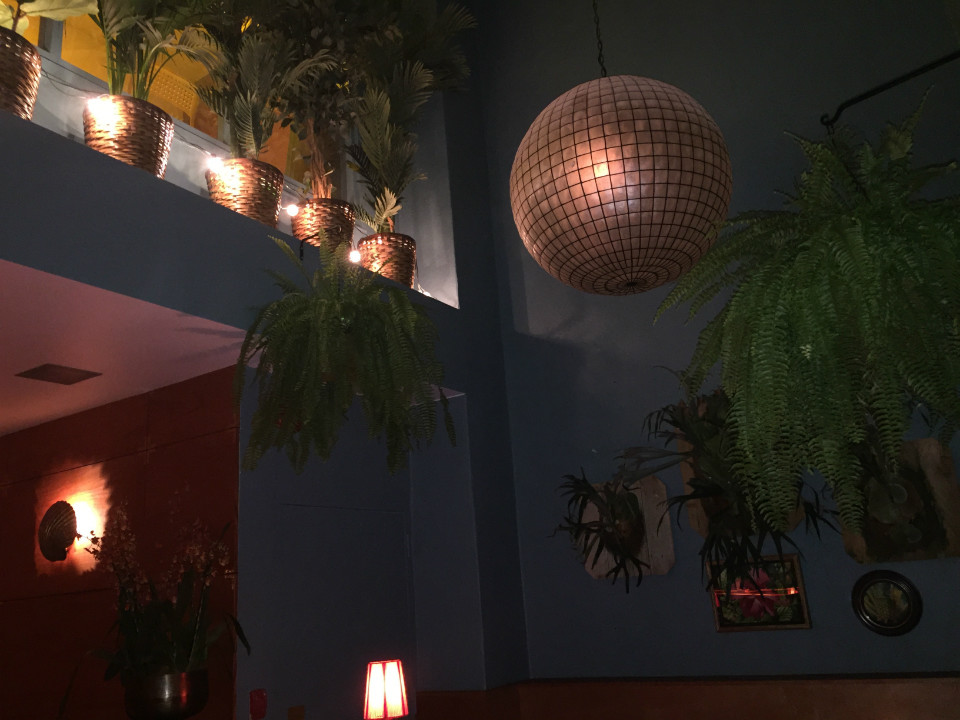 The menu features a variety of oysters, crudo, seafood toasts, caviar, and lobster rolls. Many of the classic dishes have modern touches, like the Leo's Louie, which executive chef and partner Jennifer Puccio has revamped to include yuzu, tobiko, shaved fennel, radish, sauerkraut and Sriracha. (Check out the full menu and the raw bar list.)
General manager Henry French, who came to Leo's from The Cavalier, is acting as head oyster shucker for the first several weeks until he gets everyone trained. He's also in charge of sourcing the seafood. "I'm trying as best as I can to work with local farmers," he told us, but he'll go as far as Massachusetts for good product. He's also working on featuring live sea urchin.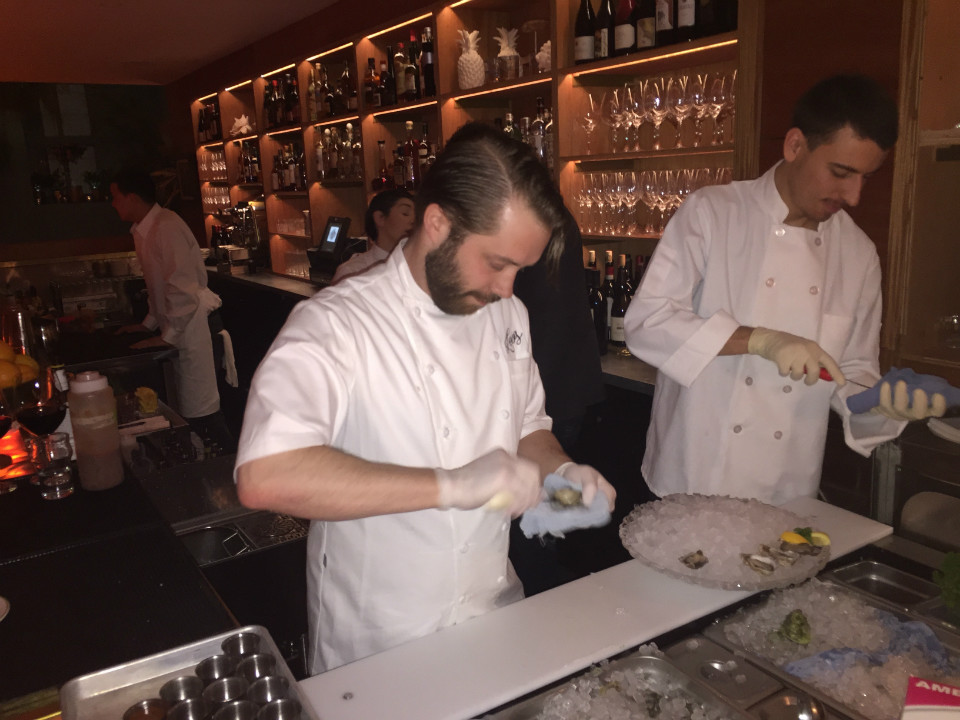 Henry French (left) and another employee.
The space, conceptualized by Ken Fulk and designed by Jon de la Cruz, now features whimsical, beachy decor, with the very front of the restaurant opened up into an atrium. You'll also see blue walls, ferns, floral patterns and bamboo-caned barstools. Gilt scallop shell sconces, Murano blown glass fish figurines and mother-of-pearl spherical light fixtures round out the swanky yet quirky ambiance.
"Anna wanted to do something fabulous and fun, and loved the glamour of the Palm Beach and Beverly Hills Hotels," Nicholas said. You can even get Mai Tais in old-timey tiki glasses.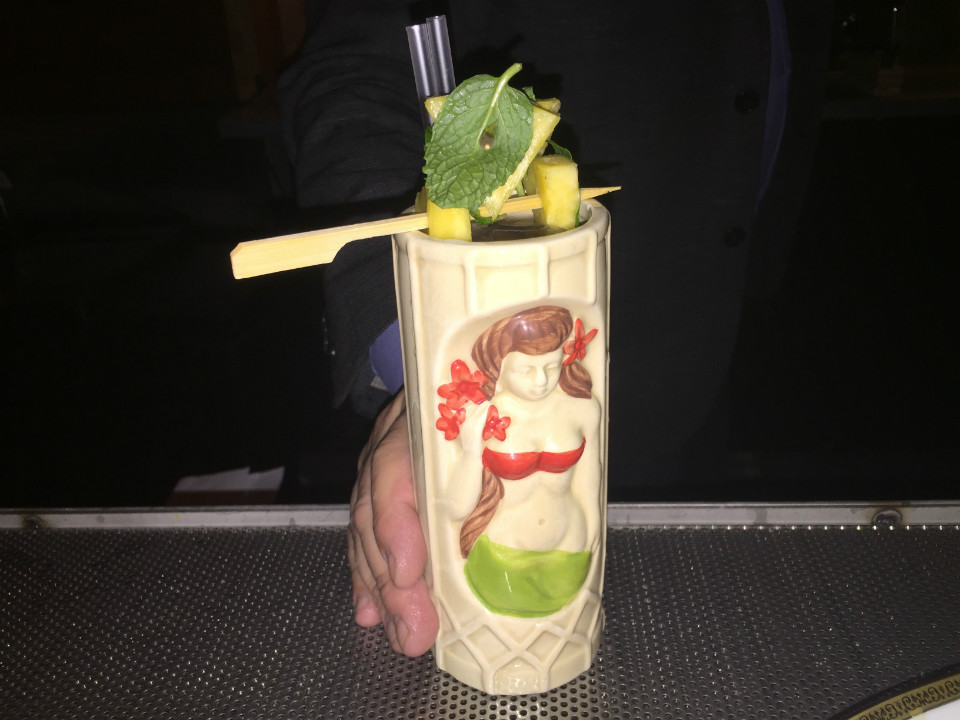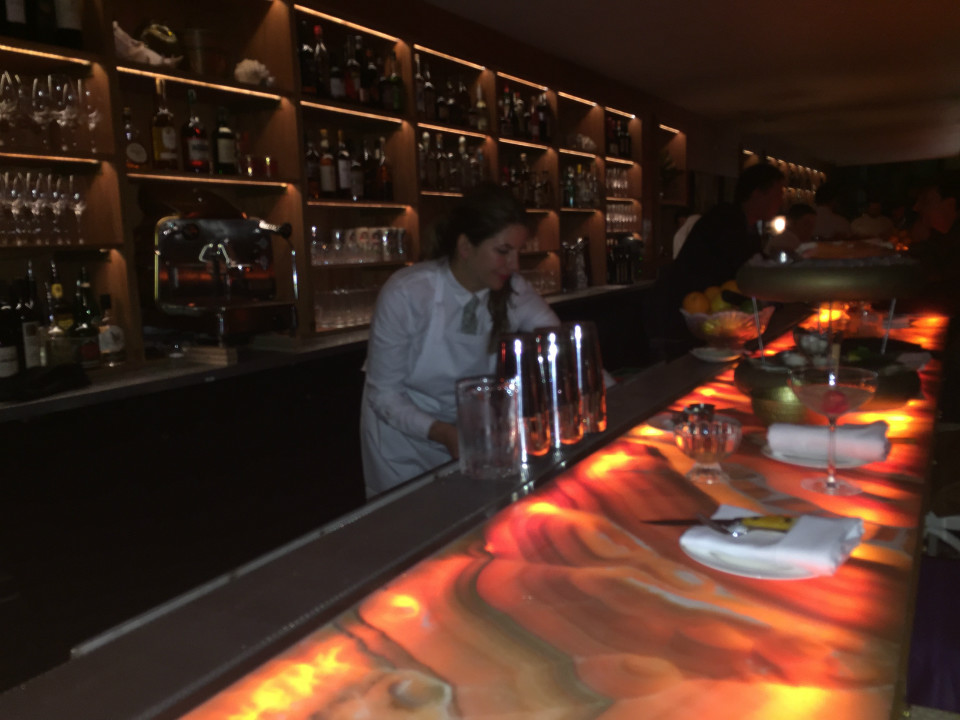 The space's scene-stealer is the bar, made of uplit honey onyx that glows like flowing lava. The warm tones are a stark contrast to many oyster bars, which tend to use white marble and other clean-looking design elements, said creative director Jake Mogelson, who also developed the logo. (If you're wondering where the striking wood sculpture from the ceiling of Wexler's has gone, it was given back to that restaurant's designer, Aidlin Darling Design.)
Gabriel Frieberg.
Drinks harken back to the days of Mad Men—in fact, there's a cocktail called "the Mad Man"—but instead of offering the typical Old Fashioned or Tom Collins, the menu veers into sweeter styles that go down easy, like the Island Girl, with rum, bananas and spices, or the original Grasshopper, which many drinkers likely haven't seen outside of their grandparents' homes. 
The bar also offers a small wine and beer list and, as the press release states, will eventually add "an unusually long list of vintage, grower and rare collection Champagnes." The Champagne bar will open on Valentine's Day.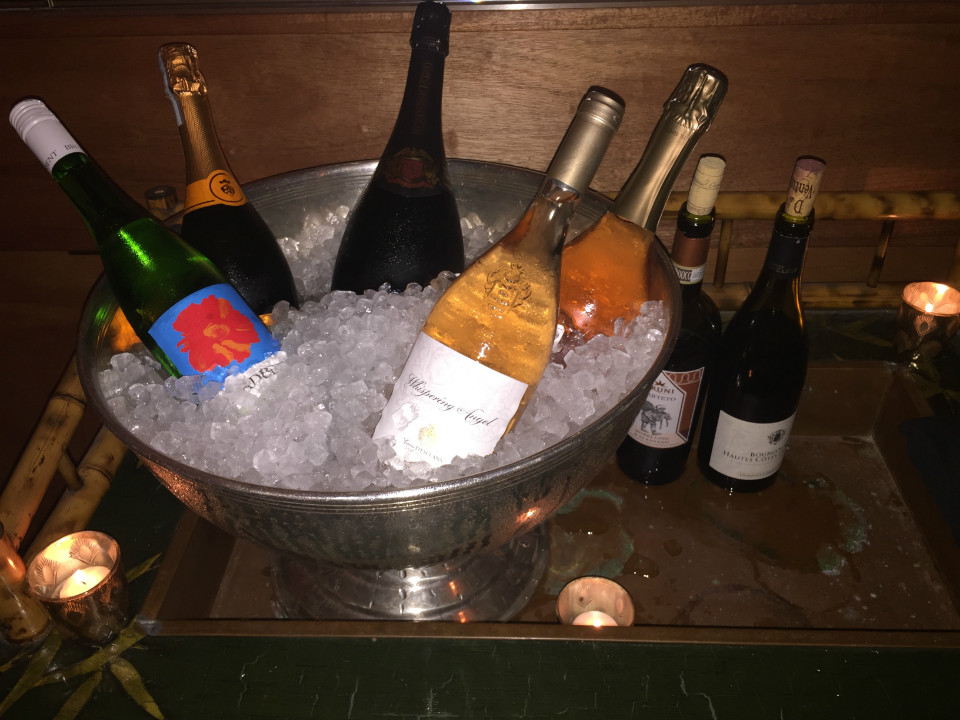 The cocktail with the deepest backstory, though, is "Mr. Nicholas' Liquid Lunch," a vodka or gin martini served with Gibson olives and pickled vegetables on the side. Nicholas says it's named for his grandfather, James J. Nicholas, who had an office around the corner for more than 30 years, in the historic Russ Building on Montgomery."He had a wet bar and a daybed in his office," Nicholas said. "Anna and I want to bring day-drinking back. Our goal is to be the most serious, fun oyster bar in the city."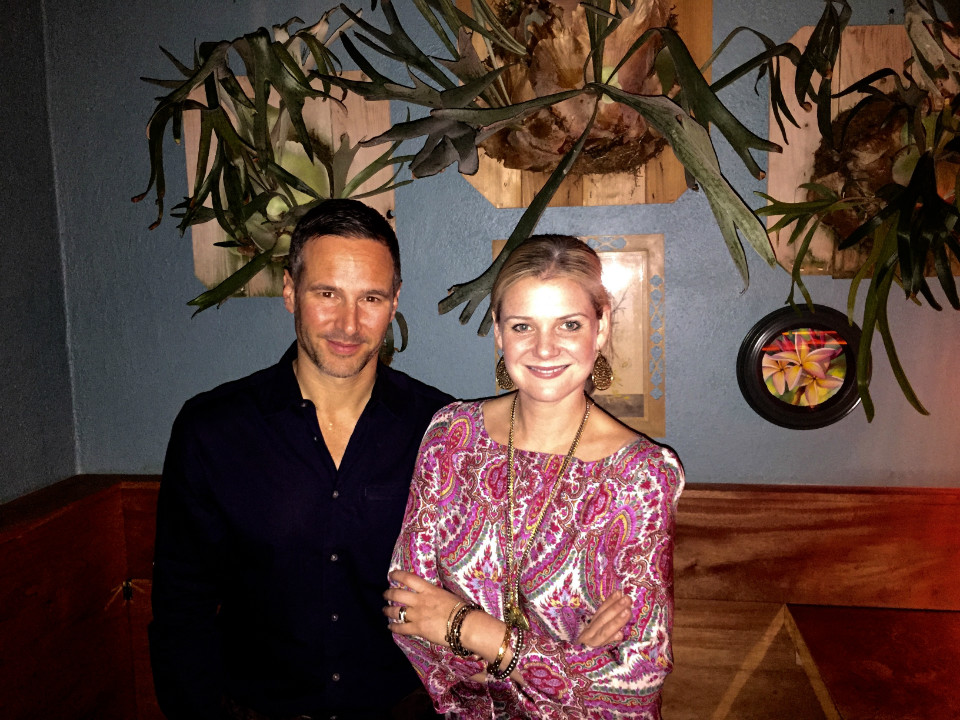 James Nicholas and Anna Weinberg.
As Leo's gets underway, hours will be 3–10pm Monday–Wednesday, 3–11pm Thursday–Friday, and 5:30–11pm Saturday, with the raw bar served midday and the full menu starting at 5:30pm. To facilitate that promised day-drinking, lunch will be added in about six to eight weeks, starting at 11:30am.