You don't need to visit a temple in Japan to experience authentic Zen Buddhism—in fact, you don't have to leave North Beach.
Led by neighborhood resident and ordained Zen priest Zachary Smith, North Mountain Zendo offers sitting meditation taught in the Zen style for both the novice and the expert, regardless of tradition. The meditation group meets at 6am 7am Monday through Friday at the Telegraph Hill Neighborhood Center (660 Lombard St.), and is free and open to everyone. 
Smith, who is affiliated with the San Francisco Zen Center, realized that there were people in the neighborhood who would be interested in attending a regular zazen (sitting meditation, usually in the lotus position) practice, but might not commit because the Zen Center, at 308 Page St. in Hayes Valley, is too far.
"I wanted this to be a North Beach thing, and we've continually had between five and 10 people sitting at each session for the last six years," he said.
Before becoming interested in Zen Buddhism and meditation, Smith made a living as a musician, playing guitar and touring with indie band Loud Family (he left the group in 1997). "It was great being able to do what I loved and well, kinda make a living at it," he said. "And I was at a point in my life where on paper, everything looked good, but I was making everyone else around me miserable, including myself."
Wanting to distance himself a bit from the rock-and-roll lifestyle, he turned to Zen and began "sitting."
"I knew something about Zen; my parents were friends with Alan Watts. It just seemed logical for me to go that route," he said. (For those unfamiliar with Watts, he's credited with popularizing Eastern philosophy for a Western audience, according to Wikipedia.)
After several years of practice, Smith became ordained as a layperson: someone who is a member of a "Sangha," or Buddhist community, but is not a part of the clergy. He then became ordained as a lay teacher in 2007, and then officially as a Zen priest in 2014, which is essentially "like a monk," he told us. Though he worked in the technology industry after retiring as a musician, he is now devoted to his work as a Zen priest full-time.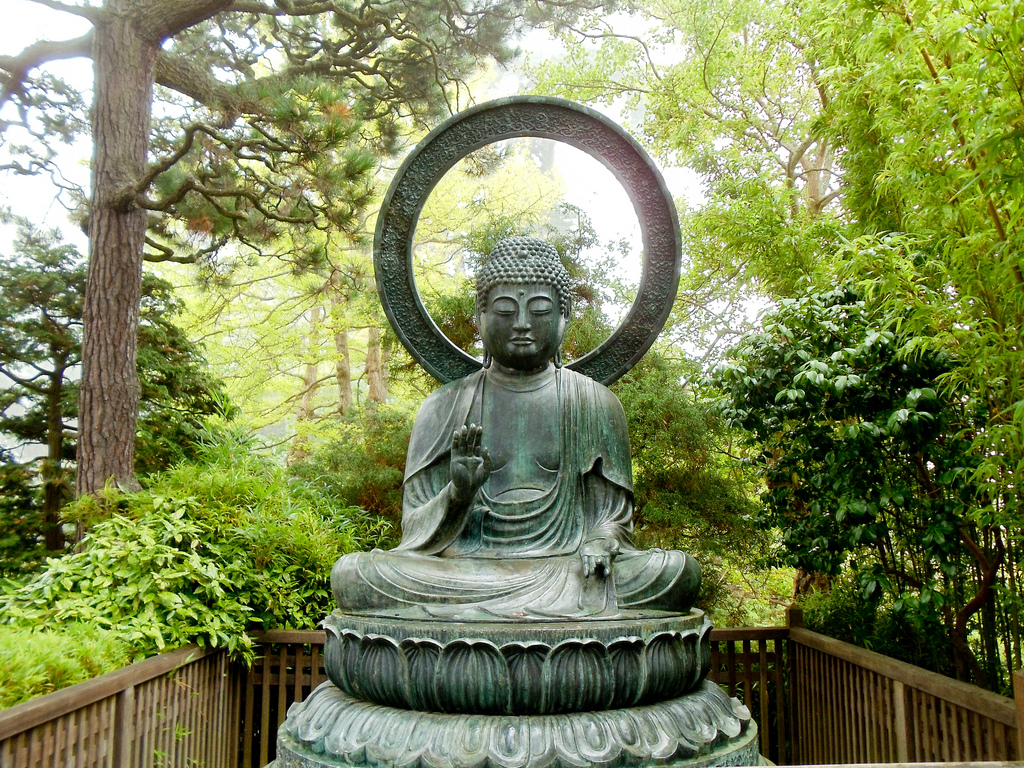 The Buddha in Golden Gate Park's Japanese tea garden. (Photo: edubya/Flickr)
North Mountain Zendo's practitioners are quite diverse. Regulars have included bartenders, artists, and an architect, and Smith is quick to note that he's not doctrinaire when it comes to sitting sessions. "We have one member that practices in the Theravadan Buddhist tradition and it doesn't seem to be a problem with anyone, even though they practice Vipassana (also referred to as insight meditation)," he said.
That member is Peter Crimmin, who's been attending for six years. He told us it gives him "a window into Zen practice," which he approaches through a Theravadan context. (Theravada, considered to be one of the more conservative schools of Buddhism, focuses on self-purification through one's own efforts, as opposed to Zen, which centers around meditation and the concept of "no self.")
"Being able to have a sitting practice with our neighbors is priceless," said Bonnie Lumaghi, a regular member of the Sangha for the last several years. "With the decline of gathering possibilities [in the neighborhood] over the years—aside from restaurants—I am so grateful to have become part of [the group]. It enriches my entire life to practice daily meditation with friends and neighbors."
Each of the four weekly meetings begins with 30 minutes of zazen, followed by a short "dharma talk," or teisho. In the Japanese Zen tradition, teisho is usually a discourse on Buddhism taught by an ordained teacher. Smith mostly centers his around koans, paradoxes that derive from "an exhaustive literature tradition that comes from the Tang and the Song dynasties." 
Afterwards, the group usually heads over to Caffe Sapore to have breakfast together and continue the conversation in a less structured environment.
Though the group is usually quite small, Smith said he'd love to have more people join. "If I have to buy more cushions, I'll buy more cushions," he said, referring to the zafu, the traditional cushion used in Zen meditation.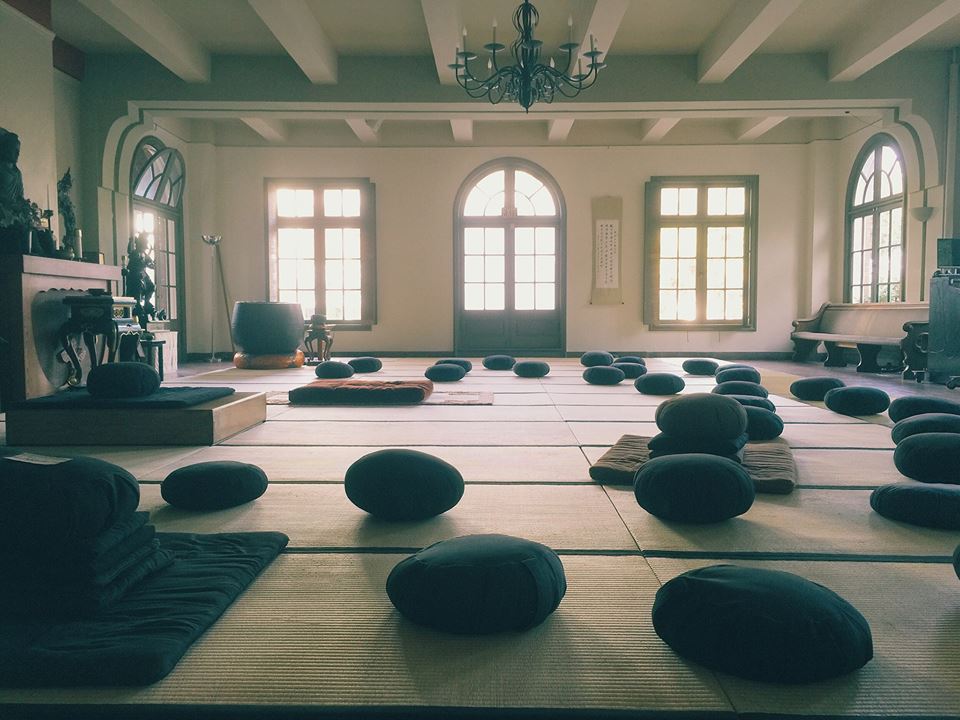 Zafu in use at the San Francisco Zen Center. (Photo: Zen Center/Facebook)
Admission is free; Smith purchases candles and incense and from time to time, for which members will pick up the tab, "but that's about it," he said. Tel-Hi has donated its space since the group's inception, allowing Smith to hold meetings without having to expect dana, otherwise known as a donation.
The mission of the group is simple, Smith said. "The hope of Mahayana [Buddhism], and Zen in particular, is to deliver people into the world who are considerate and skillful with being human and dealing with other humans."
As for Smith himself, he's "working on becoming a neighborhood fixture" as a Zen monk in North Beach, he said. "That's why you can see me walking around after sitting, wearing my okesa (a traditional Zen monk's robe). I want people to stop and ask me questions."