The long-awaited new location of gourmet sandwich purveyor American Grilled Cheese Kitchen is finally opening its doors this Monday at Broadway and Battery streets, at the crossroads of the FiDi, Embarcadero, North Beach and Jackson Square. It's located on the ground floor of the Broadway-Sansome Apartments at 799 Battery, which opened last year.
This is the restaurant's third location. The first opened in SoMa's South Park in May 2010, and the second opened in the Mission in February 2013. The Battery spot was originally slated to open in spring of 2015, but was delayed twice.
The opening comes at a key juncture for the restaurant: they'll be serving huge crowds on Super Bowl weekend at a Bud Light event in Union Square, and co-founder Heidi Gibson—a seven-time national grilled cheese contest champion—also has a new cookbook hitting the market in a couple of weeks. You can order Grilled Cheese Kitchen: Bread + Cheese + Everything In Between online, or pick it up at Anthropologie or Urban Outfitters.
Co-founder Nate Pollak says the Battery location will have roughly the same menu as South Park, which carries fewer items than the Mission location does. In addition to the regular menu of sandwiches and salads, there's a daily soup and rotating breakfast and lunch specials. They also sell freshly baked goodies: "The muffins, the biscuits and the cookies, we make from scratch every day," Pollak said, not from mixes or frozen dough. "If you get here between 8 and 9[am], they'll still be warm."
"We have a deep fryer at this location, so we'll make our shoestring fries and ever-popular crispy maple Brussels sprouts," which aren't available in South Park, Pollak said.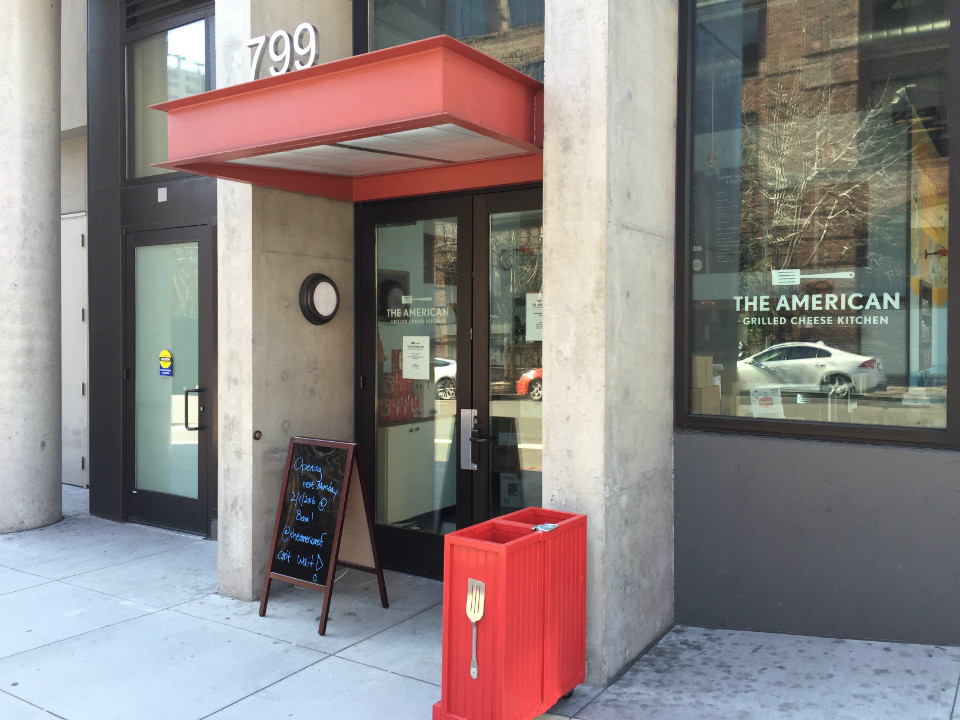 Pollak and Gibson proudly use local purveyors like Petaluma's Zoe's Meats and Sonoma's Artisan Bakers Wedemeyer Bakery. Tillamook Co-op is the primary cheese for cheddar and often for Jack to keep the prices affordable, and they do feature some imports such as Danish Havarti, Swedish Fontina and Swiss Gruyere. But they also use Laura Chenel's goat cheese and Point Reyes Farmstead Cheese Co.'s blue cheese. The drink offerings feature local craft beer, mimosas, and local wines; to start, they'll pour Treasure Island Wines.
Hours will be 8am–3pm Monday-Friday for the first couple of days, and then expand to 8am–5pm. They'll eventually be open on the weekend as well, but "we're not there yet," Pollak said. They also plan to do plenty of catering out of this location for clients in the FiDi.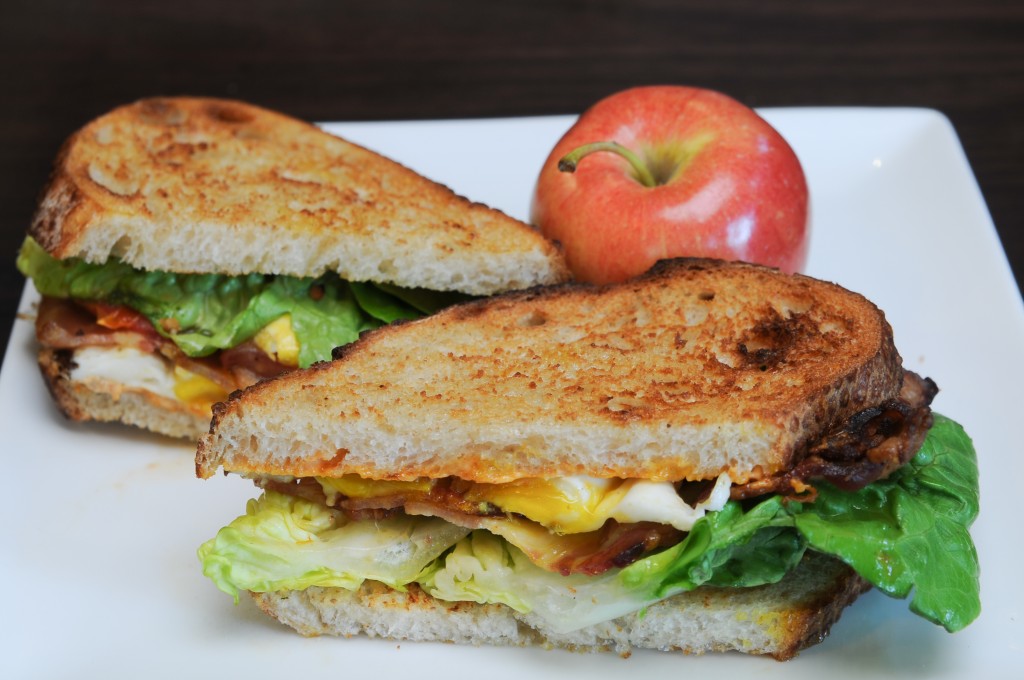 The B.E.L.T. Sandwich (the "e" is for egg). (Photo: Abel Lin/Caviar)

Wylie Price (Monk's Kettle, Trick Dog, The Progress, State Bird Provisions) designed the store, which features a 25-foot "salute to grilled cheese" mural by L + L Design.

The bright space is constructed of exposed concrete and bordered by nearly floor-to-ceiling windows along the Broadway side, and includes a couple dozen counter-style seats, along with room for about a dozen on the patio tables. Pollak had them custom-made to follow the steep slope of the sidewalk, and he made the cheery red planters himself, brightening up a previously drab corner. "Those are also designed for the slope," he said.
Pollak said he and Gibson chose this location because it's a lively area for both breakfast and lunch, thanks to a local crowd of workers. "We particularly like this neighborhood because a lot of people live here as well," he said.
He's also excited about Teatro ZinZanni and a new hotel coming online just two blocks away, on the Embarcadero. "This area's going to continue to develop," he said. "There are things happening in this neighborhood."