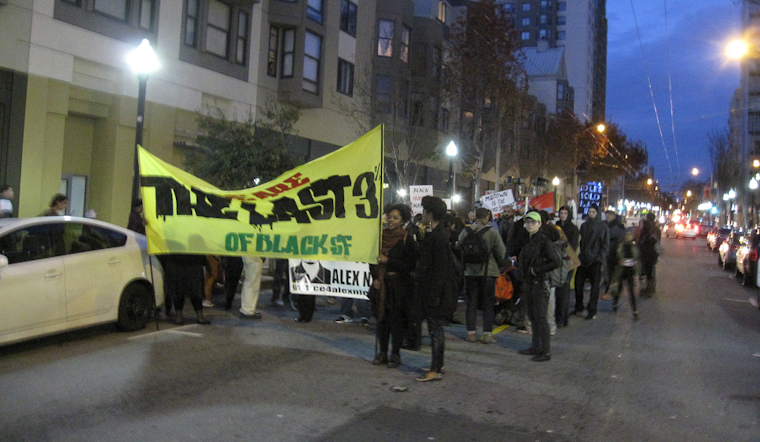 Published on January 16, 2016
Over 100 people took to the streets in the Fillmore District on Friday night to protest the displacement of minority communities from San Francisco neighborhoods. The event, Reclaim SF, consolidated grassroots organizations with varying mission statements to "shine a light on the history and intersectionality between state sanctioned violence, gentrification, criminalization  and other forms of economic violence." The night kicked off 96 hours of activism around the Bay Area ahead of Martin Luther King Jr.'s birthday.
Protesters flew banners and hollered chants that touched on everything from police brutality to gentrification to a proposed eviction of Mayor Ed Lee and other high-standing police officers.
The march, which drew a mix of races and age groups, covered nearly 10 blocks over the course of two hours. When the group arrived at the intersection of Webster & Geary, protestors formed a ring, blocking off all traffic for roughly 15 minutes. 
"People have to realize that these protesters have been pushed to the brink," Jac Taliaferro said calmly from the eye of the blockade. "They are not renegades. They are affected by a system that let them down."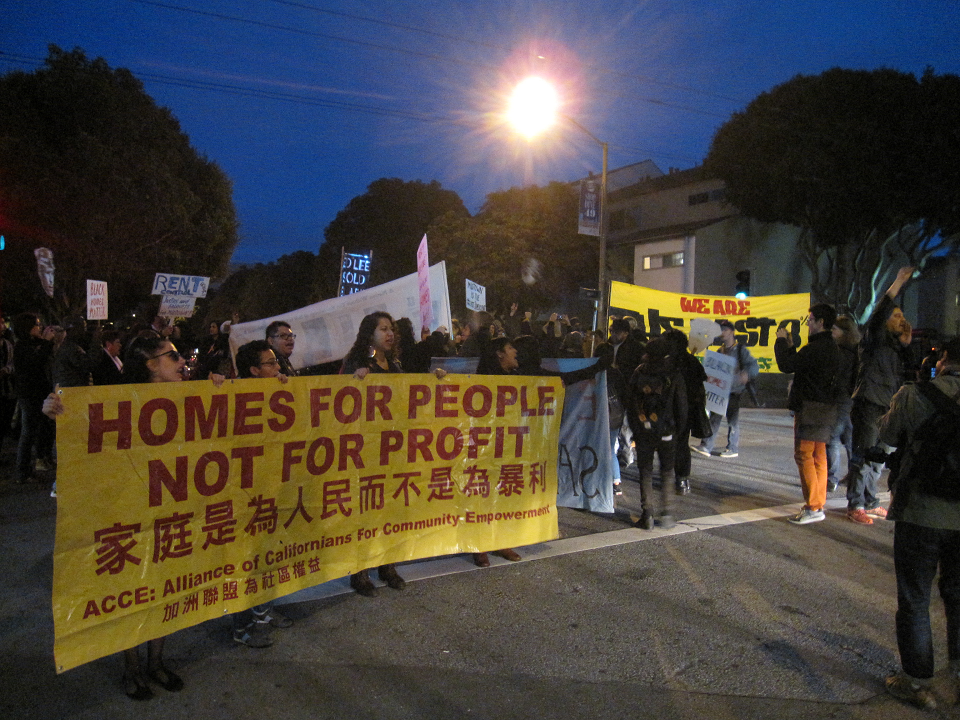 The event was not organized just to highlight issues in the Fillmore, but to bring together communities from the Fillmore, Mission, Bayview, and Lakeview neighborhoods. 
A.K., who heard about the event over Facebook, was not aware of the night's format beforehand. 
"I thought it was going to be more of a conscientious work group, but everything is well organized, and I'm pleasantly surprised," he said from the fray. 
There were no clashes with police or onlookers. One situation led to a group of protesters surrounding a car when the motorist tried to fight its way through the human blockade to cross Geary Blvd., but other than that, those involved, such as Phyllis Bowie, took the opportunity to share logistical details and mission statements to the general public. 
Bowie, a member of Save Midtown, an initiative against the eminent domain that resulted in unforeseen rent hikes at The Midtown Park Apartments on Scott Street and Geary Boulevard., spoke about the city's failed attempts at housing equality and the need for private money. 
"The system is broken down," she said. "You need to give up a ridiculous amount just to get Section 8 (a voucher program for housing). I'm for the private, philanthropic money—bring in Danny Glover, bring in Brad Pitt."  
Once the demonstration curled back to Fillmore Street, a police escort accompanied the protesters. The presence of the law officers didn't edit the chants. Shouts such as "How do you spell murder/SFPD," and "Hey Hey, Ho Ho/These racist pigs have got to go" rang out from the crowd until members disbanded near the McDonald's on Fillmore & Golden Gate.  
"There's a rumbling going on," Jeremy Miller said after an impromptu speech made over a loudspeaker. "We need to take to the streets and recognize our own power. We're tired of being ran out and shot down. This is 96 hours of direct action against police terror to honor MLK the radical. We mean business." 
The event started at Saint John Will I Am Coltrane African Orthodox Church-Jurisdiction West (a pillar of the community that has dealt with its own relocation issues in the past), where supporters and protesters packed into the small room, many forced to stand, and listened to speeches from different organizers.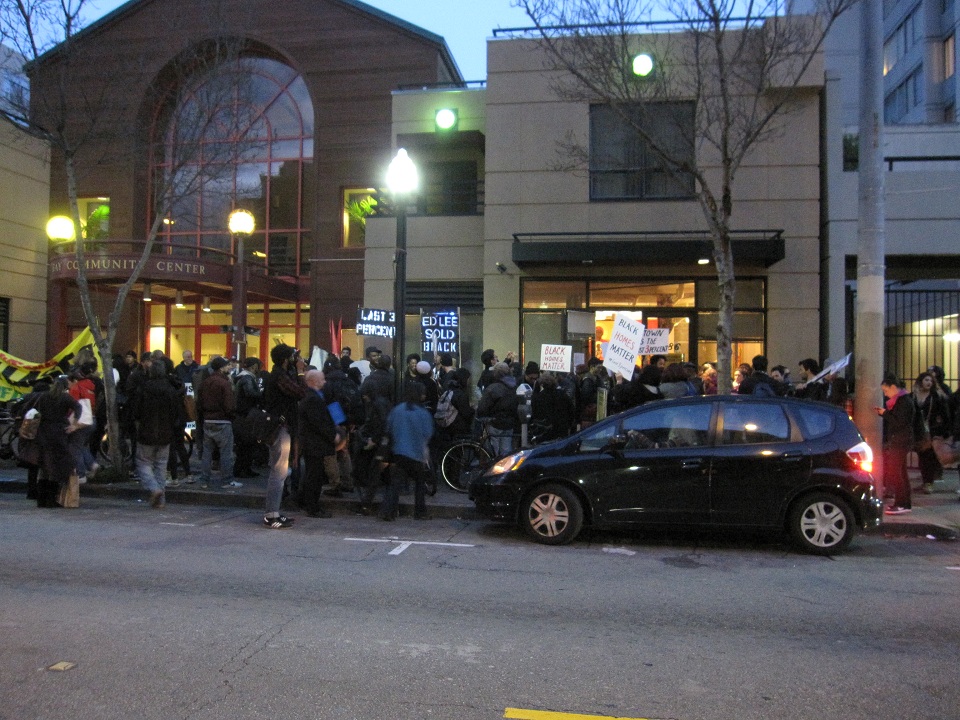 MC Adam, a member of the Anti Police-Terror Project, went over a slew of disparaging statistics and recounted his own displacement to the East Bay from his family's twin Victorian homes a few blocks away. 
"Gentrification has scarred this city," he told the crowd. "You don't just lose your home; you lose your ability to do business."  
Etecia Brown of The Last 3% Coalition, a group that derives its name from the remaining percentage of San Francisco's residential population that is Black, touched on the depravity of community centers for the younger generations. Oscar Salinas read a court deposition from the case of Alex Nieto, a 28-year-old San Francisco native that was shot and killed by SFPD in 2014, while Nieto's parents sat in the audience.   
Jim Montgomery, a person unaffiliated with an organization but all too familiar with the issues, first came to San Francisco in 1965 and fought the now-defunct San Francisco Redevelopment Agency for the subsequent decade-and-a-half over the A-2 urban renewal project and other housing issues.  
"Most of the gains we got have been taken away," he told the crowd. "But we got to keep going."