As the local restaurant industry grapples with a shortage of cooks and a rising minimum wage, a small SoMa-based startup looks to be preparing for a future where machines run the kitchen.
Momentum Machines, a technology startup consisting of "foodies and engineers with decades of robotics experience," has applied for a building permit to turn the ground-floor retail space at 680 Folsom St. into a restaurant. And all signs point to this restaurant being a burger joint where robots do the cooking.
In 2012, Momentum Machines unveiled a prototype of its hamburger-making robot. Back then, the fully-automated machine could grill a patty, lay it on a bun with sliced lettuce, onion and tomatoes, and wrap it to go, reported the tech news site Xconomy.
"Our device isn't meant to make employees more efficient," the company's co-founder, Alexandros Vardakostas, told the site. "It's meant to completely obviate them."
A few months later, the company announced its plans for these machines: launching the first "smart restaurant" chain where all of the cooking is in fact handled by robots. One machine, measuring just 24 square feet, would pump out 360 fully-customizable burgers (from the meat used to the toppings added) per hour, and not a single line-cook would be needed.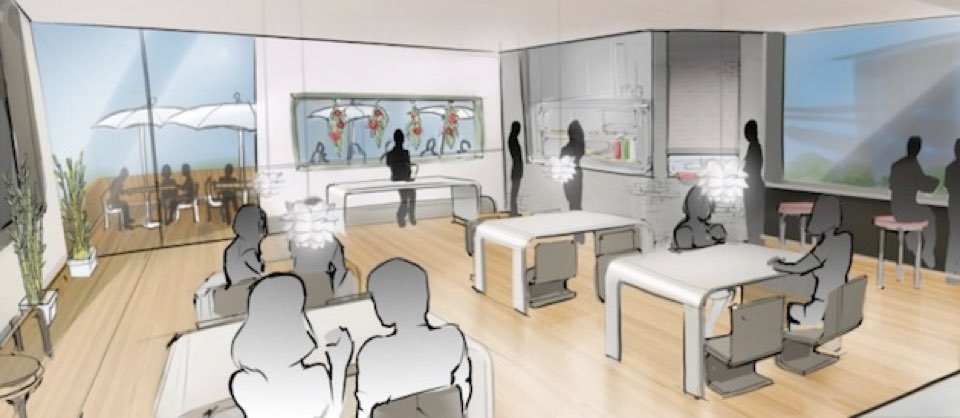 A rendering of Momentum Machines's "Smart restaurant" chain via PSFK.
We've reached out to Momentum Machines to confirm their plans for 680 Folsom St. and have yet to hear back. But it's easy to imagine the startup using the space—just steps from Moscone Center—as a way to test and showcase their technology for potential technology buyers, while turning hungry diners onto the idea of fresh, robot-made fare.
And there's a chance the menu—or future locations—could offer more than just burgers. "Our various technologies can produce an ever-growing list of common choices like salads, sandwiches, hamburgers, and many other multi-ingredient foods with a gourmet focus," the company's website says.
We'll let you know as soon as Momentum Machines opens up about their forthcoming eatery. In the meantime, there are a couple of places already serving up futuristic meals. For just $2 a pop, the Bistrobot at Andi's Market in Bernal Heights will slap together a $2 peanut butter jelly sandwiches—on a good day. There's also Eatsa in SoMa and the Financial District. While you won't find robots (or a kitchen) there, Star Trek fans will get a kick out of seeing their made-to-order quinoa bowls appearing in cubbies reminiscent of the food synthesizers on the USS Enterprise.