Not everyone is looking forward to the big party that Super Bowl 50 will bring to the foot of Market Street, Justin Herman Plaza and Sue Bierman Park. Many local FiDi workers and residents are taking it in stride, but a few are grumbling about what they say is an overall lack of outreach on the part of the host committee, as well as concerns about traffic, noise, lack of park access and city spending on the festivities.
Although the game will be held in Santa Clara on Feb. 7th, Super Bowl City—with concerts, fan activity zones and more—and the NFL Experience at Moscone Center will take place in the city. SFMTA reports transportation around Super Bowl City could be impacted from Jan. 20th through Feb. 12th, and the festivities will bring hundreds of thousands of people, which could inconvenience area residents and workers who'll have to fight crowds on Muni, deal with noise and more.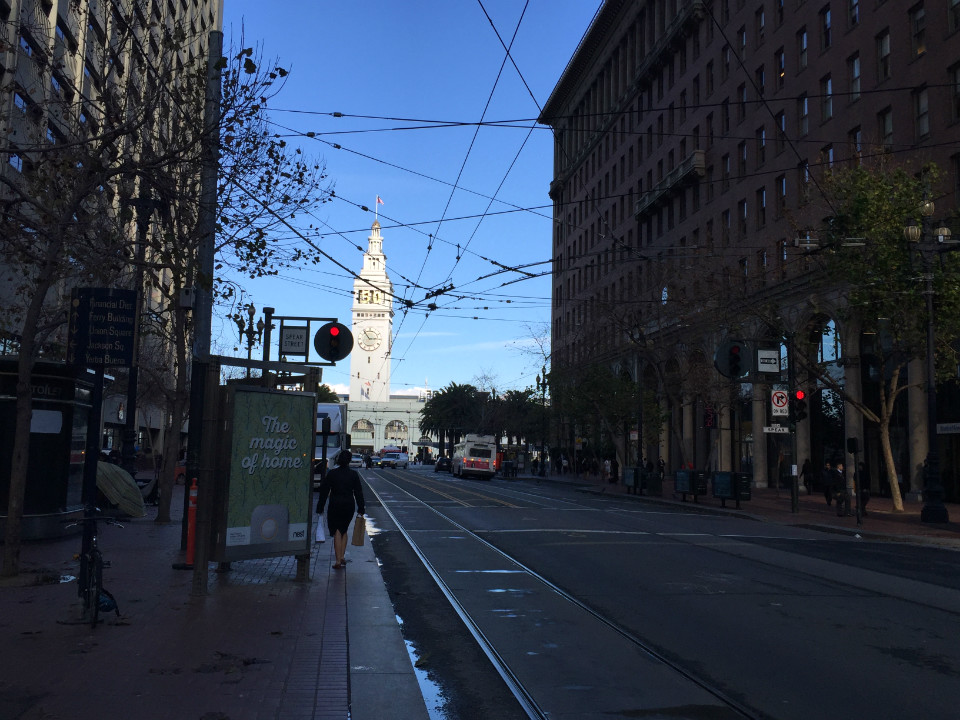 The foot of Market will be closed for Super Bowl City. (Photo: Geri Koeppel/Hoodline)
"Many people are going to find this to be fun, to be a great opportunity to enjoy your city, to bring your family to events," said Super Bowl 50 Host Committee spokesperson P.J. Johnston. "I think many, if not most, people are going to be thrilled by the Super Bowl City environment and the events of that week."
He said some people "are going to be annoyed or find the inconvenience to be a pain in the butt," but the city and thousands of San Franciscans are going to benefit from the increased business boosting the economy, not to mention the priceless publicity the city will get from being showcased during the biggest TV event of the year. "That's absolutely huge to a city that relies on tourism," he added. He cited gains for workers, small businesses, charities and long-range benefits to the city and the region.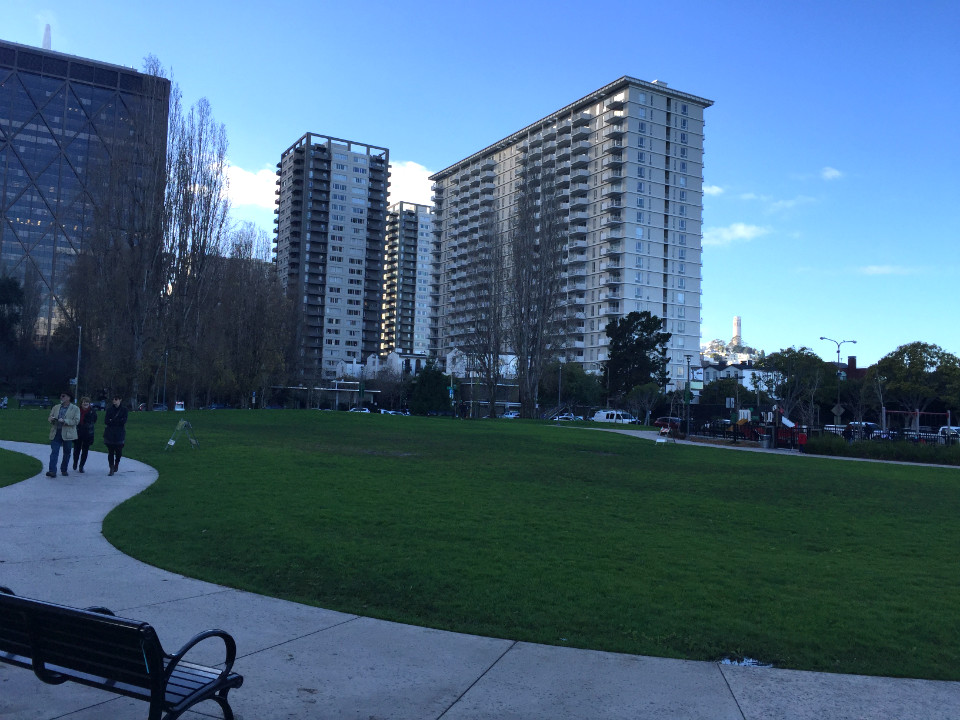 Many Gateway residents overlook Sue Bierman Park. (Photo: Geri Koeppel/Hoodline)
It's not just the inconvenience, some say. Irene and Al Glassgold live in the Gateway Apartments and Townhomes (as does this reporter), the closest residential development to Super Bowl City. In fact, one of the renderings on the Super Bowl 50 site—the one showing the Fan Energy Zones—even shows one of the four Gateway towers in the background. One of Al's main concerns is that the Super Bowl Host Committee didn't give any specifics until recently. "These guys have avoided communicating with the public," Al said. Irene added that they contacted District 6 Supervisor Jane Kim's office earlier about the events and "she couldn't find anything out."
"The location was widely publicized and has been in the news quite a bit since early September," Johnston said, and the host committee provided more details last month about Super Bowl City just before getting approval for a permit for it. It'll include concerts in Sue Bierman Park, an entertainment zone at Justin Herman Plaza and more. And the host committee is holding a brown bag lunch meeting for the community on Thursday at Pier 1.
The Glassgolds aren't impressed. "It's a lunch meeting," Irene said. "People aren't going to get a chance to ask any questions. It's just a way to say we had a community meeting. Anyway, it's too late—they're going to do it." They're upset that the community wasn't consulted in advance before all of the plans were made.
Adam Bergman, who lives in the Golden Gateway Condos, also was unhappy about what he saw as the lack of notice to neighbors. "Either they thought they didn't want to bring it to us because they were afraid we were going to have issues with it, and they clearly know this neighborhood can get people together and accomplish things, or they were arrogant and didn't think they needed to contact us," he said.
Both the Glassgolds and Bergman expressed concerns about traffic, which is already heavy in the area. On the agenda for the next Interdepartmental Staff Committee on Traffic and Transportation for Temporary Street Closures (ISCOTT) meeting on Jan. 14th is a long list of street and parking lane closures for Super Bowl City; it gives specific blocks, lanes and dates. 
Johnston said SFMTA is in charge of traffic and transportation and has plans to reroute traffic to keep commuters safe and moving. Those plans are outlined on the agency's Getting Around During Super Bowl 50 page, and the San Francisco Chronicle also reported details. Also, SFMTA told us they'll run additional subway trains, and BART spokesperson Taylor Huckaby sent this statement: "We will be running commute-length trains all day on all routes, i.e., the longest trains possible, during that week."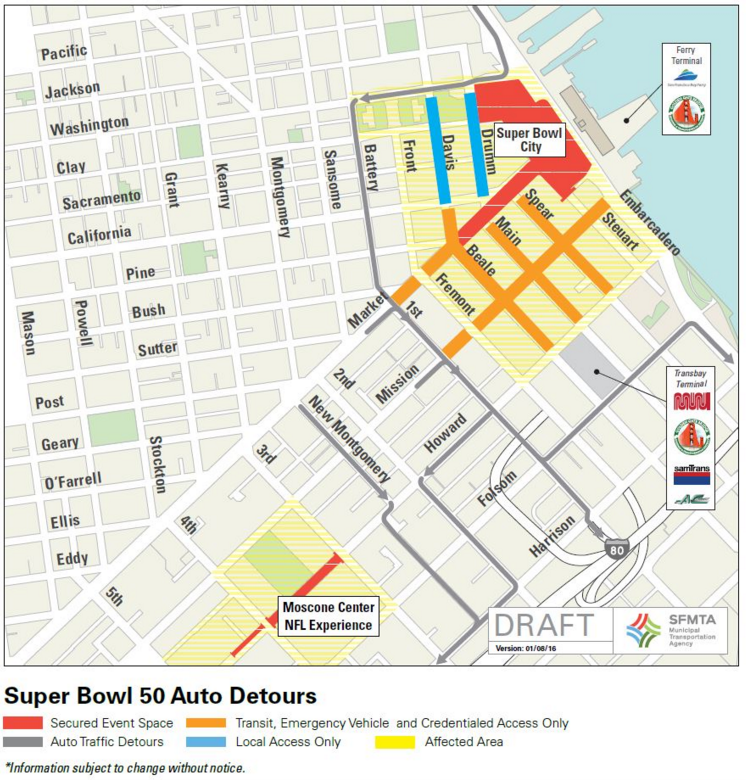 Courtesy SFMTA.
Irene said it'll still be a hassle for local workers who have to get downtown, and Bergman was worried about pedestrian safety with so many additional people and cars in the area. David Burnett, another Gateway resident, sent a message to us saying, "I question the advisability of closing the southbound Embarcadero and diverting all [Super Bowl] traffic up Washington to Battery. Traffic already backs up on Battery at 3pm causing motorists to start using Jackson Street."
Businesses expect to be hampered as well. Jane Connors, senior property manager for the Ferry Building, sent us a statement saying while they hope the marketplace shops will see an increase in business, "There will be street closures, diversion in walkways through the Financial District, impacts to transit, etc.  We are most concerned about how to best handle deliveries impacted by the south bound Embarcadero road closure. We get 250 deliveries a day—and half of those deliveries are from the North Bay. For example, Hog Island deliveries fresh oysters from their Tomales Bay Farm every morning." She said they're providing flyers to delivery companies with tips, including suggesting drivers from the North Bay divert as far north as Van Ness and then south of Market past Brannan. The building also is trying to find storage solutions for tenants to stock up on dry good products.
Despite the fact that the street closures and rerouting could last about three weeks, Johnston said, "The inconveniences and changes are not out of scale with other events, and it's a pretty straightforward plan, I think." He added, "Whenever there is something going on in the city, whether it's a bicycle race or marathon, or it's Fleet Week, or it's a parade, there are temporary changes to traffic flow; there's no doubt about it."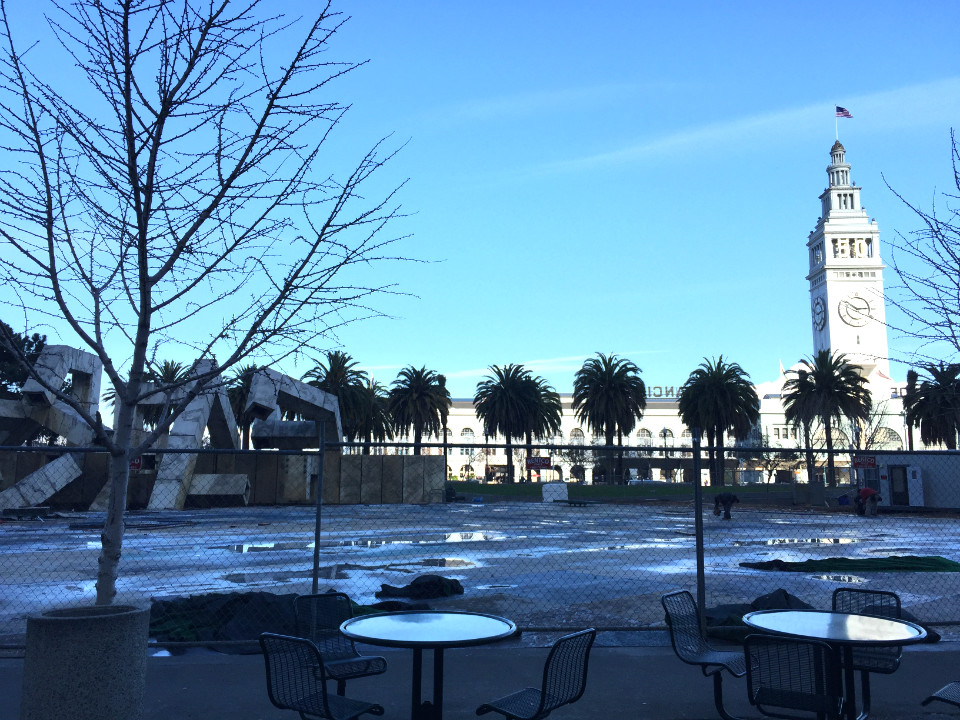 The ice rink came down at Justin Herman Plaza recently in time to set up Super Bowl City. (Photo: Geri Koeppel/Hoodline)
Potential noise from concerts that will run until 9pm weekdays and 10pm weekends is also a concern. Al doesn't think pointing speakers toward the Bay will do much to lessen the sound and the thumping of the bass, and he doesn't think it's realistic to expect that the sound won't exceed 50 decibels in nearby apartments. He and Irene question why the concerts must be amplified at all.
But some are happy with the host committee's promise to be a good neighbors. "I was encouraged to hear they're agreeing to limit the sound and they're agreeing to give us a telephone hotline number for people who want to call to complain," said Bill Hannan, president of the Golden Gateway Tenants Association. "We will publicize that as soon as we find out what it is." 
Bergman, who is a father, is also upset that the Sue Bierman Playground will be closed. Many community activists worked together to get the playground funded and built. "I am deeply unhappy that this community came together and put a lot of money forward to build a playground, and now that playground is going to be fenced off and I can't enter it without going through a security fence," he said. "I find that reprehensible."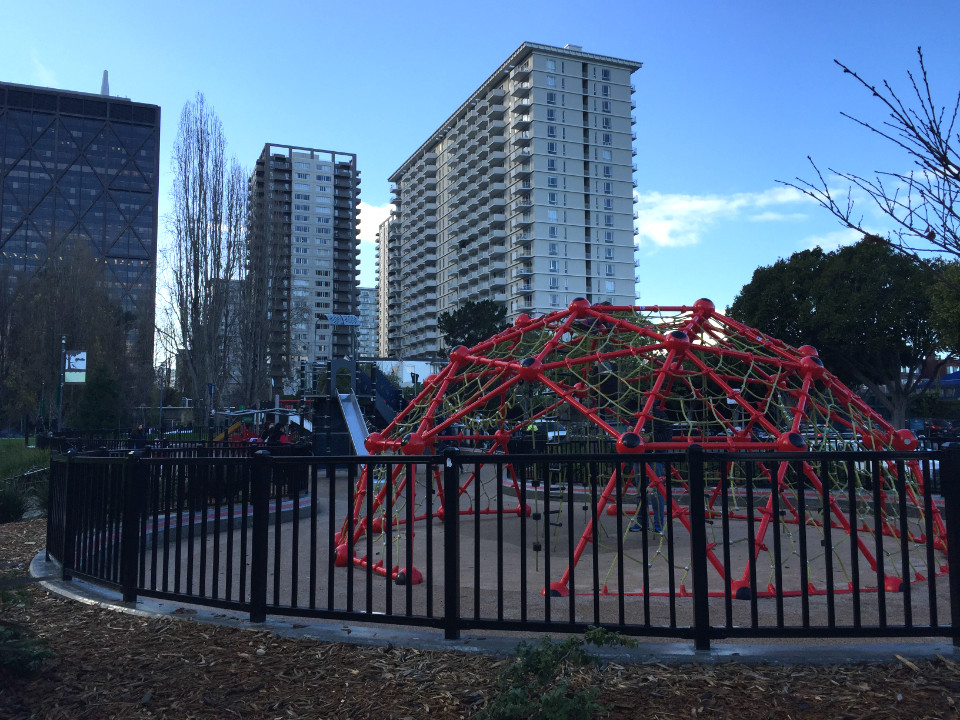 Sue Bierman Park Playground. (Photo: Geri Koeppel/Hoodline)
Still, others think the Super Bowl 50 is a boon for the community in the long run. One reason is its charitable arm, the 50 Fund, which is on track to donate more than $10 million to local organizations (though this has seen its share of controversy as well, as the San Francisco Chronicle reported).
Gateway resident Lee Radner, the feisty 8 Washington opponent, was pleased that the host committee donated $15,000 to the Friends of Golden Gateway (FOGG) summer kids camps, which gives scholarships for low-income children to attend camp at the Bay Club at the Gateway (which also matches all funds FOGG donates). "There'll be music and there'll be some noise but it's only 10 days; two weeks at the most, and it'll be over with," he said. "I think it'll have long-range implications which are much more important, particularly with regards to our FOGG kids camp program."

But Bergman asked why, if the host committee is giving away so much money, it couldn't provide funding for extra security or cleanup in the immediate surrounding neighborhood, which already has problems with trash and crime.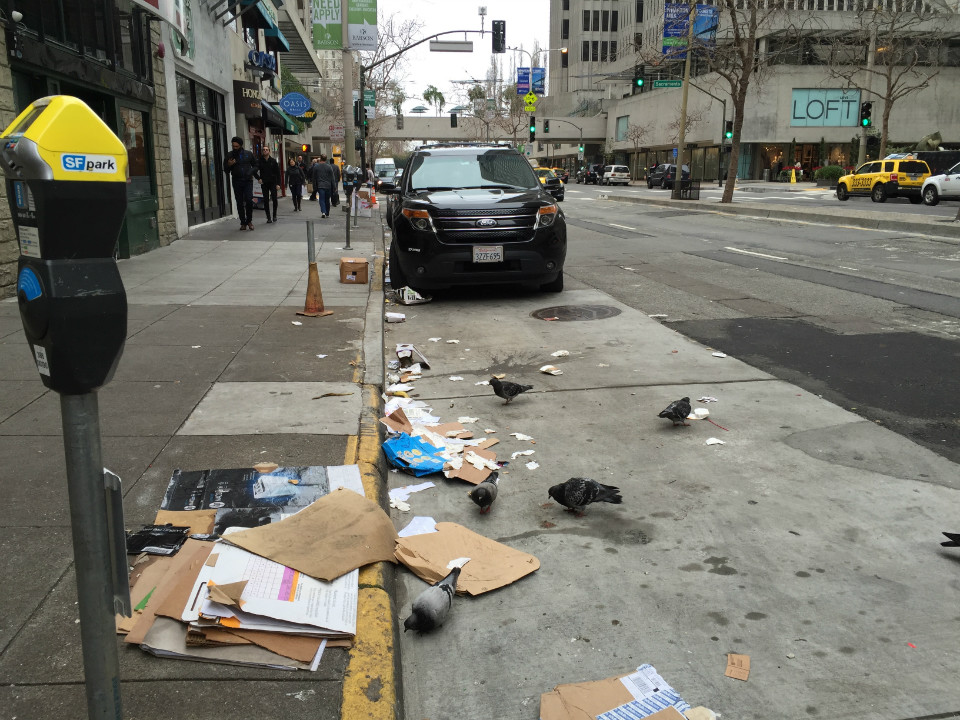 Drumm Street between Market and Clay streets is perennially trash-laden. (Photo: Geri Koeppel/Hoodline)
District 3 Supervisor Aaron Peskin isn't happy about it, either. "There is, at least as it was crafted by the city with the host committee, no reimbursement to the city and taxpayers for the cost of this," he said. "There are going to be literally hundreds of officers there on overtime with no money, none for [Public Works] cleanup or Muni."
Peskin told us he's bringing this up at the next Board of Supervisors meeting. "I will be, with some of my colleagues on Tuesday, asking the city's budget analyst to determine how much this is going to cost the city," he said, "and I will be asking the host committee to consider reimbursing the city, albeit it's unlikely they'll do it because the agreement they entered into with the city does not provide for cost reimbursement."
"The Super Bowl committee cannot account for all potentialities of human behavior," Johnston said. "We are working with city departments to make sure anything they need from us—and vice versa—we'll be ready for. I don't know if it's reasonable to expect us to solve longstanding or year-round problems, but we're going to do our part."
We asked Johnston for numbers on how much of an economic impact the Super Bowl is expected to have on the city and how much it will cost the city in terms of extra police, sanitation, etc. He gave this statement:
The economic impact of Super Bowl 50 on San Francisco is expected to be enormous, and well exceed any costs incurred by the city.

The Host Committee chose to conduct an economic impact after this year's Super Bowl, using real numbers, rather than make projections or speculations.

However, this is the 50th Super Bowl, it's the Bay Area, and there is a lot of recent experience to draw from. Economic impact analyses of recent Super Bowls have ranged — from more than $250 million in Indianapolis, to $480 million in New Orleans, to more than $700 million last year in Phoenix — but they share one thing in common: the local economy benefits enormously from the Super Bowl. Given that this will be the 50th anniversary of the game, and that San Francisco is one of the most attractive travel destinations in the world, our expectation is that Super Bowl 50 will be on the high end of that range.

As for the cost of city services, above normal operations, I believe city departments are making estimates on that now. But they indicated at the Board of Supervisors last month that these cost are already planned for in their annual budgets — just as plans for Chinese New Year, Pride, Fleet Week and other large events are accounted for.

In any case, the revenues, both in direct taxes and overall spending in San Francisco, are expected to far exceed those costs.
An article in the San Francisco Examiner on Thursday reported that a city memo revealed the cost to the city will be $3.5–4 million.
It should be said that even after soliciting comments or concerns from other neighbors, we received little feedback regarding Super Bowl plans. The Glassgolds say that's because people aren't aware of the issues they fear will arise. "I think the Super Bowl 50 committee has been enormously successful in seeing that people haven't had the info they need or want to have in order to complain," Irene said. "And that is why there is generally quiet."
"We want to minimize and mitigate all negative impacts," Johnston said, adding, "We want to be sensitive to people's concerns as well. We take our lead from the city, but it's pretty well planned, I think."