The second brick-and-mortar location for Bacon Bacon, the food-truck favorite that originally launched in 2011, opened quietly for lunch today at 737 Third St., near AT&T Park. Even before noon, it was already drawing a brisk crowd.
Owner Jim Angelus told us he was planning a Monday opening, but since all the inspections were done and he got the OK to go ahead, he figured he'd start early. The menu is the same as the Cole Valley location (205A Frederick St.), with bacon-filled sandwiches, tacos and burritos for breakfast. The varied lunch menu offers everything from banh mi to a bacon fried chicken sandwich to salads and sides like porky fries and bacon chili.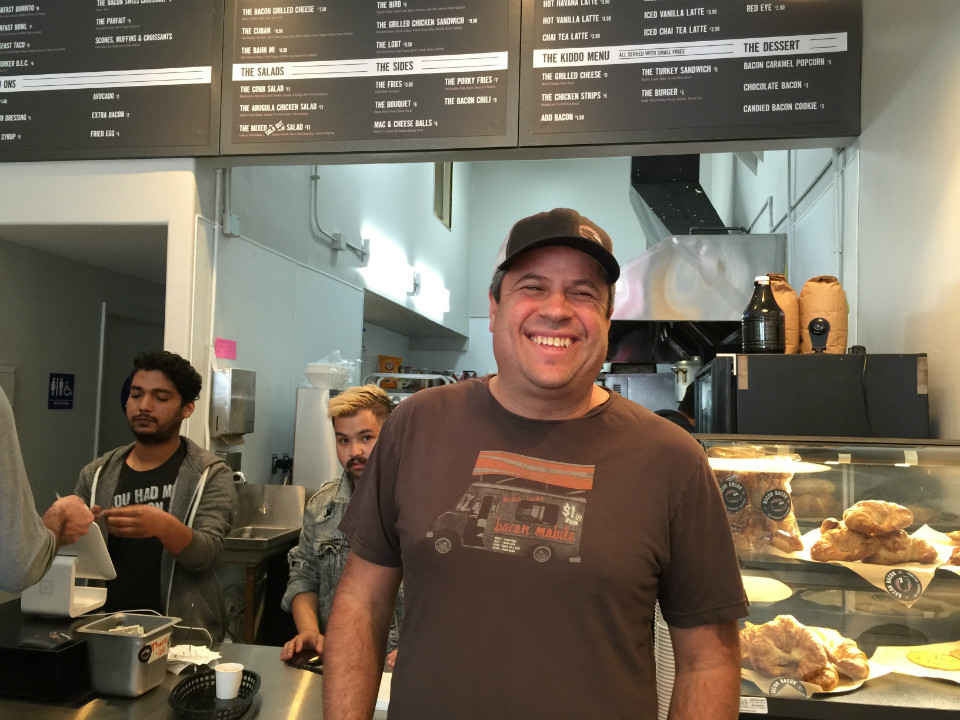 Jim Angelus and employees on day one of the new Bacon Bacon in SoMa.
Desserts, made on-site, include bacon caramel popcorn, a candied bacon cookie and chocolate-covered bacon. The bacon is sourced through Golden Gate Meat Company, the bread is from Pinkie's Bakery in SoMa, and the produce is local. Prices are roughly $6–12, with most items falling around $8–10. 
14 years ago, Angelus used to help out a friend sometimes doing valet parking for MoMo's, and he's happy to be back in the area. "The neighborhood's great," he noted.
"We serve really good coffee from Roast Co in Oakland, and do a full espresso bar," Angelus said, so he hopes residential neighbors will pop in for their morning jolt. Of course, he's also excited about the impending start of baseball season, telling us he's going to feature a grab-and-go menu for fans to take into games.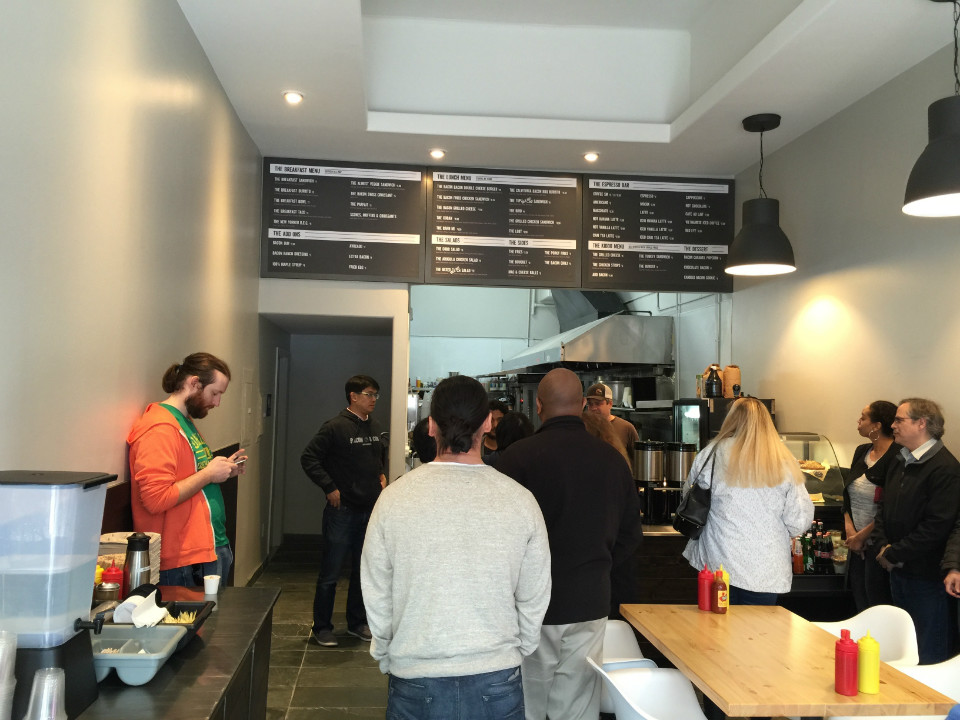 This opening went much more easily than that of his Cole Valley location, which initially debute in January 2012. After neighbors raised a stink about the wafting aroma of bacon, it closed in January 2013. 
The press went whole hog on the story, landing Bacon Bacon in a front-page article in the Wall Street Journal and mentions on Saturday Night Live, Good Morning America and the Today show, among others. (A San Francisco Bay Guardian article recounts the saga.) With the help of neighbors who packed City Hall to show their support, Angelus wrangled with the city and managed to reopen later that year. 
He hopes to expand even further, but "I want to get this dialed in before moving somewhere else," he said. "We want to get this perfect, then we'll look for other opportunities."
Bacon Bacon will be closed over the weekend, and will re-open Monday. For now, hours will be 7am–3pm Monday–Friday and 8am–3pm Saturday–Sunday, but expect them to expand as baseball season nears.