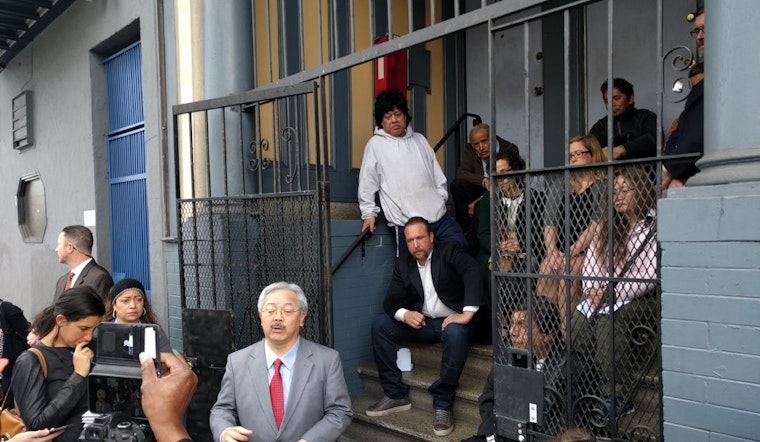 Published on February 11, 2016
Mayor Ed Lee and a host of tenants and housing nonprofits gathered on the front steps of a two-story Victorian home in SoMa this morning to celebrate the acquisition of five rent-controlled buildings, where long-term tenants in 19 units had been at risk of Ellis Act evictions.
All five properties—3535-3557 Folsom in SoMa; 70-72 Belcher in Duboce Triangle; 1684-1688 Grove in NoPa; and 642 Guerrero and 380 San Jose in the Mission—were previously owned by landlords Sergio and Paul Iantorno. 
The San Francisco Community Land Trust (SFCLT), Mission Economic Development Agency (MEDA), and the Tenderloin Housing Clinic (THC) had been working with the tenants of the buildings over the past year to stop the planned Ellis Act evictions and secure the homes for good through the city's Small Sites Program. 
With loans from the Mayor's Office of Housing and First Republic Bank, MEDA was able to acquire both Mission District properties, and the SFCLT acquired the other three. The total cost: about $10 million.
At today's event, Lee and the housing organizations' representatives touted the acquisitions as a victory for the administration's policies regarding housing preservation and public-private collaboration.
"Want to get out of the business of property ownership? OK, no problem," Lee said. "But you don't have to evict." He noted that San Francisco has made a commitment to preserve rent-controlled housing, and has real resources to do so.
In addition to being able to stay in their homes, residents of the newly acquired buildings will have the opportunity to become members of the SFCLT for $24/year, and will be able to run for a position on its board of directors. 
Christopher Gil, a marketing manager with MEDA, also noted that the SFCLT hopes to turn all of its properties into housing cooperatives, giving residents ownership stakes in the buildings. However, the city's condo conversion ordinance makes it difficult to create cooperatives, so it's hard to predict when the transition could be completed.
For Teresa Baclay Dulalas, whose family has lived at 1535-1537 Folsom St. for 37 years, the acquisition of the building was a miracle. In the time she's lived there, three different property owners have tried to evict her family four times.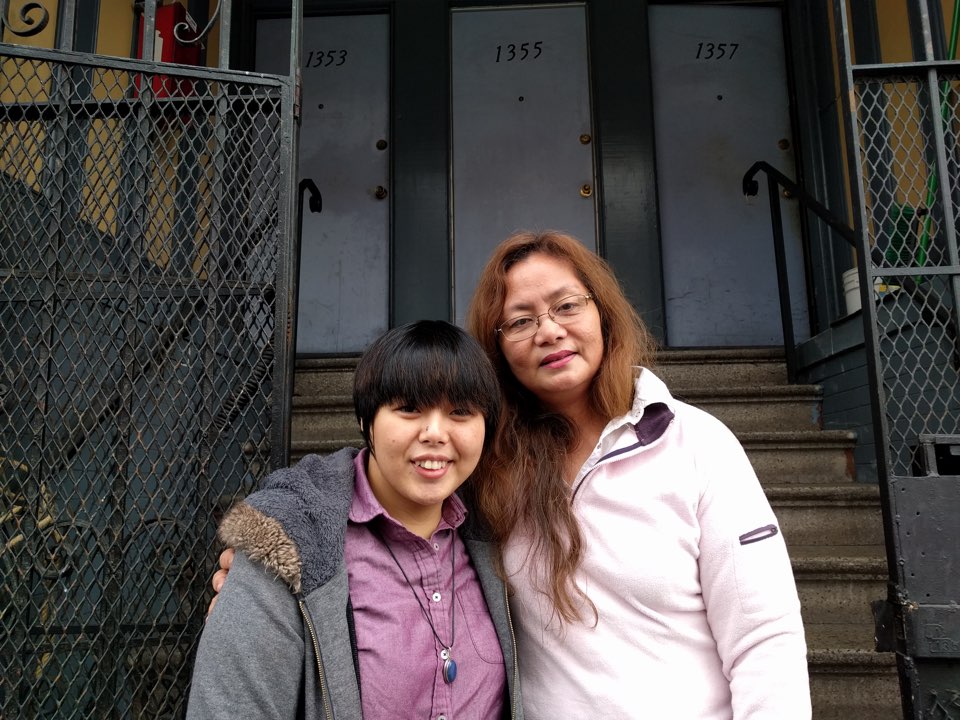 Dulalas and her daughter on the stoop of their Folsom Street home.
Dulalas told us that faith and knowledge are key to fighting an eviction. Before this most recent eviction attempt, she and her family didn't know anything about rent control. The South of Market Action Network put her and her neighbors in touch with the Tenderloin Housing Clinic, and their lawyer walked them through all of their rights. They collectively agreed to reject buy-out offers and fight for their homes.
Even though all three units in her building are finally secure, Dulalas says she's still concerned about other families in similar situations. "It's not over," she told us. "We're going to continue fighting."