Thanks to tipster Mike L., who was on the ground at the time, we have a bit more detail on the mysterious riot that took place early Sunday morning near Polk and Bush streets.
It started with "a group of 20 or so guys yelling anti-police statements and seeming to incite the curious onlookers who were coming out of the bars," Mike told us today via email. "It seemed like the energy had a snowball effect, and more and more people joined them in the street."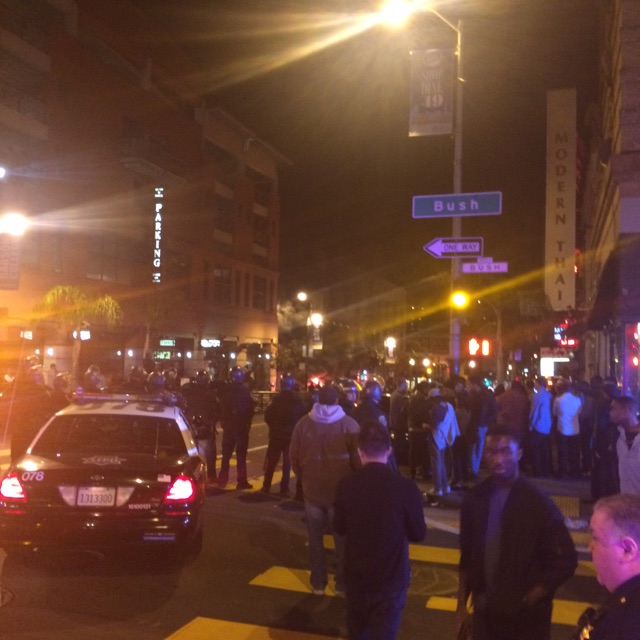 Some people threw bottles at officers in riot gear, and then a motorcycle was ignited into flames, he said. From his vantage point, officers were "pushing the crowd back ... [They] shoved a few people who were not listening to their commands and remaining in the street," but overall showed "lots of restraint."
The SFPD has not confirmed the cause of the disturbance, but Mike says that it didn't seem premeditated. "From my perspective, it seemed more spontaneous than anything, although the cops arriving so quickly and having all their gear makes me think otherwise. I did hear that Twitter was being monitored, because of the Super Bowl. Maybe that's how they knew, if it was planned. But that's pure speculation!"
We've reached out to the SFPD for more information, and will update this post as soon as we hear back.
Concerned locals may want to attend the Lower Polk Neighbors' monthly meeting at 7pm this Wednesday, Feb. 10th. We're told Northern Station Captain Greg McEachern will be making an appearance to discuss Saturday's situation.
Headlining the meeting's agenda is newly elected District 3 Supervisor Aaron Peskin, who plans to discuss the Affordable Housing Bonus Program, rent control, and his proposed ban on formula retail on portions of Polk and Larkin streets.