Since 1999, the "holiday house" at 45 Upper Terrace in Corona Heights has been famous in the neighborhood and beyond for its seasonal decor. Owned by husbands Wade Joffrion and Greg Price, its lively displays have delighted thousands of locals, drawing crowds at Halloween and Christmas. The couple also concoct special displays for Easter, Fourth of July, and St. Patrick's Day; their display for Valentine's Day is currently up and running.
Joffrion and Price first purchased the home, which was built around 1917-1918, in 1997. At the time, it needed a serious renovation, but they thought they'd be up to the challenge: Joffrion is an architect (now retired), while Price, also retired, has a passion for décor. Joffrion describes him as "the guy with an eye."
They set to fixing the "literally cracking and sinking" walls and foundation, and underwent a seismic retrofitting as well. In all, the process took over a year, but they say they're thrilled with the result. 
Since it's made of brick, a rarity in San Francisco, the house is a "very prominent sight," Joffrion said. "When you see the house for the first time, it catches you off-guard; it's not something you expect to see. The best way to describe its style is 'storybook.'"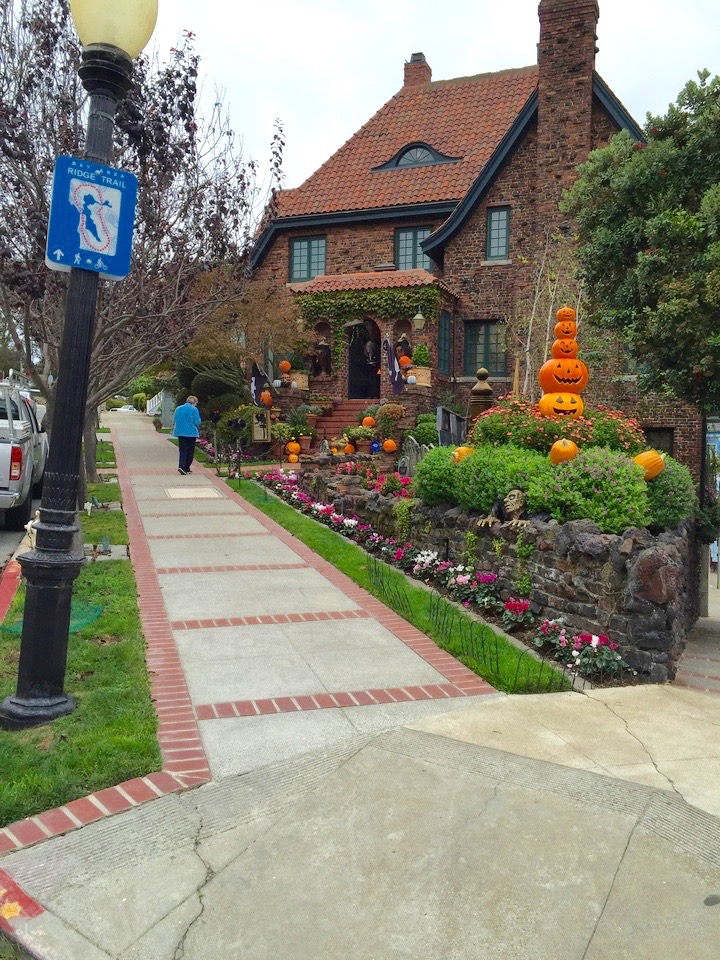 Halloween, October 2015.
Once the house was fixed up, the couple turned their attention to styling it for Christmas, putting up their first display in 1999. (It's only grown since then, earning a spot in our December roundup of the best local holiday decor.)
They decided to decorate for Halloween as well, turning their front yard into a "graveyard for lost souls." (This year, it was updated to include tombstones for Sarah Palin and Donald Trump.) The display now attracts hundreds of kids and scores of spectators each holiday.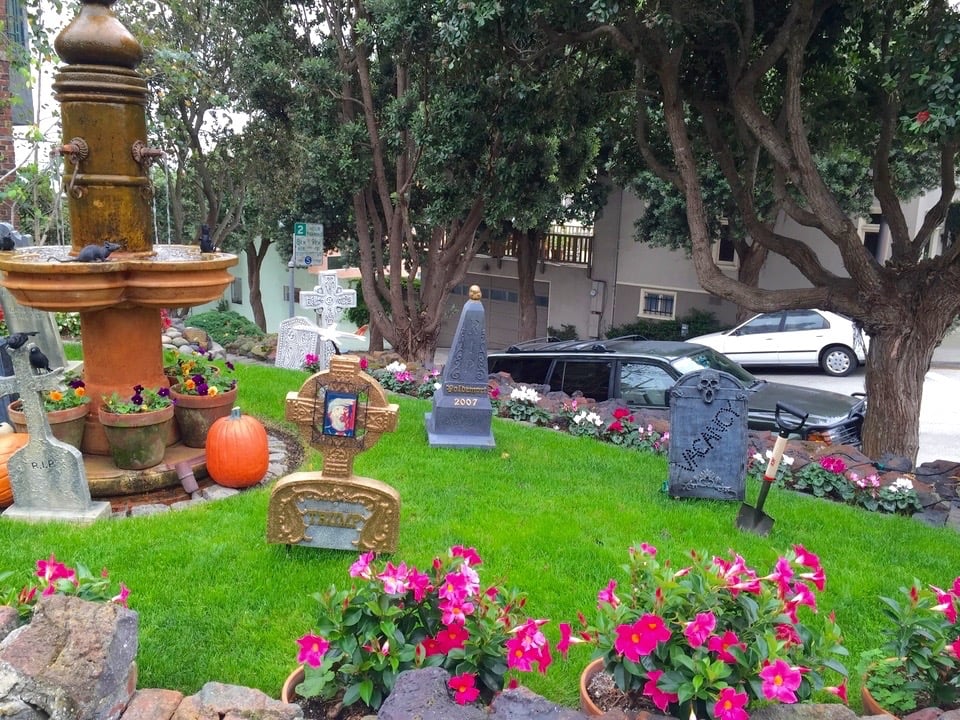 By the standards of their other displays, the Valentine's Day look is fairly simple, Joffrion said. Nonetheless, the red and pink hearts on the front door and in the bushes "bring a smile to everyone's faces." Many passersby like to use the house's front stairs for a photo op.
Joffrion and Price say they're not taken aback when they look out their windows and see people snapping pictures of their house. "It's just something we've gotten used to," Joffrion told us. "People often drive by and then stop to take a second look."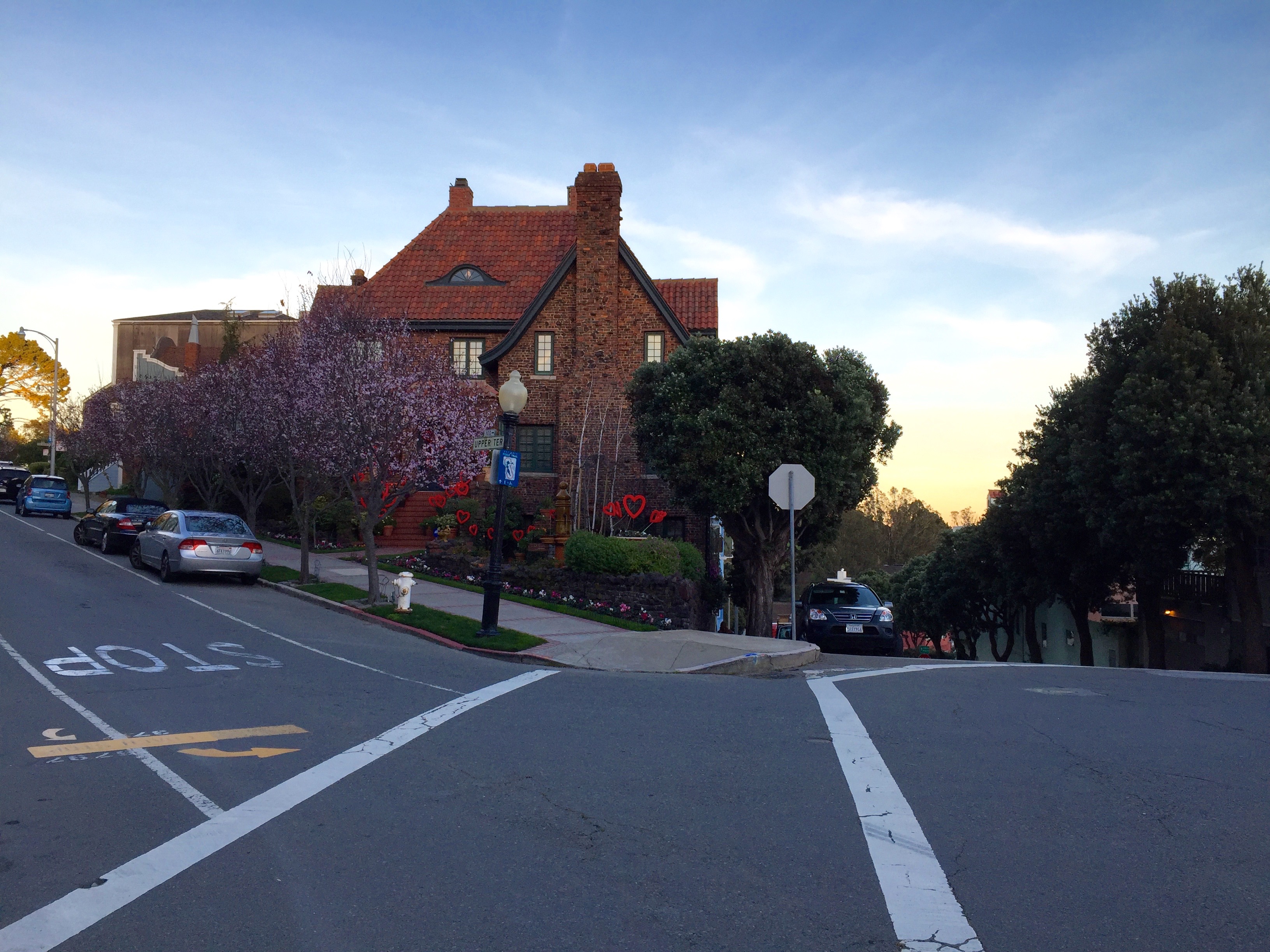 Joffrion and Price say their favorite thing about living in the Corona Heights/Ashbury Heights/Greater Castro area is the neighbors. "People are very friendly. They look out for each other from a security aspect," said Joffrion. "It's almost a throwback to a different time."
The couple got to know many of their neighbors over the years as they took their Cavalier King Charles spaniels, Eva and Zsa Zsa, to the park. Unfortunately, they recently lost the dogs, whom Joffrion describes as "the loves of our lives." But they'll have a special Valentine for the holiday: They recently got a new puppy, named Wally.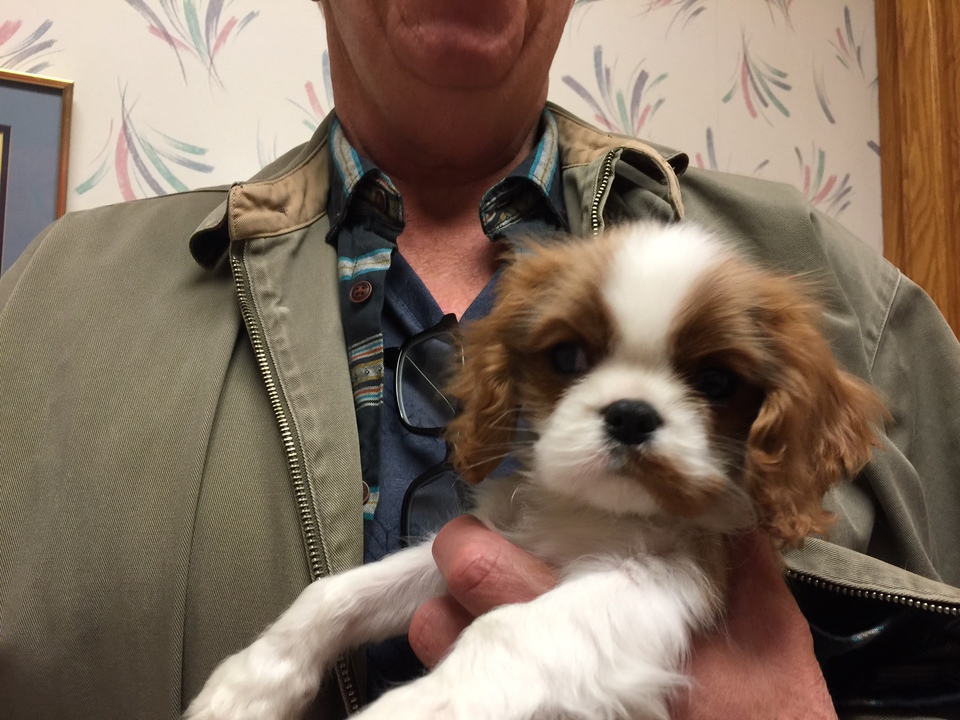 Wally at 10 weeks old. (Photo: Wade Joffrion)
While Joffrion and Price said the holiday displays were born because they thought their house made for a great backdrop, the most important thing to them is seeing how much the neighbors appreciate it. The couple often find flowers left on their porch, or notes tucked under the door that say "Thank you for your decorations."
"It's become a tradition, and people come expecting to see all the holiday stuff," Joffrion said. "I feel like we're giving back to the neighborhood."