The hot election this year is, of course, the U.S. presidential race and nominations. But here in San Francisco, a battle is brewing within the Democratic party as well that could shape its direction. And it centers on an issue near and dear to many city residents' hearts—housing development—as well as the newly elected District 3 Supervisor Aaron Peskin.
The San Francisco Democratic Party has an elected governing body called the Democratic County Central Committee, or DCCC (also called the "DC3"). In the June 7th election, 60 people are running for 24 seats (though 10 are incumbents) on the committee, which is influential in making endorsements in other races—including the presidential campaign—and ballot issues. Voting starts in early May.
(Left to right) DCCC candidates Rebecca Prozan, Gary McCoy and Supervisor Scott Wiener. (Photo: Kory Powell-McCoy)
District 3 Supervisor Aaron Peskin is a major force in this election. He served on the DCCC from 2000-02 and was chair from 2008–12, but didn't run in 2012. Even prior to that—but especially since then—Peskin and his supporters see the party as becoming too pro-development and out of touch with voters on issues like affordable housing, and they're running a "reform slate" of candidates to try to balance out those interests.
Meanwhile, Mary Jung, chair of the DCCC, says Peskin and his slate are the ones who are out of touch, and she says Peskin is taking over the party to build a "political machine." Her allies are running on their own slate, and still others—like Gary McCoy, former senior aide to the previous D3 Supervisor Julie Christensen—are running independently.

Why care about the internal workings of this committee? The recent D3 race notwithstanding, its endorsements tend to be influential. And that could make a big difference in the way the political winds blow, because it could effect a shift in power at the Board of Supervisors in this November's election.

The lobbyist loophole

First, some of the concerns from the Peskin camp. Jon Golinger, one of Peskin's closest political allies, is running for DCCC on the reform slate, and he and others say it's a conflict of interest that DCCC chair Mary Jung is a lobbyist for the San Francisco Association of Realtors. 
"A year after she was on DCCC, they hired her to be their face at City Hall," said Golinger, who's also a longtime activist for North Beach, Telegraph Hill and the waterfront. "That was shocking. It's one of these loopholes because the Democratic party is different than other city offices." (Other elected officials are forbidden from being lobbyists while in office.)
Golinger says of the reform slate: "The only thing we're unified around is that the Democratic party should be independent from the real estate lobby."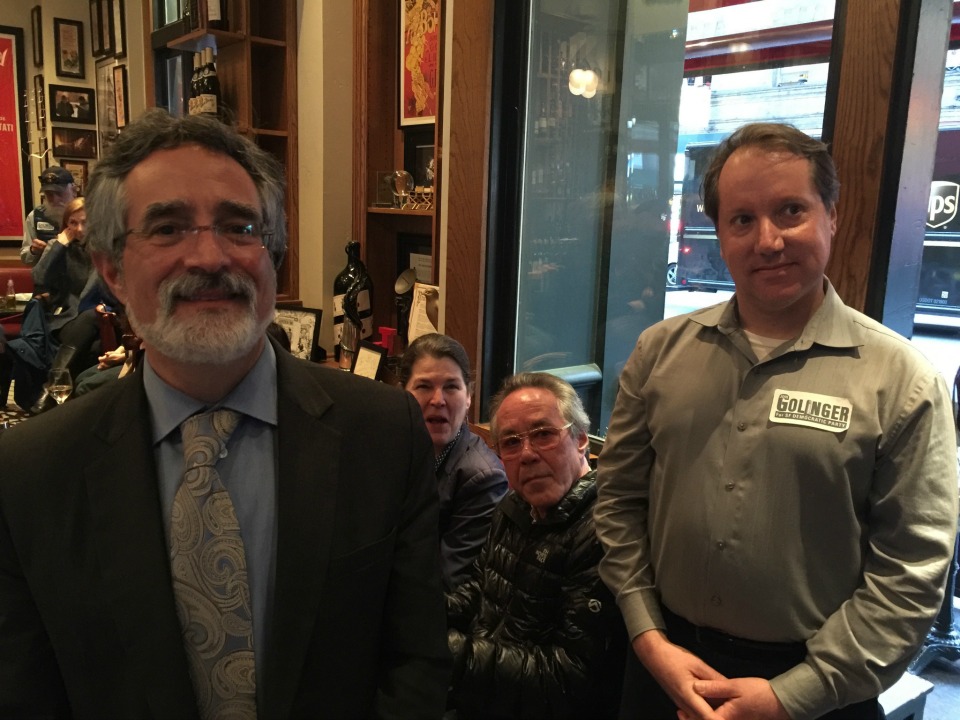 Aaron Peskin (left) and Jon Golinger at Cafe Zoetrope on March 7th. (Photo: Geri Koeppel/Hoodline)
Golinger told us the party has had a "dividing line" between more pro-business/ pro-development members and others for about 15 years, but after Jung's election, "it's sharpened pretty dramatically." He added, "There's never been a chair who's that much of a lightning rod" because of her affiliation with an interest group.
He added that he and his fellow reformers want to put in place strong conflict-of-interest rules. "I wouldn't want the Sierra Club to be in charge of the Democratic Party either," he noted. (Golinger is an outspoken member of the Sierra Club, which has come under fire for its opposition to many housing developments for decades.)
The 'Peskin Machine' slate
Jung, on the other hand, told us in an email, "The 'reform slate' is anything but. It's a 'Peskin Machine slate.'" She goes on to say the slate "has been consistently out of touch with voters—e.g., they voted to stop building affordable housing in the Mission (Prop I lost 67 percent to 33 percent) and they voted against nonlethal alternatives for our police department." [Update: Prop I lost 57 percent to 43 percent.]
Jung added, "The Peskin Machine slate doesn't seem to want to recognize that there are many shades of blue in our party—it is what makes us great. The Peskin Machine wants everyone to follow their shade of pale blue and if you don't, they resort to name-calling and character assassination. We are going to stand up to these mean-spirited and vindictive tactics and move our party forward with or without them."
Party leadership, Prop B and affordable housing
As an example of the party not following the will of the voters, Golinger cites the case of Proposition B, a ballot measure in June of 2014 requiring voter approval to exceed current height limits on Port parcels. (It passed by nearly 59 percent to 41 percent, but is currently being litigated.) He was "appalled" when the DCCC flipped by one vote to oppose the measure. "That's the genesis of why I'm running," he said. "I was sick to my stomach. I felt I couldn't stand by and watch it keep going."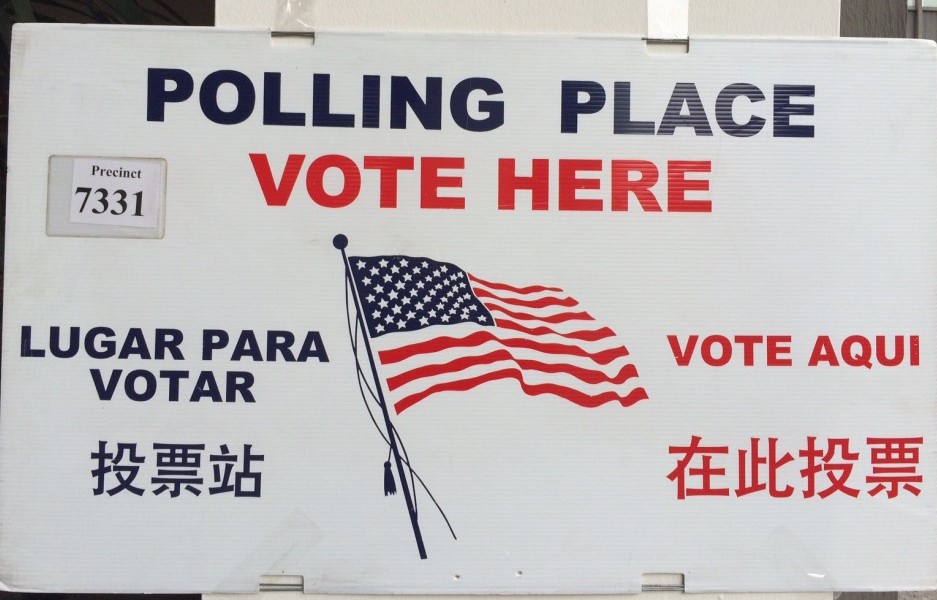 Photo: Geri Koeppel/Hoodline
Voters didn't want high rises on the waterfront, Golinger said, and they do want more affordable units in new development. (A charter amendment will be on the ballot in June to remove limitations on inclusionary or affordable housing that may be required in new developments.) "We shouldn't have a lobbyist for the real estate industry running the Democratic party and opposing affordable housing," he said. "Jung works every day to oppose affordable housing and Ellis Act reform."
Jung, for her part, writes, "As chair, I have opened up transparency, made diverse appointments, shared leadership, and increased open dialogue—no matter what your point of view. Our endorsed ballot measures are directly in line with San Francisco Democrats."
She also accuses Golinger of "unethical tactics" and writes, "His political negativity and NIMBYism is one of the main reasons why San Francisco is in a housing crisis."
Who should run?
Another prickly topic this term has been the DCCC's recent vote to try to give the mayor and all sitting supervisors ex-officio seats on the panel.
DCCC member Alix Rosenthal put forth the plan because, Jung told us, "There are only 24 open seats and as a result, grassroots activists like ... Rosenthal are getting squeezed out. This is a political arms race which was started by Peskin.  He recruited people like John Burton, Tom Ammiano, Supervisors Jane Kim and Norman Yee, and School Board Member Sandy Lee Fewer to take over the Democratic Party in an effort to build this political machine. It is a dark development for democracy in San Francisco."
However, the DCCC voted on the plan on March 16th—five days after candidates had to file. If it had passed, all supervisors, even the nine who threw their hats in the ring, would be ex-officio members and not elected members. Any slots they had won would open up and then go to the next-highest vote getters. The reform slate called foul.
As it turned out, the panel voted 18–11 not to change its bylaws, so all declared candidates—including Peskin and other supervisors—can still run for a seat.
Should candidates run two races at once?
Some on both sides think it's not a good thing to allow candidates to run for DCCC and other seats simultaneously. McCoy, of the Castro, who is a Public Service Aide for the city and county, said candidates shouldn't be allowed to raise money for the race and funnel it to other campaigns. "It's not good ethical government to be able to collect unlimited amounts of funds in your DC3 race and use it for your supervisor race or your school board race," he said.
McCoy with With Pollo Del Mar at his campaign kick-off March 20th at the Payne Mansion Hotel. (Photo: Kory Powell-McCoy)
Golinger had a similar sentiment: "They're using this race to circumvent donation limits in other races," he said of some candidates. He said the amounts of money being raised for this DCCC race is out of whack with previous years. Usually, candidates raise $5,000–$15,000 for a website, handouts and slate cards, or possibly up to $25,000 in order to do a mailer, he said.
But Joshua Arce, who's running for supervisor in District 9, has raised more than $75,000 for the DCCC race in amounts of up to $25,000 each, and Golinger noted his signs for the two campaigns look "almost identical." Others have noted that progressives such as David Campos also raised substantial amounts during dual campaigns.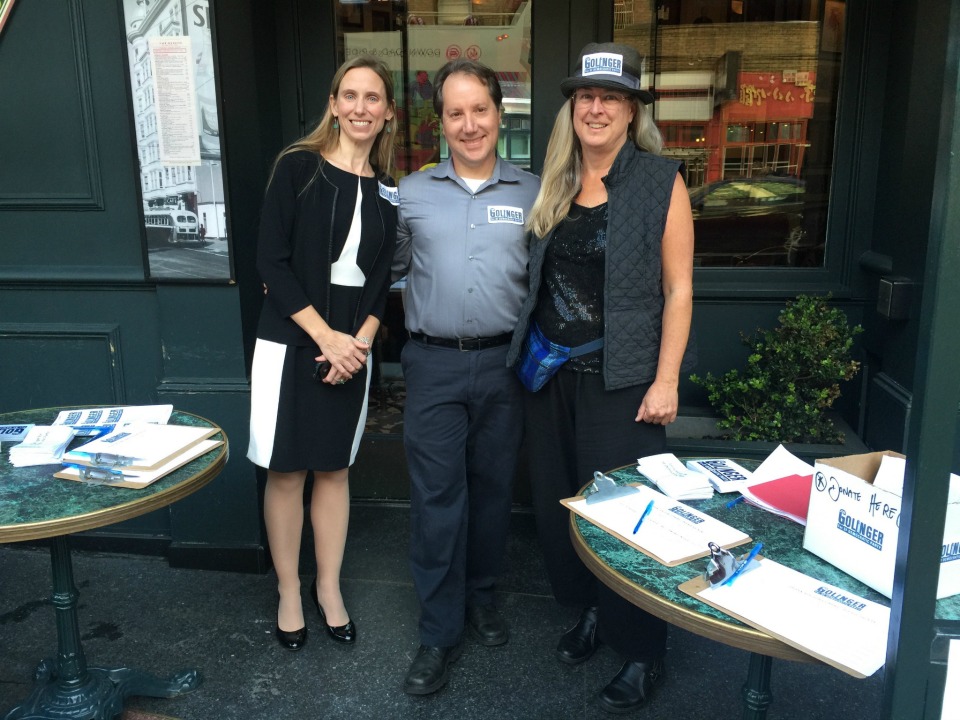 (Left to right) Sue Moran, Golinger and Julie Jaycox at Golinger's campaign kick-off. (Photo: Geri Koeppel/Hoodline)
Meanwhile, Jung told us, "The DCCC is chartered by State election law and candidates follow the rules outlined by the State Fair Political Practices Commission. Any finance reform would have to start at the State level. Peskin has used his DCCC account numerous times to promote his candidacies for supervisor."
Building the party, bringing on voters
One stance everyone agrees upon is the party's responsibility to register more Democrats. Peskin and his supporters have said many times that Democratic voter registration is down. However, David Latterman, principal at Fall Line Analytics, told us that happens after every presidential race for all parties. He also pointed out that Democratic voter rolls have fallen statewide and in other major cities like Los Angeles and Oakland, but number in San Francisco have actually increased. In the city, registration is up 3.4 percent in the past year, from 239,883 to 247,996.
And Jung told us during the current term that began in 2012, the party has registered 28,000 Democrats in the city and county through outreach efforts such as attending naturalization ceremonies, street fairs, farmers markets and the like. That doesn't include new online registrations, she added.
Golinger told us of similar goals from his slate: "If we have a reform majority after this election, one of our first issues will be what can we do to make the  Democratic party healthier and take some of the corrosive money and conflicts out of the equation so we can focus on what matters," he said, including registering voters and getting them to vote.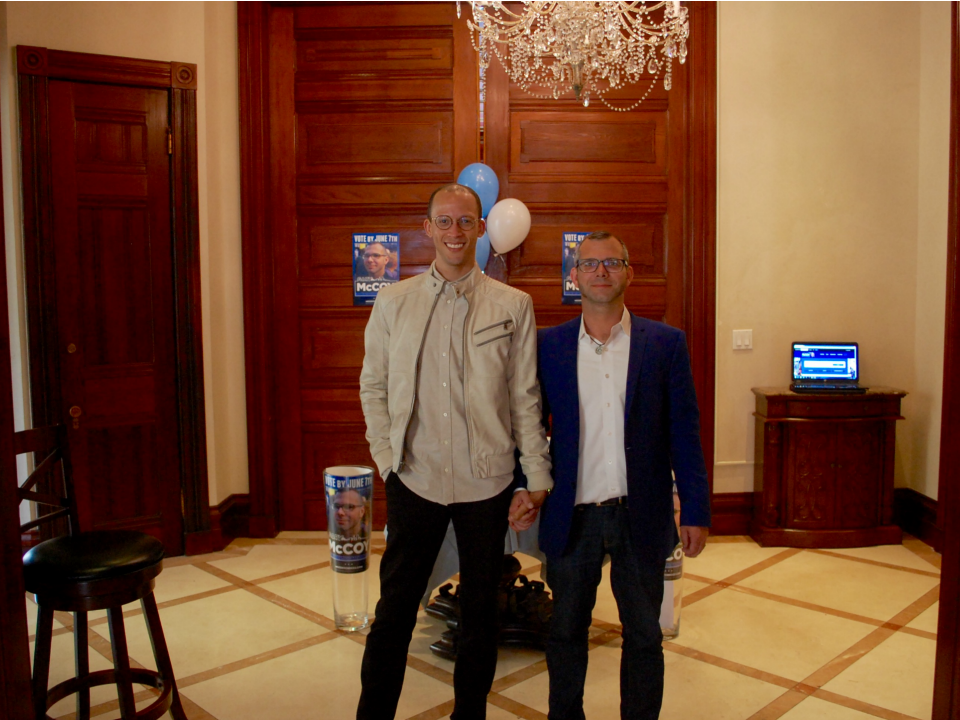 McCoy with husband Kory Powell-McCoy at McCoy's campaign kick-off. (Photo: Stephen Henry)
McCoy is also running for DCCC in order to strengthen the party's profile, boost voter registration and get people active in the party, he told us. "We should be focused on doing more outreach to every Democrat," he said. "I don't want to be on the committee so I can only endorse candidates I'm aligned with."
McCoy, who was previously homeless, said he's running to give back to the party that assisted him in a time of need, connecting him with social services and AIDS resources. "I would literally be dead if it weren't for the party," he said.