We've learned that at the eleventh hour, the new restaurant from celebrity chef Jonathan Waxman at Ghirardelli Square has changed its name. Instead of Brezza Emporio and Pizzeria, as we reported earlier, the eatery will simply be called "Waxman's." It will open within the next three weeks.
Why the change? Waxman's partner, Howard Greenstone, explained the restaurant's concept will be similar to Waxman's Atlanta restaurant Brezza Cucina, so that was the initial inspiration. But "it never really rolled off our tongues. We never really liked it."
In addition, Greenstone explained, now it will be clear this is a restaurant by Waxman, who grew up in Berkeley but made his name as a chef mainly in New York City. "Coming to San Francisco is deeply personal for Jonathan," he said. "He is deeply committed to this restaurant; that's for sure."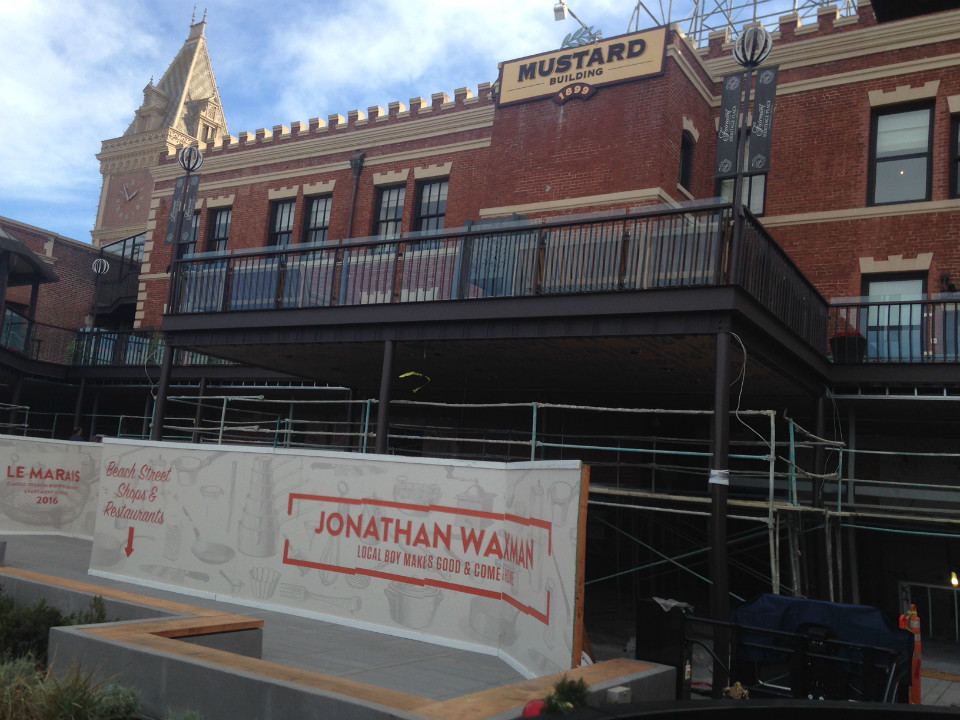 The restaurant under construction in December. (Photo: Fisherman's Wharf CBD)
The concept will be California Italian, Greenstone said, with a seasonal approach. The menu will "depend on what's in the markets the week we open," he said. "All of our restaurants are market-driven. Jonathan really believes in using what's in season." While the basic plate many stay the same, a vegetable garnish might change, or "the fish may change on a daily basis, depending on what the fishmonger has that's fresh," he noted.
The restaurant will be split into two concepts under one roof: The Cafe, a fast-casual spot, on one side, and The Restaurant, with full table service, on the other. Each side will seat 120, with an additional 100 seats outside and on the Fountain Plaza. Training should start next week, Greenstone said, and The Restaurant will open first, with The Cafe arriving later.
While Greenstone admits he and Waxman are nervous about opening at Ghirardelli Square, long eschewed by locals, he said they believe the perception of the square will change because owner Jamestown—applauded for Chelsea Market in New York City and Ponce City Market in Atlanta—is known for changing things.
Jamestown already has brought in a slew of popular local businesses at Ghirardelli, from Bluxome Street Winery to Le Marais Bakery. Not to mention, "Ghirardelli has parking; Ghirardelli has great open space," he added.