While the big crowds at always-bustling Nopa may belie its age, the restaurant will soon be celebrating a milestone: April 11th is its 10th birthday. 
In that decade, Nopa has become known as the restaurant that defined Divisadero, and an integral part of its transformation over the past decade. But when owners Jeff Hanak, Allyson Jossel, and Laurence Jossel first had the restaurant's name suggested to them by a friend, they didn't even know what it meant. 
"At the time," Hanak told us, "We all said, 'What is Nopa?'" 
Hanak, a San Francisco native, told us that that he's always referred to the neighborhood as the Western Addition, and still does today. The term "Divisadero Corridor" was also foreign to him before Nopa moved in.
Once he and the Jossels did more research on the name, they realized that there was indeed a NoPa neighborhood association, NOPNA, but that was all news to them at the time. They simply liked that NoPa stood for "North of the Panhandle," so they went with that. 
"We thought it would be a good place to open a restaurant," Hanak said. "It felt good. And shortly after we opened, real estate agents just kind of jumped on the name."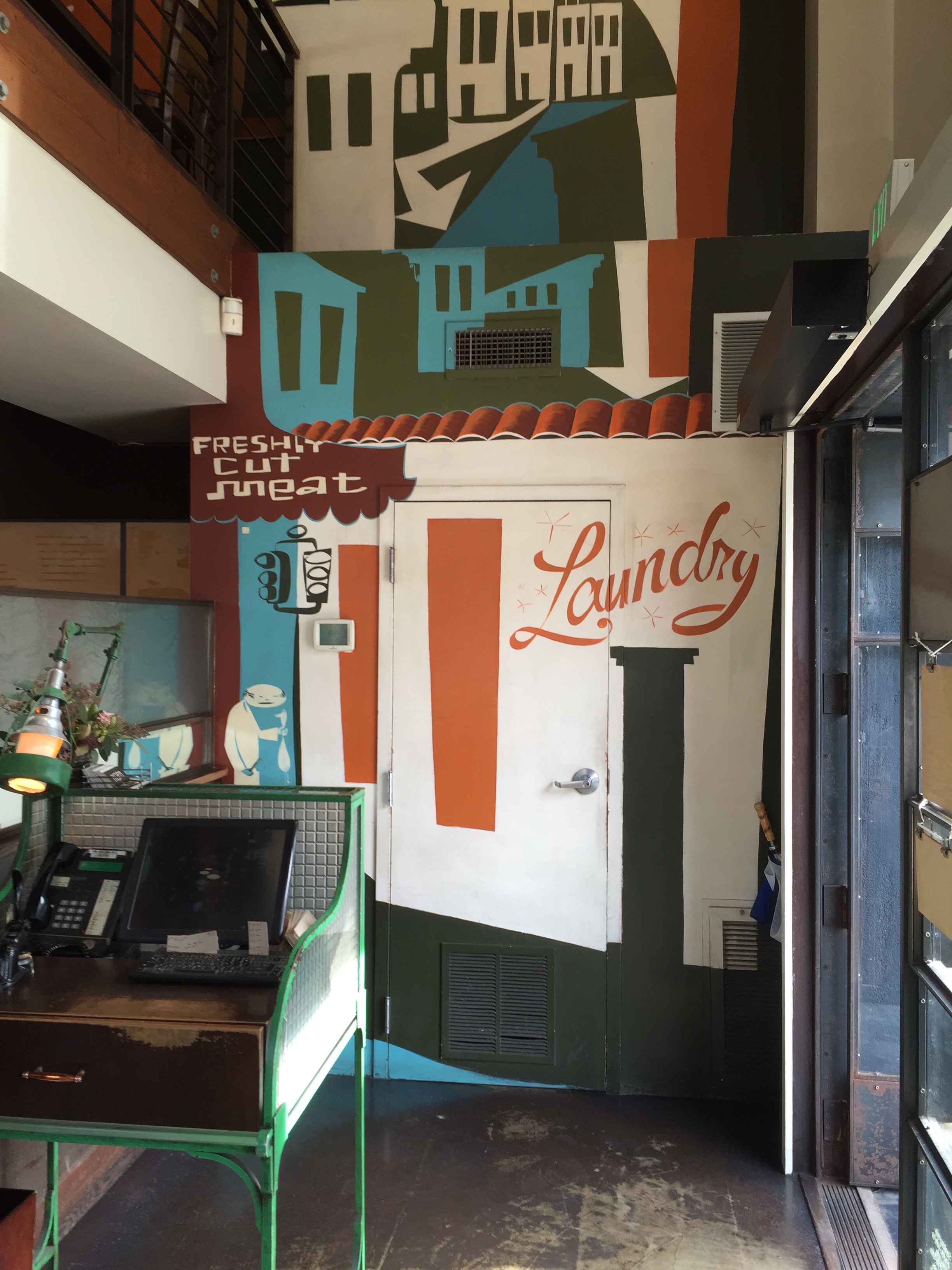 The trio first met working at the Chow Restaurant Group, and decided to go into business together in 2004. Though the Jossels lived just up the street on Divisadero, they didn't have a specific neighborhood in mind for their new spot.
Then, the building of the corner of Hayes and Divisadero, a boarded-up laundromat spray-painted with graffiti, caught their eye. They knew it would take a major renovation to convert it into a restaurant, but they liked that it was a standalone building on the corner, with great light. It spoke to them.
Prior to its laundromat days, the space had housed a couple of different banks; after the laundromat moved out, neighbors fought about (and ultimately rejected) a plan to turn it into a Blockbuster Video.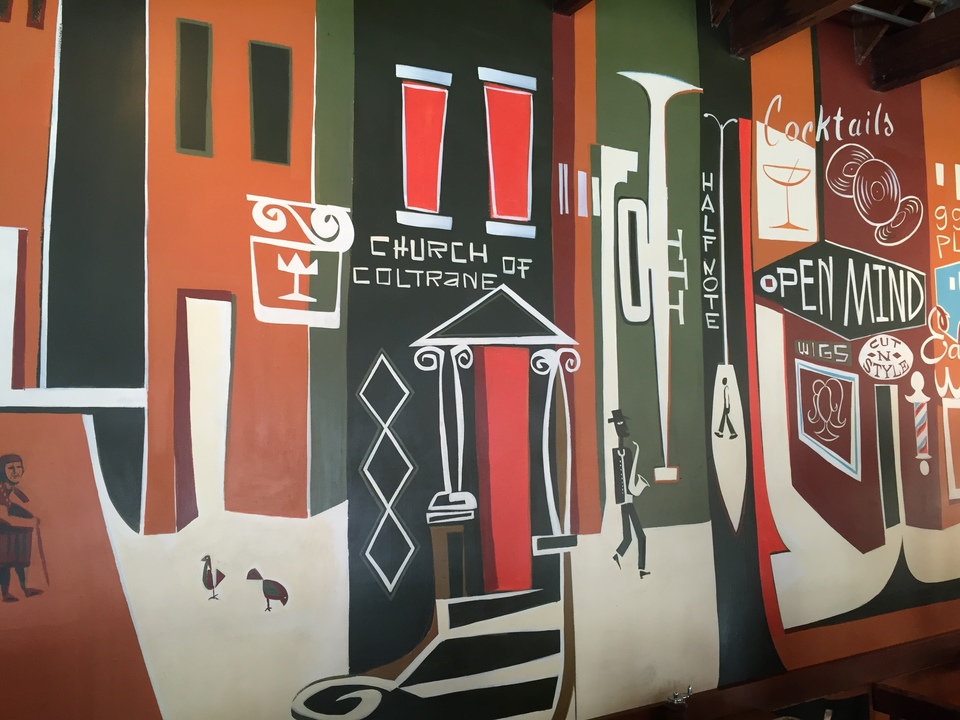 Once the Jossels and Hanak landed the building and renovated it to become a full-service restaurant and bar, they felt it needed something to jazz it up and make it more in tune with the neighborhood's history. So they called in local artist Brian Barneclo to paint an interior mural.
"Before we moved in, the area was predominantly African-American and a neighborhood of jazz and blues, so we wanted to celebrate that tradition in the artwork," said Hanak.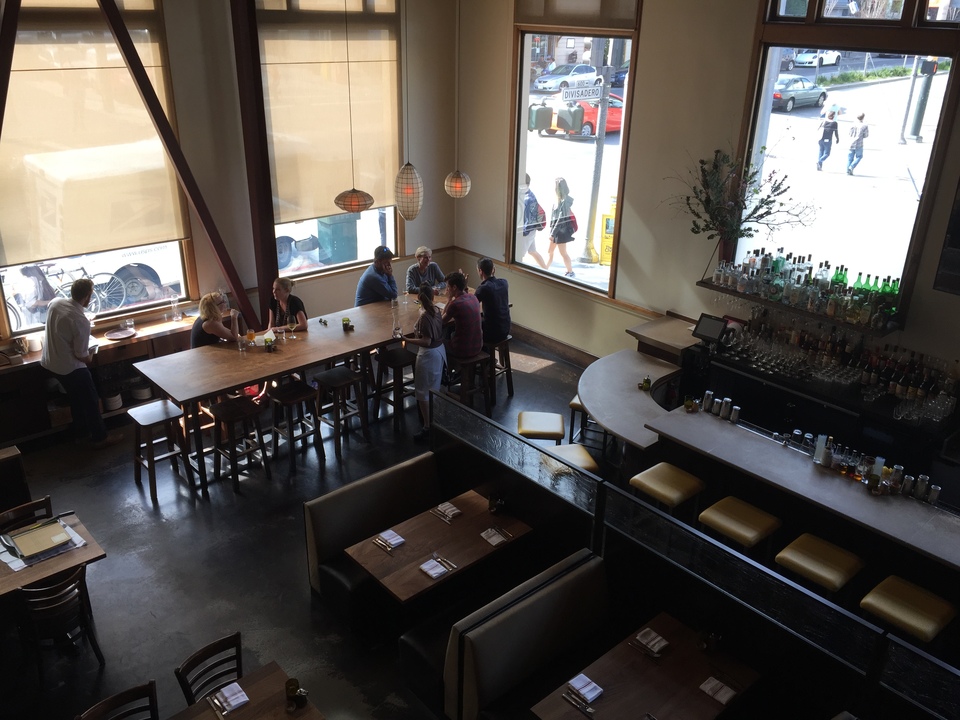 Prior to Nopa's opening, southern Divisadero had only a few places to get a bite to eat. Café Abir, Bean Bag Café, Brother-In-Law's BBQ/Da Pitt, and Popeye's were the main options. Little Star Pizza had only just debuted.
"You wouldn't have seen this a decade or so ago," Hanak said on a recent afternoon, gesturing to the crowds on the sidewalk. "There's definitely a lot more people out and about and a lot more foot traffic, especially since Bi-Rite opened a few years ago."
Hanek thinks that Nopa's neighbor, The Independent, is one of the best music venues in the Bay Area, and he talked about the various cool bars and new restaurants that now line the street. "There's more stuff to do, too. There's more retail and Hayes Valley types of stores. It's now a destination neighborhood. You can spend a whole day or night on Divisadero." 
The concept behind the cuisine at Nopa is what Hanak calls "rustic cookery," particularly the wood-burning grill on which many items are cooked. 

"It's not an intimidating menu, and that's purposely done," said Hanak. "We like to challenge that by bringing in locally sourced ingredients and ensuring that the food is always consistent. For example, if you have a pork chop one day and come back two years later, it should be just as good." 
In addition to being a co-owner, Laurence Jossel is the restaurant's chef. He sources his food from farmers and purveyors all over the Bay Area, buying a lot of produce at the Ferry Building Farmers Market and venturing out to Marin and Berkeley regularly. 
While Nopa may have been a trailblazer in offering more upscale food to the neighborhood, their top-selling item is their burger. "We're not a burger joint," said Hanak, "but it's definitely popular. And it's a simple burger. It's all in the meat, the wood fire, and the quality of all the ingredients."
"We put a lot of love into the burger," Laurence noted. "Everything in it is made in-house," including the buns. 
Open every night until 1am, Nopa attracts a diverse crowd, from neighborhood regulars to restaurant-industry workers to out-of-town visitors. The crowd has included some celebrities, too: Prince recently came in for dinner when he was performing in the Bay Area. A devout vegetarian, he ordered the wood-baked gigante beans and Moroccan vegetable tagine, but ended up having to take his meal outside.
"People didn't let him chill," said Hanak. "When people come in here, celebrities or not, we try to ensure they have privacy. We want them to feel comfortable. Unfortunately, Prince was trying to hide, but there aren't too many places to hide ... The funny thing is, we don't even do food to-go."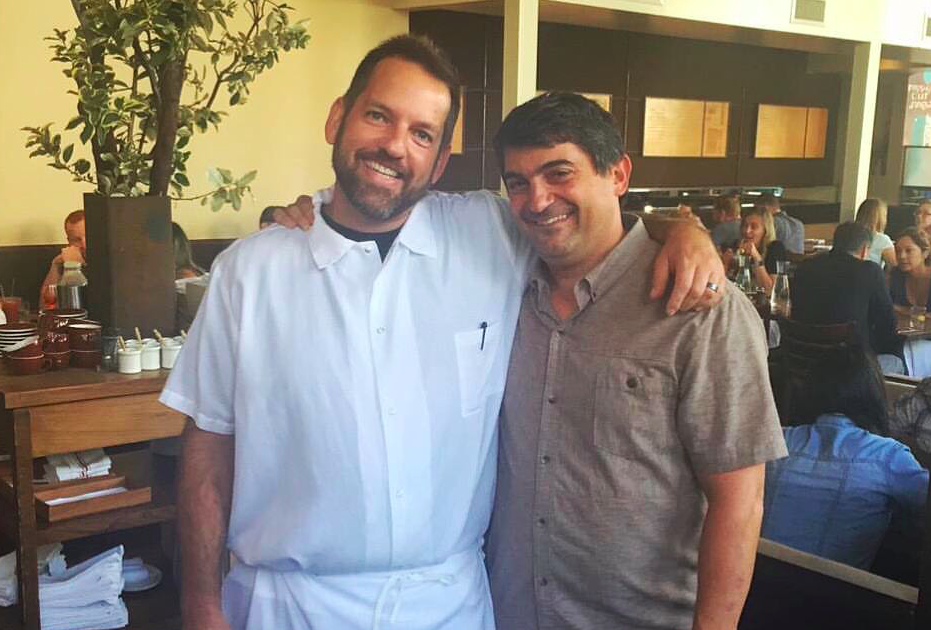 Laurence Jossel (left) and Jeff Hanak. (Photo: Nopa/Facebook)
Nopa's owners have expanded their reach in recent years, opening two locations of their Mexican spinoff, Nopalito, as well as the Tendernob's Liholiho Yacht Club, helmed by chef Ravi Kapur. But their original restaurant is still the most well-recognized of the four. 
As far as the idea that Nopa has defined or changed the neighborhood, Laurence demurs. "We are part of that change, but not the catalyst for that. Nopa is part of a strong community." 

"We downplay it," said Hanak. "We really want to be a part of the neighborhood, but we don't want to define it. That was never our plan."