Underpaid and overworked, nail salon workers face many health risks as they provide the perfect manicure or pedicure. Along with her co-producer Dianne Griffin, filmmaker and Sunset resident Erica Jordan set out to learn more about the lives of the immigrant women trying to make a living at San Francisco's nail salons.
The result is Painted Nails, a new documentary that follows the life of Van Hoang, a Vietnamese immigrant who now owns New York Nail Salon in Bernal Heights. As the film shows, Hoang's journey takes her from the Mission to Congress, where she gives testimony on the challenges facing nail salon workers.
Owning her own salon has helped Hoang and her family, but she believes her success came with a steep price: multiple miscarriages. Several studies have determined that the toxic chemicals used in nail salons (toluene, dibutyl phthalate, ethyl methacrylate and formaldehyde) can cause skin, respiratory and reproductive health problems.
Today, Hoang's salon is listed as a Healthy Nail Salon under the City's Healthy Salon Recognition program, which was created in 2012. Certified salons receive safety training, use less toxic products and practice safe disposal, in addition to improving ventilation and adding smoke and carbon monoxide detectors.
We talked with Jordan about the film, which is screening in Oakland this Sunday as part of CAAMFest.
How did you first decide to take on the story of Van Hoang?
While developing the story for Painted Nails, my co-producer Dianne [Griffin] and I were initially fascinated by the proliferation of San Francisco nail salons, the Vietnamese women who work in them, and this affordable luxury so many women desired.
When we entered the nail salons with our translator and associate producer Nhung Pham, we realized the story was much deeper. The three of us united to tell Van Hoang's story, as a labor of love and a personal commitment to spread awareness about worker's rights and toxic chemicals in cosmetics.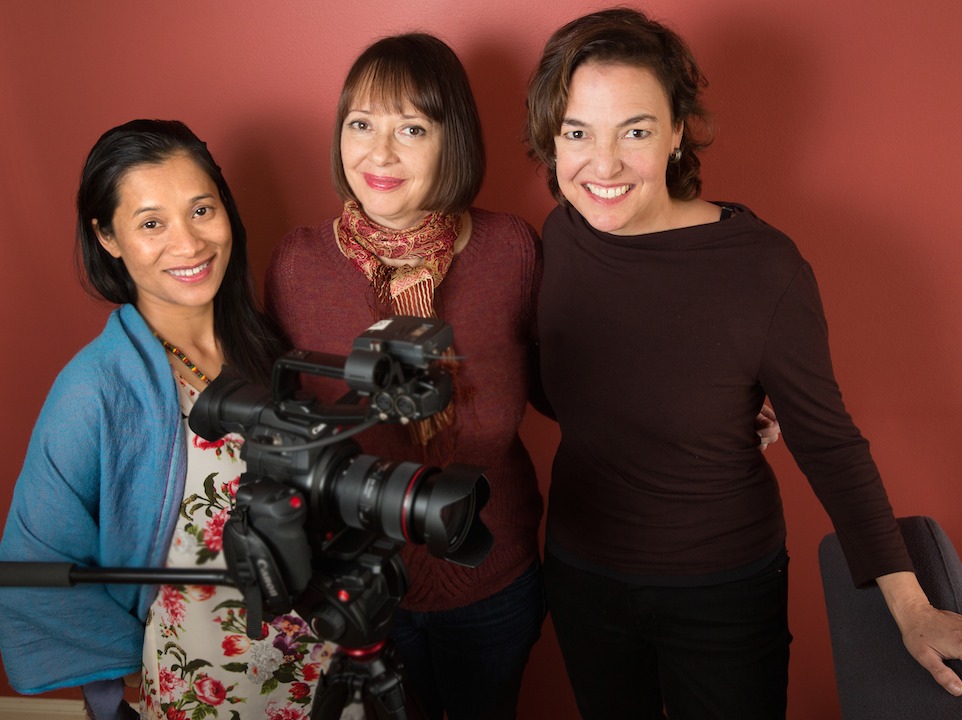 Painted Nails producers Nhung Pham, Dianne Griffin and Erica Jordan.
What can San Francisco do to protect the health of nail salon workers like Van?
San Francisco was the first city in the United States, with the support of Assemblyman David Chiu and the California Healthy Nail Salon Collaborative, to pass the Healthy Nail Salon Recognition Program, an ordinance that encourages local salons to replace nail polish containing toxic chemicals with safer alternatives.
San Francisco policymakers can continue to work with organizations, including Women's Voices For the Earth and Campaign For Safe Cosmetics, to ensure the passage of the Personal Care Products Safety Act, introduced by Senators Dianne Feinstein (D-CA) and Susan Collins (R-ME). For more than a decade, the Campaign For Safe Cosmetics has been urging Congress to give the FDA the authority and resources it needs to better regulate the $71 billion cosmetics industry.
What can ordinary women do to ensure that they are not part of the problem?
Ordinary women and men can tell cosmetics companies, the FDA and elected officials that safe cosmetics are important to you. They can do this through the Campaign For Safe Cosmetics.
How has living in the Sunset affected your filmmaking?
I am very grateful that I have been able to live in the Sunset and continue making films. I enjoy daily walks in Golden Gate Park and on the beach to clear my mind and brainstorm new ideas.
It's my hope that artists will still have the opportunity to live in San Francisco, making it a richer city, which cannot be calculated in terms of money.

Painted Nails will screen as part of CAAMFest this Sunday, March 20th at the New Parkway Theater, at 5:20 pm. Tickets are $14.