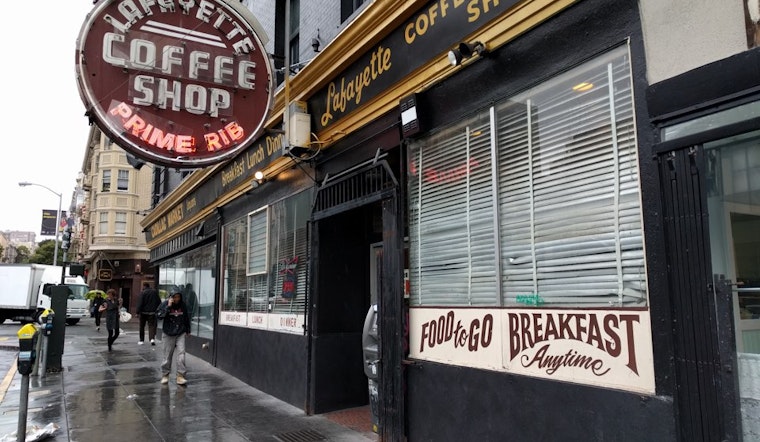 Published on March 11, 2016
For Stanley and Stefanie Yang, who own and operate Lafayette Coffee Shop at 250 Hyde St., a fresh paint job on their 109-year-old building was the first sign of trouble.
The couple have owned the diner for the past 10 years, but it's been feeding residents greasy homestyle American dishes for decades. According to the Central City Extra, it's said that the diner launched in 1925, but actual recorded history of the business in city archives dates back to 1953. And many of their customers—and their morning server Mei—have been regulars for 30 years or more.
Regardless of its longevity in the neighborhood, the Yangs must pick up and move after close of business this Sunday.
The Yangs.
While manning the grill last night, Stanley said he tried to renew their lease before the end of last year. But as the landlord subleased the entire building, Adrian Hotel, to a new operator—who painted the exterior, renovated the SRO rooms above and turned the Adrian Hotel into tourist accommodations—he realized that the owner had a different perspective on the building's future.
"I smelled things coming along," Stanley said, recalling that the new operator's security guards once popped in and told him that soon their space would be a high-end cafe.
When the 30-day notice finally did arrive, it was from the owner's attorney, not the owner himself, Stanley said, exasperated.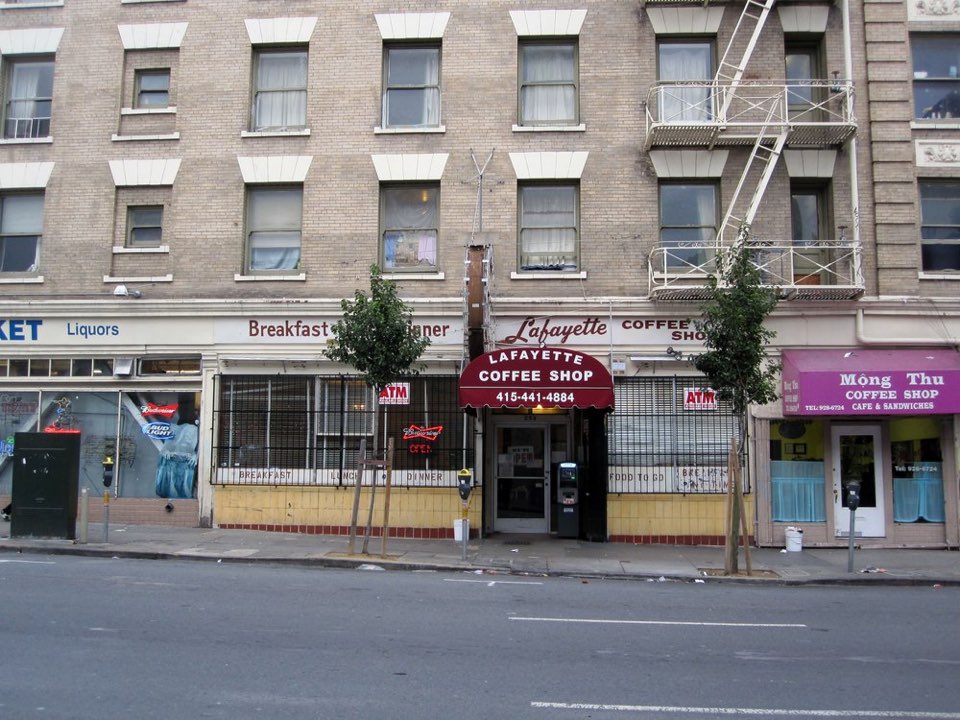 Lafayette Coffee Shop in 2011, before the building's refresh. (Photo: Kevin Y./Yelp)
"This is a terrible loss to our community as it's one of the oldest establishments, if not the oldest in the Tenderloin," said Anh Nguyen, executive director of the Tenderloin Economic Development Project, which works to keep existing neighborhood businesses in place and bring new ones to the Tenderloin. "This establishment is the most beautiful example of a wonderful marriage between the immigrant working community and our low-income residents, who are providing a great service at incredibly affordable prices with dignity and respect. This will absolutely be the biggest blow if we lose this business."
But the Yangs have no intention of calling it quits. They're working with a real estate agent to find a new spot in the Tenderloin and have already visited a couple of promising options, one on Eddy and another on Larkin, not too far away.
It'll take at least two months to reopen, Stanley estimates, and once they do, you can expect the new Lafayette Coffee Shop to have "the same look, the same style. We try to keep the old school '60s, '70s ... that kind of atmosphere going on. People like that stuff."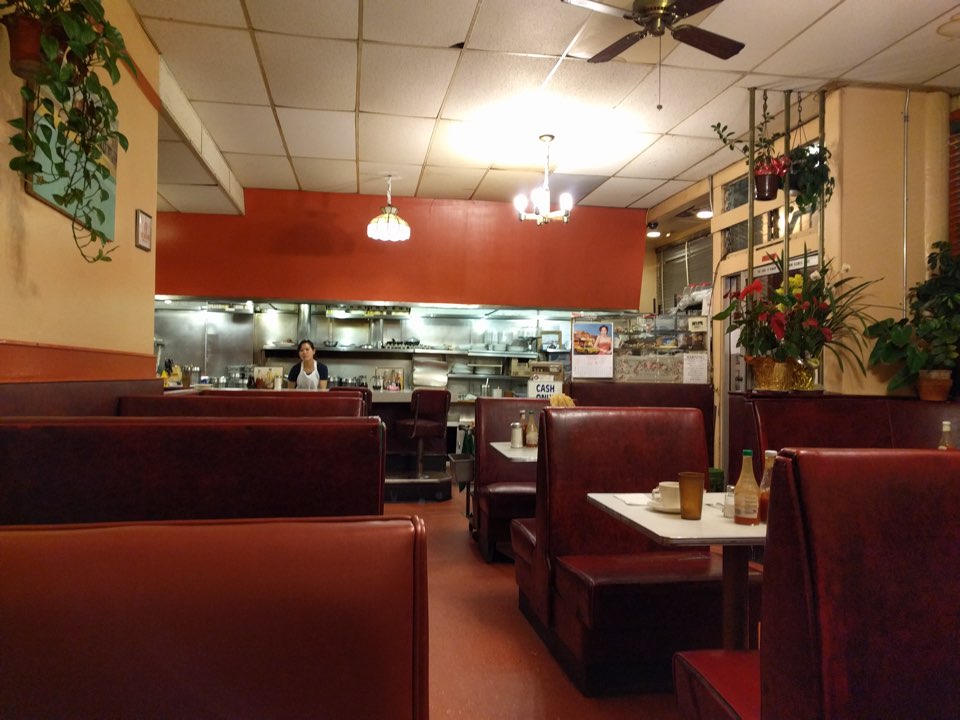 While he's well aware the the neighborhood is changing around them, Stanley has no intention of altering the menu either. They're known for serving breakfast all day and all night. And for lunch and dinner, there's a wide variety of options, like spaghetti and meatballs, and prime rib, corned beef, roasted turkey or pot roast with mashed potatoes doused in gravy and a side of canned corn—after a starter of soup, salad and bread and butter.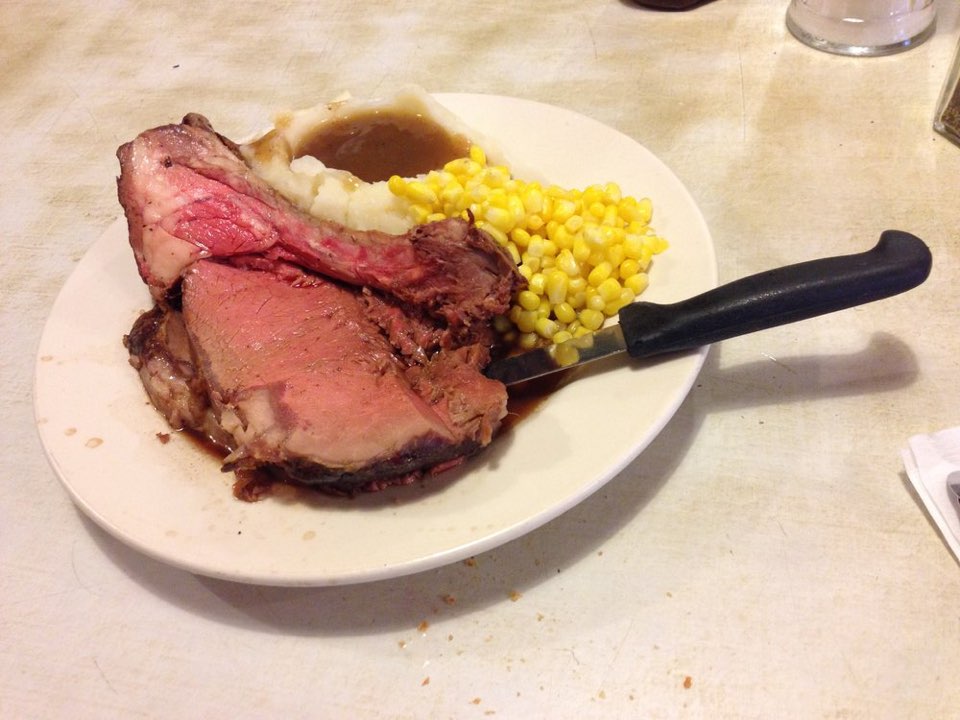 (Photo: Hiroshi K./Yelp)
"It's a little greasy, but it tastes good," Stanley said. "... just an alternative to fusion, healthy stuff ... Nobody roasts turkey anymore!"
Though the menu won't change, the iconic red booths won't be sticking around. Those, Stanley says, will be trashed by the building's owner. And the iconic round neon sign marking their location won't be coming with them either. These days, it's against city regulation.
Lafayette Coffee Shop is open 7am-10pm at 250 Hyde St. through this Sunday, March 13th. We'll let you know as soon as the Yangs have secured a new location.