The Castro's northern Spain-inspired tapas restaurant, Aatxe, is about to celebrate a milestone: this Sunday, April 17th marks its first anniversary in the neighborhood. We met up with chef Ryan Pollnow to see how everything has been going in the past twelve months.
Aatxe was first conceived when its owners, Ne Timeas Restaurant Group, sought to expand out of the Mission, where their first two restaurants, Flour + Water and Central Kitchen, are located. The landlord of the Swedish American Hall and Cafe du Nord approached them and asked them to move into the building, and they realized that in addition to Cafe du Nord, they'd have enough space to open a second restaurant on the ground floor, with Pollnow as chef. (The Swedish American Hall itself serves as a concert and events space.)
Pollnow's passion for Spanish food began in 2006, when, after getting a few years of professional cooking in San Francisco under his belt, he moved to Spain to work in the fine dining scene. It was the height of the El Bulli-inspired molecular gastronomy craze, and Pollnow got a job at Mugaritz, a two-Michelin-starred restaurant outside of San Sebastian that worked in a similar vein. After his experience abroad, he became interested in the idea of bringing the region's tapas culture back to San Francisco—and adding some California accents, particularly via Bay Area ingredients. 
Pollnow has been with Ne Timeas for five years, working at Flour + Water, and Central Kitchen before becoming the group's chef de cuisine, overseeing both restaurants and casual spinoff Salumeria. When he was given the chance to create his own concept, he said, he decided to riff on Flour + Water's fun, approachable environment, which still pays strong attention to detail in the food.
Pollnow is pleased that he ended up in the Castro/Duboce Triangle area. Blackbird and Churchill are some of his favorite places to unwind and have a drink, and he believes that compared to other neighborhoods in the city, the Castro/Duboce Triangle area is still up-and-coming. "We got in at the beginning of this special growth," he said, "and there are so many restaurants in the Castro now than there used to be. People seem to be moving away from the Mission more and more as the assumed dining neighborhood."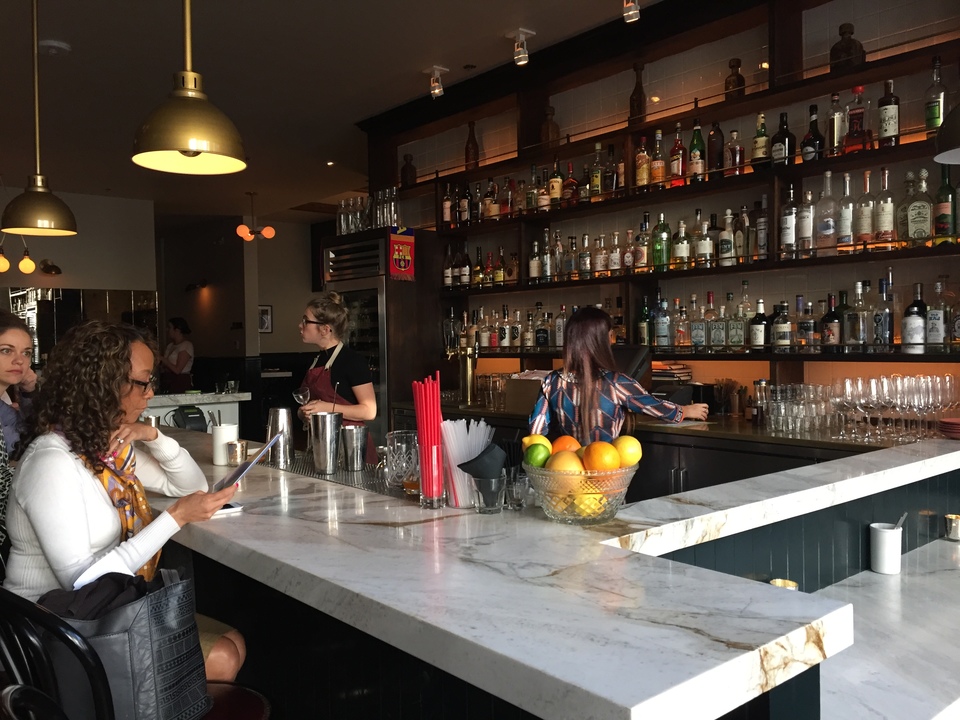 There are some dishes that haven't come off the menu since the beginning, like the mussels escabeche. While it's "a simple dish," he loves it because preserved shellfish is such a big part of Spanish gastronomy. "People gravitate toward it, and I think there would be pushback if I took it off the menu," he said.
Another favorite is the Spanish fried rice, which was inspired by a trip he took to Valencia. Given the size of the kitchen and dining room at Aatxe, it's difficult to do a traditional paella, so the dish is a hybrid: "paella meets a Chinese-American fried rice."
At first, the clientele was heavy on curious destination diners, many of whom came expecting fine dining. But while the food is high-end, Pollnow says he's tried to keep the vibe casual. These days, he said, the crowd is heavy on people in their late 20s and early 30s who are knowledgeable about food, but not chasing the white-tablecloth dining experience. The restaurant also gets a lot of local walk-ins, many of them unwinding on their way home from work with a drink and some tapas at the bar.  
This year, Pollnow made the longlist for the James Beard Awards' Rising Star Chef of the Year prize, which is given to the best young chef in the country. Though he ultimately wasn't one of the five nominees, just being on the list was a huge honor, he said. "I woke up that morning to about 38 text messages, and the first thing that went through my head was, 'Oh no, something happened at the restaurant!' I was the last one to find out, but it was a very cool surprise."
He did, however, earn another important honor: the Chronicle named him to its own list of Rising Star Chefs for this year.
Even though Aatxe's anniversary is officially tomorrow, the restaurant's first birthday party was actually held on April 10th. It drew a crowd of 170 people, and raised about $2,000 for the San Francisco Food Bank. This Sunday, Aatxe will be open as usual, but Pollnow and some of the staff won't be there—instead, they'll be working at a charity event to raise money for Meals on Wheels.