Golden Properties, LLC. has submitted new development plans for the corner of Folsom and Russ streets.
The firm's previous proposal to turn a one-story warehouse at 190 Russ into a six-story, 10-unit condo building—directly across from Victoria Manalo Draves Park, the neighborhood's only multipurpose public park—was rejected by the Planning Commission last January. The unanimous vote marked the first time the board has ever struck down a proposal based on the 1984 Sunlight Ordinance, as the building would have blocked sunlight in the park for 42 minutes a night on spring and summer evenings. 
According to new details on Planning's website, Golden Properties is again proposing to construct a residential building on the site—but with only six stories. This time, however, they're aiming to demolish all four buildings surrounding the corner of Folsom and Russ to make way for 46 units.
On Folsom, the firm is targeting 1060 Folsom St., which houses the dungeon-like BDSM playspace Alchemy; and 1052-1058 Folsom, a mixed-use office building where Fondue Cowboy and Deli Board are operating at the street-level. Around the corner, they plan to raze 190 Russ St., a one-story 1,500 square-foot office with six parking spots that are currently leasing for one to possibly three years; and 194 Russ St., a three-story building with four affordable units over "production, distribution and repair" space.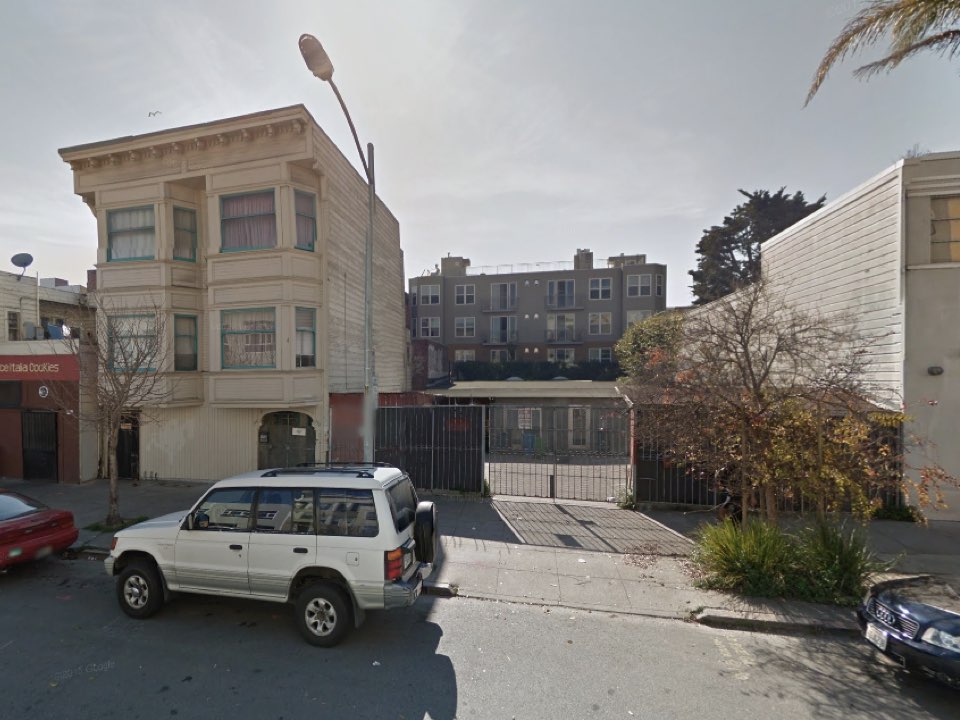 190-194 Russ St. (Photo: Google Maps)
All of these properties appear to sit just outside of the Western SoMa Light Industrial & Residential Historic District.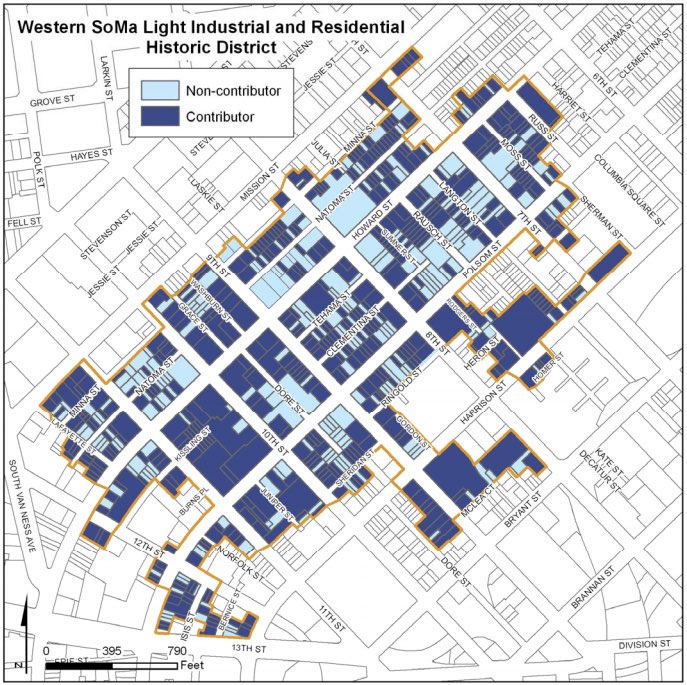 Map:  Western SoMa Light Industrial & Residential Historic District inventory
12 of the building's units, or 26 percent, will be affordable—likely based on the assumption that the affordable housing charter amendment, which would raise the required percentage of affordable housing to 25 percent, will be passed by voters this June.

The plans also call for 3,302 square feet of commercial space fronting Folsom and Russ (about 400 square feet less than currently in use), as well as two ground-floor units at the northern end of Russ Street. 21 vehicle parking spaces (in a 4,673-square-foot garage) and 52 bicycle parking spaces are also proposed. 
Preliminary details available do not specify the building's design, or whether it's expected to shadow a portion of Draves Park. Previously, to compensate for the effects of shadowing on the park, Golden Properties offered to construct an additional affordable two-unit building and donate $25,000 to the park. Neither were enough to appease neighborhood groups like the South of Market Community Action Network.
Golden Properties' Paul Iantorno told us these plans were submitted "just to see what Planning thinks," and had no further details to share.