A meeting at the Hayes Valley Neighborhood Association last night shed some light on an upcoming Navigation Center for the homeless, set to open on Market and 12th Street this June. In attendance was Emily Cohen, Deputy Director of the Housing Opportunity, Partnerships & Engagement (HOPE) department of the Mayor's Office, who provided some important updates and answered a variety of questions raised by the community.
As we reported last month, the new site for the city's second-ever Navigation Center, which helps transition homeless people into housing, will be the Civic Center Hotel, an old four-story building that's slated for demolition in the next two to three years to make way for a six-building complex that will contain 477 market-rate apartments and 110 apartments for formerly homeless residents.
In the meantime, Civic Center Hotel serves as a home for 53 low-income residents, leaving 94 rooms vacant. While the above proposed development moves through planning, the Community Housing Partnership will be converting it into a Navigation Center, reaching a certain population of homeless people not served by the traditional shelter structure.
Navigation Centers, for example, welcome pets, partners, whole camps, and the multitude of stuff that many collect over years of living on the streets. The centers are "invitation-only," and welcome people who are brought in by the city's Homeless Outreach Team. This means it's not an open-door facility and will not have lines of people waiting for beds; residents have opted in to the services and rules of the building.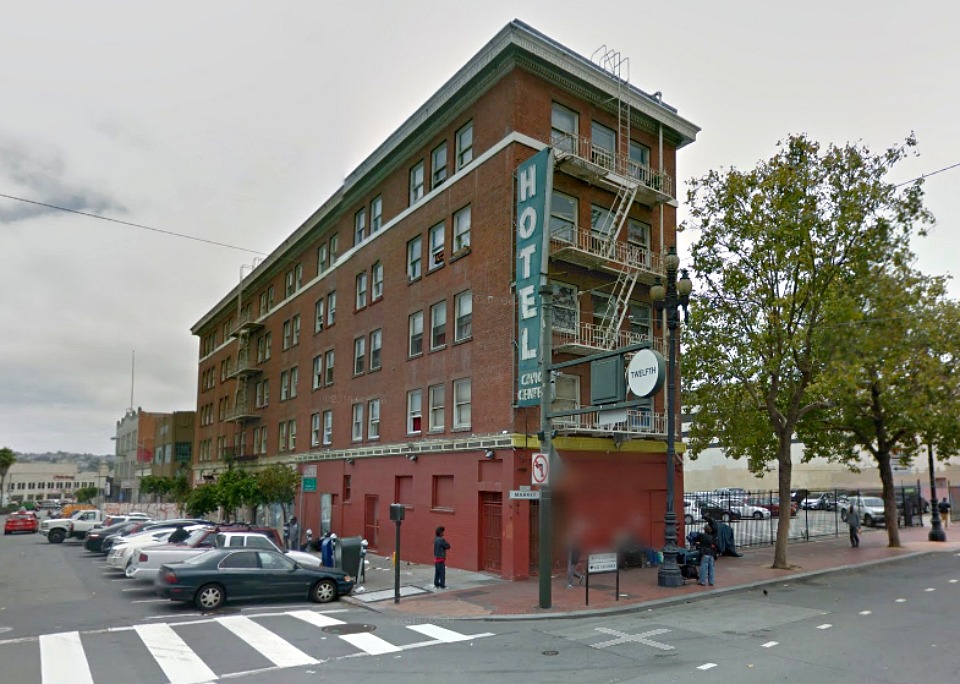 The Civic Center Hotel in July 2015 (Photo: Google)
Last night, Cohen outlined the goals of Navigation Centers in general, and discussed how the new project will be structured. Before it opens its doors in June, Civic Center Hotel will see a few basic improvements—such as the creation of a community room, dining area, kitchenette and offices.
The staff offices, which will be staffed 24/7, will be built at the front of the building to activate the ground-floor level. "As you walk by it's going to look different," Cohen said. "There will be eyes on the street, and I think it's going to provide a benefit to the neighborhood. We're excited about taking something that's been a little bit of a burden to the community and turning it into something that will enhance it." 
One community member who was at last night's HVNA meeting raised the issue of SFPD enforcement in the area, pointing out that this new Navigation Center is right on the border of five police districts: Tenderloin, Northern, Southern, Park and Mission. This can cause confusion for dispatch and creates a no-man's land for cops on patrol. "How does the Navigation Center plan on getting more beat cops in the area, providing a sense of safety?" she asked. Cohen acknowledged that it's an ongoing challenge, but said that the center will be working with Supervisor Kim's office and SFPD to increase their presence in the area.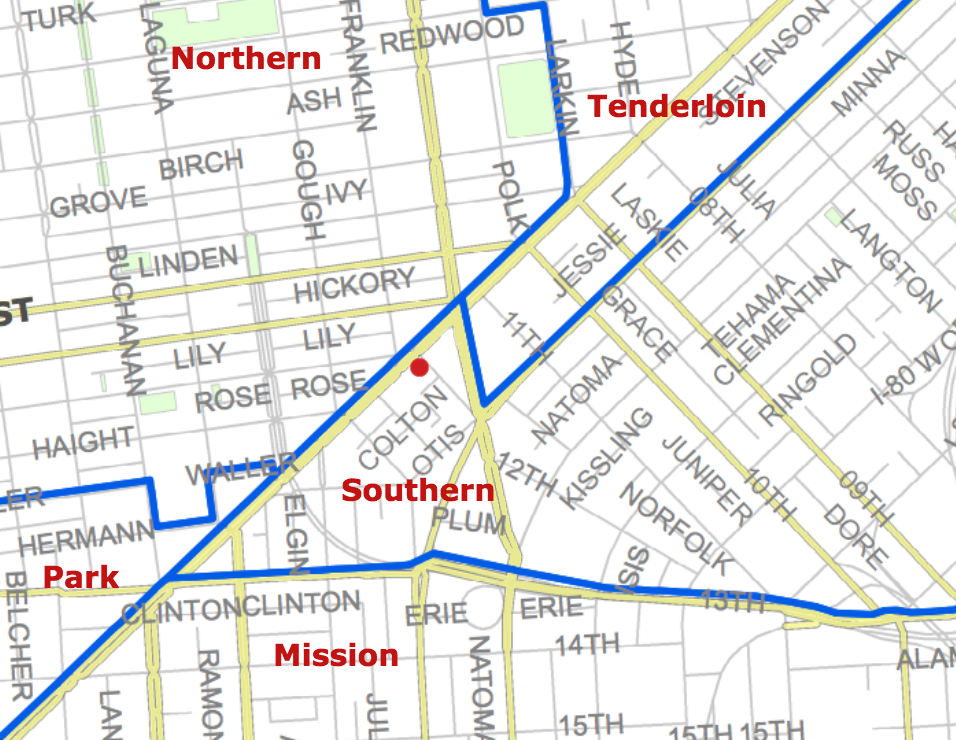 Police Districts surrounding the new Navigation Center (Image: Hoodline)
Another issue raised by a community member was the rampant drug use often seen around Civic Center and the surrounding area. The Navigation Center does allow people who are using drugs to live in its facilities, but outlaws drug use on the property. "We operate in a harm-reduction model," Cohen said. "If you come in high and can control your business, that's okay, but we don't allow use on-site. It's about allowing the consequences to be linked to your failure to comply with your house rules, as opposed to your failure to be sober."
The pilot Navigation Center in the Mission has served over 420 individuals since it opened a year ago, 78 percent of whom have exited the program to stable housing. This success rate has gotten the city and its residents excited, with Civic Center and Dogpatch-area Navigation Centers in the works. But Cohen says that the scaleability of the Navigation Center program is dependent on affordable housing stock. At the moment, it's not feasible to have more than two to three Navigation Centers running at any time. "If there's no housing to send people to, then we'll just become a very well-staffed homeless shelter," she said. 
We'll let you know when the Market Street Navigation Center opens its doors, and will keep you updated on developments for future Navigation Centers.