San Francisco's century-old Victorians have long fed into the city's tourism industry. But they have had another unexpected side effect—providing a demand for custom windows and sashes.
What happens to windows that must be replaced, or replacement windows that mistakenly get made the wrong size? Many of them find their ways into the hands of Chris Duke, an artist who takes castaway panes of glass and turns them into rich portraits of the city itself.
Duke can usually be found on the corner of McAllister and Steiner, where he sets up his glass paintings for passerby to view as he works on new pieces. He lives nearby, and a friend in the area lets him use a truck to store his finished pieces.
Duke has always been an artist—though not always a painter. The son of a preacher, Duke grew up in a musically gifted family of 14—"We were the choir," he joked. He moved to San Francisco decades ago to make his living as a blues guitarist and singer. "But it can be a lot of work taking your equipment in and out of clubs every night. And I was getting too old for that," said Duke (though you can find still find him playing blues and jazz at Z011 every Sunday afternoon). He found himself increasingly turning to painting.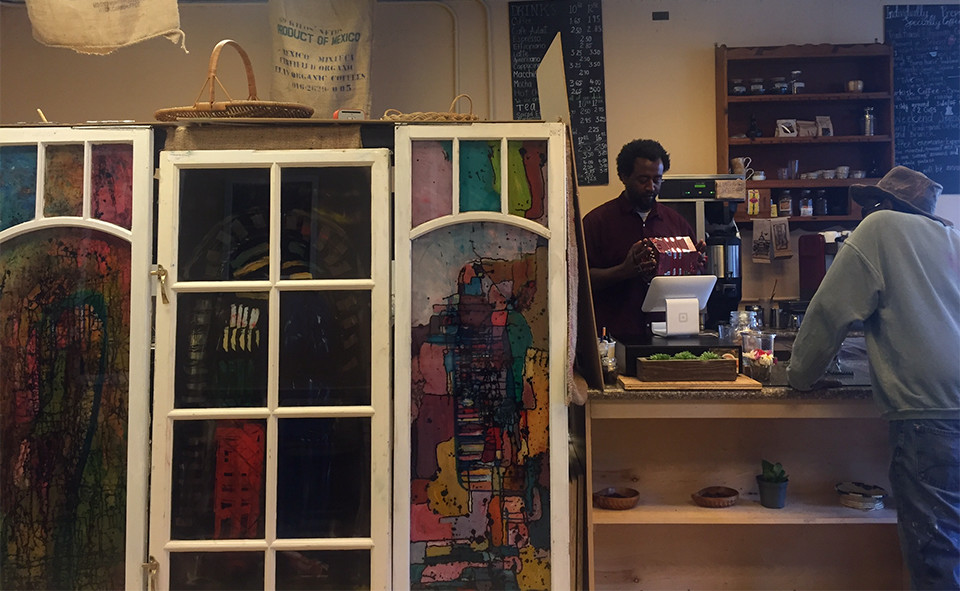 Duke's paintings on display at Z011, where he plays on Sunday afternoons.
He had a bin full of potential canvases, and added a window that he found to the stack. "But I kept thinking: A window—boring, how boring," he said. "So I kept moving it to the back of the stack for a year, until Christmas Eve, 15 years ago, when there was only one thing left in that bin and it was that window. And I said, hell, well let me paint on it."
On Christmas day, his painting looked like just any other—until he turned it around. "I saw it through the glass and it blew my mind." The colors looked more intense, and the forms looser and more visceral. "At that point, I knew it was what I would want to do for the rest of my life. And I did."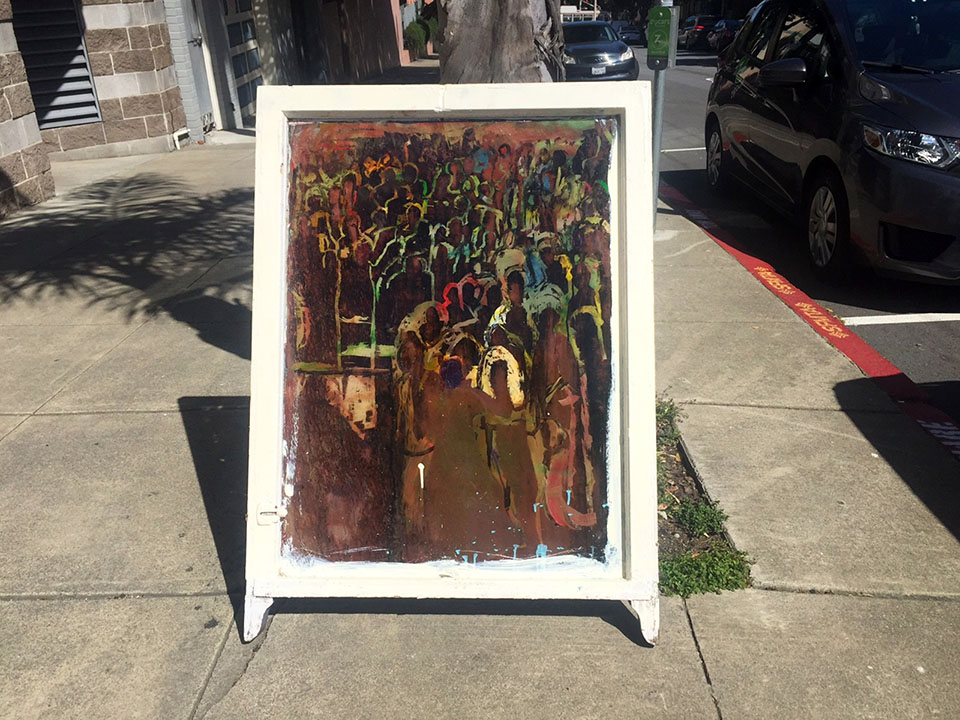 Duke's Rain Series took advantage of El Niño rains to create a base layer of color he then scraped through to create his images.
It wasn't easy. At one point, he lost his studio, and found himself living out of a school bus with all of his equipment and his girlfriend, a writer who was struggling with personal issues of her own. They decided to drive through the Grand Canyon back to his home in Kentucky when the bus broke down, stranding them in the Arizona desert. The tougher things got, the more Duke found himself thinking, "If there's anything that's going to get me out of this situation, that's going to bring any peace, any light, any health—it's painting."
A woman they met in Arizona rented them a van, which he took back to San Francisco and lived in for a while, moving around from neighborhood to neighborhood and selling paintings. His artwork eventually allowed him to get back on his feet and into an apartment in Alamo Square.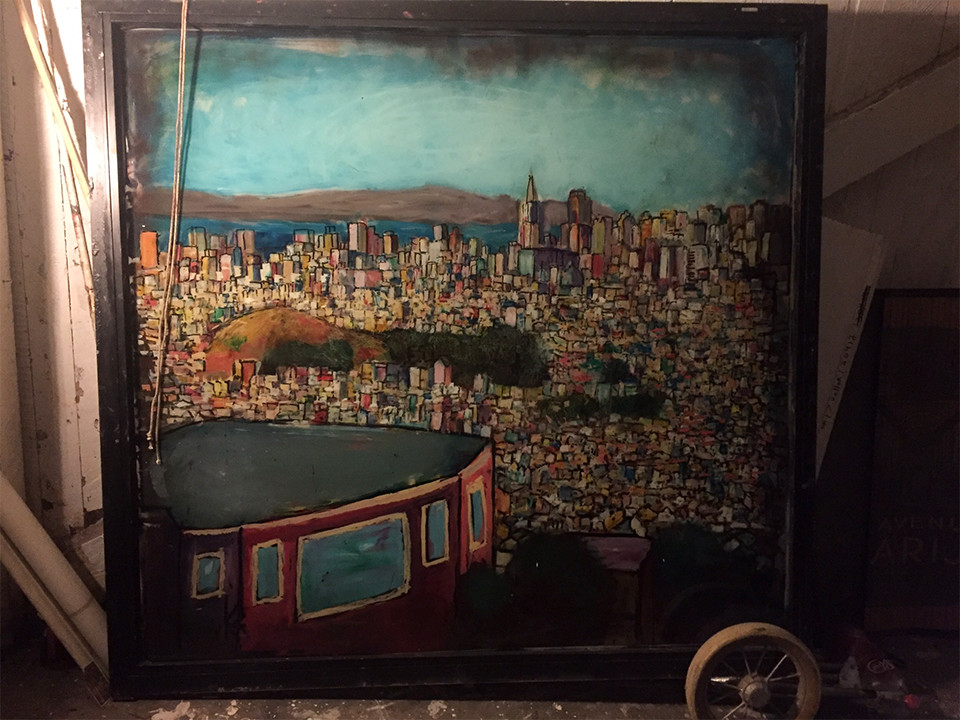 Duke's roughly five-foot-tall portrait of San Francisco
His paintings range from small panes a foot across to a sweeping portrait of the city roughly five feet across he keeps stored in his basement, next to a busted 1865 grand piano he intends to restore.
As he took a break from painting to noodle around on an accordion that had taken a few knocks, Duke reflected. "Everything with me has to go through a rough journey. If it's fragile, it's usually going to break in two or three days," he said.
"Glass is a different thing. It's fragile, but it withstands all of my hardships, and it's rare that I ever break one. It's either teaching me sensitivity or the glass is tougher than it appears."