Located at the far western reaches of Lombard Street, The Final Final is a neighborhood sports bar that feels like it's escaped many of the recent changes in San Francisco. 
Maybe that's because it's practically hidden in the shade of the Presidio. But it probably has more to do the fact that since its beginnings as The Harbor Yacht Club in 1934, it's only changed hands once—when it was purchased by current owner Arnold Prien in 1978.
Prien has been serving drinks at the Final Final for 38 years, longer than a decent chunk of his clientele has been alive. But he still enjoys coming into work, as he prepares to teach his sons the family business.
In our latest installment of Tapping In, we caught up with Prien to talk about the bar's history, the neighborhood, and the changes he's seen over nearly four decades.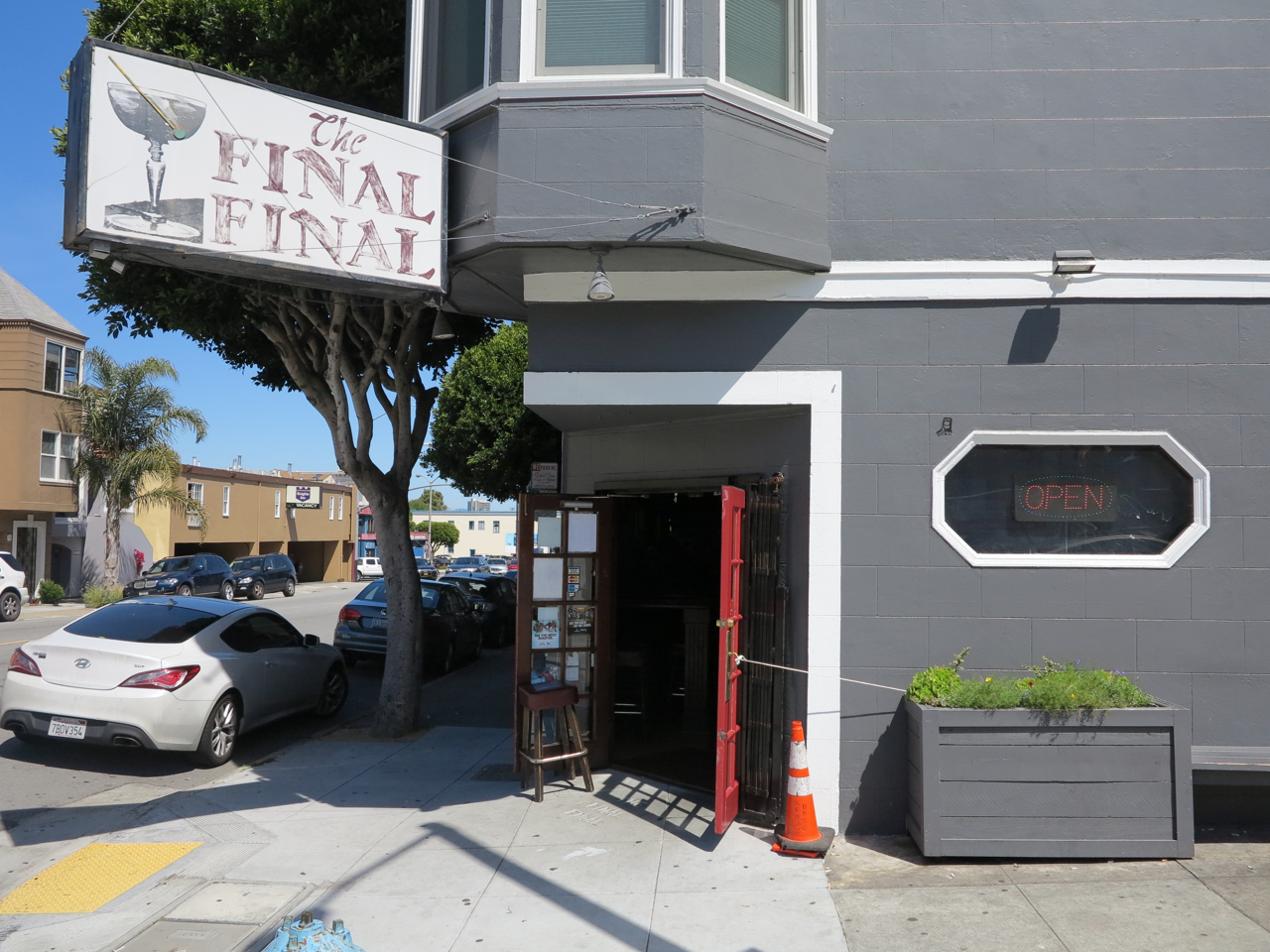 Where are you from and how did you get here?
Omaha, Nebraska. I came out here after I got out of college and the Marine Corps, and I moved to San Francisco in 1966. I lived in San Francisco for about 20 years, then I moved up north to Petaluma.
Tell us a little bit about the history of this bar.
It was opened in 1934, right after Prohibition, and it's basically only had two owners. Two brothers owned it for 47 years, and I've had it for 38 years. The bar and all the cooler boxes and stuff were put in in 1936. 
They're still all here today?
Yeah.
Was it always called Final Final?
No, it was The Yacht Harbor Club until 1978, when I took it over.
How did you come up with the name?
Because it's kind of a big joke in the drinking circles, or at least for us it was. We'd say, 'Let's have a final final,' then two hours later, you're still there with the 'last' of the final finals.
You're right near the Presidio. Were there lots of military folks coming in here back when it was active?
It was probably 70 or 80 percent military. People from the hospital—doctors, nurses, lab techs, people from the animal research center—would come in.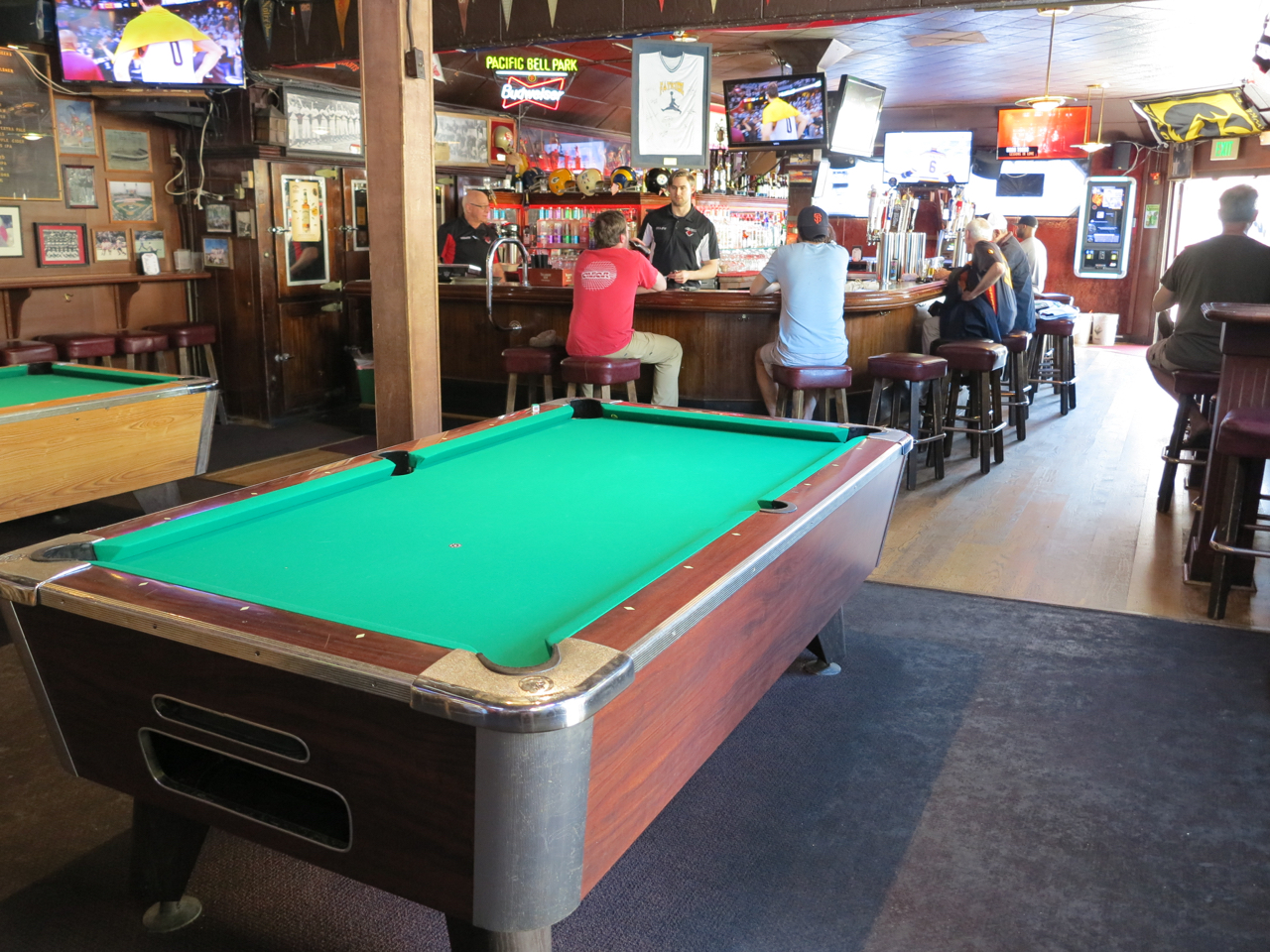 What's the clientele like these days?
It's more of a neighborhood bar these days, but that's also because a lot of people live up in the Presidio now. So we draw a lot from that, and from the businesses that are up there now. Actually, when the Presidio was closing, that was when satellite TV came about, so you could get a bigger selection of sporting events. That's when I changed over to a sports bar. 
How has your clientele changed over the past 38 years?
Different generations. I've had people come in here, meet, get married, and now their kids come in here. Also, people's drinking habits have changed in general. 10 years ago, vodka was supreme. But now the kids are changing over to bourbon, or brown liquor as I call it. Of course, micro beers now are just out of sight.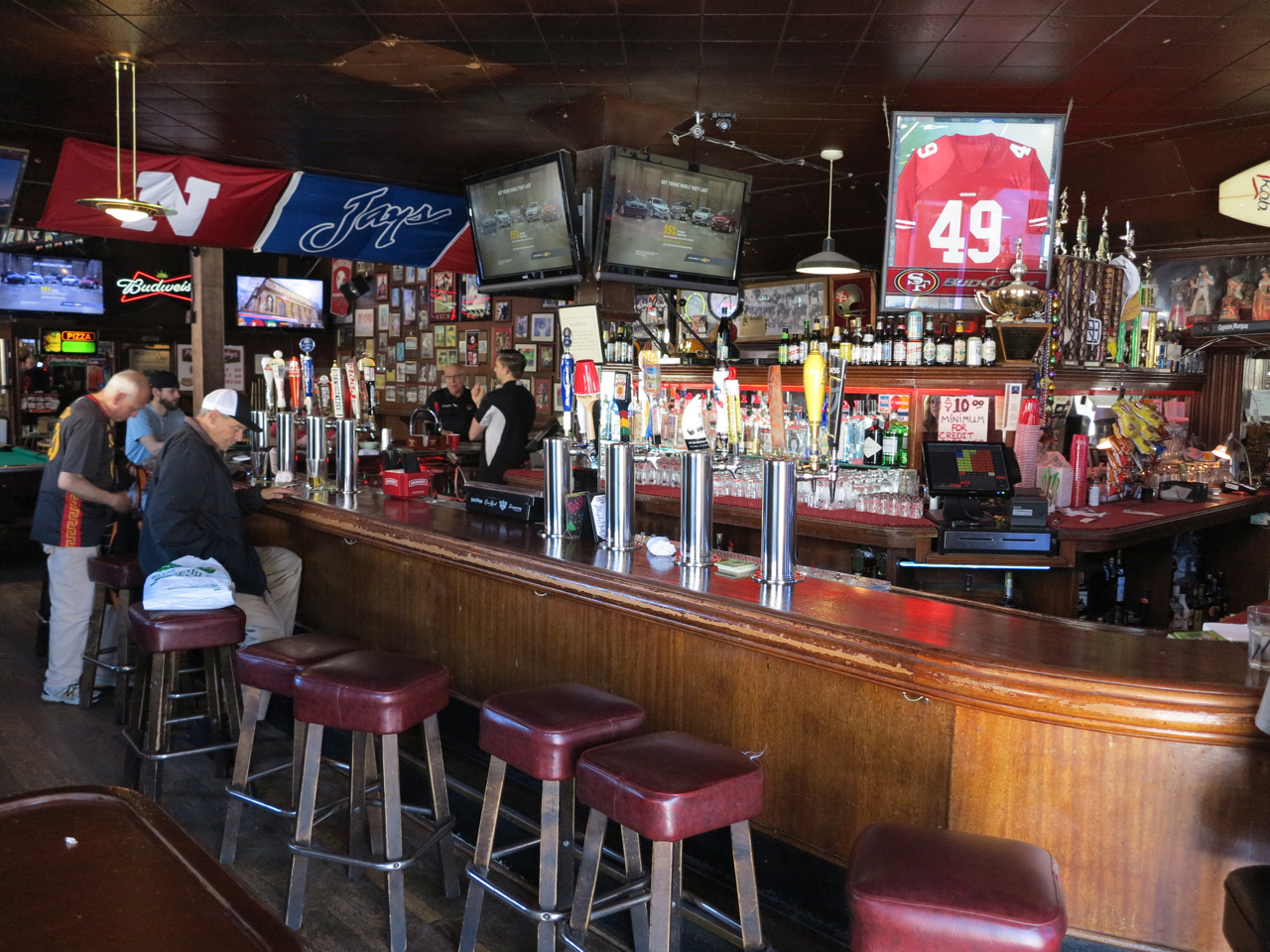 Has the overall vibe of the bar changed since the late '70s?
The vibes are pretty much still the same. People like old neighborhood bars that don't change to the 'New York' look ... I don't know what you'd call it, but you know, the marble, the stainless steel, the ultra-modern look. You just have to keep up the older look.
The bar is kind of a continuation of college, with all the sporting events. Also, we absolutely do not tolerate bad behavior, and that's why we very seldom have any problems at all. And people appreciate that. They don't want a loud, rowdy place, except for sporting events, when it's appropriate.
Also, ladies like to come in and have drinks without being overly bothered. If they want to meet somebody, fine, but if somebody becomes a pest ... the other person has the right to feel comfortable. 
From your perspective, what's the best way to deal with someone who's becoming a problem or being inappropriate?
Well, that's usually because they've had a little bit too much to drink. You know, you talk to them, try to rationalize with them and tell them that tomorrow would be a better day if they went home.
Very seldom does it turn into anything physical. You don't start pushing around people that have had too much to drink. You can talk to them, and once they get outside, they kind of come to. A lot of people are from the neighborhood, and they just kind of walk home and start a new day.
Has the Marina changed as a neighborhood in the time you've had this place?
I don't think it's quite as friendly. I think it's more transitional ... a lot of people come and go, and everybody is from someplace else. But the customers from right around here are more educated, just because they have to be, to pay those rents. They're easy to get along with. 
What keeps you coming in each day, after all these years?
I enjoy people. You know, listening to them, there's always somebody to talk to. It's like having a captive audience. They can't get away from me!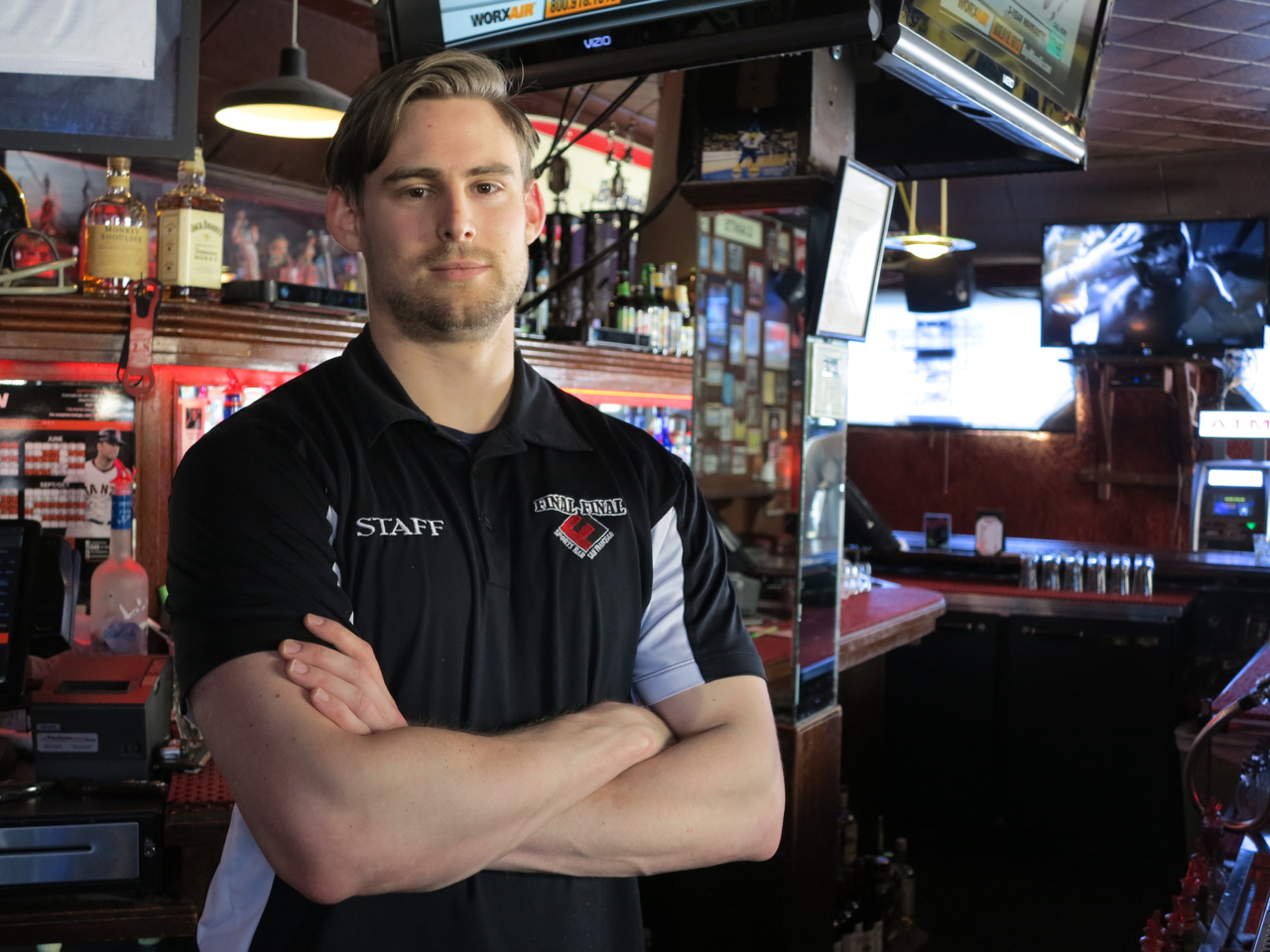 Prien's son Michael, who will one day fill his shoes.
Do you have any plans for the future of the bar?
My two boys are going to take over. Well, they're taking over right now ... I've been kind of easing my way out. So it will be here for quite a few more years. In fact, all three of my sons work here. My wife works here, too. People like that family connection, rather than some corporate thing.
For more Tapping In with local bartenders, get to know Patrick Connolly of The Independent, Giday and Nebiat of Waziema, Michael Wieck of Bar 821, Caleb McGehee of Nopa, Chris Libby of Madrone, Jared Schmidt of Absinthe, Racquel of The Page, Remy Nelson of Mojo, Andy Mott of Royal Exchange, Martin Kraenkel of Molotov's, Brendan Heath of Whiskey Thieves, Pete Spanier of Hemlock Tavern, Meaghan Johnson of Fly Bar, Tim Gapchenko of Cafe Terminus, Johnny Davis of Emperor Norton's Boozeland, Kundan Baidwan of Zam Zam, John Pringle of Doc Rickett's, Harmony Fraga of The Social Study, Chris O'Brien of Outerlands, Daniel Kutch of Maven, and Ben Mansell of 540 Club.