Many in the neighborhood have been interested to know what's happening with the former home of co-op peep show The Lusty Lady (1033 Kearny St.), so we recently got an update.
Back in January 2014, the then-new owners of the North Beach institution Tosca Cafe—Ken Friedman and April Bloomfield, known for New York City's The Spotted Pig—made waves by announcing they were taking over the Lusty Lady space and building out a bar there. Now, more than two years later, we're told the project is finally starting to move ahead, and should be open by the fourth quarter of this year.
The project is part of a two-phase plan, Friedman told us. The first was reopening Tosca and eventually expanding its hours to serve lunch, which Friedman hopes will happen by the third quarter of this year. The second is to renovate the Lusty Lady's space and open it as a yet-to-be-named bar that'll pay tribute to the neighborhood's sexy, seedy roots.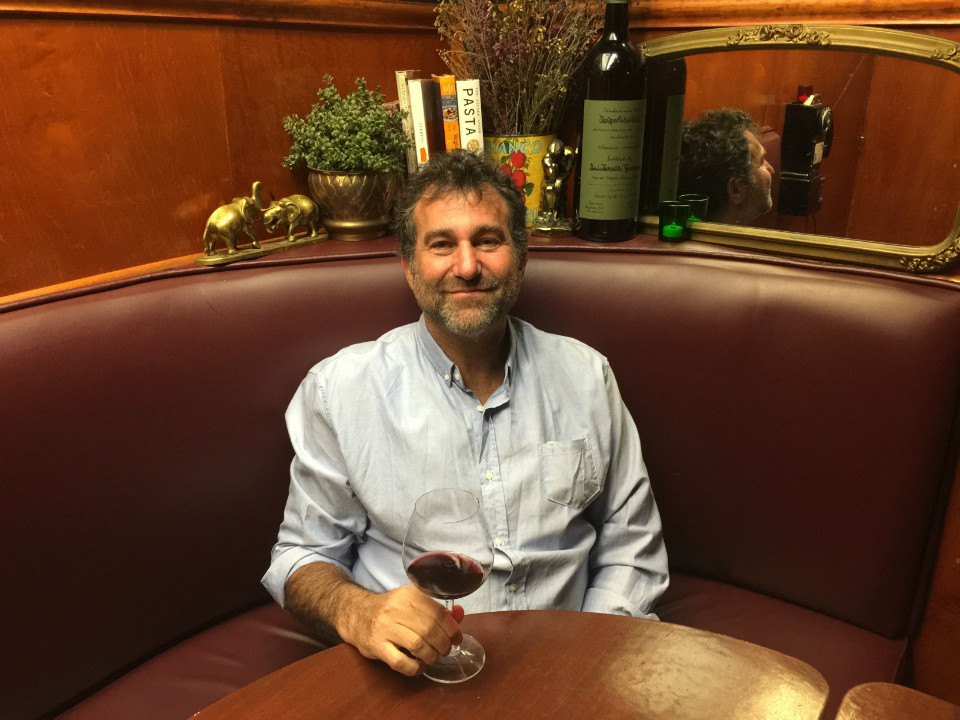 Ken Friedman. (Photo: Geri Koeppel/Hoodline)
"North Beach is the place people come on a Friday night to go bar-hopping; to go to cool bars," Friedman told us. "People are going to say this fits the neighborhood." He and Bloomfield even asked to buy the Lusty Lady name, but the owners declined, saying they were going to try to reopen eventually in another location.
So what took so long? "We're just not in a hurry," Friedman said. They got a reasonable price on the lease, and have been using the Lusty Lady space to help support Tosca's operations. It currently houses staff changing rooms, storage and an area for food preparation, and concrete was recently poured in a side room to create a larger prep area. Right now, most prep is done in Tosca's kitchen before dinner service, which isn't ideal. But once the new prep area is done, the restaurant can finally gear up for lunch service.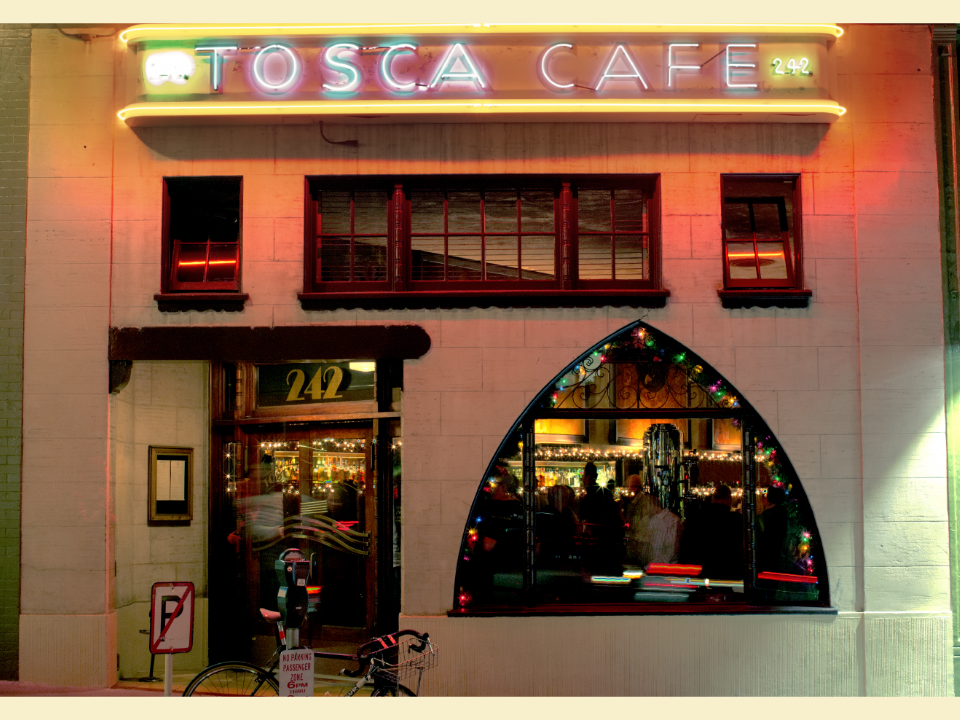 Photo: Tosca Cafe
In addition to easing some of the back-of-the-house backups for Tosca, the new bar is expected to handle some of the popular restaurant's customer overflow on busy nights. "If we have a bar right next door, it takes the rough edges off of waiting," Friedman said. Though the entrance to Tosca is on Columbus Avenue and the other space opens to Kearny Street, the two are connected in the middle by a door.

Friedman is starting to work on what the space will look like. One idea is to incorporate the idea of a screen that lifts to reveal a peep show, though there won't be any skin—instead, maybe that's how guests will meet the host or order a drink. He promises there'll be food, but it'll be bar snacks rather than a full menu, and he doesn't know what Bloomfield has in store yet on that front.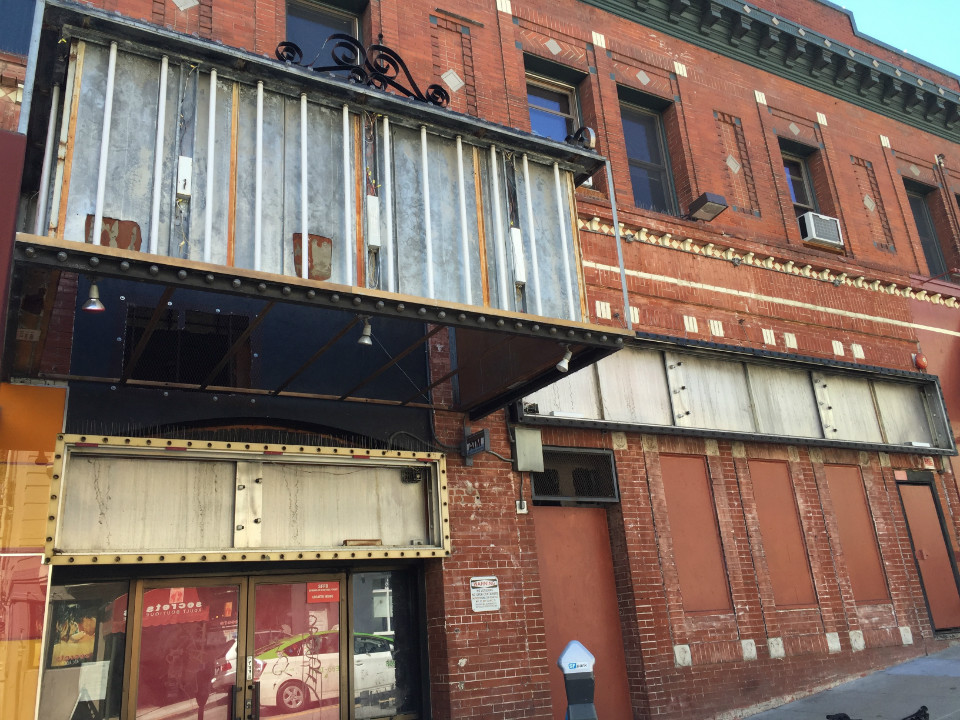 The exterior of the former Lusty Lady. (Photo: Geri Koeppel/Hoodline)
Right now, the space is fully gutted, but a new heating and cooling system has been installed, and Friedman is currently weighing whether or not to rebuild the mezzanine. He's been meeting with contractors this week to get an idea of the budget, and then will seek financing.
The plan is to save and rehabilitate the Lusty Lady's marquee, which is in disrepair. They hope to possibly partner with City Lights Books and enlist local poets to post "word pieces" on it—as opposed to the licentious language displayed in its peep-show days.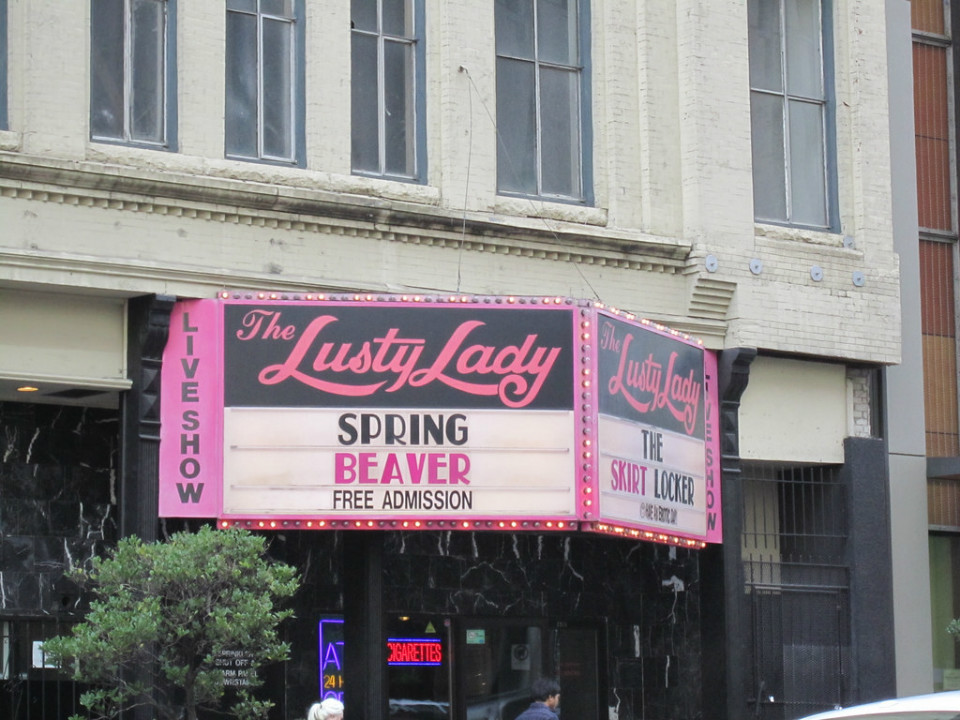 Photo: Jeff Wilcox/Flickr

Though Friedman and Bloomfield both call New York home, Friedman has Bay Area roots. He attended UC Berkeley, and said he became a "foodie" while employed for a while at Chez Panisse. (Bloomfield also did a stint there.) He worked in the music business with Bill Graham for years before going off to London and then New York, where he and Bloomfield gained accolades and a Michelin star for the Spotted Pig. In all, they now own seven restaurants, including a new NYC burger spot, Salvation Burger.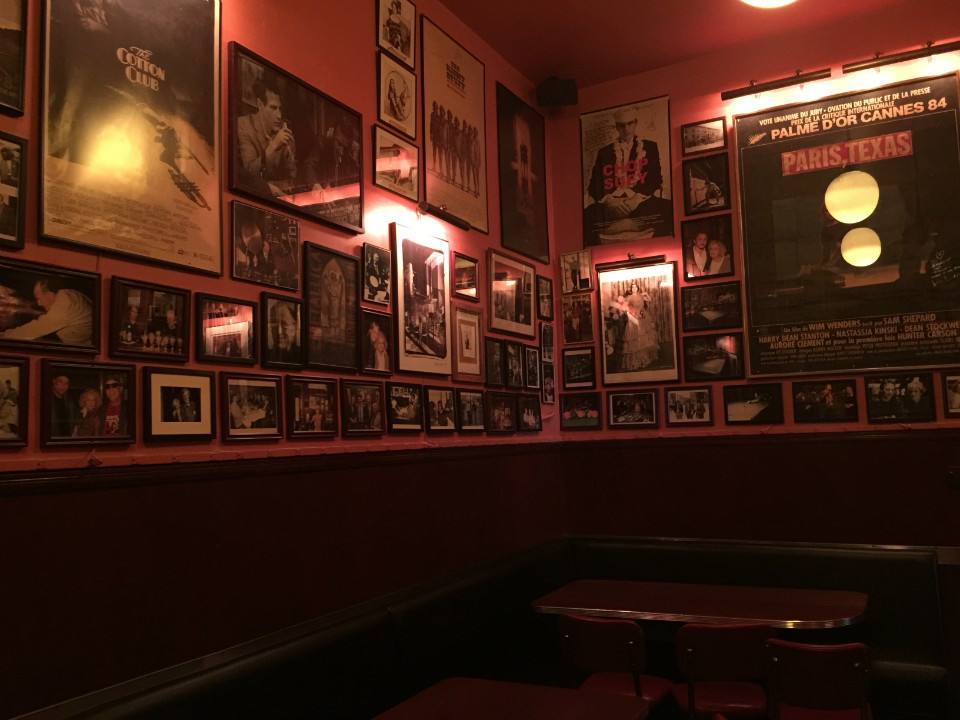 The famous back room of Tosca. (Photo: Geri Koeppel/Hoodline)
Running Tosca and the bar gives Friedman and Bloomfield the opportunity to connect more with San Francisco, a city they both love. As Friedman puts it: "Among the things we set out to do, besides saving an icon that deserved to be saved, was connect with one of the great neighborhoods on this planet."