We've been talking about the impending closure of Alamo Square Park for a while now, but the end is nigh. The entire park will be fenced off on May 10th and will remain inaccessible for at least nine months. 
The park is being closed to perform much-needed underground renovations. The irrigation system is in serious disrepair, the bathrooms are outdated, and the dog play area needs to get new sod. There are also a number of large trees slated to come down for safety reasons. 
The above work will require a full closure of the park, and some parking spaces around the park will be reserved for construction workers for the duration.
"While the construction will inevitably be inconvenient for the neighborhood, in the long term, the replacement of the irrigation system, the re-sodding of certain sections of the park, and the brand new ADA-accessible bathroom will result in a better park for the community," Lisa Zahner, the President of the Alamo Square Neighborhood Association, told us. 
The renovations won't just be an improvement for the community, but also for the environment. As part of the irrigation repair, over three million gallons of water are expected to be conserved per year. And drought-resistant grasses and shrubs are also incoming, to help maintain the park's greenery even when rain is scarce.
Good reasons aside, the park's closure is still going to be difficult for local residents who rely on it to exercise their dogs, entertain their children, play tennis and hang out with friends. To help you get through the next nine months, we've created the below survival guide featuring nearby resources to fill the void that Alamo Square's renovation will create.
Views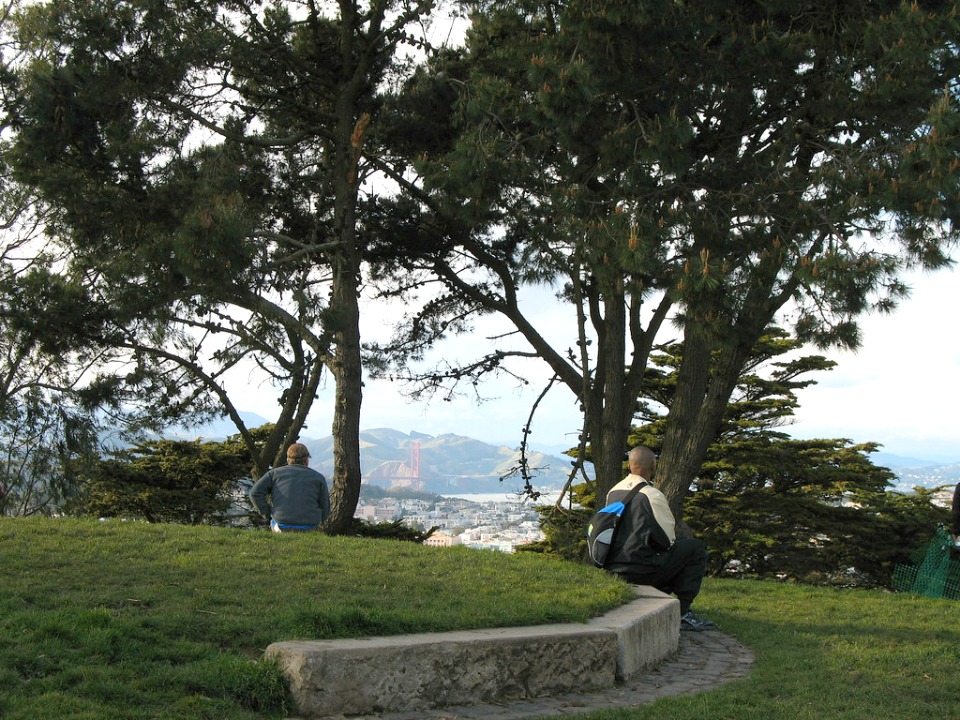 The view from the top of Buena Vista Park (Photo: sparkle glowplug/Flickr) 
Alamo Square is most famous for its view of the Painted Ladies, but there are other views off the beaten track that can satisfy that tourist craving. 
Buena Vista Park: Take any path that heads up this hilly park and you'll reach a breathtaking view of the northwestern corner of San Francisco. If it's a sunny day you might even catch a glimpse of the Golden Gate Bridge and the rolling Marin Headlands beyond. 
Alta Plaza Park: This 12-acre park offers 360-degree views of the city and ample opportunities to ogle old Victorians. If you face south from Alta Plaza you'll see the same familiar view you see from Alamo Square looking north—but from the other side. 
Playgrounds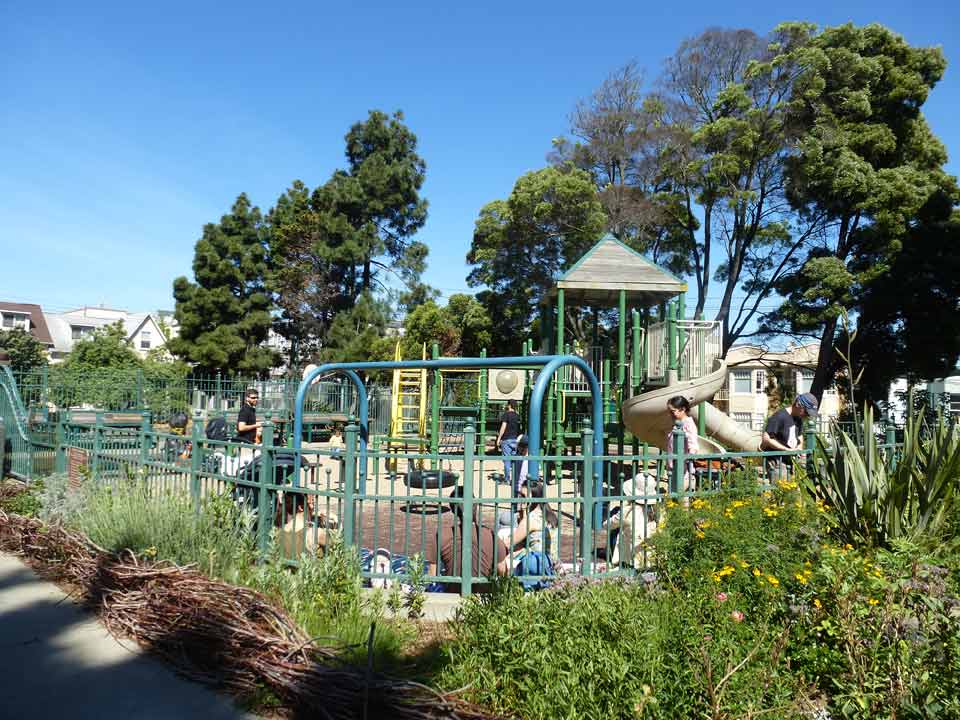 Koshland Park's playground (Photo: Laura Thompson/Hoodline)

Alamo Square's playground may be at the top of a hill, but its modern play structures and close proximity to bathrooms makes it a popular spot for neighborhood kids. While the park is closed, access to the playground will be cut off, but there are several other spots in the neighborhood for your kids to burn off some energy.
Duboce Park: This play area has a plethora of structures for climbing, and even some structures for bigger kids near the basketball courts.
Panhandle Playground: The Panhandle Playground is overdue for an update, but its tire swing, triple slide and sandy play areas still draw crowds around lunchtime. 
Hayes Valley Playground: Just down the hill from Alamo Square Park is the Hayes Valley Playground on Buchanan and Hayes Streets. Untraditional structures and their unusual shapes can entertain tiny people as they figure out how things work.
Koshland Community Park: It's easy to miss this park when walking by, but Koshland, which sits on Page and Buchanan, is a hub for neighborhood children. Keep an eye out for its lush community garden beds, maintained by kids from John Muir. 
Raymond Kimbell Playground: This Western Addition park recently got a multi-million dollar renovation, and it shows. One key perk: the playground is lit up very well by lights in the evening, so post-sunset playtimes are safer. 
Alta Plaza Park: Pacific Height's huge playground has arguably one of the best views in the city (particularly from the top of the slides). It's a bit of a walk from Alamo Square, but worth it for the modern play structures and space to run around.
Dog Play Areas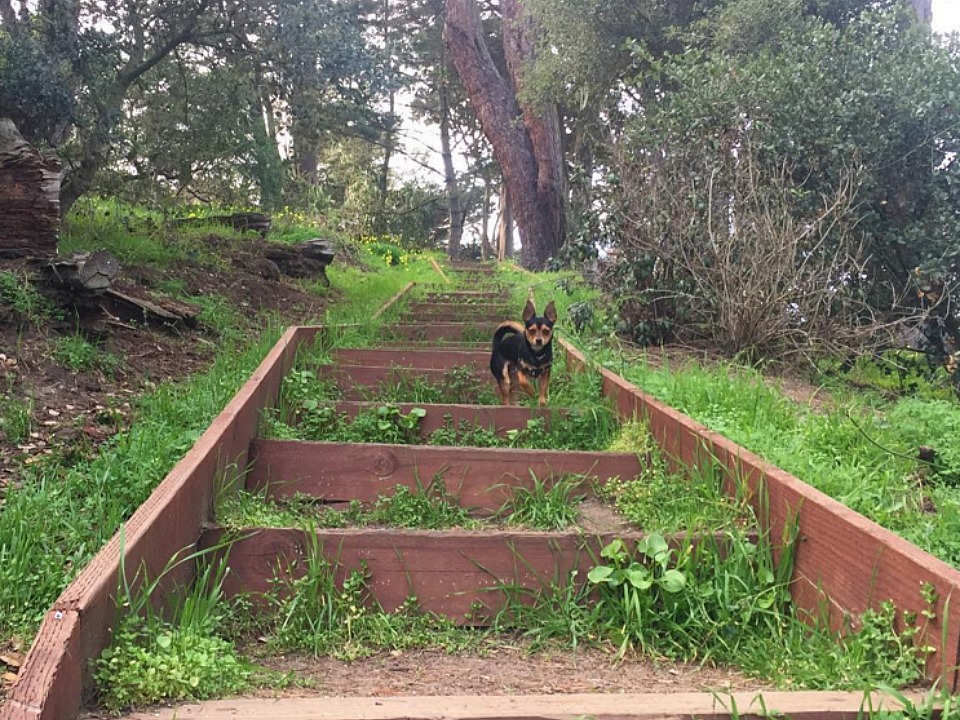 Buena Vista Park (Photo: Nuala Sawyer/Hoodline)

Alamo Square's windy western hill is a popular place for dog walkers and residents alike to let their pooch off leash. Over the past year or so it's been a dust bowl in the drought, and a mud pit in the rain, but it's still an easy and convenient place to meet your neighbors and let your dogs socialize. 
 Luckily, Alamo Square Park is nearby several other green areas that are dog-friendly: 
Duboce Park: This long strip of green has a children's play area in the western end, and an off-leash dog area in the eastern side. Grab an iced coffee at Duboce Park Cafe, and make sure to check out the busy after-work hours, which see plenty of canine company beginning around 5:30pm. 
The Panhandle: three blocks from Alamo Square is the long Panhandle, leading into Golden Gate Park. Although narrow, it's a dog paradise—but be sure you keep an eye on your pups around here. There are joggers, bikes, and two fast-moving lanes of vehicle traffic on either side of the park, so only let your dog off leash if it has great recall. 
Buena Vista Park: This hilly park looks foreboding from the outside, but inside it's filled with lush greenery and winding trails, and is a great place to let your dog off leash to explore. Do keep in mind that there has been a coyote spotted in the area, so pay extra attention if you have a small dog.
Golden Gate and Steiner Mini Park: If your dog needs a patch of green to do its business, considering visiting this little mini park in the Western Addition. As always, remember to clean up after your pet. 
If you want to connect with your neighbors and their pups, the Facebook page Alamo Square Bark has been set up to help network. 

Tennis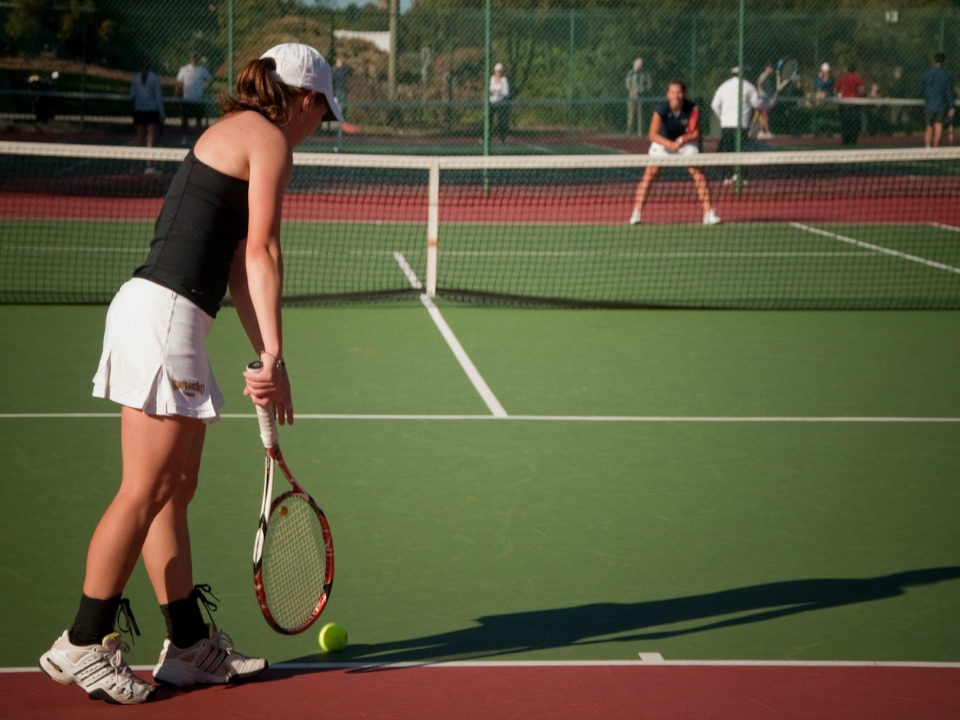 Golden Gate Park's tennis courts. (Photo: Izaias Buson/Flickr)

Alamo Square's tennis courts will also be cut off during the renovation, but there are many other places in the surrounding neighborhoods to play singles or doubles. 
Buena Vista Park: Two tennis courts sit in the northeast section of the park. They're a little hidden, but the easiest entrance to access them is just off Buena Vista East, south of Haight Street.
Golden Gate Park: Take a long walk or hop on your bike to visit the 21 tennis courts at the eastern end of Golden Gate (JFK Drive at Middle Drive East). Despite the large number of places to play, you can make a reservation if you don't feel like waiting for one to open up.
Anything we missed? Share your ideas in the comments.