A person is currently threatening to jump off of the Stockton Street Tunnel. SFPD is on the scene.
This just in - it's someone threatening to jump off the downhill end portal. Soooooper. And me on crutches on the 30 Stockton midway. Sigh.

— Ken Katen (@keninsf) May 5, 2016
"He had his shirt off and was mooning people," said tipster Beau D., who believes the man may be mentally ill. "He now has his shirt on, and the cops are trying to talk him off."
The incident has caused numerous traffic and transit delays on and around Stockton. At 1:32pm, Muni announced delays on the outbound 8, inbound and outbound 30 & 45 buses due to "possible SFPD activity."
It later followed up to announce the outbound 8 and inbound 30 and 45 were rerouting to the 41-Union route between Columbus and Stockton and Market and Davis. The traffic slowdown is also delaying the Powell cable car line:
ATTN: Due to PD activity at Stockton Tunnel, Powell Street seeing increased traffic. Expect delays on the Powell Cable Car Line

— SFMTA (@sfmta_muni) May 5, 2016
Update, 2:20pm: Beau D. says the man has gotten down from the ledge. "The cops are walking him down to Stockton now."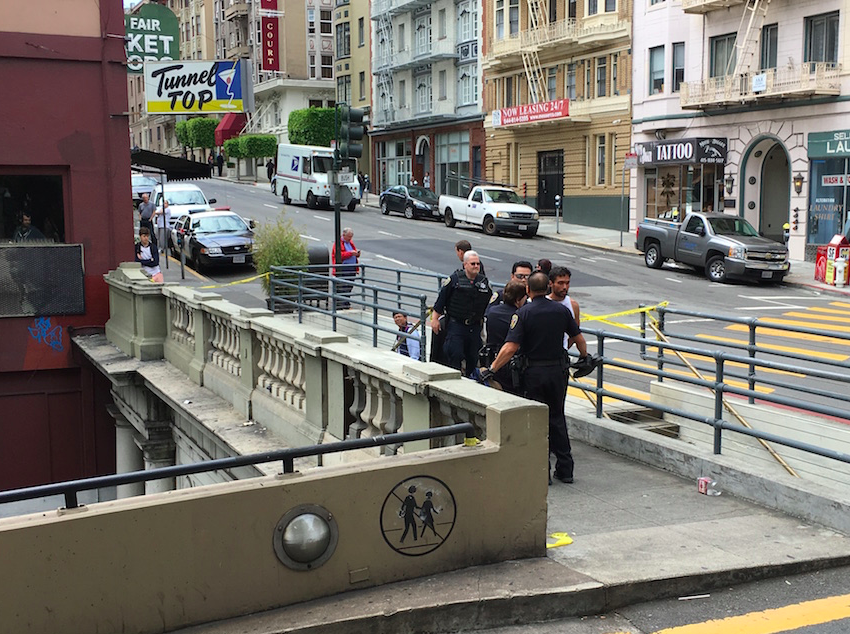 Traffic is still problematic on many streets around the area, but bus lines have begun to return to normal: 
UPDATE: Delay at Stockton Tunnel is clearing. 8, 30, & 45 resuming regular svc. Expect residual IB/OB delays and svc gaps.

— SFMTA (@sfmta_muni) May 5, 2016