For parents raising young children in San Francisco, choosing a preschool is as high a priority as preparing an earthquake kit. The selection process must balance a number of factors: location, schedule, teaching philosophies, not to mention the wait lists.
Inner Sunset parents have a few options to find a preschool that works best for them and their children.  Here, we provide a round-up of preschools for the neighborhood that offer a variety of programs and enrollment options.  

Stepping Stones Preschool, 1329 7th Ave.
"Parents should be aware that San Francisco preschools fill up fast [so] it's important to start planning early and find a school that matches your parenting philosophy," said Ruqoiyah Ghe-Huang, Director of Stepping Stones Preschool.

The school established its first classroom in 1993 and has been at its current Inner Sunset location since 1997. The day runs from 7am – 6:00pm; students take part in music, dance and cooking classes, as well as a picnic day each week.  
Stepping Stones accepts children starting at age two; Ghe-Huang said they have four separate classrooms, depending on age, and "children spend approximately half the day with their class and half the day in a mixed-age setting."  
The school has a child to teacher ratio of 6:1 with daily excursions to Golden Gate Park, a benefit of its location at 7th Ave. & Irving.  Following a multi-cultural based curriculum that includes art, language, music, pre-math, pre-reading and science, Stepping Stone believes that "exploration and discovery" should be encouraged in early childhood.
"We know that young children learn by 'hands on' experiences.," said Ghe-Huang. "We believe in using our incredible location as an asset, and spend as much time as possible exploring our neighborhood and local parks."  Parents are also a big part of the community and their participation is encouraged. Stepping Stones offers tours on Friday mornings by prearrangement.  (415-665-4189.)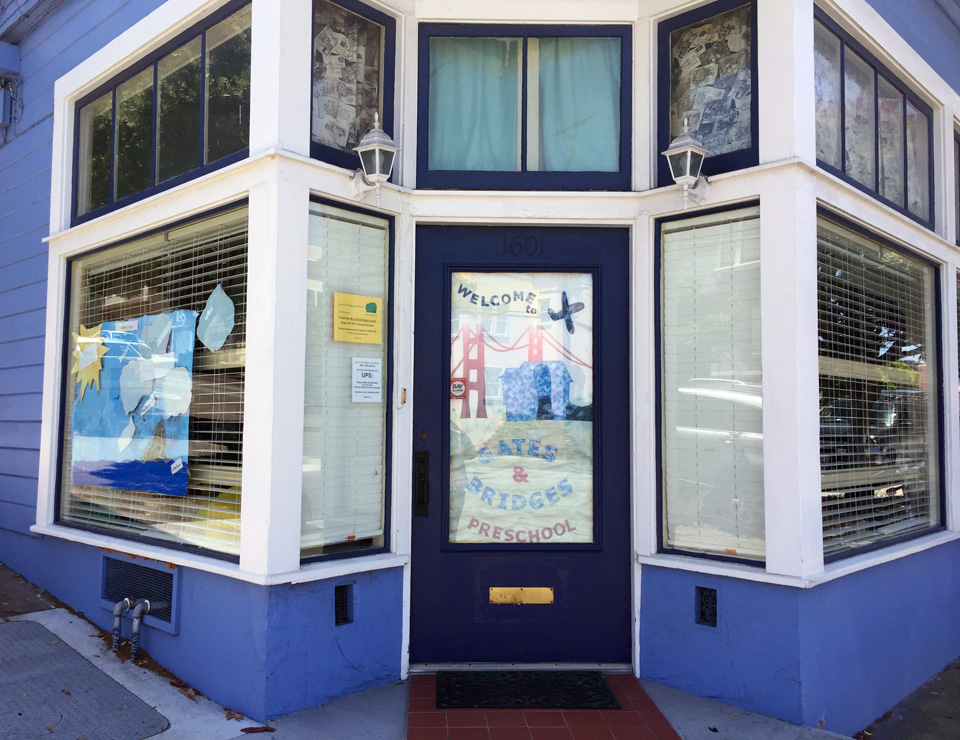 Gates and Bridges Preschool, 1603 10th Ave.
Gates and Bridges Preschool began in 1978 as The Infant Development Center (IDC) of San Francisco at Lone Mountain College.  It has been in its current location since 1983, when parents and alumni helped to purchase the building it now resides in, known as "the Big Blue House."
The school program states a belief that "children are naturally motivated to learn" and part of the philosophy of their early childhood program focuses on the relationships of the children, their parents and the teachers, as well as the "respect of all children as competent and capable people."
Yelp reviews about staff assess them as "warm," "experienced," and "dedicated." There also are many mentions of the school as a "community" where parents and teachers are engaged. The school accepts children starting at two years and nine months and offers enrollment options from three to five times each week, as well as extended care.
Gates and Bridges offers tours by appointment during the months of April, May, June, July, October, and November.  (415-664-3005)
Teaching Tots Preschool, 939 Irving St.
Teaching Tots is an "academically-based preschool" with programs "designed around a hands-on-learning curriculum appropriate to the age of each individual child," according to a pamphlet for parents.
The school, which emphasizes "fun, warmth, security, exploration and discovery," is licensed to accept children between the ages of two and six.  Yelp reviewers describe Teaching Tots' teachers as "caring," "kind," and "top notch." The school day runs from 7am to 6pm, Monday through Friday with 3-5 day/week enrollment programs. (415-731-9705)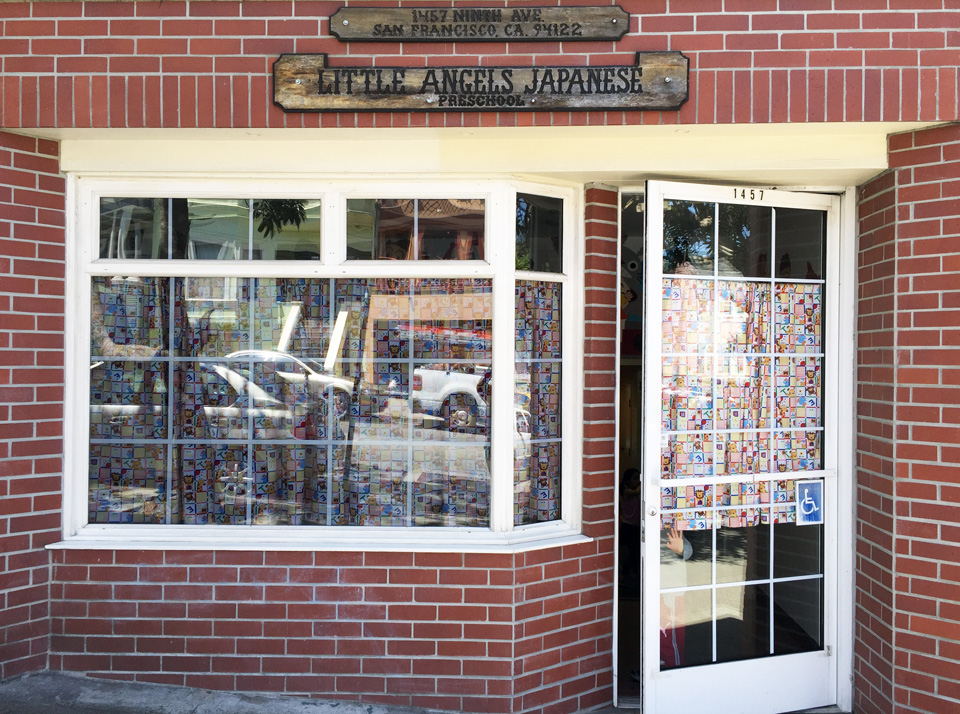 Little Angels Japanese Preschool, 1457 9th Ave.
Little Angels Japanese Preschool has a program "based upon the Preschool Education Program and Child Development No. 5 provided by the Department of Education in Japan."
The five areas of focus include health, relationships, environment and nature observation, language and expression through music, arts and crafts. Although they offer instruction in Japanese, their program states "the basic English skills such as the alphabet, numbers, colors, shapes, songs and stories" are considered important in their curriculum and the students are familiarized with them in preparation for kindergarten.  
School Director Hisami Hirai said their school day runs from 8:45am to 1pm, with an after-school program from 1 to 3 pm.  (415-564-6123)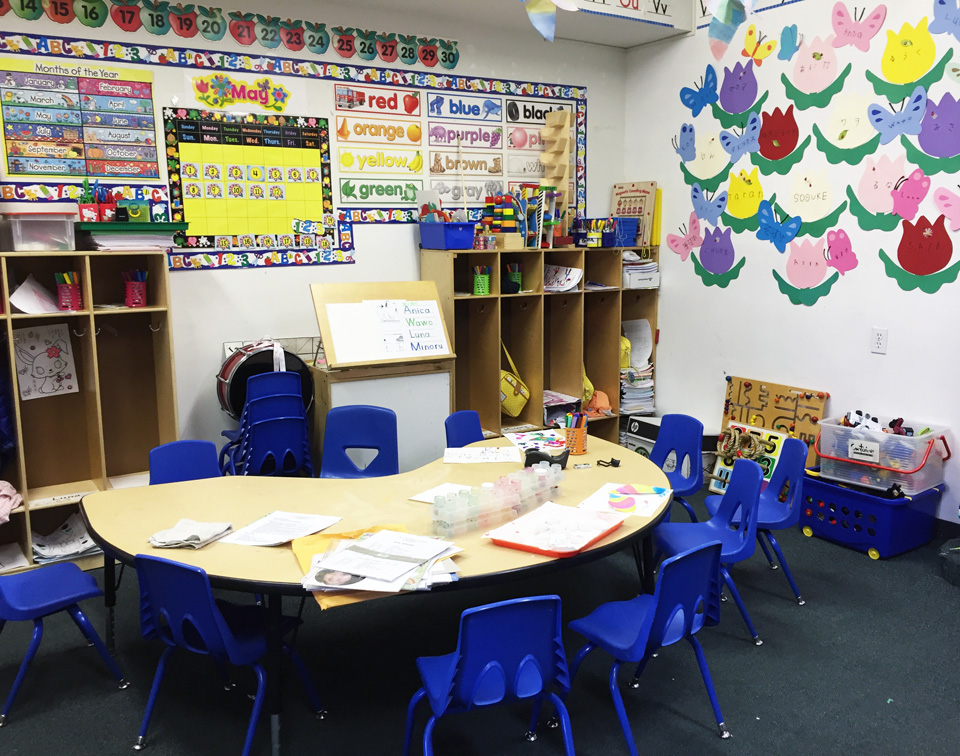 Magic Cottage Preschool, 1662 11th Ave.
Magic Cottage Preschool employs the "Tools of the Mind" curriculum, which is based on the work of Russian psychologist Lev Vygotsky. The program focuses on play-based teaching to help children develop the mental tools they need to solve problems and create solutions for themselves, which in turn helps them develop physical, social and emotional behaviors.
According to California Community Care Licensing Division, Magic Cottage, which was first licensed in 2010, is technically a "family childcare home," because it operates in the primary residence of its owner, Galena Berenshteyn.
Magic Cottage's website states that their "curriculum is designed to cultivate each child's innate capacity for joyful life-long learning and strengthen [children's] social skills."
Magic Cottage has a second location opening further down 11th Ave., as well as a sister school in South San Francisco.  The school accepts potty-trained children starting at age two years and nine months, and offers three and five days per week enrollment, with an extended care option. Their next open house is on August 28th. (415-819-1714)