After a lengthy battle to get zoning changed in order to open a new Mama's and Lil' Mama's Community Market in North Beach's former Piazza Market at 627 Vallejo St., rumors have been swirling that the project is now dead and the building is up for sale. But we're told the gossip is—at least partly—untrue.
The landlord, Hagen Choi, said, "[Vince] Sanchez is still working on this project," and told us they had a meeting to discuss plans on May 31st. He didn't deny that Blatteis Realty Company has a listing advertising the building, although no price is given. Sanchez, managing partner in the business and brother of Mama's owner Michael Sanchez, said the building has been on the market from the time they got involved three years ago, and a sale wouldn't affect them.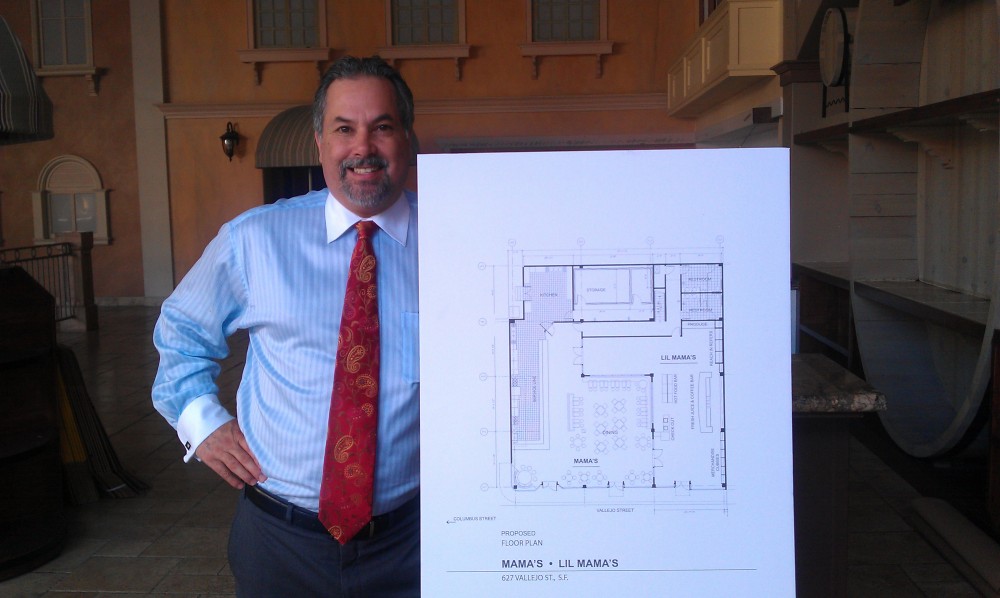 "[Choi] was always willing to listen to offers on that building," Sanchez said. "It was for sale prior to us getting involved and negotiating and doing the lease. It remains for sale, and we never minded, because the lease is the lease, and has to be honored." And, he added, "We are actually looking to make a deal on the building now as far as purchase."
If things are moving along, some wonder, why hasn't any construction begun? Sanchez explained that one of the biggest delays came in finding the right management team. They've hired a director of operations and grocery consultants, which took time. "The grocery is what took a lot longer to put into effect than the restaurant," he said.
The new Mama's has had much support, but some opposition, because the building required a conditional use permit and a legislative change to the planning code. Approved in August of 2015, it allows partial restaurant use in former retail spaces with certain caveats within the North Beach Special Use District, enacted to preserve neighborhood-serving retail and service uses. Some are concerned that too many spaces become restaurants and bars, shutting out everyday uses like shoe repair, hardware stores and the like, and driving rents up.
But the law has a lot of restrictions. For one, it only allows the Planning Commission to approve a permit for a restaurant currently within the North Beach Special Use District wanting to open a second restaurant location there. And that restaurant must have been in business for at least five years.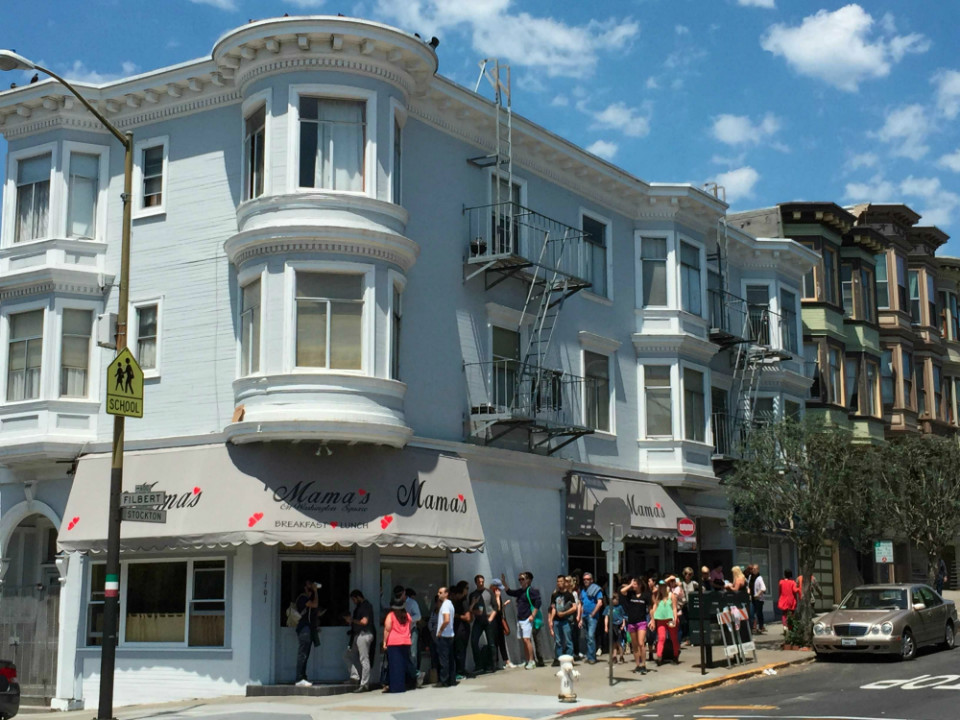 Also, it only applies to buildings of 5,000 square feet or more, which pretty much limits it to this location. At least 40 percent of the space would still be required for a "Basic Neighborhood Sales or Service use." Mama's plans include using 55 percent of the space for the Lil' Mama's Community Market on one side, with fresh produce, meat, bread and prepared foods.
One of those opposed to the new zoning was Kathleen Dooley of the North Beach Business Association, who said people have speculated whether the Sanchez family has enough capital for the venture. "You would've needed several million dollars" for renovations, she said, adding, "You have to have money to pay your employees; pay your bills for quite a while. It's a very risky business, so you have to be prepared to weather anything that comes your way."
Sanchez told us, "Kathy Dooley doesn't know what she's talking about. Kathy Dooley's never phoned me and she knows nothing about the situation over there. She's never gotten in touch with me whether to confirm or deny what was going on there." He added that despite the papered-over windows, he's in the space almost daily in case anyone wants to knock on the windows and ask him anything about the project.