Hitachino Nest Beer, an award-winning line from a nearly 200-year-old Japanese brewery, is opening its first U.S. bar and restaurant, Hitachino Beer & Wagyu, next month at 639 Post St. (between Taylor and Shannon alley).
Hitachino Nest Beer comes from The Kiuchi Brewery, which was established as a sake brewery in 1823 by the "headman" of Kounosu village (located in the central Kantō region of Japan). According to the brewery's website, the Kiuchi Brewery began its foray into craft beer in 1994, when the government loosened restrictions that had previously allowed just four beer breweries to operate.
One year later, Hitachino brewed its first beer, a "European top-fermented ale using British malts and hops." It won a gold medal in the first international beer competition in Japan, the brewery has been expanding its footprint ever since. Hitachino now owns numerous breweries and watering holes around Japan; its products are also exported around the globe, including to the U.S. 
For its first bar and restaurant in the States, Hitachino Nest Beer has teamed with chef-partner Noriyuki (Nori) Sugie, formerly of Nombe in the Mission. Earlier this year, Sugie worked with the company to open Tokyo's Hitachino Brewing Lab, where patrons can sip beers, enjoy fermented foods and learn how to brew their own beers. Here in the States, he and Hitachino hoste a pop-up in April at Ferry Plaza Wine Merchant.
Sugie says Hitachino Beer & Wagyu will offer 10 beers on tap, all of which are currently being brewed especially for the SF location in Japan—none are available at Hitachino's Japanese locations yet.
While the beer lineup for launch remains TBD, as the brewery is still testing the U.S. market, Sugie noted that the brews will be "Americanized" Japanese beers. Expect some hoppy and oaky flavors, along with a summery saison.
The bar will also offer 5-8 sakes from the Kiuchi Brewery, and local wine.
With a full kitchen in the basement, Sugie says the menu will be inspired by izakayas, traditional Japanese gastropubs. As the name suggests, Wagyu beef will be the house specialty, sourced from both farms in Japan and on the West Coast. 
One unique offering Sugie is bringing from the menu at Hitachino Brewing Lab is jarred bar snacks—including pickles, braised meats and meatballs—that can be popped open and devoured cold on plates.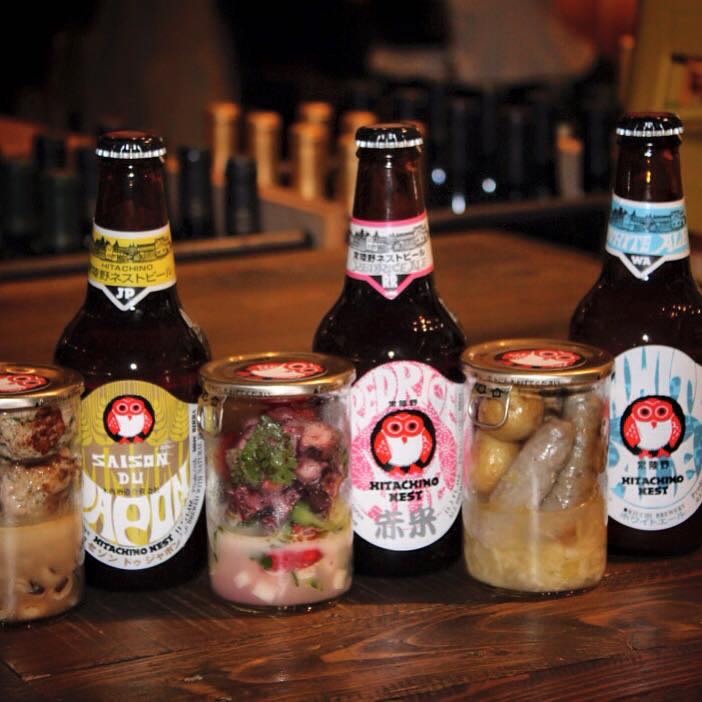 As for the space, Sugie said it will be simple, yet "very beautiful." The furniture for the 45-seat restaurant and bar is being made in Japan, to create the feeling of a "little Tokyo in Nob Hill." The main highlight: the 8-10 seat bar, which is crafted with wood from a vintage sake press.
Work on the space and the menu is ongoing, but Sugie expects to open by the end of July. After that, there's a good chance they'll also host pop-ups at the Ferry Building once a month.