If you've spent any time along Castro Street, you're used to seeing rainbows, and if you're used to walking through the Mission, you're used to seeing Donald Trump piñatas. But chances are you've never seen a papier-mâché Trump, rainbow leashes in hand, leading a pack of stuffed dogs adorned with "Dumps for Trump" stickers. Unless, of course, you've wandered past the Castro's Best in Show recently.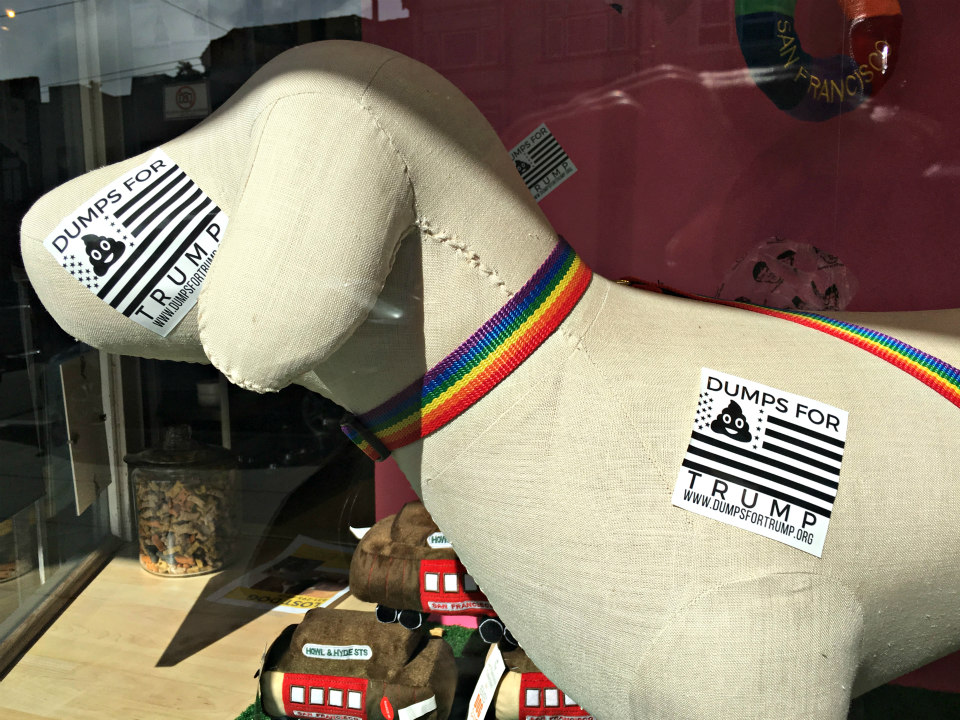 Late last week, the Chron reported on the storefront's trendy new display window, which entices shoppers to buy hot pink dog-waste bags spattered with the face of the GOP's main man.
A package of 60 "Dumps for Trump" bags goes for $16.50, and according to Best in Show's co-owner, Richard Shiu, they're far and away "the hottest-selling item in the store."
Now I just need a dog. https://t.co/nMPoCHLrms

— Stephanie Lucianovic (@grubreport) June 9, 2016
According to the Chron, the "Dumps for Trump" bags are the brainchild of Chico-based entrepreneur Angela Lombardi. Although she did not hold back in her disapproval of Trump, she wanted to diffuse her political views with a bit of humor.
"Nobody likes picking up their dog's poops," said Lombardi in an interview with ABC7. "But what would kind of put a smile on my face is if I had a little bag with Donald Trump's face on it that I was then picking up poops with."
We're picking up what you're putting down, Best in Show, and we're thankful for the chuckle.