This is the fifth in a series of history posts from local historian, author and professor Art Peterson, who's given Hoodline permission to reprint some of his writing about North Beach and nearby neighborhoods. They appear in his local history book Why Is That Bridge Orange? and other previously published works.
If a fan of the Golden Age of San Francisco comedy, emerging from a Rip Van Winkle slumber, were to drop by the hungry i at 546 Broadway, expecting to find Mort Sahl taking comedic jabs at Senator Joseph McCarthy, he would be confused, if not—depending on his idea of a good time—disappointed.
As denizens of that Broadway block know, the present day "i" is more about saturnalia than satire. Yes, the name is the same as the legendary boîte that opened for business in 1951 in the basement of 149 Jackson St., now Francis Coppola's Columbus Tower. But that's because Enrico Banducci, the club's fabled proprietor, sold the name one day when he was, not uncommonly, on the shorts.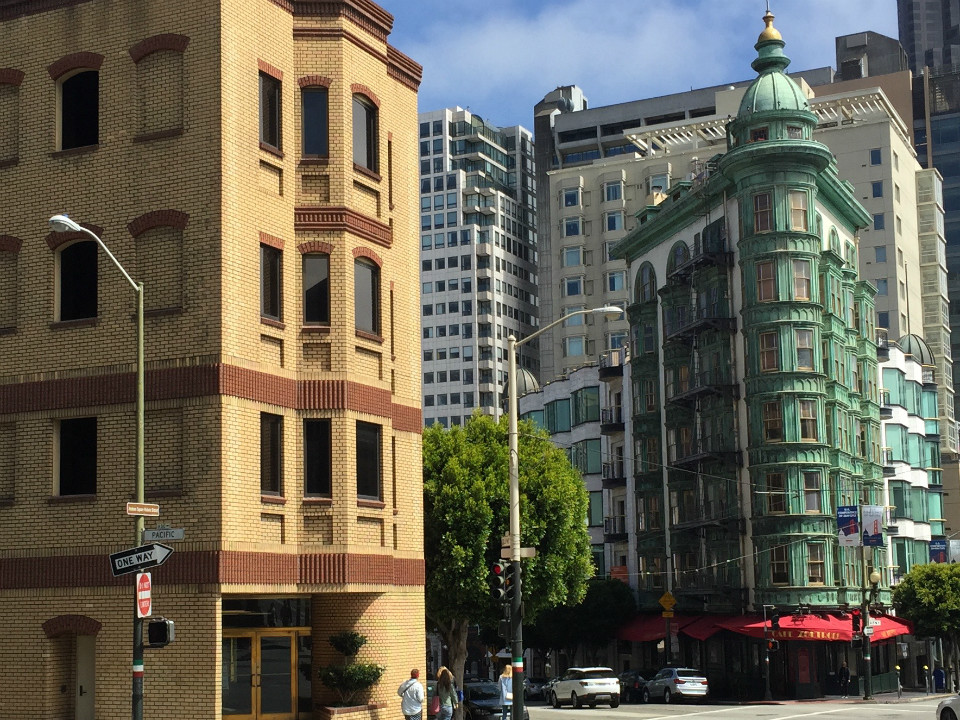 (The meaning of the "i" has been a matter of some dispute. Banducci, who inherited the name, claimed it stood for "id," a nod to the fashionable Freudianism of the time. Others said it was short for intellectual. Or maybe, as has also been asserted, the sign painter just didn't finish in time for the opening.)
Banducci bought the 85-seat "i" from the faux Beatnik Eric Nord with $800 of borrowed money. The San Francisco Examiner columnist Bob Patterson (then writing under the name Freddy Francisco), who wrote that  the club was "a basement Disneyland peopled with left over bohemians, on the nod junkies and other waifs and strays from reality" was probably not far off the mark. But Banducci had a dream that did not include performances by over-the-hill Burl Ives clones.
The man wanted a nightclub, but one like no other. "I didn't care for nightclubs," he once said. "I saw my place more as a theater." This was not going to be a place where you would need to fold a high-denomination bill into the maître d's palm to get a table this side of Siberia. There would be no orchid sellers, no photographers, no cigarette girls.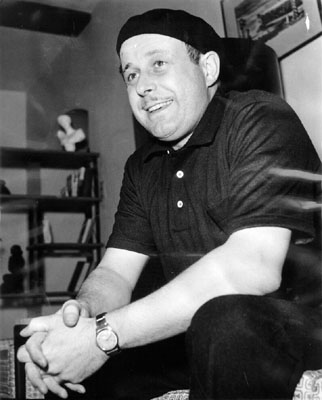 In 1954, Banducci's dream began to materialize when he moved the club to the basement of 599 Jackson St., below the then-site of the International Hotel whose residents were mostly older Filipino men employed as servants and kitchen workers. He installed what he claimed was the world's longest bar, and 291 canvas chairs with cup holders facing a stage backed by a brick wall that left one entertainer with the queasy feeling that he was standing in front of a Cuban firing squad. 
But it was Banducci's gift for spotting talent that made the  "i" special. There was Sahl, but there was also Shelley Berman, "Professor" Irwin Corey, Bill Cosby, Dick Gregory, Lenny Bruce, Nichols and May, Maya Angelou (she was singing at the time), The Lime Lighters, Peter Paul and Mary, Dick Cavett, Tom Leher, Phyllis Diller and Jonathon Winters. On and on. Banducci might have missed out on the Smothers Brothers (he didn't think they were funny), but few others slipped past his insightful eye.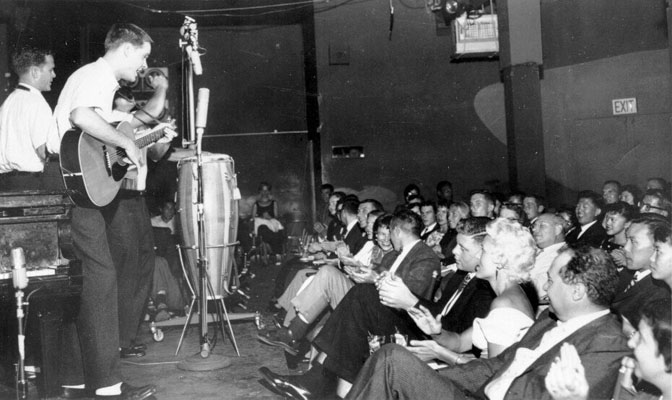 He hired the novices Woody Allen and Barbra Streisand on the same bill. He first encountered Streisand in the office of a New York agent. True to form, she announced that she was going to be a star. Impressed by her energy, Banducci signed her on the spot at $200 a week. After she left the room, the agent said "But you haven't even heard her sing." According to legend Banducci replied, "She can sing too? $250."
He had not made a mistake. By the end of her run, patrons were lined up around the block to hear "Happy Days Are Here Again." Allen's debut was less auspicious. His jokes, transmitted through his nerdy, New York Jewish persona, were met by no more than nervous giggles. Reacting, he turned his back to the audience, face in his hands, until he was rescued by Banducci interrupting with "Let's give a hand for ..." The comedian retreated to Earthquake McGoon's where he sat in on clarinet with Turk Murphy. But Banducci did not give up on Allen. Not many years later, the comedian returned in triumph.
Performers who debuted at the hungry i were often in for a rude awakening when they worked other clubs. Banducci demanded silence during performances. Chatter was forbidden. No drinks were served when performers were on stage, no blenders cranking out grasshoppers. Hecklers were unceremoniously removed. 
On one occasion, Banducci ejected an entire Grayline bus load of rowdy tourists. Chivalrous to the core, Banducci once got in a slugfest with artist Walter Keane. He said he overheard Keane "using obscenity in the presence of a lady." The next day the contretemps received front page attention in the San Francisco Chronicle, much to the delight of Banducci's press agent.
For other reasons related to Banducci's style, the club was a unique work space. Alvah Bessie, the Hollywood 10 screenwriter, was unemployable in the 1950s because of his radical affiliations. Ever the rebel, Banducci hired Bessie to announce the acts.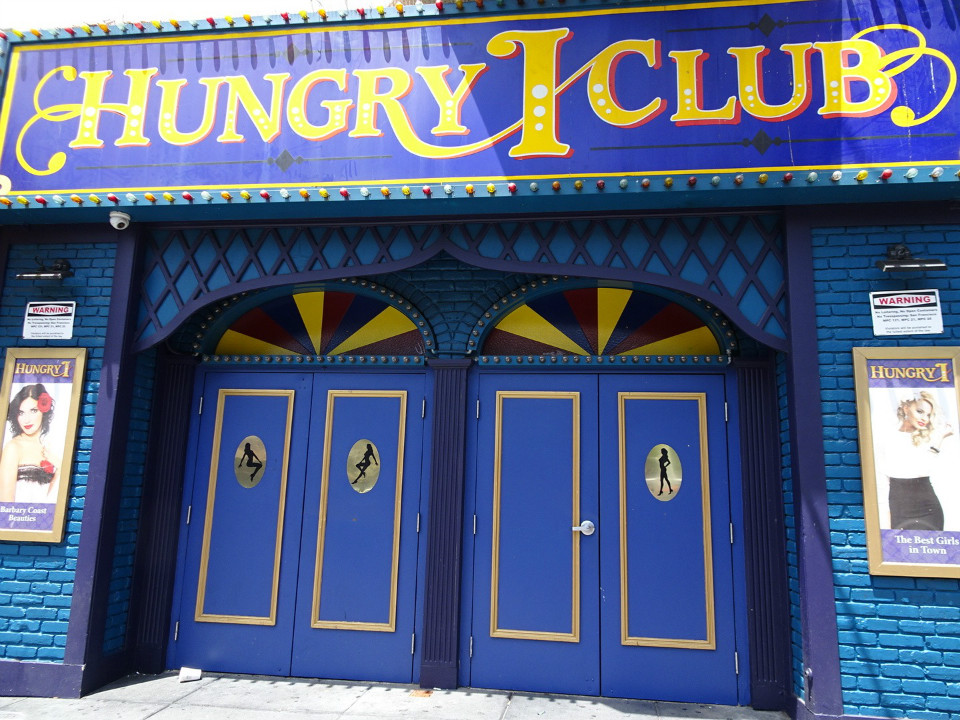 Off-kilter folks of every stripe worked at the "i". One was the beautiful hostess Jo Ann Edmonson, who had an ability to fend off unwanted suitors by putting out a cigarette on her wooden leg. Banducci insisted that his acts spend time at the bar fraternizing with the patrons where Gregory Peck and Franck Sinatra might be holding forth, but where local representatives of the "sable and sandal set" were also bellying up.
Shelly Berman was impressed by the way Banducci connected with performers. "Most of the other club owners," he said, "just want to count their money." His admiration was not dimmed when a "bonus" check from Banducci "was still bouncing years later."
In a way, the "i" came along at the right place and time. The Free Speech Movement was still years away, but political young people were beginning to emerge from their Eisenhower-era slumber. They came out to see Mort Sahl, though Sahl had his doubts about them. "They want to change the world if Daddy will give them permission to use the station wagon," he said. He would often end his act asking, "Is there anyone here tonight who I haven't offended?"
Successful as the hungry i was, nothing lasts forever, and the club ended its run in 1970. For Banducci—awash in debt—Las Vegas, television and rock-and-roll had taken their toll. With the financial help of Sahl, Bill Cosby and "Professor" Irwin Corey, Banducci opened Enrico's, his see-and-be-seen restaurant-café on Broadway. That place remained the centerpiece of North Beach hipster culture until the man's generosity and lack of attention to the bottom line left him broke again and forced him to step aside.
Some years later, asked by Jess Hamlin about his success, Banducci took well deserved credit. He said he allowed no one to interfere. "It was me." 
Art Peterson is the author of Why Is That Bridge Orange? San Francisco for the Curious.